Aesthetic device company director John Culbert explains the factors to consider when deciding whether to purchase energy-based clinic equipment
If you already have your own clinic, you have taken the first leap into the world of commerce as an independent practitioner. The next step, to take the second leap, is to expand; this will lead you to decide whether or not to broaden your treatment offering.
This may include treatments such as hair removal, laser resurfacing, body contouring or skin resurfacing, which are all provided through aesthetic equipment.
Benefits of expanding your treatments
In my experience, most practitioners will start by using injectables, but there are many advantages of expanding your offering:
Provides a more comprehensive and efficient service: In many cases, injectables alone cannot provide the optimum result and a combination treatment is more beneficial.
Makes the business more saleable: A business that has few revenue earners is totally dependent upon that person being available to work. By introducing other treatments provided by additional personnel, the business generates additional revenue from the new treatments; continues to generate revenue when the founder is on holiday, training or ill and enables more comprehensive treatment plans to be developed with the patient. If the founder who is selling the company generates less of the revenue, then you have a much more attractive and valuable proposition for selling the clinic; assuming that the staff would move over to the new business.
Protects the business from existing and new competitors: Every time you say no to a customer making them go elsewhere for a treatment, you are giving an opportunity to your competition. The better you can satisfy your customers' needs, the lower the chance is that they will need to look elsewhere. This is also generally accepted as much easier and cheaper than recruiting new customers.
Tips for purchasing equipment
If this is your first step into the aesthetic equipment market, you need to do your market research and should not rely on the equipment sales person to do it for you as they are likely to push the benefits of their own device. You should consider the following factors.
Current patients
Think about your current typical patients and determine whether they would be potential candidates for the new treatment. As complementary treatments are added to your portfolio, there will be patients who want to spend more but are limited by their cash flow.
It is easy to remove this restriction by implementing 12 months' 'interest-free' finance for sales (meaning that the customer receives interest free credit and interest is paid by the business and not the customer) and patients often find it easier to make regular and smaller monthly payments.
At Cosmex clinic, we make credit available to all patients booking a course of treatments over £1,000. Obtaining 12 months 'interest free credit' has few constraints and is available from several companies.
Typically, the customer will pay 10-20% deposit and the overall cost to the business is around 6.5%. In my experience, this can be more than compensated by the increased business and improvement in cash flow. For example, all funds less the service change are received within two to four days.
Product life cycle
When you are purchasing any sort of equipment, whether it is an energy-based device or not, understand that it has a life cycle with four stages: introduction, growth, maturity and decline.6 The profitability of any product is fundamentally related to its point on the product life cycle curve as shown in Figure 1.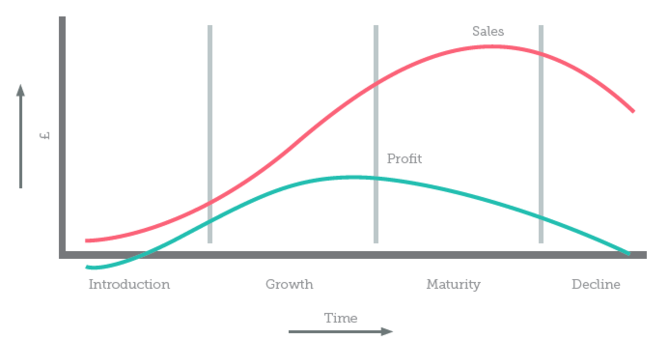 Introduction phase
The initial phase refers to when a product is first introduced to the market. It would not generally be sensible for a new business to take the risk of investing in equipment that is in its introduction phase, because this could be too early for patients to have an understanding and knowledge of the treatment and practitioners may have to educate the market. Products are also often disproportionately expensive. One might choose to introduce equipment at this stage if they are confident in the brand or if they are helping to test or review the equipment. Price negotiations might also be more likely at this stage.
Growth phase
Products in their growth phase will generally provide the best return upon investment. In this phase, treatment costs are high and revenue can still grow even as competitors move into the market. As profits grow companies can invest more in promotional activities to boost sales and awareness.
Mature products
A product may become 'mature' when more competitors move in and the market becomes saturated. With a high number of practitioners offering a certain treatment, either your prices must reduce or the number of treatments must increase to maintain interest. If the technology is still relevant then a new machine is not required unless the technology becomes obsolete or too inferior to retain existing business or gain new business.
Decline
Eventually, the market for a product will start to shrink. This is mainly due to new entrants with better technologies and better results or saturation (all customers who would buy, have bought the machine). When a product is in its decline, it will cause decreased revenue at a reduced margin with potential for ongoing and increased maintenance costs due to unforeseen events such as breakdowns and upgrades. By this point, the manufacture warranty would have also ceased. This will make the product uneconomic to retain.
Safety approvals
Check to see if the product has approval from the FDA, Medical CE or CE. There are three main elements to approvals: electrical safety (tests to ensure the product is safe to use), electromagnetic compatibility (ensures that an electromagnetic device cannot cause a problem with another nearby device) and clinical effectiveness.
For FDA approval, the first of an energy-based treatment type sold in the US will need a clinical trial, which is quite onerous, but then many of the follow-on products will use a comparative approach and bypass the clinical trials.5
Current Medical CE is similar; therefore, unless you are an early adopter, there is little difference between the FDA and Medical CE routes to approval. Although there are plans to tighten the Medical CE approval, this will not take effect for a few years. CE approval does not cover the clinical aspects of the product.
It does show that the manufacturer has checked that these products meet EU safety, health or environmental requirements, is an indicator of a product's compliance with EU legislation and allows the free movement of products within the European market.1-5
Competition
When starting your business, location is key as you don't want heightened competition in the local vicinity before you have even begun to build your brand. Research what your competition is doing and whether or not they are offering the same products and services as you. If they are missing something, this might be an opportunity for you to fill this gap.
The supplier Ideally your supplier will be based in the UK and certainly in the EU as you would need to resource from a local importer or manufacturer. Purchasing outside the EU means you are the importer and are liable for the safe operation and functioning of the equipment.
Can you calibrate the machine? Can you ensure it is functioning correctly and safely? If not, you could face serious implications; for example, in the event of causing a major injury, the importer will usually be the person that has to prove they took reasonable steps to ensure the product is safe. If they cannot, then they may be deemed to be negligent.
Conformity
When purchasing energy-based equipment, the supplier should be able to issue you with a signed certificate of conformity and ideally a calibration certificate. This states that the product meets the required specifications.
Warranty
A positive sign of reputable equipment is a good warranty. Two years on site is beneficial, and three is better still, but all equipment should have a minimum of 12 months. Good warranty indicates that the company is confident in the quality of their product. In my experience, if a company has a reasonable product, the supplier should be happy to offer an extended warranty.
Training
Any reputable supplier should offer, as standard, training to the user to ensure safe and effective operation of the equipment. This is generally done onsite at the client's premises. Extended training if required can be recommended through third party training organisations.
Consumables and total cost of ownership
Ask the sales person to give you a written list of all consumables and the consumables cost, life expectancy and warranty. Even a consumable must be fit for purpose, and some are expensive. An example of energy-based equipment consumable can be the replacement cartridges for HIFU machines.
If the consumable cost is very high, then the overall running costs would drain profit margins. When purchasing any new equipment, it is important to work out the total cost of ownership including purchase cost of the machine, maintenance after warranty, consumables and handler training.
A trend coming from the US is pay-per-use. Printers have been sold very cheaply for many years with the manufacturers making their profit on the consumables. This approach is now gaining momentum in the aesthetics market because it can ensure more consistent treatment quality and generate additional revenue for the supplier.
If you choose this, it does mean that the cost of consumables needs to be considered when comparing competing products. The other major factors to consider are the out-of-warranty costs of calibration and repair, either through a maintenance contract or a one-off service. It is suggested that you work out the five-year cost of ownership.
Summary
Energy-based treatments are becoming increasingly important and are probably essential if the intention is to grow the business and provide the optimum treatment for patients.
The machines that provide these treatments tend to be expensive capital investments that are alien to many practitioners and take many people well outside their comfort zone.
Consider the general-purposed framework above to aid with the purchase of energy-based equipment for your market to ensure the optimum return on investment.
Disclosure: John Culbert is the founder and director of energy-based provider Cambridge Stratum.