The skincare market and the aesthetics industry are increasingly saturated with both product offerings and service providers, particularly within the antiageing sector. This expands consumer choice but can make it harder for the voice of individual brands to be heard. Robust retail and treatment sales are essential for a financially successful clinical business, but more importantly, we need patients to follow the skincare advice we give them to support our procedures and ensure good results. So how can we reinforce our expertise and recommendations when patients are bombarded with so much information from TV, magazines, bloggers and even our competitors?
Follow the trends
A surprising answer perhaps is that retail trends can provide a useful reference when deciding how to communicate with patients and can actually help us to stay relevant to them in this fast moving market. This doesn't mean changing what you do or dumbing down your approach, but rather, by modifying the language you use, how you frame advice and how you prioritise recommendations, you will be more accessible and better able to motivate patients to commit to the programme that is right for them. For instance, when we discuss reducing photodamage, hyperpigmentation or rosacea, it can sometimes be hard for patients to fully comprehend the changes they will see so we need to discuss benefits more than ingredients or procedures. By outlining the visible changes or benefits they could see in simpler terms (smoother skin, softer texture, brighter, plumper, evened-out skin tone and so on) we are using similar visual language to retailers that will be far more accessible and motivating for patients.
You need to be the expert that your patient is seeking and help them to navigate their way through the white noise of information and you will be better placed to do that if you understand the dialogue and influences your patients are exposed to elsewhere.
There is a lot we can learn from the retail environment and the ways they successfully motivate their customers to follow their advice. High street retailing has become an intensely personal environment with brands presenting themselves as understanding the concerns and needs of their customers and interacting with them to find tailored solutions both online and in store. Space NK, for instance, offers personalised recommendations through their consultants who check previous purchases against your results and then recommend further products based on your concerns or preferences. It is not just premium outlets that offer this level of service; mass-market retailers are also increasing the personal approach and capturing more of this advanced market. The Body Shop has a skincare-online service, where their expert will 'hand pick the ideal skincare regime for you'. Liz Earle also offers one-to-one guidance and has cleansing bars in its retail areas where its teams can show you how to get the best result for your particular skin condition.
There are many trends that a clinical environment should be well placed to compete successfully in and with a fresh focus we can make our products and services more relevant to today's discerning and well-educated consumer. If we fail to communicate effectively we leave our patients open to the influences of retail media messages and brand marketing.
A growing market
In 2015, UK consumers bought more than £4 billion worth of beauty and personal care products, making us larger than the French market for the first time with skincare sales growing by 4%.¹ According to Euromonitor, UK customers are some of the heaviest spenders on beauty and personal care products globally and are open to new products and ingredients that will enhance their routines.²
The size of this market is growing and indicates that our potential customers are open to learning more about 'at-home' products that can improve their appearance. This creates a fantastic opportunity for clinical practices to capture some of this market but also to offer something different; a professional service offering evidence-based products and treatments that are effective, thereby helping our patients to avoid buying products that don't work or are not suitable for their needs.
What are the key retail trends?
A key trend that clinics should be well placed to meet is the increased demand for bespoke, personalised products and services. According to worldwide consulting and research firm Kline, a rise in the expression of individualism has increased demand for custom-made products and services that feed into our desire to be unique.³
In the retail market this is translating into products that are blended and customised according to the customer's unique profile, sometimes determined by DNA testing. This type of testing can identify specific genetic markers such as collagen degradation, inflammatory pathways, glycation and susceptibility to pigmentation to predict future ageing trends. DNA tests are carried out in-store and sent to the laboratory where they prepare a personalised report for the customer, mapping recommendations and bespoke skin formulas to the results of the test. In our clinical market this can be more about how we devise treatment protocols and homecare recommendations that are unique to each individual patient. We should already be treating each patient as an individual and tailoring our recommendations to their specific needs but this is an area we can really focus on, especially when it comes to retail recommendations.
High street retailing has become an intensely personal environment with brands presenting themselves as understanding the concerns and needs of their customers
It may not be obvious to a patient that your advice is unique to them so promote this as a particular benefit of visiting you. Communicate with your patients that following their consultation they will receive a bespoke set of recommendations that will form a plan to address their individual needs. We need to listen to our patients' concerns and goals and devise both treatments and homecare plans that are solution specific and targeted. Don't just think of short-term goals; plan a treatment journey that is ongoing, regularly reviewed and includes skin priming and initial treatment, as well as maintenance programmes. This will motivate your patients to undertake more regular visits and allow you to review their success and adjust your advice as necessary. Make sure you also follow up on key retail homecare purchases and not just treatments. A call a few days later to see how the patient is getting on and if they are finding their new homecare regime effective reassures the patient that we genuinely care about their results and were not just trying to hard sell to them.
Be aware that some luxury market retailers already use this approach with great effect, regularly reviewing their customers' purchases and gaining feedback on how the customer has found their product before making further recommendations. If we do not follow such diligent reviews with our patients then we are missing an opportunity to establish a deeper, long-term relationship with them and establish ourselves as the expert they rely on. It has never been more important to avoid a 'one size fits all' approach to product recommendations and treatments.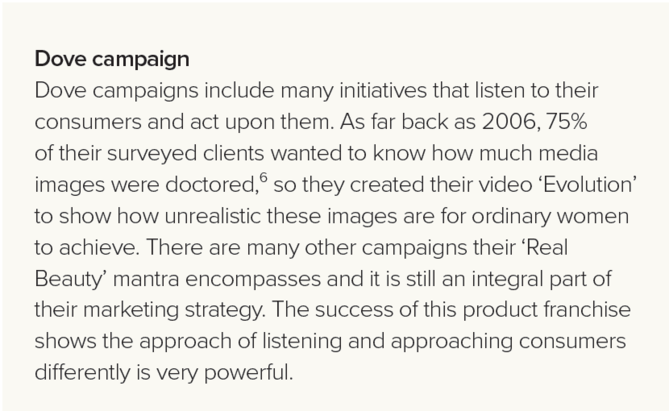 Tools
Diagnostic tools can really help with tailoring services for patients as they can demonstrate to the patient what is really happening under the surface and create a bespoke strategy. Questionnaires about lifestyle, and imaging systems and devices that diagnose oil secretion, hydration or photo damage, as well as DNA tests that determine future ageing, all help you to understand your patient more closely and produce relevant recommendations. Retailers are increasingly developing their own diagnostic systems such as apps that help consumers select products, and computer systems that diagnose skin more accurately, so this is an area the clinical environment can and should compete with effectively, as we can add our professional expertise to the diagnostic process.
A new age
The next area that deserves our attention is the change in the way consumers now view the ageing process. New language such as 'pro-age' or 'age-well' now seems to be less of a trend and more of a change in consciousness; consumers are tired of fighting ageing, fighting the inevitable, and instead prefer to have the best appearance they can for their age. We can see this evidenced within several current media campaigns, outlined below. I predict we will see more of this as it feeds into our idea that we are beautiful in our own way; it is empowering and is the antidote to the unobtainable beauty standards and airbrushed images that have largely been presented thus far.⁴ The Dove 'Real Beauty' campaign shows positive, diverse images of women and actively promotes positive body image; their 'Wrinkled or Wonderful' adverts have shown inspiring images of ageing women who look fabulous despite having wrinkles.⁴ In 2014, Olay launched their 'Best Beautiful' campaign aimed at empowering women and invited them to 'join in the conversation' and share their 'beautiful moments'.⁵ This campaign promoted the statement that beauty is an obtainable goal. L'Oreal has enlisted positive age ambassadors such as Helen Mirren with the tag line 'it took years to look this good' which have resonated well with an ageing population who see their advanced years in a more positive light.
We should already be treating each patient as an individual

This doesn't make our industry irrelevant, quite the opposite, as it is hard to wear your age with pride if you haven't aged that well. I do think though that we ignore this change in dialogue at our peril. The language of ageing is changing and our patients will be increasingly looking for procedures and great skincare to help them be the best possible version of themselves rather than opting for procedures that alter or distort their natural features. Language such as refresh, brighten, enhance, soften and volumise are already evident in our market as much as the retail environment. They communicate products and procedures that will help us look less tired, feel fresher and younger and seem more accessible and appealing to our patients who don't want to look vastly different and actually fear the distortion of features they see in some high profile people in the media.
Seasonal skincare
Another key trend that we should consider is seasonality and what products and services our patients are motivated to buy at specific times of the year. This doesn't mean you need to deck your business with kitsch Christmas gifts if that is not your market, but you can highlight the products and services that will benefit your patients more and aim to correct seasonal changes in their skin. The Mintel report on seasonality indicated that seasonal product launches have increased from 9.8% in 2011 to 11% in 2014 with a strong consumer demand for skincare seasonal changes. Jane Henderson, global president of beauty and personal care at Mintel, stated, "Beauty manufacturers have started to go beyond taking simple seasonal approaches to public holidays or gifting occasions and instead are taking on the elements within their product innovation."⁷ I think for clinical businesses this is the correct approach; we need to be mindful of pushing short term offers onto our patients, however it is absolutely appropriate to highlight services and products that could be beneficial and help solve seasonal problems. Be creative and focus yourself and your team on what people might need at specific times of year. Post-holiday packages to remedy pigmentation for instance; emollient/calming products to reduce sensitivity in colder weather; the correct suncare and SPF offering to ensure adequate protection in the summer, or lighter homecare products for clients who experience more acne breakouts in the summer time. Bringing this trend together with the first trend mentioned for bespoke solutions, why not offer patients quarterly assessments to create treatment and product programmes that help them navigate how their skin changes with each season for a truly customised approach? Whatever we are offering to patients in terms of treatments and products it is important in all our interactions to keep in mind that patients have more influences and information than they receive in clinic. By thinking like a consumer as well as a clinician we can offer advice and information that is more accessible and relevant. We can also start to see the retail environment as a source of information and even inspiration to keep up-to-date with what consumers want, helping in-clinic marketing drives to achieve maximum success.