Mr Nihull Jakharia-Shah, Miss Priyanka Chadha & Miss Lara Watson explore the validity of the HEE's 'see 10, do 10' training requirement and argue whether this is sufficient for ensuring patient safety and satisfaction
HEE's 'see 10, do 10' injectable training
Health Education England's (HEE) 2015 'Qualification Requirements for Delivery of Cosmetic Procedures' dictates that a minimum of a Level 7 qualification is required for 'comprehensive use' of botulinum toxin and dermal fillers.1
Level 7 qualification requires a practitioner to be able to 'deal with complex issues, make sound judgements, and act autonomously in implementing tasks at a professional level'. To achieve this, one must attend a certified training programme, which covers the basic principles of aesthetic procedures and the consultation process, as well as modality specific training.
Following this, trainees are required to observe 10 treatments for 10 different patients and perform 10 treatments for 10 different patients (under the supervision of a certified observer and covering all treatment types) for both botulinum toxin and dermal fillers.2 This is often referred to as 'see 10, do 10'.
Until now, botulinum toxin and dermal filler courses have generally ranged from a single day to two days in length, with no predetermined requirements for the number of treatments observed or practiced to validate certification.
To standardise training and ensure adequate practitioner experience, the regulatory bodies now advise that observing 10 and performing 10 procedures, is satisfactory for a practitioner to be able to safely deliver these cosmetic injectables independently.2,5
Is this adequate for injectable treatments?
To assess whether this level of exposure is adequate for generating a satisfactory level of competence, we must determine the learning curve for these procedures. Hopper et al. outlined the ideal learning curve for surgical procedures (Figure 1) where a measured outcome improves as the number of cases increases, until a plateau is reached.3
The acceptable level of competence must meet a predetermined level relative to the measured outcome, however it can fall below the plateau as the highest level of competence can usually only be reached through direct, independent experience. Hopper et al. then plotted learning curves for a variety of surgical procedures, determining the number of cases needed to reach the plateau for each procedure.
The simplest procedure, laparoscopic fundoplication, required only 20 cases before plateau was reached. Botulinum toxin and dermal filler treatments are non-surgical procedures. Therefore, it could be assumed that a practitioner would need less than 20 cases to reach a high standard of practice.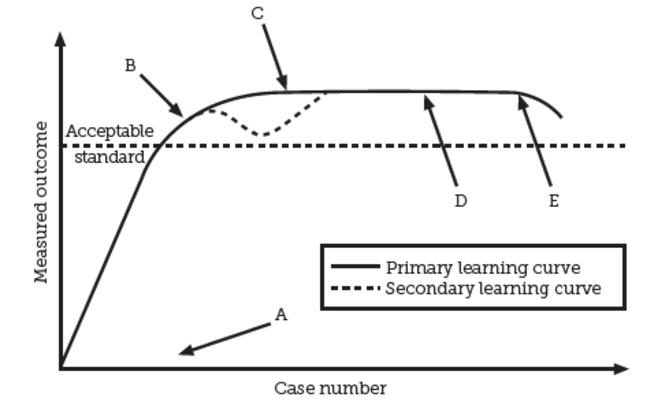 However, an inconsistency between learning curves is the measured outcomes used. The measures can be defined under two categories; process based, such as time taken to complete the procedure (the most commonly used measure) and patient outcome measures, such as comfort throughout the procedure. The latter is more difficult to measure as data is usually qualitative.3
Many documented learning curves cannot be translated to aesthetic procedures as the commonly used outcome targets for the NHS do not apply to the private industry, for example the length of time spent on a procedure is not as important as there are no sustainability pressures on private aesthetic services. For aesthetic practice, patient outcomes are paramount and measures such as patient satisfaction or comfort throughout the procedure would be stronger indicators of a practitioner's competence.
The 'see 10, do 10' does not dictate the need for follow-up assessments with critical appraisal of results and the decision to provide further treatments to 'top-up' or modify effects.1 It could be argued that this is where the current training requirements for cosmetic injectables are lacking.
The practical delivery of these injections is relatively simple but the critical analysis of results and decision making about further/ corrective treatments requires a deeper understanding of the complex interplay between the biochemical action of these products and the resulting effects on dynamic facial aesthetics and the development of the 'aesthetic eye'. In our opinion, a flaw in the 'see 10, do 10' requirement is that it assumes all trainees have a similar learning curve, which is not the case.
Improvements
Two ways around this pitfall are to introduce formal and standardised assessments of practical skills or to ensure that the current requirements cater to trainees with the slowest learning curves, ensuring that everyone who has completed the course will be of a minimum standard.
At present, there is no standardised assessment of practical skills; trainees will be assessed by their course supervisor and passing will be at their discretion.
This is subjective and creates disparity between trainee standards.However, formal assessment requirements do exist, dictating that trainees should be assessed in simulated learning environments and receive a portfolio of evidence upon completion, which contains feedback from supervisors and patients.2 Also, all supervisors must be proficient in the skill being taught and they are personally responsible for signing off each candidate. It could be said that this creates incentive to ensure trainees are of a certain standard as an incident of malpractice could have legal implications for supervisors.
In light of these issues and the lack of published information available on the origins of the 'see 10, do 10' requirement, further studies are needed to assess the learning curves of practitioners learning botulinum toxin and dermal filler procedures, plotting patient safety and satisfaction measures against case numbers, in order to determine if 10 cases allows for everyone to meet a baseline level of competence.
Supervisors
The HEE cosmetic practice guidelines contain professional requirements for supervisors, these include; having obtained the qualifications for which they are teaching, being proficient in the area of practice with a minimum of three years of post-qualification experience and having delivered the procedure at least 150 times, as well as evidence of accreditation and continuous professional development.2
The supervisor must also undertake specific training to become a supervisor; however, the guidelines outline that this training is to be 'determined by the education provider', which could be considered a vague and ambiguous statement.2
Although these requirements encourage a high level of supervisor proficiency, as a national scheme we believe that there should be more specific requirements for supervisor training and greater involvement of external regulatory bodies ensuring all courses adhere to the requirements and the training process is standardised.
A number of agencies are currently developing and delivering external regulatory services and we feel this should be a priority to protect the validity of the Level 7 training pathway.
Alongside person requirements, it should be noted that quality assurance procedures are equally important in verifying a course's reliability and validity. The Qualifications and Credit Framework system provides information on how to conduct internal audits of assessments and course safety.4 It is important that measures are taken to ensure that these frameworks are adhered to, working alongside regulatory bodies such as the Office of Qualifications and Examinations Regulation (Ofqual).
Weighting of 'see 10, do 10'
Another contentious aspect of the requirements is that observation is given the same weighting as practising, with 10 of each needed. Observing an action is known to accelerate the acquisition of a skill and, as such, forms an important part of the learning process.
However, it is widely reported that experiential learning is the best way to develop and maintain a skill as real patient learning offers a wider variety of learning outcomes.3 This is especially the case in a 'supported participation' learning scenario i.e. performing a task under supervision, where active feedback is available.
Thus, although an ideal training programme should encompass both observational and experiential learning processes, there should be an emphasis on practical opportunities for mechanical skills such as injecting botulinum toxin or dermal fillers.
Disparity between the effectiveness of observational and experiential training in botulinum toxin and dermal filler courses is enhanced by the quality differences; observation requires only one demonstrator for every 10 trainees, whereas practising must be done in a 1:1 ratio.2
Therefore, in our opinion, changes to increase the effectiveness of training could be introduced by either reducing the number of observed procedures and/or increasing the number of practised procedures, depending on the impact each change has on learning curves and the time and cost effectiveness of training.
Summary
An important aspect of the new guidelines is HEE's plan to introduce the new qualification requirements on a national scale and to encourage compliance from old and new practitioners.1 Practitioners who are already delivering botulinum toxin or dermal filler injections are required to either apply for official recognition of their knowledge and skills or apply to a course provider for official recognition of prior learning.1
This is important in increasing the validity of the new requirements as it promotes a national standardised level of training, which has been long required for cosmetic practice.
However, details of how compliance will be governed have not been published, leaving scope for underqualified and potentially unsafe practitioners to continue delivering these procedures. In conclusion, we believe the current 'see 10, do 10' system for botulinum toxin and dermal filler training dictated by HEE does support professional development in some ways, but there are gaps in the system that are likely to be having a detrimental effect on the validity of these training requirements.
The problems include a failure to incorporate reasonable measures to determine the number of cases required to gain satisfactory competence in the procedures and a lack of differentiation between observational and experiential learning methods. Adherence to quality assurance procedures is a crucial factor and may help develop the current 'see 10, do 10' system to overcome its existing limitations.
Further studies are required to define a series of learning curves for botulinum toxin and dermal filler procedures, analysing trends in patient-related outcome measures against case numbers as well as trainee perspective. In our opinion, this should be reviewed in conjunction with information on different training methods to create more reasonable and effective training requirements, which will optimise resource usage and maximise patient safety.
Disclosure: Miss Priyanka Chadha and Miss Lara Watson are co-directors of the training provider Acquisition Aesthetics and Mr Nihull Jakharia-Shah is the educational and academic representative.