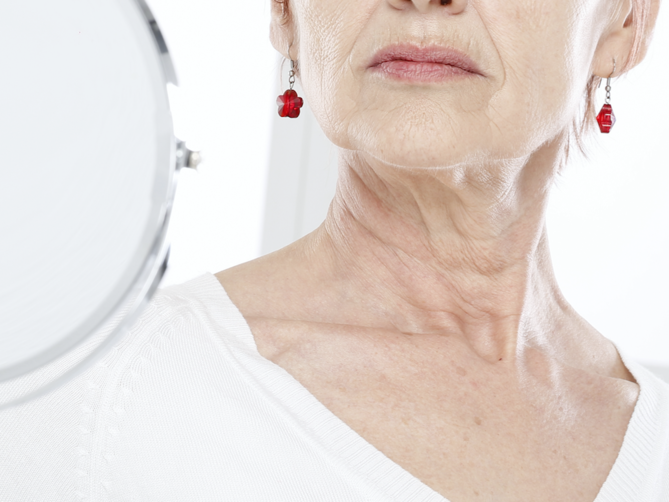 Most aesthetic practitioners talk of a 'full-face approach' to rejuvenation, but what about those areas beyond the face? Sagging necks and jawlines, as well as wrinkled hands and knees, are often regarded as the 'telltale signs of ageing', indicating the maturity of a person despite how youthful their face may look. We know of a plethora of treatments available to offer patients seeking facial rejuvenation, but what can aesthetic practitioners do to improve the appearance of the neck non-surgically?
Ageing and anatomy
Scarborough et al explain that senescent changes of the mature neck include accumulation of fat, laxity of muscular support, and the cumulative effects of photodamage and gravity. These contribute to the loss of definition of the cervicomental angle (Figure 1), submental fullness, sagging of the jowls, inelasticity and redundancy of the skin, along with platysmal band formation.1 As a result of these developments, the lower facial third may appear fuller, which can diminish the 'heart-shaped' facial shape that is so widely associated with a youthful appearance. According to practitioners interviewed for this article, treatment should therefore aim to tighten the lower face and neck, as well as improve the appearance of platysmal bands.

Consultation
Understanding a patient's concern is key to successful treatment, as is being aware of their general health, diet and lifestyle factors, explains Dr Anita Sturnham, founder and director of the Nuriss Skincare and Wellness Centre. Dr Sturnham comments that, regardless of the type of aesthetic concern a patient might present with, she asks all patients to bring their current skincare products and makeup to the first consultation so that she can establish what may be working and what may be causing concerns. "Getting the skincare right is essential if we are going to make progress and fight the ageing process," she explains, adding, "We need hydrating, collagen-boosting, pigmentation-stablising active ingredients in the serums and night creams to really boost the skin's health and prepare it for advanced treatments."
Dr Johanna Ward, founder and director of The Skin & Body Clinic, explains that the first question she asks all patients is whether or not they would consider cosmetic surgery. "I find that this question makes people confront the question of 'How much does this problem bother me?'," she says, which can help to establish what type of treatments to offer the patient. Dr Ward also notes that all non-surgical skin tightening and uplift treatments require the patient to understand about skin health and be able to commit to a consistent skincare regime in order to enhance and maintain results. "Patients should know why they should wear a daily SPF and why their smoking habit might be impending their results. Once we have the basic education in place the rest of the dialogue is easy," she explains.
Treatment
Next, a decision should be made on what treatment to offer. Dr Victoria Dobbie, founder and medical director of the Face & Body clinic, explains that in her practice, this is often dependent on the patient's budget. "If they're not seeing enough sagging to invest in a more expensive treatment, they may prefer to undergo botulinum toxin treatment for the early signs of sagging of the jawline and neck," she says. Dr Ward notes that botulinum toxin alone may not be enough for some patients, as it does not have an impact on skin health and collagen. She does, however, offer injectable treatments in combination with other procedures, explaining, "With skin tightening, we can treat virtually every centimeter of the face and neck, and, when combined with botulinum toxin and fillers, they can help patients achieve dramatic non-surgical results."
Botulinum toxin
Often described in consumer media as the 'Nefertiti Lift' after the Egyptian queen famous for her defined jawline, some practitioners offer patients botulinum toxin injections in the neck. Dr Dobbie says she offers this treatment to patients with mild jowling, a down-turned mouth or the early signs of platysmal bands. "Botulinum toxin is an excellent way of preventing this from getting any worse," she explains. For optimum results, Dr Dobbie asks patients to bite on their back teeth to contract their platysmal bands. "I get hold of a band between two fingers and inject intradermally, pulling the band away from the neck. Doing so ensures that you are only injecting the platysmal band; you don't want to inject the deeper muscles in the neck as they could effect swallowing – although I think it would be quite difficult to actually get them. It's easily avoidable."
Dr Sturnham also advocates the use of botulinum toxin for platysmal bands. She says the downside is that patients may have to wait up to 14 days to see results, and, like any injectable treatment, there is a risk of redness, swelling, bruising and infection.
Ultrasound
There is a wide range of ultrasound devices on the market, which have all demonstrated successful results. Consultant plastic surgeon Mr Paul Banwell, founder and medical director of The Banwell Clinic, says, "The technology is expanding and there's a wealth of evidence supporting the use of focused ultrasound for skin tightening. All of the devices are good; they're all slightly different which allows practitioners a choice in what they use." In his clinic, Mr Banwell has been trialling the 3D-skinmed (Figure 2). The device uses high-intensity focused ultrasound (HIFU) and radiofrequency energy, which aim to target the subcutaneous tissues, causing fibroblastic stimulation that then increases collagen production. "Secondary to that, the temperature effect causes collagen fragmentation, contraction and denaturisation of the protein and collagen, which influences a tightening effect as a result," explains Mr Banwell.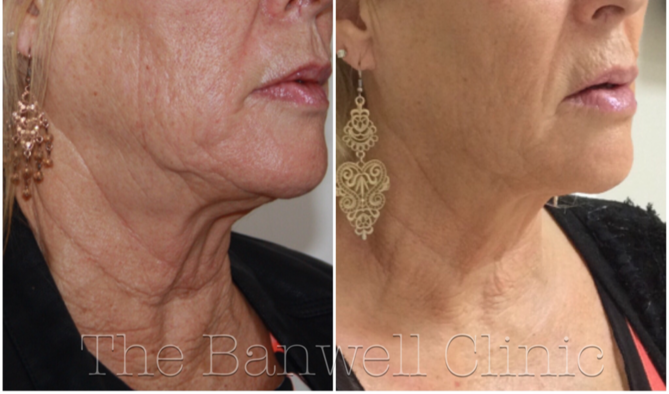 The final stage of the treatment delivers cosmeceutical products to the skin using a sonotrode, which emits acoustic waves and air pressure that aim to help the topical products reach the targeted tissue depth as quickly as possible.2 According to the manufacturer, results become visible within a four-week period, whilst further improvement in facial skin tightening and wrinkles is seen up to six weeks post treatment.2 Mr Banwell explains that pain is minimal, with patients reporting the feeling is similar to having an elastic band flicked against your skin. He adds, "What's interesting is, as you get more experienced, you can titrate the settings according to discomfort in each individual patient – that's half the skill and artistry of using any machine really – you get a better feel for what a machine can do for certain patients over time."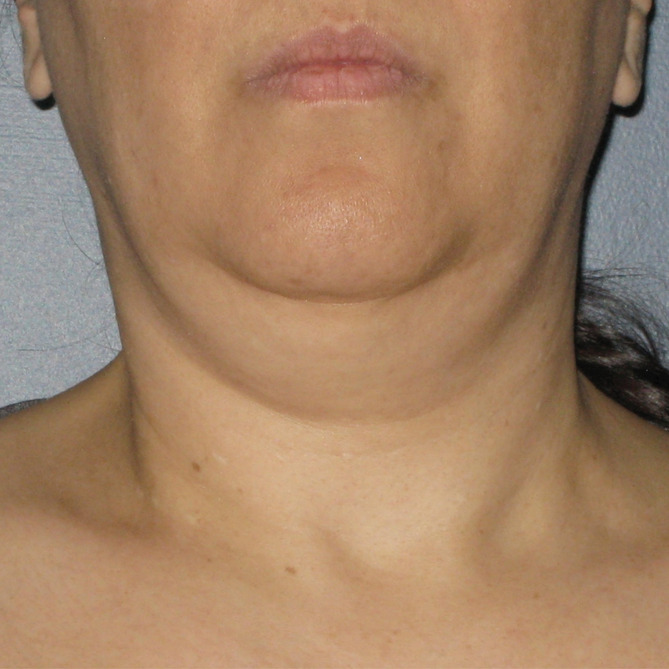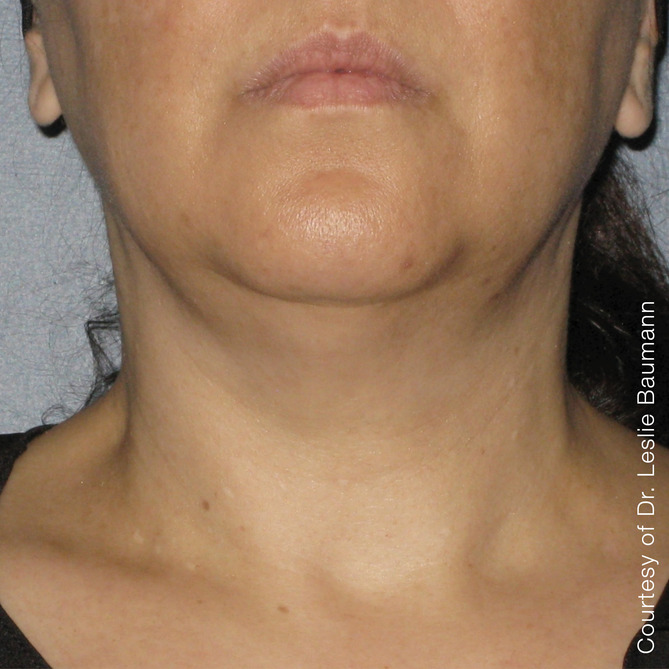 Dr Dobbie chooses to offer Ultherapy (Figure 3) in her clinic. She explains, "It's a single, one-off treatment and can give tightening between 2-5cm after six months. And it lasts; I'm reviewing patients after two years at the moment, 50% are deciding to have a top-up treatment and 50% are deciding they're absolutely fine."
The FDA-approved device uses ultrasound imaging, to allow the practitioner to see down to 8mm below the skin on a screen.3 Dr Dobbie advises that practitioners should make use of this and learn how to successfully identify the different layers of the skin to determine optimal placement of the treatment energy. She also notes that practitioners should recognise the differences in individual patients' skin and know how and when to treat accordingly. The Ultherapy transducers offer three different treatment depths; 4.55mm to the SMAS/platysma, 3mm to the deep dermis and 1.5mm to the superficial dermis.3 Dr Dobbie explains, "Some people have very thin skin, particularly in the neck, so we use the transducer at 3mm instead of 4.5mm, as the 4.5mm would be below your target."
For Dr Ward, ULTRAcel is her ultrasound treatment of choice. Similarly to other ultrasound devices, the treatment uses HIFU technology to reach a depth of 3-4.5mm to target the SMAS, fascia, fibrous tissue of fat layer, dermal layer and the dermis.4 The main difference, however, is that ULTRAcel incorporates grid radiofrequency that aims to promote the production and remodelling of collagen prior to the ultrasound lifting and tightening effect. The main skin tightening and lifting effect develops over two to three months, although some patients report seeing an effect immediately. According to Dr Ward, patients present at all ages and stages in their lives for skin tightening. She does note, however, that it is much easier to get results on skin that still has healthy collagen and elastin levels, and skin that has not been damaged by chronic sun exposure.
Radiofrequency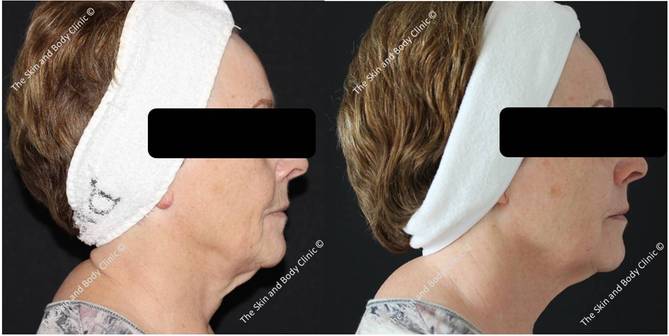 Dr Ward explains that for optimum results, she uses ULTRAcel in combination with the INTRAcel radiofrequency-needling device (Figure 4). "This will combine monopolar and bipolar radiofrequency with focused ultrasound," she says, explaiwning, "The ULTRAcel treatment will help tighten the SMAS layer and the INTRAcel treatment will help tighten the overlying skin, improve skin texture and reduce fine lines and wrinkles." She suggests that the combination can achieve everything a surgeon would do through a facelift procedure, but non-surgically and without the same level of risk. "In terms of complications, the nice thing with the INTRAcel/ULTRAcel is that it is a really universal treatment," she says, explaining, "It is safe for virtually everyone and every skin type, and avoids any of the pigmentation complications associated with laser." According to Dr Ward there is a 24-hour downtime period following INTRAcel treatments, but it is generally well tolerated. "We have done more than 200 treatments now with INTRAcel/ULTRAcel and the only complication we have seen so far is one post-treatment outbreak of folliculitis," she says.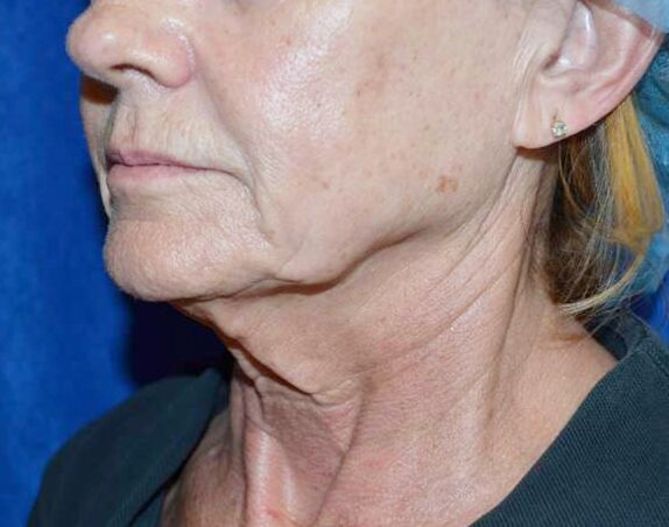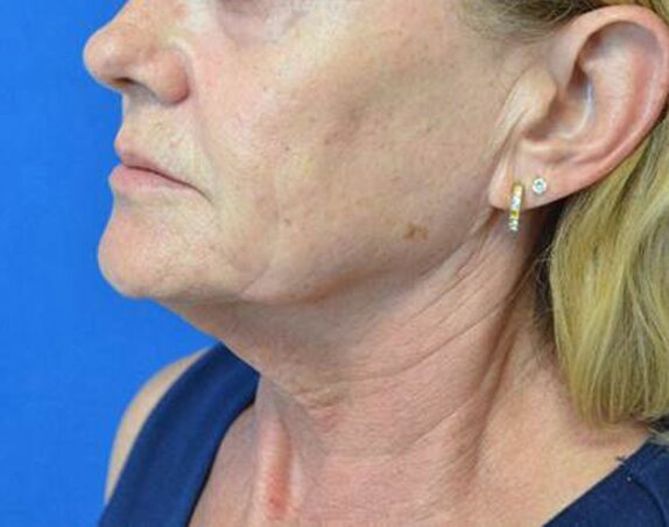 Radiofrequency is also the treatment of choice for Dr Thomas Proebstle, founder and medical director of the Proebstle Private Clinic. He uses the Profound device; a bipolar radiofrequency-needling system which, he explains, aims to define the maxillary bone, the mandibular and the jawline, as well as tighten the neck and improve the appearance of a double chin and chin/neck angle (Figure 5). "All patients with skin laxity in the lower half of the face and upper neck are suitable," he comments, adding that patients usually only require one treatment, although a second may be considered if the sagging is severe.
According to Dr Proebstle, patients can expect to see results within two to three weeks – much less time than with some other heat-based treatments. He advises that practitioners should take care to ensure appropriate placement of the needles in the dermis, because if they are placed superficially, skin damage such as scarring could occur. Overall, Dr Proebstle says Profound is an effective treatment that offers superior results for tightening compared to other products he has tried. He comments, "We can obtain tightening that we have been unable to achieve so far, without hurting the superficial skin layer like with ablative lasers."
Laser
For ultimate skin rejuvenation, Dr Sturnham offers her patients non-ablative laser treatments with the ClearLift in combination with treatment with the Exilis Elite system. She explains that the device uses 1064 Q-switched laser technology and works by delivering short bursts of light energy, which aim to reach underneath the skin's surface and create microscopic holes under the skin. These holes aim to stimulate a collagen remodelling process as the skin tries to repair itself. "The laser also breaks down unwanted pigmentation and even regulates sebum production – it's a great multi-tasking laser," says Dr Sturnham. She explains that the FDA-approved Exilis uses radiofrequency and ultrasound energy to stimulate the breakdown of old damaged collagen stores and elastin fibres, and improve the skin's firmness and elasticity by enhancing collagen production. "It is a dual technology that accesses the deeper layers of the skin, making it an extremely effective and popular non-surgical treatment," she says, adding, "The ClearLift works to improve the skin at a cellular level, whilst the Exilis Elite intensely focuses on skin tightening and collagen remodelling." Dr Sturnham recommends that patients undergo a total of four sessions, one every 7-10 days, with maintenance treatments once or twice a year. She adds that the treatment is not suitable for patients who are pregnant, breastfeeding or are taking medication that is a contradiction to laser.
Conclusion
As with any aesthetic treatment, appropriate patient selection and the skill of the practitioner are key to successful results. "As with any machine, it's only as good as the user," says Mr Banwell. "You have to choose the right patients and whoever's using the machine has to be competent," he adds. Dr Ward agrees, highlighting the need for continued learning when adopting new treatments, explaining that she is part of a group that meets regularly to exchange tips, techniques and learning. She says, "I love being part of the learning phase with the new equipment and I find it exciting to be part of a team of people who are exploring new science and technologies. The group is really helpful and helps drive results and patient satisfaction, which is great." Mr Banwell concludes by offering advice to practitioners looking to add a skin-tightening device to their product portfolio, "Research your choice of machine carefully – there are a variety to choose from on the market and there's one to suit every clinic according to patient requests and budget."