Dr Loredana Nigro provides considerations for acne management in darker skin types
Long considered to be a self-limiting disease of adolescence affecting 90% of teenagers, acne vulgaris and its sequelae can continue later in life, with 1% of men and 5% of women reporting ongoing lesions at 40 years of age.1 The physical and psychological morbidity associated with scarring and pigmentation change has significant psycho-social effects and potential remedial costs for patients.1 Acne is a chronic inflammatory disease of the pilosebaceous unit, with multiple causes and manifestations, both short and long-term. The higher propensity for inflammatory involvement, hyper/hypopigmentation and hypertrophic scarring in patients with skin of colour (those with Fitzpatrick skin type III-VI) has specific impacts for diagnosis, treatment and management.2 Lesions may be present anywhere on the body, but may be particularly prevalent in areas with high density of pilosebaceous units – the face, neck, chest and back.
Specific considerations for skin of colour
In various studies of patients presenting with dermatological issues, acne is the most common primary diagnosis. Reporting proportions are similar for Caucasian, African and Asian origin patients.3 Skin of colour has different characteristics from those with lighter skin types – Fitzpatrick skin type (FST) I-II, and a differing distribution of the manifestations and sequelae of acne. Skin of colour indicates a greater risk of inflammatory involvement in presentation, and increases patient risk of scarring and pigmentation changes. Concomitant with these risks are some of the lifestyle issues associated with skin of colour – including widespread use of specific hair and skin cosmetics which may be comedogenic (pore-clogging) and/or pro-inflammatory, and lower usage of barrier protection.
Observation and histological studies of lesions in skin of colour have shown marked inflammation in all lesion types – even where inflammation is not evident on clinical examination.2,4 Studies observed significant inflammation surrounding papules and pustules, extending into the reticular dermis, and postulated this as a reason behind the development of hyperpigmentation related to clinically observed mild/moderate acne in skin of colour. Heightened inflammation is obviously a key factor in the development of scarring and pigmentation alteration – the sequelae linked to long-term physical and psychological morbidities associated with acne. Factoring inflammatory considerations into diagnosis, treatment and management is therefore critical.

Diagnosis
Practitioners must know the right questions to ask during the consultation phase. Initial diagnosis in patients should include lifestyle questions to establish inflammation risks, which is important for treatment of acne and sequelae. The causes of acne can include: inflammation, androgen driven increases in sebum production, ductal obstruction through keratinocyte proliferation, ductal obstruction through comedogenic topical products (pomade acne), or the proliferation of Propionibacterium acnes. Scarring and post-inflammatory hyperpigmentation are of particular concern to patients with skin of colour. While the most common differential diagnosis of acne vulgaris for light skin types is rosacea, in FST IV-VI patients, many clinically indistinguishable presentations may involve pomade acne or acne cosmetica.5 Topics should include:
Patient skin type – oily/dry

Beauty products/devices used (including hair) – patient observation of inflammatory effects

Skin changes related to diet or season

Medications used, including any skin lightening products, photosensitising medications, antibiotics, combined oral contraceptive pill (COCP)

Patient and familial medical history (keloid, G6P-dehydrogenase deficiency)

Current use of sunscreen, including regularity/discipline

Correlated hormonal conditions/indicators e.g. polycystic ovary syndrome (PCOS) and hirsutism

Treatment of acne outbreaks
Treatment of acne in skin of colour should be early, aggressive, and appropriate. It comprises a wide range of modalities, as shown in Figure 2, and there is a large overlap with treatments for other skin types. Additional considerations should include:1-4,6
Early and aggressive anti-inflammatory intervention (e.g. tetracycline, benzoyl peroxide) to reduce inflammation and long-term morbidity associated with scarring and post-inflammatory hyperpigmentation (PIH)

Management of external factors (elimination of certain cosmetics/introduction of sun barrier regime, which I recommend should be UVA 30+)

Caution/avoidance of treatments with additional risk factors e.g. I would avoid minocycline, which has been linked to increased fatal hypersensitivity in patients of colour7

Patch tests for contemplated topical treatments/laser (as many treatments may also cause pigmentation change/scarring in skin of colour)

Use of inflammation mitigating techniques such as cooling during heat-based treatments; for example, cold packs, hyper-cooled air or vapocoolant sprays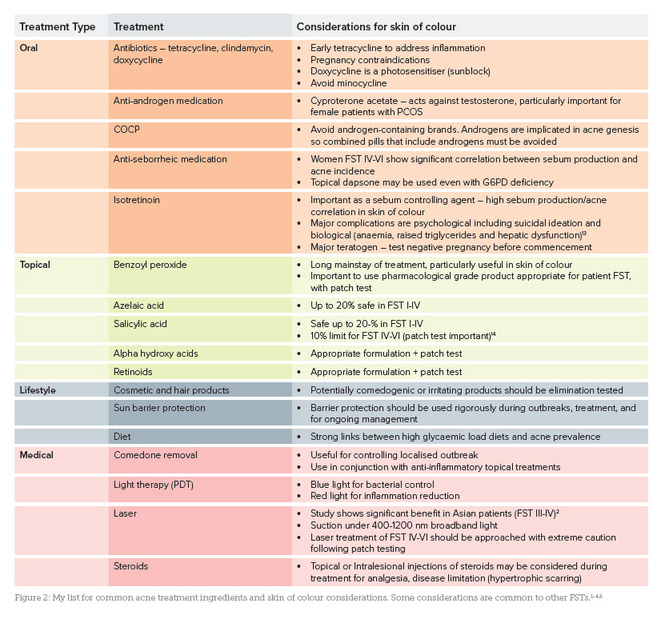 Fundamentals of treatment
Treatments for patients with acne should be individualised, and regularly reviewed to ensure that disease progression is controlled and long-term sequelae are minimised. Ongoing attention should be paid to lifestyle issues such as diet, barrier protection and inflammatory environmental factors. Care should be taken to identify any adverse reactions to medication or treatment which may increase co-morbidity, and especially to control inflammation. Key aspects when tailoring a treatment plan, based upon personal clinical experience:
Detailed history to understand individual pro-inflammatory factors

Examination of all high-risk areas (not just face, but chest and back)

Control P. acnes and inflammation early during break-out (tetracycline, isotretinoin)

Peel treatments as an in-clinic mainstay (subject to patch tests). I have found that combination products containing 20% azelaic acid and 20% salicylic acid are effective

Home-based management centred around benzoyl peroxide and retinoid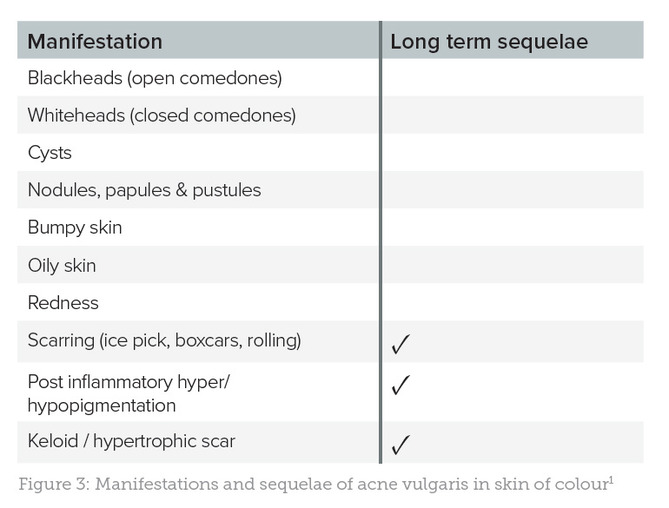 Treatment of PIH and scarring
The principal causes of acne-related morbidity in skin of colour are the sequelae of hyperpigmentation and scarring, which can be remediated by aesthetic practitioners. While prevention is better than cure, many skin of colour patients will present with existing scars or dyschromia. Concerns include:
PIH:8
o Control of melanocyte response with reversible tyrosinase inhibition. Combination products containing tyrosinase inhibitors, retinoids and botanical adaptogens demonstrate significant MASI score reduction9,10
o Mesotherapy – particularly with antioxidants such as vitamin C
o Retinoids for epidermal shedding and diminished melanogenesis
Scars:
o Multi-ingredient peels, effecting multi-layer peeling11
o Microneedling or mesotherapy to stimulate collagen production and skin smoothing
o Laser – particularly fractionated laser systems – can achieve profound improvement but carry significant risks when treating skin of colour, as heat is a potent stimulator of inflammation. Treatment should be carried out with caution, by experienced professionals12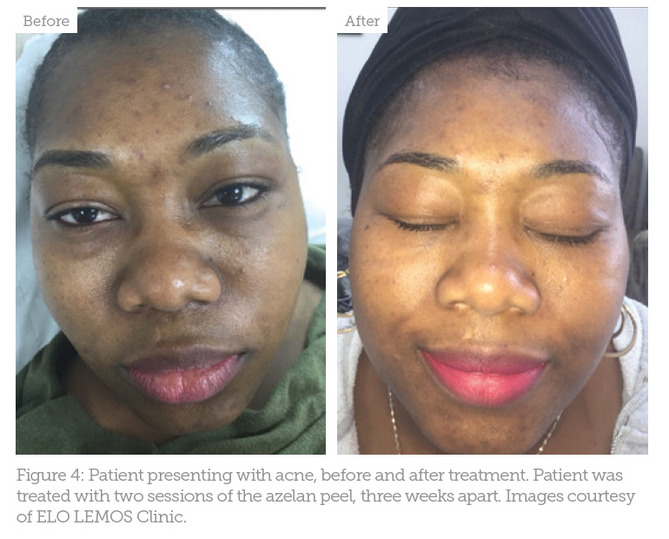 Conclusion
In patients with skin of colour, the increased susceptibility to inflammation can lead to long-lasting pigmentation change and scarring. Certain treatments may exacerbate the development and severity of these conditions.
When treating acne in patients with skin of colour, treat timeously and with an appropriate level of aggression. Control is essential to limit this chronic disease, and its adverse outcomes. Acne is the most common chronic condition facing aesthetic practitioners and an individual treatment plan is required for each patient.
Disclosure: Dr Loredana Nigro is a KOL for mesoestetic, which produces acne treatments and chemical peels.