Dr Philippe Hamida-Pisal presents a pilot study on a new protocol for treating alopecia, created with Pam Cushing, Dr Michelle Westcott and Dr Jan Nel
Hair possesses a symbolic connotation of strength and seduction that dates back to Egyptian times and to which we still attach great importance. The appearance of hair can be interpreted in very different ways, in concepts that rank from sexuality to religion. As a result, hair loss can have a significant psychological impact that varies depending on culture, age and sex.
Numbers to remember
In an adult, these are the average numbers for:1
Hair density: 200 follicles / cm2

Number of hairs: 100-150,000

Diameter: 0.1mm

Growth per month: 1-1.5cm

Hair life: 2-7 years

Number of cycles: 15-20

Hair resistance: 100gr

Alopecia and the hair cycle
There are different types of hair loss that can appear as defined patches or as more widespread and diffuse areas. We know that the incidence of alopecia increases dramatically with age and androgenic alopecia is the most common type of hair loss in both men and women. In the Caucasian population, 70 to 80% of men and 42% of women between 50 and 70 years old show signs of hair loss.1,2
The hair cycle is divided into three phases:1,2
1. First, we have the active growth phase of hair follicles known as anagen. A hair is formed by a bulb with a vessel in its centre that brings nutrients to it. This phase lasts between two to four years and, if a hair is torn during this phase, it will never grow back.
2. Then we have the resting phase, called catagen, when a hair stops growing. It gradually detaches from the bulb and rises to the surface of the skin. The dermal papilla begins to separate itself from the hair follicle and the vessels it contains disappear gradually.
3. Finally, we have the falling phase, called telogen, during which the hair is detached from the follicle. The residual bulb disappears and another is formed to give birth to a new hair. The dermal papilla, which contains vessels, migrates to the new bulb to provide it with the nutrients it needs for a new growth phase.
The role of hormones
Baldness depends on certain hormones, called androgens, hence the scientific name of androgenic alopecia. Androgens are converted into dihydrotestosterone (DHT) by the 5-alpha reductase enzyme, which makes them active and encourages hair loss by speeding up the hair renewal process. After 25 cycles, the follicle becomes exhausted and the hair becomes finer, until it dies and disappears. Treatment is directed towards this hormonal transformation in order to prevent the conversion of testosterone into DHT.1,2,3
Therapeutic approach
Dr Michelle Westcott, Dr Jan Nel (from the Society of Mesotherapy [SoMZA] South Africa), Pam Cushing and I (from SoMUK), who are all key members of the Societies of Mesotherapy, have devised a treatment protocol for androgen alopecia using a combination of mesotherapy and botulinum toxin. The purpose of the treatment is to prevent the catagen phase and extend the anagen phase through the use of antioxidant and cytoprotective molecules, which will aim to induce the stimulation of cellular metabolism and hydration. These molecules are present in cocktails such as NCTF 135 HA from Filorga Laboratory, NCTC 109 from mesoestetic or Cytocare 516 from Revitacare.
We already understand the role of polyrevitalising solutions and their effect in terms of regrowth, quality, moisture, thickness and hair shine.4 By combining different types of vitamins in one solution, practitioners are able to offer patients tailored treatments for their individual concerns. Similarly, we also know the action of botulinum toxin on the sebaceous glands, keratin and therefore its effect on the quality and stiffness of hair.5 Injecting botulinum toxin into the peripheral muscle increases the decompression of vessels through muscle relaxation, thus causing an augmentation in oxygen to the frontal and coronal scalp.6
The metabolism of testosterone to DHT is favoured by low oxygen, but an oxygen-rich environment in the hormone oestradiol activates a transformation in which this hormone (in a similar way to the process of skin ageing) has a significant impact on improving hair quality, and therefore decreasing hair loss.3,6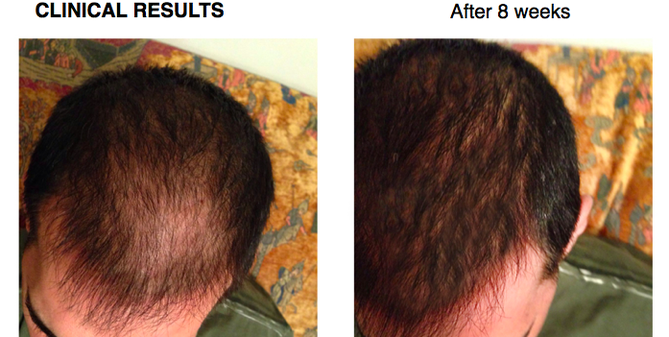 Method
For this study, the main requests of patients were for softer, smoother, less dry, firmer, easier to style hair, which is more resistant to chemicals, and also to treat hair loss while improving alopecia. To begin, we diluted botulinum toxin with CE-marked polyrevitalising solutions. For this study, we used an ampoule of Azzalure diluted in 1.25ml saline and mixed directly with 3ml of the polyrevitalising solution NCTF 135 HA (by Laboratoires Filorga). The purpose of this mix is not to block, but to reduce the action of the sebaceous glands. The study also allowed us to verify the mixing efficiency in treating seborrhoea and its effect on the quality and flexibility of the hair. In addition, we worked on identifying the profile of patients who responded to treatment, to define the criteria of inclusions and exclusions for further research and future trials.
Inclusion criteria: all of the patients who took part in the study (five men and 15 women of all ethnicities, with Fitzpatrick skin types ranging from I to VI) had concerns relating to seborrhoea, thin, damaged and dry hair and one suffered from Type 2 allergies to products dyes.
Exclusion criteria:
Pregnant women

Postpartum telogen effluvium

Patients with hair loss caused by an illness or a nutritional disorder

Patients with muscle pathologies
First clinical results
Five criteria were chosen by patients in agreement with the practitioner, and measured on a scale from 0 (no effect) to 10 (results beyond expectations). The criteria were hydration, thickness, strength, flexibility and shine. An observation time of four weeks was implemented to monitor potential adverse effects and results can be seen in Figure 1.
We can also report that the patient allergic to colouring products had a sharp decrease in the itching she previously had on the scalp and the line marking the irritation completely disappeared after the treatment.
| | Hydration | Thickness | Strength | Flexibility | Shine |
| --- | --- | --- | --- | --- | --- |
| Week 1 | 6 | 0 | 0 | 0 | 6 |
| Week 2 | 8 | 0 | 3 | 2 | 8 |
| Week 3 | 10 | 3 | 7 | 5 | 10 |
| Week 4 | 10 | 5 | 8 | 7 | 10 |
Conclusion
In summary, the results of this pilot study of a single treatment have, after four weeks, exceeded our expectations, with the patients involved reporting a 100% satisfaction rate. Injections of polyrevitalising solutions, through use of conventional injection techniques or using a meso-gun, combined with botulinum toxin, are indicated as effective and positive in all parameters of ageing, oxidative stress, nutritional deficiencies, seborrhoea and improving hair quality. This combined technique offers truly encouraging results in preventing alopecia, improving the quality of hair, implants and regrowth. Patients also reported that following treatment their hair-drying time was reduced, meaning that it created much less heat-based damage to the hair and scalp. The main limitation of the treatment is that it is only effective where the hair follicle is still present. To enhance the results of the study, it would be beneficial to trial the treatment on a larger patient base (ideally 100 patients) to present a wider range of results to analyse. In addition, we are currently working on a creating a different dilution for a longer lasting effect.