Introduction
The male grooming and cosmetic sector has never been bigger. The rise in the number of men having non-surgical aesthetic treatments over the past few years has been well documented, with the American Association of Plastic Surgeons reporting the number of men undergoing minimally invasive non-surgical cosmetic procedures increased 67% between 2000 and 2014, and the number of men undergoing botulinum toxin treatments increased 337% between the same period of time.1 This corroborates with research collected by international market intelligence firm DataMonitor, which suggests that 52% of men across the globe consider their looks and appearance to be either 'important' or 'very important', more than ever before.2 With an increasing demand from the male demographic, how can practitioners cater for their male patients' skin needs and differentiate the treatments on offer between the sexes?
Male skin
"Due to testosterone production, men tend to have an oily skin type. Even as testosterone starts to lessen with age, their skin rarely becomes dry,"3 says cosmetic surgeon Miss Jonquille Chantrey, medical director of Dr Jonquille Chantrey Expert Aesthetics. She adds, "These skin qualities are often discussed at conferences as a reason why male skin doesn't age as quickly as female skin." Although, Miss Chantrey notes that daily shaving, can exfoliate epidermal cells causing irritation, transepidermal water loss (TEWL), and sensitivity to sun exposure, which can lead to collagen degradation.4
Registered nurse and independent prescriber Adrian Baker of MBNS and Qutis clinic in Oxfordshire explains, "Male skin is thicker, oilier, and in the lower face is densely packed with structural hair follicles. Beard growth can actually help provide some protection from sun exposure and the packed follicle ratio provides additional firmness to the structure of the skin."
The average bearded man has 30,000 hairs on his face,5 and these hairs need to be taken into consideration. Dermatologist and medical director of Linia Skin Clinic Dr Simon Zokaie says, "When applying creams to the face, you need to be mindful of facial hair. You need to ensure the products aren't going to sit on the hair. It's also important to be aware of the thickness of male skin; I would go deeper when doing microneedling treatments on a man than with a woman, to get the same result."
According to Dr Leah Totton, aesthetic practitioner and medical director of the Dr Leah Cosmetic Skin Clinics, androgens and testosterone cause men's skin to be up to 25% thicker than females.6 "The collagen density is thicker and the difference in the loss of collagen over their lifespan age is different; a woman's collagen decreases quite dramatically at several points in her life, such as when she is perimenopausal and menopausal, whereas with men, it is much more consistent."7
Men in clinic
Aesthetic nurse prescriber Emma Chan, clinical director of the Emma Chan Medical Aesthetics and Skin Solutions clinic, says that the amount of men coming into her practice is steadily increasing, and it includes an array of men from different professions. "When I started in the industry nine years ago, it was rather unusual to see men," she explains. "But now, it is a much more frequent occurrence, and it's not just men in three-piece suits, it's manual labourers and outdoor workers as well – they're from all walks of life." Dr Zokaie adds, "About 10-15% of my patients are male and over the past year or so, more and more men have been coming into the clinic by themselves, rather than with their partners. I'd say 50% of men come in on their own now and ask for certain treatments, rather than waiting for me to give them the solution."
"Male patients tend to like fast outcomes with minimal visits and short downtime, so a discussion around realistic expectations is always important"
The treatments men tend to seek differ from females, according to practitioners interviewed for this feature. Dr Totton carried out research in her practice to uncover the most popular requests. "The top three indications for which men seek treatment for are acne scarring, followed by lines and wrinkles or general rejuvenation, and lastly hyperhidrosis. This differs from women, who firstly seek treatment for lines and wrinkles, then sagging skin and thirdly augmentation." This difference in treatment requests has also been noted by Miss Chantrey, who says, "We see men every day in our Cheshire clinic, and they tend to be more concerned about 'looking tired', rather than being overly concerned about fine lines, like a number of women."
Yet, Baker says it's not always different treatments male patients want, but different results. "The general concerns from male patients I see tend to be the same as females: frown lines, crow's feet, wanting to look less tired, and even increased lip volume on occasions. However, the results they want to achieve are different if they want a masculine appearance. Most male patients do not want raised, arched brows from botulinum toxin or high cheek bones as a result of mid-face volume loss as that feminises the face."
The consultation
Creating the right environment for the consultation, in order to discuss a patient's concerns, is what Chan aims to do, putting her male patients at ease. "It's important that they're not walking into a clinic that looks as if it just treats women. It's about making them feel comfortable in their surroundings," she says. "Let them know it is not unusual for men to be present at the clinic. When we discuss treatments, I show them before and after images of other men; it just makes them more comfortable."
In a typical consultation, Miss Chantrey starts with creating a clear treatment plan, which she says is important so that male patients can understand the level of commitment that may be needed to achieve their desired results. "Male patients tend to like fast outcomes with minimal visits and short downtime, so a discussion around realistic expectations is always important, along with advice about longevity and need for maintenance," she says.
Baker believes that gender is not always the most important factor to consider during consultation, but rather the person as an individual and what they wish to achieve. "Our clinics use a questionnaire that allows me to focus on patient needs regardless of gender. However, when I am advising on treatment options and the results that could be achieved, I find terminology such as 'define' 'sharpen' and 'strengthen' are effective ways to communicate and alleviate any fears of over feminising or emasculating."
Treatments
Skincare
Discussing and agreeing on a skincare routine is a vital part of the treatment plan, according to Dr Zokaie. "I find only a few men already have a skincare routine," he says. "So I recommend a simple four-step regime which involves a facial wash, an antioxidant, a sunscreen and a vitamin A cream – either a retinol or retinoic acid – to be used in the evening. I do this before any talk of injectables."
Miss Chantrey adds, "The right cleanser is crucial and can be the most important aspect of a male skincare regime. Having worked closely with Dr Zein Obagi in clinic, I use a lot of the ZO products because I can create a bespoke protocol suitable for the individual and the oil control products in this range are excellent. Tackling oily skin with products containing salicylic acid can help minimise pores, which is a desirable outcome." Miss Chantrey believes that many male patients she sees are now over-moisturising, after being influenced by advertising. "This can result in an increased incidence of acne and also a relative sensitivity to products where the skin barrier is iatrogenically weakened.8 Skin disorders such as eczema will create a truly compromised skin barrier and therefore a genuine sensitivity and dryness. These male patients need different management to improve their skin barrier function."
According to market intelligence agency Mintel, moisturiser is the second most commonly used male facial skincare product after soap.9 But what many male patients still aren't taking into consideration, according to Baker, is sun protection. "Most men do not incorporate effective sun protection on a daily basis and are therefore exposed to UV radiation. There is no excuse for missing that essential step of applying daily UVA and UVB protection," he says. "Once I've recommended a SPF 30+, I then build up their regime over time, maybe adding in a hyaluronic acid gel for post-shave burn and TEWL, such as the IS Clinical Hydra Cool."
Chan notes, "When men come to see me with skin concerns, I find that they don't want to commit to coming into the clinic regularly for medical facials or skin peels, so I generally start the treatment with homecare products; I have my own bespoke skincare range that has glycolic acid in it, which I recommend," she says. "But when it comes to skin, acne scarring is the most common concern."
Acne
A study of 749 patients aged 25-58 in the US indicated that 11% of men suffered with acne scarring.10 This type of scarring, especially on the face, is bound to have a profound effect on confidence, according to Dr Totton, who uses a three-pronged approach for her acne patients. She says, "First of all I manage them medically for any active acne, unless they have been in remission for many years. I'd normally start them on a 0.05% tretinoin (retinoic acid). Secondly, I tackle the redness with the Alma Harmony Dye-VL laser; not many men wear concealer, so the redness of the acne scarring can bother them more than women, and it can often bother them more than the indentations on the skin itself." Dr Totten continues, "Then, I will put them on a retinol product, such as the Obagi Nuderm, to increase cell turnover and use the Alma Harmony to contour the skin and reduce the appearance of any indents."
Dr Zokaie has a different approach to managing male acne scarring, "I find male patients would rather come in several times to clinic to have a treatment, than have just one appointment for one treatment that has a two-week or one month downtime. So I do a lot of microneedling with the DermaPen and get fantastic results."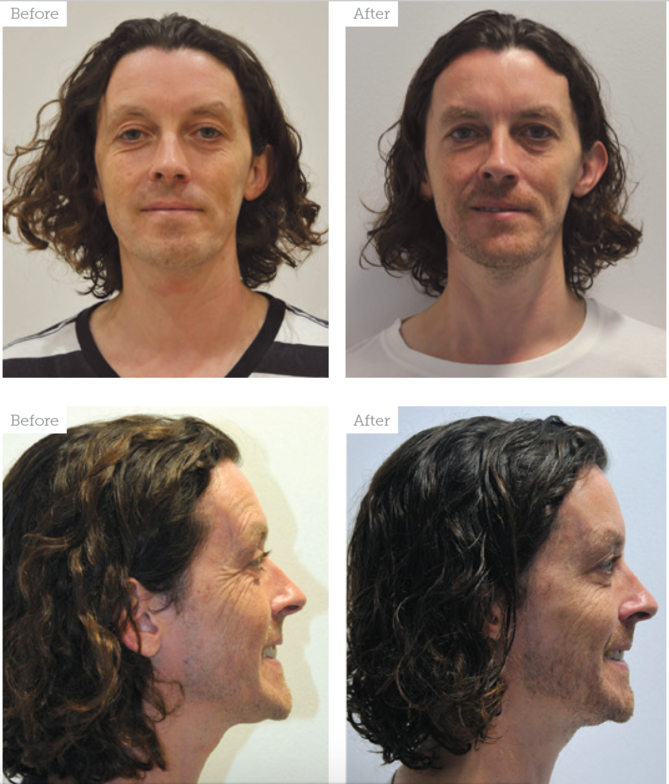 Botulinum toxin
"Men who come to my clinic know they want botulinum toxin before they even come in," says Chan. "Botulinum toxin is the most popular injectable treatment, especially around the eye. I find with some men, you have already treated their wife and they've seen results and then come in themselves."
When using botulinum toxin for lines and wrinkles, it is important to get the right dosage and injection points, according to Miss Chantrey, who explains, "The majority of our male patients prefer to maintain a masculine outcome, so when using botulinum toxin and dermal fillers, just a slight misjudgment of facial assessment can quickly feminise a male face. With botulinum toxin, the frontalis should be managed laterally to prevent an eyebrow arch as this immediately feminises a face."
Baker adds, "Most males will not want feminised raised, arched eyebrows as a result of frown reduction botulinum toxin, therefore I may omit medial brow injection, or inject a large dose in the procerus muscle only."
Dermal fillers
"Dermal fillers should be used in a very different way from a female treatment," says Miss Chantrey. "Overall, when masculinising the face, the aim should be to strengthen the jaw and chin, whilst maintaining appropriate proportions relative to the bizygomatic distance." She continues, "Management of the tear trough should first include indirect approach through mid-face volume replacement. Curve should not be applied to the zygomatic prominence nor should the anterior malar be over treated. Anterior cheek fullness in a man will be feminising."
When treating lower facial laxity, Baker tends to employ lateral facial boluses of dermal filler via cannula from the lateral zygomatic arch sub-dermally, down to the mandibular angle periosteally. "This creates a wider, stronger facial shape, whilst providing lift to the jowl. In females I would tend to place most volume to the zygoma and only a small dermal bolus to the mandibular arch," says Baker.
Even with injectable products, Dr Zokaie believes that marketing and packaging play an important role when treating men. He says, "There are dermal fillers for specifically men and it's nice for male patients coming in to clinic to see a brand or box that looks exclusive to men only."
Complications
With any type of intervention, adverse events can occur, but Miss Chantrey believes male patients may be a more vulnerable group. "I think some practitioners treat them in a similar way as they treat women – which isn't always right. Specific adverse events I commonly see are over-treatment and inappropriate fullness of the tear trough with dermal filler, alongside insufficient correction of the mid-face. Conversely, I also frequently have to correct over-treatment of the mid-face. It is possible that the male face is less studied and understood, resulting in a confusion of desirable male proportions."
When it comes to treating acne scarring, Dr Totton says it's important to be as educated as possible on laser treatments. "You have to be very aware of the sensitivity, as with any laser treatment. I wouldn't suggest that you put patients on prescription-strength products such as tretinoin unless you are experienced in combining treatments."
Results and expectations
Setting realistic goals during consultation helps ensure both patient and practitioner are happy with the final result, although some practitioners feel men are generally more satisfied with the results anyway, compared with females. "Women are more self-critical so their expectations are higher," says Chan. "Whereas, if you can show male patients their before and after photos with an acceptable change, then they are quite happy. I find that with women, if you get a noticeable change, even on digital photography, they likely see something else they don't like."
Miss Chantrey says, "I've noticed men tend to want to know a quantitative measure of likely improvement so I tend to express these as percentages following treatment, where possible. This can be challenging, as, of course, aesthetics is not an exact science."
Dr Totton adds, "You need to be open and honest. It is very likely, particularly in acne-scarred patients that they are not going to get a complete resolution or porcelain skin. We tend to aim for about a 10- 30% improvement. It is a rewarding condition to treat, because it can have quite a significant impact on their confidence and quality of life."
Conclusion
The rise of male patients seeking skincare treatments means that practitioners need to cater for the male sector more than ever before. Chan says that once you have created a setting male patients are comfortable with, they are relatively easy to retain. "You do have to be more flexible with the appointments though," she adds, "as sometimes they expect to ring one day and get in the next – they're not necessarily used to having to make appointments and wait for them." Dr Zokaie believes a dedicated male skin clinic as part of an aesthetic practice is the way forward. "It might be worth offering an afternoon male clinic, where they can come in and not feel embarrassed, as there will just be other men there. When my male patient database reaches 20-25% that would be the time to create something like this."