Post-operative and traumatic scars can frequently be seen on parts of the body that may be regularly on display. With 24-hour celebrity news suggesting a need for 'the perfect body', scars may be viewed as ugly imperfections, which are difficult to disguise. The psychological effect of a scar should also not be underestimated. The NHS does not offer treatment for such matters as they are usually classed as PLCPs (Procedures of Low Clinical Priority) and as such, they are unavailable, unless the patient chooses to go down the private route. Therefore the availability of affordable, effective scar treatment via private clinics is a key service.
Types of scars
Two types of scars that are often confused are keloid and hypertrophic.1 The keloid is defined as an abnormal scar that grows beyond the boundaries of the original site of skin injury, whereas the hypertrophic scar is defined as a widened or unsightly scar that does not extend beyond the original boundaries of the wound. Other types of scars include burns, post-operative scars, post-trauma scars, atrophic scars, post-infective or diabetic wound scars, or combinations such as hypertrophied post-op scars or keloided trauma wounds.1
Scar treatments
There are multiple treatment modalities already in use for the treatment of scars. Some, such as corticosteroid injections, aim to reduce the prominence of the scar. Surgery, on the other hand, aims to hide or reposition it. A general recap of these treatments is listed below.
Topical treatments
Topical treatments include vitamin E creams, gels and oils that claim to help fade the colour of prominent scars.2 These are extensively used and an enormous number of such products are widely available both in pharmacies and online, with some successful anecdotal results reported. However, a double-blinded study undertaken on 15 patients with scars following cancer surgery suggested that there was no evidence for the efficacy to the cosmetic outcome of vitamin E products and that it might even make some scars worse. Of the patients studied, 33% developed a contact dermatitis to the vitamin E.2 In addition, the Mayo Clinic grades the evidence on scars and vitamin E as grade D, which means there is fair scientific evidence against this use (suggesting it may not work).3
Chemical peels
Peels in scar treatment have focused mainly upon acne scar treatment, although they may be used for any type of scar which has an element of hypertrophy, where the aim is to lower the scar to be flush with the skin. Examples would include scars created after burns, surgery or trauma, but not scars that are depressed. Trichloroacetic acid (TCA) peels and salicylic acid peels are frequently used and tend to be combined with other treatments such as microneedling and laser.4 There appears to be no consensus on the best combination, if any, of these elements of treatment, with many practitioners offering their own blend or package.
Corticosteroid injections
Corticosteroid injections are a mainstay of treatment for hypertrophic scars and keloids.5 Usually triamcinolone is injected in multiple small aliquots along the length of the wound, or, if practical, a linear infiltration technique is used. The result is a reduction in redness of the scar and then slowing of growth, followed in most cases by regression of the bulk of the lesion.6
Silicone sheets
Silicone gel sheets, which can be placed on scars to encourage moisture accumulation under the scar to hydrate the skin, have also been shown to be effective for some scars and have led to a wide range of versions being made available for patients to purchase for themselves for self-treatment. Research has suggested they are safe and effective, and also well tolerated for the treatment of hypertrophic and keloid scars.7
Dermal fillers
Fillers are particularly suited to a couple of applications, namely pitted scars and acne scarring, such as ice pick scars. When combined with subcision,8 fillers can produce a cosmetically effective result. A single treatment can therefore provide both components of the treatment i.e. the subcision with the needle bevel, followed by the insertion of the filler material through the same needle to fill the space created by the subcision. This is an example of when a needle is more effective than a cannula as the latter cannot be used for subcision. The filler needle's bevel can be inserted below the defect or ice pick scar and moved from side to side in an arc to divide the tissue, anchoring the base of the scar down to the subcutaneous tissue. Injecting the filler material, usually hyaluronic acid, will fill the defect from below and raise the surface of the scar to be consistent with the surrounding tissue, thus reducing its visibility for the life of the filler, which may last between to four to nine months depending on the product. Furthermore, the production of new collagen is stimulated in the same way as microneedling, which may lead to more permanent filling of the defect by the patient's own tissue. Other types of filler materials such as calcium hydroxyapatite may be more effective for this latter function.9,10
It has been indicated that laser therapy for hypertrophic scars has approximately 70% efficacy
Microneedling
Microneedling therapy, also called collagen induction therapy (CIT), and percutaneous collagen induction (PCI), involves making large numbers of punctures into the scarred area using needles which can generally range from 0.5mm to 3mm in depth.11 The devices used can be pen-like or needle encrusted rollers, used under topical anaesthesia. The punctures are repaired by the body's natural healing process of skin proliferation12 producing collagen and elastin to plug the wounds, which can reduce the appearance of the scar. This treatment is used for most types of scar.
Lasers
Lasers have been used for scar treatment since their early incarnations and they have benefits based upon multiple modalities. The older and more basic lasers rely on tissue destruction to achieve results. With a raised scar, selective destruction of the raised portion can easily reduce the prominence of the scar tissue rendering it flatter and more amenable to camouflage with makeup. Non-fractional CO2 ablative lasers would be an example of these. The newer, fractional lasers only treat fractions of the skin surface at a time, effectively dividing the target into thousands of fine treatment areas producing perforations in the scar, which then heal in a manner similar to microneedling wounds over multiple treatments.13
Moving on to pulsed dye lasers, the wavelength of the beam allows the pigmentation of the scar to be targeted, helping it to pale back to skin colour, as the redness of the scar is usually caused by its vascular content for which the pulsed dye laser is optimised.14 It is logical that a combination of these technologies can be used to give a superior result over multiple treatments. For example, an ablative laser could be used to resurface an uneven scar by destroying the proud tissue, then a fractionated non-ablative laser could be employed to drill new channels into the scar to promote production of new tissue, followed by a pulsed dye non-ablative laser used to reduce pigmentation. It has been indicated that laser therapy for hypertrophic scars has approximately 70% efficacy.15 Another study advised that laser therapy should become an integral part of hypertrophic scar therapy and may reduce the need for surgical excision.19
Clearly there are numerous treatments that rely on similar methods to reduce scarring, which could be viewed as interchangeable depending on the practitioner's skills and preference. For example, several use tissue destruction (laser, TCA peels) to remove excess scar tissue and others use tissue damage/growth stimulation (fractional laser, microneedling) to promote replacement of scar tissue with healthier collagen.
Case study: hypertrophic scar treatment
An alternative treatment for scars is platelet rich plasma (PRP), which is used frequently in my clinic. I will now discuss PRP use in more detail and present a case study.
The subject (Patient A) is a 36-year-old female airline pilot who had a cervical discectomy in October 2015 after an injury that occurred whilst reaching for a control in the flight deck that was too far away and blew the disc, losing the use of the arm. Thankfully, she made a safe landing. After surgery she made a full recovery and initially had a very neat paramedian scar on the anterior aspect of the neck on the left side. Figure 1 shows a picture of the wound, which the patient took on her phone the day after the procedure. By February 2016 the wound had begun to show signs of hypertrophy. She attended my clinic in April 2016 with an angry red scar, which had not grown outside the margins of the original wound so was deemed to be a hypertrophic scar. The patient also showed me two scars over her scapula, where two papillomas had been removed before the neck injury. These also showed hypertrophic scarring and had been treated with corticosteroid injection previously with little effect (Figure 2). The decision was made to treat the neck scar with PRP rather than corticosteroids as the scar was in a very visible place on Patient A's neck. Furthermore, the wound was relatively new, and corticosteroids can thin and pale the skin as well as potentially weaken the scar. PRP has growth stimulation properties and was considered more likely to strengthen, rather than weaken the wound.16 Laser therapy seemed impractical due to the wound being so narrow, so collateral damage was likely.17 Topical treatment and peels were discounted for the same reason. The daily visibility of the scar called for a treatment that would not cause a local reaction making the wound more unsightly during the healing process, thus PRP was deemed, on balance, to be the best option.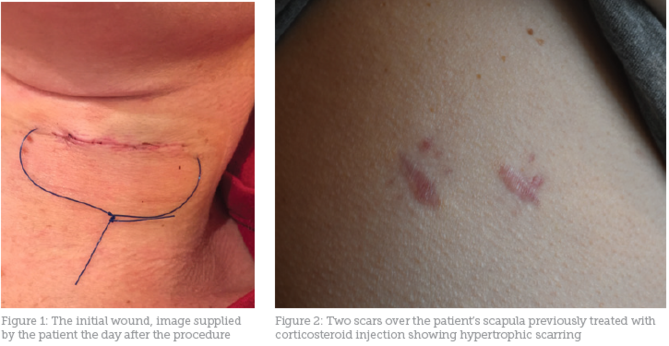 PRP
Platelet-rich plasma is made from the patient's venous blood that has been centrifuged to make it especially rich in platelet cells. Platelets contain several different substances including a useful range of growth factors like VEGF (vascular endothelial growth factor), bFGF (basic fibroblast growth factor) and PDGF (platelet derived growth factor), all of which stimulate new growth of tissue and blood vessels.
PRP is a relatively old therapy, first developed in the 1970s and used in open heart surgery in Italy in 1987.18 The use of PRP continues to expand into more and more areas. After training with Dr Daniel Sister I have learnt how PRP can be used as a basis for treatment for a wide range of indications, including leg ulcer treatment, gum recession and male and female genital rejuvenation, as well as more obvious aesthetic applications such as facial treatments and, the subject of this article, scar treatment.
Treatment
Figure 3 shows the wound prior to treatment. Contraindications to PRP would include bleeding disorders, current warfarin or non-steroidal anti-inflammatory drugs (NSAID) usage or evidence of infection in the wound. In the consultation the patient was told of the possible side effects, which include bruising, swelling and infection. The process began by drawing 20ml of blood, along with an anticoagulant, which was then centrifuged. The plasma was activated with calcium resulting in 8ml of active PRP. The wound was injected with aliquots of 0.2ml of PRP using multiple punctures. The wound was also underrun with 1ml of plasma at the level of the deep dermis.
Review
After eight weeks the patient was reviewed and the wound showed a significant improvement. Figure 4 shows the scar post treatment. There was a reduction in the redness of the scar, apart from a fine border, which remained hyperaemic. Also, the most lateral portion of the scar remained raised, whilst the rest had flattened completely. The patient was delighted with the response, but was keen to see if further improvement could be achieved, particularly in the lateral region and also in the colour, which she felt still drew attention to the scar and was difficult to disguise without a scarf. A second round of plasma therapy was undertaken at this appointment and the patient was reviewed eight weeks later.
At the next review, shown in Figure 5, the lateral portion of the scar can be seen to have responded well and flattened. Also the hyperaemic border has resolved and the scar no longer looks active. An appointment has been made to review the patient six months after the second treatment for final follow up, although no further treatment is planned at the moment.
The future
A new treatment that I am now trialling in my clinic is plasma beam therapy. This treatment is delivered via a small portable machine called the Plasma IQ. There is a similar device called Plexr. It delivers a curved beam of plasma energy created from charged gas, in this case room air. This device can even be used on low power without anaesthesia, which is something I have tested on myself. The main use of the technology is for upper blepharoplasty, although it seems very suitable for some types of scar removal as it is far more subtle in its action than other treatments. The wound is relatively innocuous and the results are encouraging. I plan to report on my results with this new treatment in the New Year.