Regardless of patient demographic, the jawline is an aesthetic concern for many. Both men and women will experience age-related changes that include bone resorption, decreased tissue elasticity, and redistribution of subcutaneous fullness.1 According to practitioners interviewed for this article, younger patients are also now recognising how aesthetic treatments can create a more defined jawline, which will enhance their profile and overall facial features. So how should aesthetic practitioners approach treatment? And what results can be achieved? Four clinicians share their techniques and best practice advice.
Concerns
"The main concern patients present with is a lack of definition of the jawline," explains aesthetic practitioner Dr Raul Cetto. "Having a straight line from the corner of the mandible to the chin is a sign of youth, but as we age there is a redistribution of volume so we end up having things like a double chin or a heavy jowl," he explains. For women particularly, jowling is often their number one concern in this area, according to dentist and aesthetic practitioner Dr Heather Muir. "Very few older ladies will come in saying they need bigger cheeks, but they will tug on their jowl to try and lift their face; pulling it upwards and backwards to take the jowls away," she explains, adding, "It's often the first place they tend to go when you ask them to point out their concerns." Aesthetic practitioner Dr Paul Baines agrees, emphasising that this is a valuable treatment for ageing patients and those seeking stronger definition.
37-year-old male patient
Consultation
This 37-year-old patient initially presented to my clinic with concerns regarding his lower face, in particular a weak chin and poorly-defined jawline. He had previously undergone mid-face and under-eye dermal filler treatment. During the consultation, the patient told me that he had always been concerned with the lack of definition of his lower face and what he described as a 'weak chin'. He explained that he even grooms his beard so that it is longer in certain areas to simulate a well-defined jawline and a projected chin. I had to convince the patient to shave before coming to see me, as he hasn't had a clean shave for years. Following a two-week cooling-off period, the patient attended my clinic for treatment. I ran through all the points in the consent form, which informed him of potential risks, as well as what to expect from treatment immediately and in the following days.
Product choice
For the treatment itself, I used a combination of two hyaluronic acid (HA) dermal fillers. These were Teosyal Ultra Deep, which is used on the periosteum to project the overlying tissue to create volume from deep within.2 I find that it's very good, especially if you want to give the chin projection as, in my experience, it gives quite a lot of lift of the overlying structures. For this case, it was particularly useful because it created a more masculine 'bone structure', with a broader chin which is more anteriorly projected. I then used Teosyal RHA 4, injected superficially. The product is also a volumiser, but because of its viscoelastic properties, it's actually very strong but malleable.2 I find that it works well when you want to create a straight mandibular and chin line. Most importantly, when patients are speaking or eating and the mouth is moving, the product won't be visible. It looks natural, whereas if I used a stiff volumiser injected deeply you would be able to see the implant upon animation.
Technique
To start, I injected a 0.2ml bolus of Ultra Deep into the chin in three points, down to the bone, using a needle to achieve a broader chin and anterior projection. I then injected a 0.1ml bolus on each side of the pre-jowl sulcus, medial to the mandibular ligament to further broaden the mandible and camouflage the jowl fat, followed by a 0.2ml bolus on each side of the gonial angle, deep onto the bone, which gave lateral projection and definition of the lower face. The total amount of Ultra Deep used was one syringe of 1.2ml. RHA 4 was then injected at the level of the superficial fat using a 25 gauge 50mm cannula, with a total of 0.3ml per side to the lateral lower face at the gonial angle. For the chin and the jowl, a secondary entry point was made and 0.3ml of RHA 4 was injected again at the level of the superficial fat to reduce the marionette lines, labio-mental crease and enhance the chin line. The same procedure was repeated on the other side, using a total of one syringe of 1.2ml of RHA 4. Overall, this patient had two syringes for his treatment.
Results
The patient did not experience any side effects and was very happy with his results when I followed up two weeks later. It's extremely satisfying to be able to use these tools not only for addressing the ageing process, but also to correct or create structure where it has always been deficient. Undesirable anatomical variants such as a retrognathic chin or an underdeveloped mandible could previously only be treated with surgery, so the fact that we have these non-surgical implants which can also correct with little to no downtime is amazing.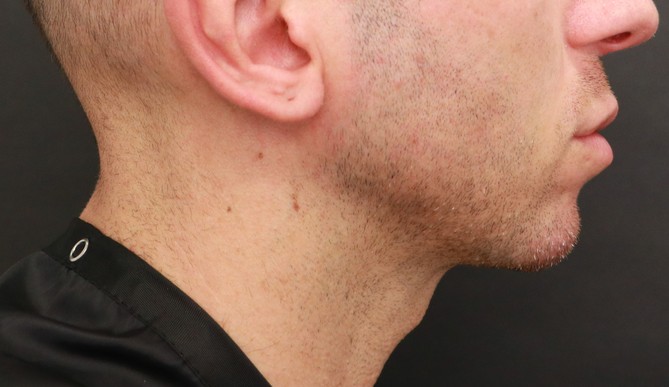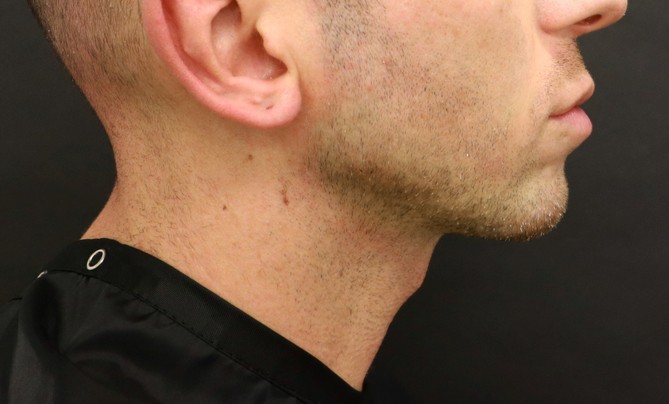 62-year-old female patient
Consultation
I've been treating this 62-year-old patient for about eight years with HA, toxin and skin-tightening procedures. While she's had a few treatments and looks great anyway, the general loss of definition in her jawline was something that really bothered her. Addressing the patient's concerns in the lower face was the next phase in her overall treatment plan – I had started in the upper face and worked my way down. The patient was informed and aware of the risks of bruising, swelling, asymmetry, and lumps and bumps, as well as more serious complications. I also discussed alternative treatments for the lower face, such as surgery and thread lifts; the patient chose to go ahead with fillers as she considered them less invasive and valued the minimal downtime. I used Clinisept Plus to thoroughly cleanse the skin and remove traces of makeup before the treatment, and covered the patient's hair with a hairnet. I find this is particularly important when treating the jawline as it's easy for hair to fall into that area if it isn't tied back.
Product choice
The main product I used was Restylane Lyft, which I find beneficial particularly in the posterior area of the mandible because it's got a high G prime,3 which means I can use a small amount of product injected in a bolus to lift the tissue quickly and provide structure. More anteriorly in the pre-jowl sulcus I used Restylane Defyne; in my experience this integrates well with the tissues, which is especially important in this area of animation. It still has a good G prime and is crosslinked so will be quite robust, but it is just a little bit smoother.4
Technique
For this patient, I injected a 0.5ml bolus deeply down to the bone using a needle on either side of the mandible. Next I used a 25 gauge cannula for my two other injection points in the border of the mandible; my insertion point was at least 1cm in front of the anterior border of the masseter muscle. When injecting, I looked out for the facial artery – it tends to traverse up in front of the masseter muscle – I marked that point to ensure I avoided it. I ensured I marked the patient while she was sitting upright to ensure I don't add volume to the region. From that point I worked back, creating a line with a 25 gauge cannula along the mandible and then came up from the anterior point in the mental region. Again, I used a cannula along the border of the mandible, injecting 0.5ml in a fanning motion upwards in the prejowl sulcus on either side – this time using Restylane Defyne. I started posteriorly first, with deep injections, then linearly threading using a cannula, before linear threading with a fanning technique in the pre-jowl sulcus. I did this because by pulling back the tissues in this area, I did not need as much product. I also addressed the patient's 'orange peel' dimpling appearance on her chin. For this I adopted a fanning technique, putting extra support between the skin and mentalis muscle. This meant that when the muscle is active and you can particularly notice the dimpling, there's a little bit more cushioning and support there so it doesn't quite pucker the same.
Results
The patient experienced a small bruise in the pre-jowl sulcus, which was not of concern and disappeared within a couple of days. I reviewed the patient two weeks later and everything had settled beautifully, so she was very happy with the results.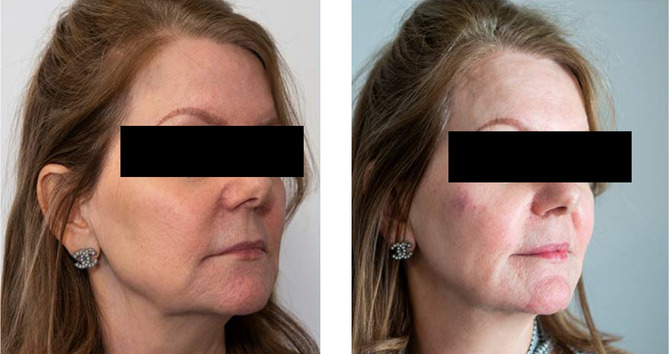 52-year-old female patient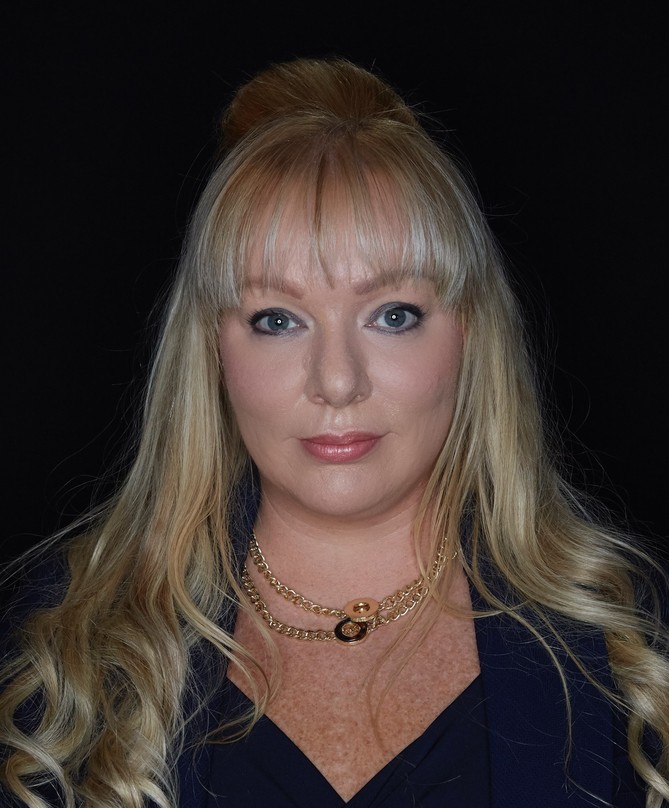 Consultation
This 52-year-old lady has been a patient of mine for approximately seven years. Her original concerns were feeling tired and saggy, so she wanted to look and feel her best for her age. She has regular botulinum toxin treatments and is on a full-face dermal filler treatment plan, in which we have treated her cheeks, jawline, chin, lips, nasolabial folds, marionette lines and given her an eyebrow lift. The patient is happy with what we have achieved, so we are simply maintaining her results when appropriate, which is usually every 18 months. About two months prior to this particular treatment, she had 2ml of Juvéderm Voluma injected into her cheeks in total. As such, treatment of her chin was now on the agenda so I invited her to try the new Juvéderm Volux product.
Product choice
Juvéderm Volux has been specifically formulated for chin and jawline treatment, and shouldn't be used anywhere else. It is a high elasticity and high cohesivity product, with a high lift capacity, which basically means you get a better result with less product. Clinical data has suggested that it will last for up to two years.5 Previously I would have used Juvéderm Voluma to treat this area, however that would usually require an average of 4ml of product, compared to the 2ml used in this treatment. Injecting Juvéderm Volux feels the same as Juvéderm Voluma, however it is important to note that practitioners require specific training and need to be mindful of depth, placement and volume of product used.
Technique
The patient has a bulky mentalis muscle, with a deep labiomental sulcus. Lack of bone support in the chin has resulted in hyperactivity of mentalis, causing the chin to rotate, giving a masculine appearance. I treated the labiomental sulcus directly with cannula, using a total of 0.3ml. Myomodulation with dermal fillers can be used to either support muscle movement or to stop overaction of muscle. Treating the labiomental crease myomudulated mentalis by reducing muscle movement, everting the chin and making the lower lip appear more enhanced. Then I treated the chin apex with a total of 1ml for further chin eversion and to create a softer, more feminine point. To complete the treatment, a total of 0.7ml was injected via cannula into the soft tissue pogonion, giving support to the anterior chin. I used a cannula to administer the product as it improved the comfort for the patient without me needing to create multiple punctures in the area, as the chin can be a very sensitive area to inject.
Results
The patient did not experience any side effects such as swelling or bruising, however it has been reported that patients can have some tenderness in the treatment area for a couple of days. The patient did not have any topical anaesthetic cream prior to treatment and found it very comfortable. I advised her to avoid makeup, exercise and alcohol for 24 hours and told her to not touch the area for the same period of time – I always spray patients hands with Clinisept Plus just in case they do accidentally touch the area. I also tell patients to avoid facials or other treatments in the area for a minimum of seven to 10 days. I followed up with the patient two weeks later, as I usually do with all my patients, and we discussed the next stages of her treatment plan, which involves creating further support in the marionette lines.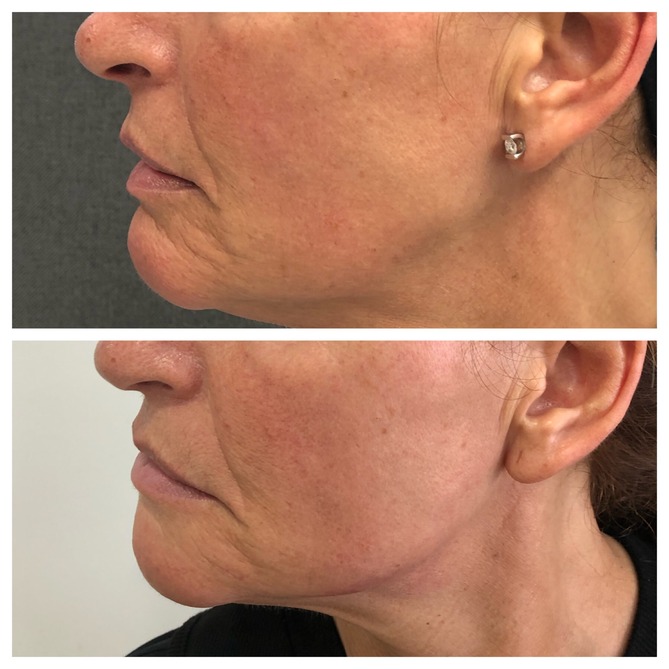 41-year-old female patient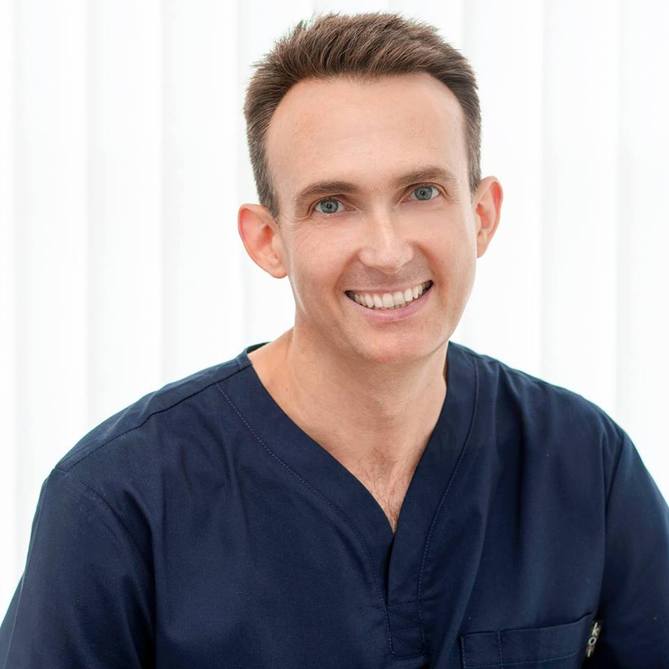 Consultation
My 41-year-old patient presented in clinic requesting a subtle lift to the whole face, without being able to identify which areas had been treated. The plan to achieve this was to target all three of the lifting vectors of the face; namely, the cheek, chin and behind the jowl towards the angle of the mandible. The patient was satisfied with my rationale behind this approach, encouraged by the prospect of achieving maximum lift whilst maintaining a natural look.
Product choice
In the mid-face I used Restylane Volyme, which is a softer product and, in my experience, produces better contouring and allows for greater expression in this area. In the lower face, along the jawline and in the chin, I used Restylane Lyft as it has a higher G prime to achieve projection. I also used Lyft behind the angle of the mandible because again this allowed precise lifting without lateral volumisation.
Technique
For the chin I used approximately 1ml of Restylane Lyft spread over six injections, at three points either side of the midline. I injected below the mental ligament to extend the vertical length of the chin, as well as achieve anterior projection. Injections were placed immediately above the periosteum. Due to the inevitable blunting of the needles with this technique, I prefer to change needle with every injection to reduce the likelihood of bruising. A very small amount of product is lost with the needle change, but as only very small doses are required using Lyft, the benefits to patients makes this sacrifice worthwhile. The posterior injection point varies between individuals, but for this particular patient I placed a single bolus of 0.5ml of Lyft directly onto the periosteum, behind the angle of the mandible. I recommend opening the jaw and very clearly palpating the contour of the posterior aspect of the angle of the mandible. Placing the needle directly onto the angle, I placed my thumb below the mandibular margin to prevent inferior displacement. Aspirating prior to injection, I then placed 0.5ml of Lyft. This creates an immediate retraction of soft tissues with tightening of the jawline. The process was then repeated on the other side.
Results
The patient did not experience side effects or complications and returned to work the next day, very happy with her results. I arranged to see her four weeks following the treatment, at which point the products had fully integrated into the tissues.
I would anticipate this sort of treatment lasting for about nine to 12 months but we would plan a review around six months when a top-up can be considered. I like to let the product integrate into the tissue before adding more to minimise the risk of biofilms, which can be associated with larger boluses.6

Considerations
Side effects and complications
Dr Cetto explains that the first thing patients will notice following HA treatment is the anaesthetic from the product wearing off.
"Especially around the mouth, it can feel a bit funny," he explains, noting that this will usually go away in half an hour or so. While patients tend to be impressed with the instant results, the skin tends to be a little red, he says, adding, "Thanks to the microcannulas we use, patients can barely see the entry points as they're so small."
The practitioners emphasise that bruising can be expected, but will disappear within a few days. "I advise my patients that they can use arnica or vitamin K to reduce a bruise, but most will just wait for it to disappear," says Dr Muir. Warning patients of the risk of redness, bruising and inflammation is essential, agree the practitioners, as is enquiring about upcoming social arrangements to plan suitable treatment dates.
"Tell them to keep the area clean for a day and do a gentle wash at night," says Dr Cetto, adding, "I ask them to avoid massaging the area, as I find this tends to increase inflammation and swelling. I also ask patients to avoid anything that would increase their heart rate or make their face flush because that tends to aggravate swelling; for example, excessive drinking or heavy exercise."
The clinicians agree that it is imperative to reduce the risk of infection by thoroughly cleansing the skin prior to treatment and working in an aseptic environment. Dr Muir performs all her injectable treatments with the assistance of a nurse, specifically to reduce the risk of infection. "When I'm working with a cannula I never place it back down onto a surface; it's always passed to person to person, keeping it nice and clean," she says. As Dr Baines highlights, a vascular occlusion is the most catastrophic complication that could occur following injection of HA. "The number one rule when performing these treatments is to have full awareness of where the blood vessels are," he says, adding that, it is particularly vital that practitioners recognise the route of the facial artery, remembering it runs deeply over the border of the mandible, anterior to the masseter. Dr Baines advises to inject superficially and always use a cannula in this area to reduce risk.
Dr Cetto adds, "Luckily, vascular events are rare but it is definitely something we must point out to patients. Something I learnt when working as a surgical registrar is when you're consenting a patient, for every single potential complication you mention you should say what you're going to do to try and prevent it. For example, with bruising and vascular complication, I'll explain that I'm going to use a cannula, which will be less likely to bruise and inject into a blood vessel. For infection, I'll sterilise the skin and ask the patient to keep it clean after the treatment." Dr Cetto says that by adopting this approach, it will builds patients' trust in you as a practitioner.
Gender variations
Recognising anatomical gender differences is vital, says Dr Cetto. "Practitioners should note the lower facial third differences in men and women in terms of angle and the width of the chin. The female lower face tends to become heavier in the lower third as we age, and becomes squarer," he explains, noting, "Adding more volume on the lateral aspect where it's already heavy usually has little to no improvement and can potentially make things look worse."
From Dr Muir's perspective, assessment is the most important part of a consultation.
"I think practitioners have to look at jawline positioning and consider the maxillary and mandibular position," she says, explaining, "If they don't and the patient already has a class three mandible that protrudes more than the maxilla, they may be exaggerating the angle of the mandible or the mental region, which can make that look more predominant." In female patients, this is not always aesthetically pleasing as it is generally regarded as a more masculine trait, she adds.
Managing expectations
Cost of jawline treatment with HA can be expensive due to the amount of product needed, says Dr Muir, so ensuring patients know what results they can expect is particularly important. "A lot of patients think that because of the money involved, it's going to give the same results as facelift, but it's not, unfortunately. HA will give a good result but it won't be as clean cut as being able to pull all the tissues back," she says, advising, "Some patients will be over the moon with the immediate result when there is a degree of inflammation, but slightly disappointed when this decreases over the next few days. Choosing products that don't tend to have a large degree of inflammation and making sure patients are fully aware of what to expect is therefore vital," she says.
To breakdown the treatment process and expected results, Dr Baines says he uses the analogy of a tent with patients. "I explain that the structure of the face can be compared to the frame of a tent," he says, detailing, "The 'ridge pole' of the tent is the mandible itself, the jawbone. As we age, that 'ridge pole' gets shorter as the bones are resorbed. As the 'ridge pole' gets shorter, the effect is that the 'tent material', which represents your skin, starts to gather, resulting in the appearance of the jowl. We address this by making
the mandible 'ridge pole' longer again by reinforcing the projection anteriorly at the chin and posteriorly behind the angle of mandible or by increasing the height of the 'tent', by augmenting the cheek."
Dr Baines adds that the lower face is two thirds of the structural support of the 'tent'. He explains, "A lot of practitioners fall into the trap of over-reliance on the cheek as the only lifting vector – all too often leading to over-treatment in this area. By incorporating the lower-face vectors of the chin and posterior mandible, volumisation can be shared between these sites and a more natural result achieved.
For Dr Cetto, it's important practitioners know the limitations of their tools. He says, "We should discuss with patients the treatments that we don't personally offer so they have a clear choice of options – it's therefore important that we know what a facelift or necklift involves, the approximate cost, associated downtime and who to refer to if patients wanted to go down that route."
As always, the practitioners agree that it's very important that we treat aesthetic treatment as a medical procedure. Dr Cetto concludes, "We should treat injectable procedures with even with more seriousness because they are usually an unnecessary medical procedure – we're not doing it for medical reasons – we have to be extremely careful and take as little risk as possible."