Whether it's photos of the latest celebrity to have shrunk down instantly after giving birth, or research claiming that one must lose a specific amount of weight to appear more attractive to the opposite sex,1 it seems there is always a reason for people to be dissatisfied with their bodies. Much of the focus of these imperfections – perceived or actual – is on a person's size and weight, so it's no surprise that a new year tends to encourage people's resolve to shed the pounds. Research has suggested that up to 20% of people will make New Year's resolutions to lose weight,2 yet as many as three-quarters will fall by the wayside within just a few weeks.3 However, there are a number of aesthetic interventions available to help people in their quest to get rid of excess fat and create their ideal silhouette. Moreover, the treatments on offer are becoming progressively more effective at achieving their desired outcomes, with reports of fewer complications and adverse events. While the options for people who are very overweight remain somewhat limited to heavily invasive surgical procedures, aesthetic practitioners have a plethora of tools at their disposal in treating people who have smaller amounts of excess fat and a degree of loose skin, particularly around the stomach area. Dr Martyn King, owner and director of Cosmedic Skin Clinic, offers a number of non-surgical treatments for reducing fat, combatting skin laxity and contouring the abdominal region. "It's for all kinds of people; but for people who are really overweight the non-surgical treatments alone aren't going to get rid of their fat," he explains. "So ideally people will have lost some weight, but they'll have been left with little pockets of fat or little areas that are quite resistant." According to Dr King, the optimum patient profile is someone with a body mass index (BMI) of between 25 and 30, which is classed as 'overweight' according to NHS guidelines.4 However, he adds, this is not to say that there aren't benefits for patients with a BMI less or more than this amount. In terms of targeting the stomach area, non-surgical treatments are typically aimed at either reducing fat, tightening the skin, or both. This article will discuss a range of different methods and detail how they work in practice.

Ultrasound-assisted liposuction
Liposuction has been the go-to treatment for many patients seeking the removal of unwanted fat in stubborn areas for a number of years. However, although effective as a body contouring solution, often following weight loss, it is associated with a number of side effects and complications (Figure 1), and is an invasive procedure that often requires considerable downtime.5 Notwithstanding, it remains fairly common, with 7% more procedures carried out in 2014 than in the previous year, making it the fifth most popular surgical procedure in the UK.6
| Local | Systematic |
| --- | --- |
| Odema | Significant blood loss |
| Ecchymosis | Hypothermia |
| Seromas | Visceral perforation |
| Haematomas | Fulminant infection |
| Wound infection | Fat embolism syndrome |
| Under correction | DVT. thromboembolism |
| Overcorrection | Pulmonary oedema |
| lrregularities | Dissatisfied patient |
| Neurological | |
| Umbilical deviation | |
| Asymmetry | |
| Skin laxity | |
| Hyperpigmentation | |
| Scar related | |
| Skin necrosis | |
Figure 1: complications of liposuction5

There have been several series of modifications to liposuction techniques, each looking to produce a more favorable treatment option with fewer adverse events. One such development is ultrasound-assisted liposuction (UAL), whereby high-frequency ultrasound energy is used to vibrate the tissue and break down the fat, which can then be removed by aspiration.
How it works
"Ultrasound technology has been used in medicine for many years, and now precise, controlled power can be used to target fat," explains cosmetic surgeon Dr Max Marcellino. The procedure is, in application, very similar to traditional liposuction: after the treatment area is injected with tumescent fluid, probes are inserted through the skin to the target area. These probes deliver high-frequency ultrasound, which shakes loose the fat cells while ensuring surrounding tissue is unaffected. These loosened fat cells are then free to mix with the fluid, which is removed from the body through a cannula.7
"I use this method as, in the majority of cases, I have better skin retraction, smoother, faster and more controllable results," explains Dr Marcellino. "It is ideal for treating the 'beer belly' for men, and the flanks and tummy of women of any age with a degree of skin excess. All patients can be suitable. The limit is when there is too much skin excess or skin elasticity, and in these cases I would perform a mini-abdominoplasty associated with UAL, or full abdominoplasty." Studies have reported the efficacy of latergeneration UAL machines and technology, suggesting that they deliver greater fragmentation of fat cells at a lower energy setting and using pulses of energy, rather than a continuous flow.8 It has been reported that patients generally experience less pain, with the shorter operative time resulting in preservation of vessels and nerves.9 However, the treatment could arguably be superseded by newer technologies,8 some of which are discussed herein.
Cryolipolysis
Cryolipolysis is a process by which small areas of fat are literally frozen, while the skin is left intact and undamaged. Its therapeutic applications evolved from the scientific understanding of the physiological process involved in frostbite, and it has been widely used in medical aesthetics for around five years.10
How it works
Application of cryolipolysis entails a moulded cup-type device being placed on the area of the stomach to be treated. The device is held onto the area for around 45 minutes to an hour, during which time it uses suction to draw the fat up into cooling panels. The fat is cooled to a temperature of around -5°C, at which point it is broken down and can be disposed of via the body's lymphatic system. According to Dr King, up to 40% of fat cells can be removed, afterwhich you can achieve visible and impressive results. An added advantage is that because the procedure does not involve surgery and is minimally invasive, there is no downtime and no requirement for anaesthetic. "I have seen a few cases where people have got frost burns from cryolipolysis," he comments. However, reliable technology in expert hands should preclude such damage to the skin. A 2015 review of clinical evidence concluded that cryolipolysis is a safe, effective non-surgical option for fat removal and body contouring, with few side effects (mild redness and bruising and some localised pain in the days following the procedure),10 thereby, according to Ingargiola et al, presents, "A compelling alternative to liposuction and other, more invasive methods."11
According to Dr Beatriz Molina, founder and medical director of Medikas, fat freezing tends to be more popular with male patients than with female patients, because it's arguably 'manlier' than other fat reduction treatments. "Also, the majority of males have a much thicker skin and thicker adipose tissue accumulating," she explains, adding, "and generally more fat with less skin laxity, which women tend to have, so the cryolipolysis is more suitable for men anyway." As well as cryolipolysis for slightly overweight patients, Dr Molina says it's also effective for smoothing and flattening skin without removing any fat in very slim women.
Fat cavitation
As well as applications in liposuction, ultrasound technology can be used in other ways to reduce fat and sculpt the region being treated, namely ultrasound fat cavitation. This technique delivers ultrasound to transform fat cells into liquid, through a hand-held applicator that is passed over the skin.
How it works
Unlike UAL, ultrasound cavitation is non-invasive, enabling the broken down fat to be removed naturally by the body, rather than being sucked out. Dr King explains, "This works by vibrating the fat cells together and generating heat, and that causes destruction of the membranes in the fat cells. The content of the fat cells effectively spills out and can be removed during normal lymphatic drainage."12 Each treatment takes 30 to 45 minutes, and a course typically involves around six sessions, although some results are visible straight away. "Post treatment, you can quite often see an inch loss around the abdomen," he adds. "But after that it's common to redistribute and put some fat back on. You tend to find when you measure the patient a week or two later, it's half an inch less (in total)." As such, fat loss happens gradually over the treatment course. Anecdotal evidence suggests fat cavitation is painless, with side effects limited to some mild redness in the area, and because it's a non-invasive procedure, there is no need for anaesthesia and it results in no scarring or long-lasting skin marking.13 Published evidence supports the notion that ultrasound cavitation is 'a promising and safe technology' in tackling localised adipocyte fat.12
Radiofrequency
A fourth option is to deliver radiofrequency (RF) energy non-invasively to the tissue to target fat and tighten the skin, giving a smoother and more toned look. The RF waves are turned into heat, which, when applied in a controlled way to the fatty layers under the skin, causes destruction of subcutaneous fat cells and collagen synthesis, leading the skin to contract and tighten. As with other methods, the surrounding tissue and skin are undamaged in the process. 14
How it works
The application of RF energy causes charged molecules and ions in the cells to collide together, transforming them into heat. This, in turn, results in a micro-inflammatory process that stimulates the production of collagen. Manipulating skin cooling at the same time also results in the heating and reduction of fat, making RF devices an effective treatment for the non-invasive management of skin laxity and cellulite.14 Dr Tracy Mountford, founder and medical director of Cosmetic Skin Clinic, says the device she uses, "Focuses radiofrequency energy to kick start the body's own natural collagen stimulation – a combination of heat energy to deep tissue with cooling effects to protect the skin's surface." The device's hand piece is passed over the area several times, the session lasting between 45 and 90 minutes, depending on the size of the area being treated, the severity of the problem and the desired outcome.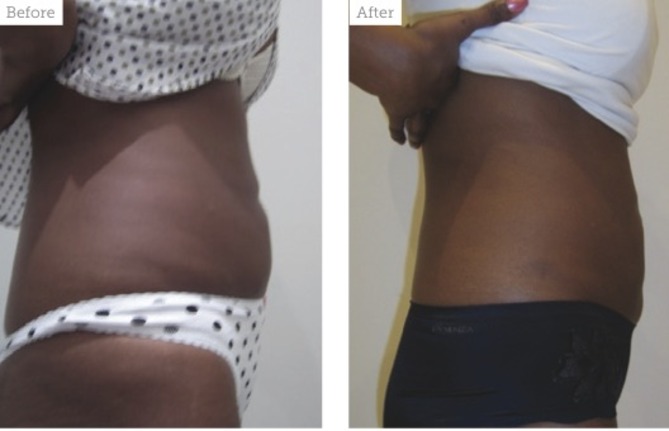 "It is suitable for people who have lost weight and are physically fit, between the breast and lower abdomen where skin becomes crepe-like and lax," Dr Mountford explains, adding, "we can treat love handles, muffin tops, mummy tummies and post-pregnancy skin laxity, as well as pre-menopausal and menopausal women requiring re-contouring and firming."
RF energy is not without its limitations, however. "It's a superficial treatment so it's not so good for reducing fat," comments Dr King adding, "but it can be used to correct fat loss in other areas, like around the face and jowls, and for skin tightening." It is reported that current protocols for RF treatment generally result in at least a mild improvement in skin tone, with a temporary reduction in the appearance of cellulite and possible inch loss, with minimal risks and downtime.16
RF and ultrasound combination
A number of practitioners employ technology that combines radiofrequency energy with ultrasound to maximise effects of both reducing fat and tightening skin. Dr Nestor Demosthenous explains that the depth-controlled heating with RF waves is able to specifically target the epidermis, dermis and hypodermis, thereby addressing skin laxity (as described above), while ultrasound technology works on adipocyte membrane, causing its breakdown and the natural expulsion of fat droplets.
How it works
"During treatment, RF is delivered via rapid 'in-motion' technology directly to the tissue causing the rapid rotation of water molecules – 40.68 million transmissions to the tissue per second,"
Dr Demosthenous says, adding, "this rotation generates friction, which produces powerful and effective heat that causes volumetric contraction, stimulating the formation of new collagen to tighten and firm the skin on the face and body. The device also utilises exclusive ultrasound selective resonance that uses cold and hot ultrasonic waves that selectively resonate with and destroy fat cells, while leaving surrounding tissue unharmed. The selective sound waves disrupt fat cell membranes leading to the gradual breakdown and release of stored fat through the lymphatic system."
Dr Anita Sturnham also uses a combined RF and ultrasound device, which, she says, is used to reduce fat and smooth skin in problem areas including the abdomen, saddle bags and love handles. "It heats the fat cells to a therapeutic temperature of 45-46°C, which stimulates fat cell death," she comments. "The treatment is suitable for both male and female patients, with areas of stubborn fatty tissue that can't be shifted by diet and exercise. The ideal patient needs to be motivated to lose weight and willing to engage in a diet and lifestyle care plan, to improve the efficacy of treatment."
Indeed, published evidence confirms that such technology produces improvements in the appearance of skin laxity, while also successfully reducing fat and sculpting the body.10,18 Dr Molina also offers a combined technique to treat cellulite and stretch marks and contour the stomach area. The method purportedly has a 100% response rate, with patients achieving an average 68% improvement in cellulite and 3.58cm reduction in circumference.19 Patient profile is a contributing factor in the treatment's success, however. "For stretch marks, patients of any age are suitable, but newer stretch marks are much easier to treat than old ones," she comments. "If someone had a child 20 years ago, it's going to be harder to treat than someone who had a child three or four months earlier."
Conclusion
As technology and treatment protocols become more advanced, the options available for treating the stomach become more expansive, demonstrating improved outcomes and, importantly, are more tolerable. "People are quite relaxed when they are having these treatments done; some have a massaging effect as well," remarks Dr Molina. "Patients can be chatting to you, or checking emails during the procedure, so it's a nice experience." Managing the expectations of carefully selected patients is key, says Dr Mountford. She adds that, "trained, experienced specialists who are skilled in body treatments, following strict protocols for maximising the effect of the technology" is also important. "There is also an element of artistry, where best results can be achieved."