Dr Ian Strawford details the use of collagen stimulating fillers and shares a successful case study
In my practice, collagen-stimulating fillers have become an increasingly popular treatment choice among patients in the 40-60 age group as they offer age appropriate, natural and long-lasting results with very low risks of complications.1
In this article I will discuss how a collagen-stimulator treatment differs from traditional hyaluronic acid-based fillers and how they can be used for facial contouring, volume restoration and skin rejuvenation through bio-stimulation of the tissues.
A rise in popularity
In recent years the recognition and importance that facial volume loss plays in the ageing process has shifted the focus of treatment from a concentration on isolated problem areas, such as the nasolabial folds, to targeting the entire face to restore shape for a more harmonious and natural effect.2
Dermal fillers have become a popular means of addressing volume loss and contour defects resulting from ageing, disease or trauma, and the most widely used are the ones based on hyaluronic acid gels.3,4 However, non-permanent collagen-stimulating dermal fillers have become an increasingly important and popular treatment in medical aesthetics.5 Since the introduction of calcium hydroxyapatite and poly-L-lactic acid collagen-stimulating dermal fillers in 2006 and 2004, respectively, the role of collagen stimulation in facial aesthetics has been extensively studied.5,6 Interestingly, the initial use of poly-L-lactic acid, was in patients with severe facial lipoatrophy associated with HIV infection, which was explored in a 2006 literature review conducted by El-Beyrouty et al., where results showed that cutaneous thickness improved in these patients.7
What is the mechanism of action?
On injecting any dermal filler or bio-stimulatory agent/biomaterial such as polycaprolactone into human tissue, there will always be an initial foreign body response in the host's tissues to the injected product.1 It is important to understand the mechanism of this foreign body response to understand why collagen stimulation occurs and how it is part of the normal healing response of the body.
Normal healing starts within two hours of a wound, through an initial inflammatory phase, with the production of macrophage cells, which in turn stimulate fibroblast cells, to produce initially type III collagen or scar tissue.1 This rapid production of type III collagen allows a quick initial healing phase. With an implanted material such as polycaprolactone, following the initial inflammatory phase and within two weeks, the micro-particles within the tissues will become encapsulated by fibroblasts leading to fibroplasia. This is a natural protective mechanism of the body to isolate the 'harmful' foreign particles. This gradual process of encapsulation produces a stable capsule of mainly type I, or non-scar tissue collagen, around each of the particles. This process of encapsulation will last as long as the foreign body or biomaterial remains within the tissues of the body.1,8,9
Multiple factors affect this process of encapsulation of the implanted material, including the site of implantation and the host response, which is dependent on the health status and age of the patient. Equally as important is the physical properties of the biomaterial implanted, notably the size and shape of the particles. Simply put, the effect of a biomaterial on the host is to stimulate an inflammatory/immune response and the response of the host on the biomaterial is to attempt to eliminate or encapsulate the foreign material.1,10 Biomaterial particle size and shape is a significant factor on predicting the response to the implanted material. Particles less than 20mm in size are phagocytosed by macrophages and eliminated from the body.11 Particle sizes of between 25mm and 50mm and spherical in shape produce the most fibrosis or new collagen when implanted, due to the higher surface area per mass of any biomaterial used.12 Particle sizes greater than 50mm in size are more likely to produce a prolonged inflammatory reaction, producing only type III collagen.1,11 In essence, a perfect bio-stimulatory material needs to produce a predictable host response when implanted, which in the case of collagen-stimulating dermal fillers, is to produce type I collagen in response to the biomaterial for as long as it is present in the body. Thus, in my professional opinion, the ideal collagenstimulating product used in medical aesthetics should consist of smooth microspheres no larger than 50mm in size, stable in both size and shape, as well as being long lasting, before degradation and full elimination from the body.1
Treatment technique
Prior to treatment, an aseptic technique should be adopted to prepare the face. Depending on where you are treating will determine the depth of injection; however, for temple hollowing, malar volume correction, cheek augmentation and jawline contouring, I would recommend a supraperiosteal injection, placing the product on the bone. More superficial placement can be used to address subdermal volume loss and for bio-stimulation, in order to increase collagen and elastin within the dermis. I would recommend that placement of the product can either be by 27 gauge needle or 25 gauge cannula. Caution should be taken with older patients who are less likely to respond well. This is because, with age, the number of fibroblasts decrease so the regenerative power reduces with age. Patients who smoke are also less likely to respond to treatment and auto-immune diseases, such as inflammatory bowel disease or rheumatoid arthritis, are a contraindication to this treatment.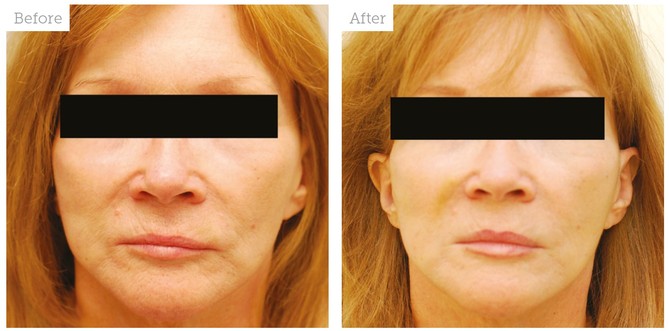 Side effects and complications
As with most dermal filler treatments, bruising and swelling is not uncommon. More serious complications such as delayed onset nodules and inflammation or infection are thankfully very rare. Numerous publications have described the modalities of complications seen with dermal fillers in general and the management and treatment of them.13-15 To my knowledge, there are not any complications that are unique to collagen stimulators that don't apply to other dermal fillers.
Case Study
This 62-year-old patient presented with concerns about volume loss in the malar area, loss of jawline definition and increasing superficial rhytids, especially in the perioral area. She had a full SMAS facelift 15 years previously and other than regular toxin treatments following the facelift, had not had any other non-surgical treatments. Following my assessment, I decided to address the rhytids and treat the malar cheek, marionettes, temple and jawline, while improving skin quality. My product of choice was Ellansé S and Ellansé M. This is because, as previously mentioned, the microspheres in the product are smooth, no larger than 50mm in size and stable in both size and shape (Figure 2).
The collagen stimulation following this bio-stimulation reliably shows a volumisation of the hypodermal fat layer with an improvement in dermal thickness and elasticity similar to traditional hyaluronic acid skin boosters, but with results lasting more than two years.16 I mixed 0.2ml of lidocaine 1% or 2% with each 1ml syringe to help with patient comfort during injection. This has been shown to be safe without altering the physical properties of the CMC gel carrier.17 I used a combination of needle and cannula for deep placement of the product supra-periosteal along the mandible to support the mentalis muscle and pre-jowl sulcus and posterior masseter at the angle of the mandible. Each depot bolus or linear thread is no more than 0.1-0.2ml. In this case the total amounts were 1.2ml.
To volumise the deep malar fat pad and the suborbicularis oculi fat I will always use a 25 or 23 gauge cannula, placing the product supraperiosteal on the bone. In this case, I used a total on 2ml for both cheeks, 1ml on each side. For the temples I used 0.4ml on each side, placed directly on bone using a 27 gauge needle.
The subdermal bio-stimulation technique involves passing a 25 or 23 gauge cannula in the superficial subdermal fat layer, repetitively moving the cannula as a form of subscision to free the superficial dermis, before injecting very small volumes of product, less than .05ml per linear thread to cover the area in a multi-vector pattern (cross hatch). This procedure was undertaken over the whole of the lower face, including the lips, using a total of 2ml.
Conclusion
All dermal fillers, whether traditional hyaluronic acid derived or collagen stimulating, induce a foreign body reaction to this 'implant', when injected into human tissue, and it is important to understand the biological process that occurs following this. Collagen-stimulating dermal fillers have their long-term effect by producing encapsulation of the product which, if stable, will produce healthy type I collagen and not an inflammatory reaction producing type III scar tissue. In my opinion, the ideal collagen stimulating dermal filler, needs to be smooth and spherical in shape and between 25mm and 50mm in size. In my practice, many patients are seeking natural and long-lasting results and collagen-stimulating fillers have become the main tool I use to achieve these desired outcomes.
Disclosure: Dr Ian Strawford is a key opinion leader for Sinclair Pharma, the manufacturer of Ellansé