Vitamin A and its derivatives have been a popular addition to topical skincare products for many years and, second only to sunscreen, are recognised as the gold standard for the prevention and treatment of skin ageing.1 Natural retinoids, such as tretinoin (retinoic acid) and synthetic retinoids, such as tazarotene and adapalene, are prescribed medications, whereas retinol, retinaldehyde and retinyl esters are skincare/cosmeceutical agents contained in many over-the-counter antiageing preparations. They exert their action by binding to specific nuclear receptors and modulating the expression of genes involved in cellular differentiation and proliferation, normalising cell keratinisation.1
Medical aesthetic practitioners should consider introducing a topical retinoid into the patient skincare regime, where rejuvenation and maintaining a youthful skin appearance are the primary goals of treatment. Side effects and tolerability are the main barriers to continued use, but these can be overcome by appropriate patient selection and proper instruction on application.
Benefits of topical retinoids
Kligman and Willis were the first to introduce the concept of using topical retinoids on photodamaged skin for rejuvenation in 1975.2 The benefits they observed included reduced wrinkles and surface roughness, and an improvement in mottled pigmentation.2 Histologically, decreased corneocyte adhesion, epidermal hyperplasia and increased collagen and elastin synthesis were observed.2,3 Later, around the 1980s,4 topical retinoids were also shown to play an important role in blocking collagenase activity, thus preventing collagen degradation as a separate effect.5,6 Tretinoin is the subject of most papers demonstrating the benefits of topical vitamin A derivatives on the skin ageing process. It enhances epidermal cell turnover, thereby reducing contact time between keratinocytes and melanocytes, promoting a rapid loss of pigment through epidermopoiesis.1
Since the initial observations by Kligman and Willis, these findings have subsequently been reproduced in numerous clinical studies and underpin the recommendation by dermatologists and other medical aesthetic professionals for individuals seeking smoother, firmer and more evenly pigmented skin to include a topical vitamin A derivative in their daily skincare regime.7,8 Continuous use is required for optimum results, and most of the aforementioned benefits are not clinically apparent before three months of regular use.1 The exception is improved skin smoothness, which can be detected as soon as one month after commencing application.1 Long-term treatment is required to maintain results once achieved and, notwithstanding withdrawal of treatment for women who are pregnant or breastfeeding due to the teratogenic effects of retinoids, there are no limits to the duration of treatment.1
Patient tolerability
Unfortunately, despite it's clear efficacy as an antiageing treatment, the introduction of tretinoin predictably leads to the development of retinoid dermatitis, a syndrome characterised by redness, flaking and sensitivity, that limits tolerability and provides a barrier to long-term compliance.9 Retinoid dermatitis occurs in almost all cases, although one study suggests that the percentage for tretinoin can reach up to 95% of patients.10
Retinol, a precursor of endogenous retinoic acid, has also been recognised as an effective antiageing treatment after it was reported to induce similar cellular and molecular changes to retinoic acid, but with fewer adverse effects.9,11 There are limited studies that have directly compared outcomes for retinol and retinoic acid head to head, however it has generally been assumed that retinol is less effective due to the additional step required to convert it to the active form. Indeed, recent research indicates that whilst similar clinical benefits may be detected, these are likely to be of a smaller magnitude for retinol. Nonetheless, the improved side effect profile and tolerability of retinol may offset this to some degree, making it an attractive over-the-counter alternative.9,11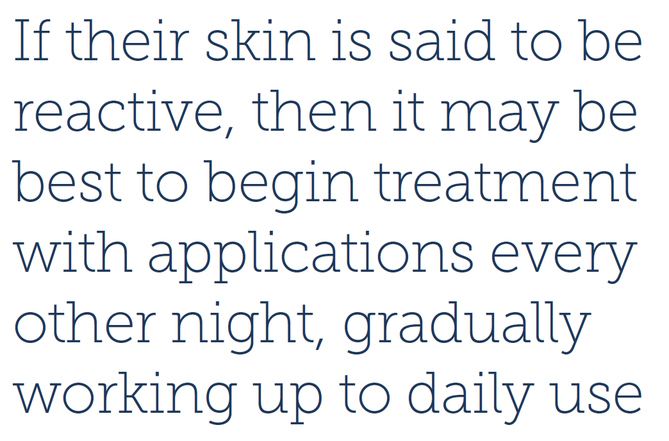 When considering the addition of a topical vitamin A derivative to the patient skincare regime, there are several considerations the practitioner needs to make. Patients have a wide range of skin types, ages and races and, for best results, treatment must always be individualised. To improve acceptance and long-term compliance, detailed instruction in the use and anticipated side effects of treatment are invaluable. Retinoid dermatitis usually appears within the first week or two of application and, depending on skin type, settles to near normal within a month of regular use.8 Whilst somewhat uncomfortable, mild scaling and stinging can be seen as advantageous if the practitioner explains that these are signs of adequate dosing. Application frequency can be calibrated against this response and many patients can titrate treatment themselves eventually by adjusting the dose and frequency of application, after initial instruction by their practitioner. The following tips, adapted from Kligman's original guidelines for the use of topical tretinoin (Retin-A), can help facilitate this process.8
Tips for compliance
Start with a lower strength
If the patient in question is naive to topical retinoid treatment, always start with a lower strength product and aim to build the potency gradually over time. A comfortable starting point for most is 0.3% retinol.8
Provide cleansing instructions
Cleansing should take place in the morning for comfort and in the evening for removal of makeup. Water should be warm and clean fingertips are the ideal applicator. Before application of the retinol, the skin should be cleansed with a mild facewash and dabbed dry gently with a soft towel or cloth. My preference is for a simple cream or gel-based cleanser. Moisturiser should be applied every morning after washing the face.
Apply retinoids at night
Retinoids are recognised photosensitisers, and patients should be advised to apply their retinol treatment at night as the final act of the day. A pea-sized amount of the retinol product should be applied to the central forehead and spread evenly over the face with clean fingers. Transient stinging or burning may be observed and is a good indicator that a sufficient quantity has been applied. Ideally, nothing further is applied to the skin thereafter as dilution with other creams, such as moisturisers, can reduce efficacy.8
Provide moisturising instructions
Offering a suitable moisturiser for daytime use can reduce symptoms, such as peeling. Whilst greasier or heavier moisturisers tend to be most effective at combatting peeling, many patients prefer lighter preparations as they are more cosmetically acceptable. This is also relevant if the patient has a history of acne, where occlusive formulations may induce a flare. If the frequency of retinol application is reduced during the initial stages of introduction to aid tolerance, or later during the maintenance phase, moisturiser should still be applied daily even on days when retinol is not used.8 Although I do not routinely recommend applying moisturiser after retinol application at night, it is not uncommon for patients to request an evening moisturiser as well. In this scenario, they are best advised to wait a minimum of 15-30 minutes after retinol application before moisturising to allow sufficient time for absorption.8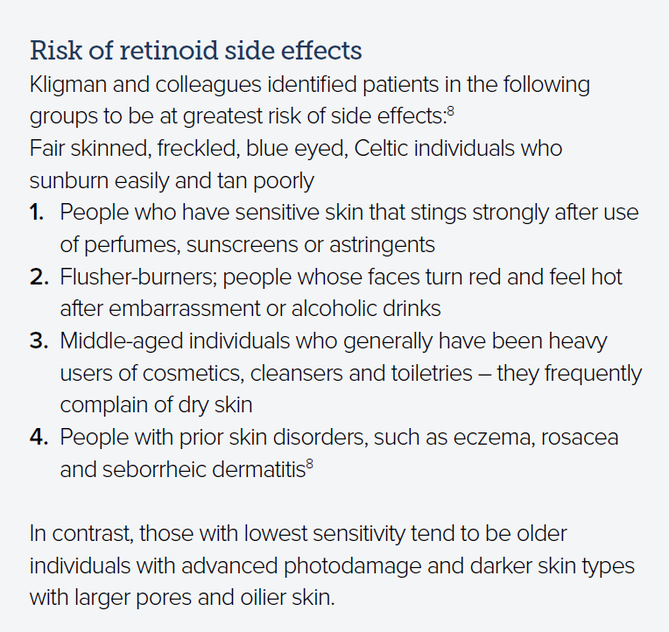 Adjust frequency of application
Another helpful strategy when introducing retinol is to gradually taper the application frequency. This is particularly pertinent if the patient has sensitive skin. To determine this, ask the patient directly how their skin reacts to other skincare products such as cleansers, toners, moisturisers or sunscreens. If their skin is said to be reactive, then it may be best to begin treatment with applications every other night, gradually working up to daily use. Examples of reactive skin include redness, flushing, burning or itching.8 A different technique known as 'short contact therapy', is also sometimes used to improve compliance in this group. It involves rinsing the product off 30 minutes post application. Efficacy of tretinoin short contact therapy seems to be superimposable to that of tretinoin applied in the standard way; however, reports of irritation are far fewer.10
Consider area of application
Treatment is principally aimed at improving the appearance of the face, however photodamaged skin on the hands and forearms can also be treated in the same way. Special attention should be given to particular body sites where the risk of irritation tends to be higher. The eyes and lips themselves should be avoided; however, it is possible to apply the treatment right up to the margins, particularly if reduction of crow's feet or perioral rhytids is an intended goal of therapy.
For those who are prone to ocular irritation and sensitivity, a dedicated eye contour product may be preferred. Many brands will do specific products for the eye area, which may contain less fragrance, fewer preservatives, a lower strength of retinol or even a retinyl ester e.g. retinyl palmitate instead, as these are better tolerated in delicate areas.
Treatment of the delicate, thin-skinned neck and décolleté also requires caution. It is advisable to apply the treatment very thinly to this area and even less frequently in the beginning, for example, every third night initially, and then every other night as tolerance develops.8
Educate patient of possible effects of retinol
Individual responses to the introduction of retinol therapy vary greatly. Some patients report little or no adverse effects, whilst others have some stinging. Irritation commonly takes the form of mild redness along with dryness and fine scaling that may last a month or more.
Those who experience excessive irritation or discomfort in the first few weeks may reduce application to alternate nights or even every third night depending on the severity of their symptoms (e.g. redness, dryness, scaling). As tolerance increases, daily application can eventually be resumed in most cases.
To maintain confidence in their practitioner, patients should be told what to expect from the outset and reassured that these side effects are anticipated, rather than a sign of something sinister, such as allergy. Without this, many give up on treatment before their skin has had a chance to accommodate.8
Escalate doses with caution
Dose escalation should be handled with similar caution. As soon as tolerated without ongoing redness, dryness or flaking, patients can try doubling the dose of their retinol by applying a pea-sized amount to each temple and spreading evenly over the face. After some months, around three to six in my experience, the dose can be increased again by moving up to a higher strength retinol, such as 1.0%, or indeed a prescription retinoid if appropriate. Patients must be warned that by applying higher strength retinol, any previous irritation encountered is likely to recur temporarily and can be offset by the use of a richer moisturiser, such as a heavier cream or balm rather than a lighter weight fluid or lotion, the following morning.8
Use retinol in combination
Retinol should never be used alone. It must always be paired with sunscreen and moisturiser. In my clinical experience, optimal concordance with topical retinoid therapy occurs when the patient is given clear guidance about which products to use alongside their treatment.
Some patients will already be using a number of other skincare products, and many complain of sensitive skin, failing to realise that this is the direct result of inappropriate product selection and combination. For the avoidance of doubt, it is often helpful to bring these patients back to zero by eliminating all soaps and active skincare ingredients from their daily routines before initiation, giving instructions on suitably gentle alternatives.
Patients should also be counselled specifically about avoiding irritants, such as toners, scrubs and peels. The stratum corneum is thinned during early retinol therapy, thus sunscreen is mandatory to protect the skin from further photodamage. This should ideally be an SPF of 30 or higher.8
Educate patients on result timings
Patients should be advised that evidence of clinical benefit can take three or more months to be appreciated and that for best long-term outcomes, maintenance must be kept up indefinitely. After eight months to one year of therapy, when maximum benefit ought already to have been obtained, daily therapy can be reduced to a maintenance schedule of two to three applications per week.8
Conclusion
Over the counter retinoids, such as retinol, can improve skin smoothness, reduce wrinkles and regulate pigmentation, albeit at a smaller magnitude than tretinoin, the benchmark topical retinoid treatment. Retinoid dermatitis, manifesting with redness, dryness and flaking, should be anticipated soon after initiation, but resolves with continued use. Careful explanation of anticipated side effects and precise instruction on product choice and application predict better tolerability and patient compliance with long-term treatment.