The aesthetics industry is a multi-billion pound industry expected to grow in the coming years.1 According to Rare Consulting, in the UK this year, 7.7 million people have undergone aesthetic treatments in the last 12 months, and 13.9 million are considering having treatment in the next 12 months.1 This clearly shows that the demand for aesthetic treatments is growing.
The skincare market is also a significant industry, with the global market estimated to be worth £128 billion annually.2 This industry is expected to grow in the coming years as patients become more interested in taking care of their skin.3

This article will address the benefits of adding skincare to your clinic and some tips on choosing a brand/brands to work with, creating skincare plans and discussing skincare in your consultations.
The importance of skincare in aesthetics
Skin health is a crucial part of overall health and wellbeing, and an excellent way to optimise the results of in-clinic aesthetic treatments. Many procedures offered in clinic involve injections or procedures that breach the skin barrier, such as fillers, toxin, microneedling and laser treatments.
Certain products and ingredients within skincare help create optimal conditions for skin healing, reduce the risk of infection, scarring and inflammation and prevent post-inflammatory hyperpigmentation.4 Incorporating gentle cleansers, anti-microbial products, emollients and sunscreen can support the skin as it is healing. Several factors are driving the growth of the aesthetics and skincare industries.5
Social media has helped increase awareness and acceptance of aesthetic treatments by making it easier for people to see before and after photos and learn about the options available.
The growing number of aesthetic and skincare clinics makes it easier for people to access treatments and products, which can also help drive demand.
The innovation of procedures, technologies and products in aesthetics has led to more effective and affordable treatments, making them appealing to a broader range of people.
People are increasingly aware of the importance of taking care of their skin and are willing to invest in products and treatments to achieve their desired results.
However, clinic owners may be concerned about introducing skincare services to their clinic. This may be because patients might feel overwhelmed or reluctant to spend money on a new skincare routine when they are already having expensive treatments, or clinic owners may not feel particularly comfortable selling or marketing products/ services. Plus, adding skincare products means an additional cost in inventory and training for staff, which some owners may not be able to afford.
With so many skincare brands on the market, it can be challenging for practitioners to know which are appropriate for patients or how to market them. Also, some patients may not want to purchase in a clinic, but buy online, which means an additional e-commerce function on a clinic's website. Furthermore, some practitioners may not want to add skincare services, instead focusing on in-clinic treatments.
Despite these concerns, there are many benefits to adding skincare services to your clinic. As well as increasing your patients' results, these include increased:6
Income: Selling skincare products and services can be a great way to generate additional revenue. This is because it can be a passive income stream, meaning you earn money even when not working in clinic. In addition, patients can purchase products and replenish supplies without taking up clinic time, freeing you up to treat more patients and increase turnover.
Value of services: Offering packages or bundles can help you increase the value of your services and boost your profits. For example, you could offer a course of treatments with one or two skincare products included. This would give patients added value for their money and make them more likely to return to your clinic in the future.
Patient satisfaction: Patients can feel more in control of their skin health and wellbeing when educated about their skin and how to care for it. By providing patients with information about the different skin types, the causes of skin problems and the best ways to care for their skin, you can help them make informed decisions about their skincare routine and avoid products that may be harmful or ineffective.
Patient loyalty: One of the best ways to improve patient satisfaction and outcomes is to work with patients to create personalised skincare plans that meet their individual needs. This approach considers the patient's skin type, concerns and lifestyle. By providing patients with personalised skincare plans, you can show them that you care about their wellbeing and are committed to helping them achieve their skincare goals.
Incorporating a discussion around skincare
Skin scanning technology, such as Visia or Observ, can be helpful for skincare consultations, but is not the only way to assess a patient's skin. Practitioners can learn a lot about a patient's skin and how to best care for it by taking a thorough skin history and examining the skin quality, elasticity and texture. Be open about your consultation process involving a discussion about skin and skincare products so that patients expect this when they visit. You can then create a plan after asking the patient various questions to assess their skin and lifestyle.
Here are some questions you can ask your patients to get a better understanding of their skin:
Skin type: Do you have normal, oily, dry or combination skin? How does your skin feel after cleansing before applying moisturiser?
Breakouts: Do you get spots or breakouts? Do you have enlarged pores?
Sensitive skin: Do you react to new products or have sensitive skin? Do you struggle with redness?
Specific concerns: Do you have any particular concerns, such as fine lines, pigmentation, flaking or scarring?
Time for skincare: How much time do you have in the morning and evening for skincare?
Current routine: What is your current skincare routine? What textures of product do you like? Any brands/products you did or did not get on well with?
Lifestyle: How often do you use a tanning bed? What is your diet like? How much stress do you experience? How much sleep do you get? What is your work environment like? What are your hobbies? Do you have any upcoming events like a wedding or holiday?
Budget: How much do you spend per month on skincare? Do you have a budget for how much you would be happy to spend?
It is essential to consider the patient's lifestyle and budget when developing a skincare plan. For example, if a patient has limited time in the morning, it is not ideal to give them a comprehensive 12-step routine. Instead, you can recommend one or two multitasking products to help them stay consistent. For example, the skinbetter science Alpha Ret Overnight Cream is a multitasking product that combines three key ingredients: a retinoid, an alpha-hydroxy acid and moisturising ingredients. This allows users to reduce the number of steps in their routine without sacrificing the effectiveness of their products, however, there are also a number of other great brands and products available on the market.
It is also crucial to educate the patient about the products you recommend. When providing skincare products to patients, explaining how to use them, when to use them and what possible side effects they might experience is essential. Sending a written version of your instructions via email or giving them a leaflet can also be helpful. This helps to avoid patients feeling overwhelmed with the information at the time and gives them a reference to guide them at home. I have found that patients who understand why they are using a product or ingredient are likely to comply with their routine.
The epidermis, the top layer of the skin, renews itself completely every 28 days in younger adults (Figure 1) and can take up to 60 days in older adults.7 This means that noticeable changes in the skin can take several weeks or months to occur. Therefore, reviewing patients too soon after starting a new skincare routine is not advisable, as this is unlikely to provide a reliable assessment of the outcome. Instead, it is recommended to review patients every three to four months (roughly two to three skin cycles) to see if their plan still works for them.8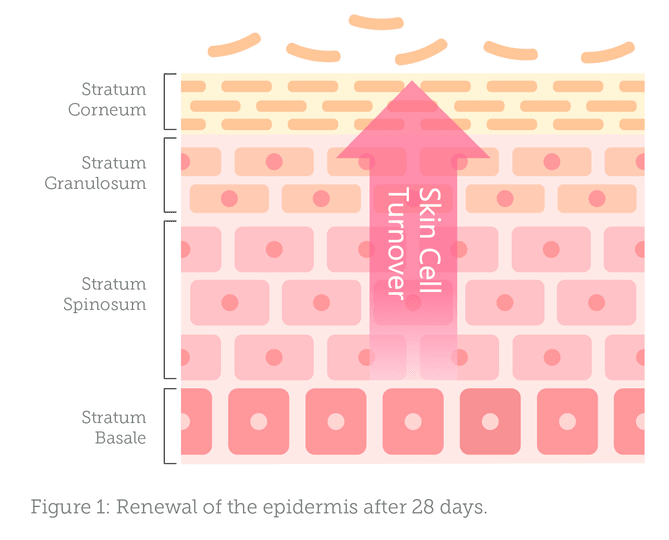 The patient's skin may change throughout the year, so it may be necessary to adjust their skincare routine. For example:
Winter skin: The skin can become more dehydrated in the winter due to the cold and dry air, leading to problems such as itchiness and flakiness.9 To keep the skin hydrated, it may be advisable to use a richer, more nourishing moisturiser.
Menstruation: During the luteal phase of the menstrual cycle, progesterone levels increase, which can lead to increased oil production and inflammation in the skin. To manage these changes, it can be helpful to use exfoliating and oil-balancing ingredients such as salicylic acid to keep pores unclogged and prevent breakouts.
Before and after photographs can be helpful here with skin analysis systems, as some changes can be subtle and not noticed when looking in the mirror daily.
Products to recommend
When choosing a skincare brand to stock in-clinic, there are a few factors to consider.
Start by thinking about products or brands that you enjoy using yourself. It is difficult to advise patients to use a brand when you don't believe in the products enough to use them on your own skin.
It is also important to investigate the clinical studies surrounding skincare, products and ingredients so you are aware of what the product should do and whether this is being fulfilled. Contact different brands and request samples of their products so that you can test them out and see if they are a good fit for your clinic and patients.
Asking colleagues about brands they stock, their opinion from a clinical perspective and patient satisfaction. Ask about set-up costs, ease of ordering and restocking, delivery of products and training. Many stockists also offer a 'direct to patient' delivery service, which can help reduce the amount of product you need to hold in-clinic.
Many skincare brands also offer in-house training, in person or online, which can be an excellent way to learn about specific products and their benefits. This training can benefit all staff so they can provide patients with accurate and up-to-date information about the products.
Consider the most common skin concerns that you see in your practice. For example, if a brand only has products for pigmentation, but most of your patients are struggling with acne, they are unlikely to purchase your recommendations. Instead, find a brand offering a range of products for the most common skin concerns you see in-clinic. If you are a prescriber, you may also want to consider brands that offer prescription skincare options.
Choosing brands that are only available through aesthetic or skincare clinics allows you to expand the range of products and strengths of ingredients available to patients. This can be a great way to differentiate your clinic from others and offer patients a more personalised skincare experience. Additionally, by selling products through your clinic, you can keep a portion of the profits, which can help to offset the cost of running your business.
Sometimes patients may buy the product from your clinic initially but find it cheaper online elsewhere, resulting in your profits decreasing. To avoid this, practitioners should choose a company that can only supply skincare products through a clinic or has a function on their website that mentions which clinic it was brought through. It is also vital that you choose a company that has good technology for detecting counterfeit products.
Other aspects to consider would be whether products are vegan, cruelty-free and sustainable. Again, these will be personal to you and your patient cohort so do ask about this when speaking to companies. By considering these factors, practitioners can choose a skincare brand that will be a valuable asset to their clinic. It is best to start with one brand, and over time as you become more familiar, you may consider adding other brands to increase options for your patients.
Creating a skincare plan
This plan can be completely bespoke or part of a pre-made plan from a skincare brand. For example, if you are creating an individualised skincare plan, you could follow these steps:
Cleanser suited to the patient's skin type
Moisturiser suited to the patient's skin type
Products to target their main concern(s)
Sunscreen
Eye or lip products
Added extras such as face masks or body products
Highlight the importance of patience and consistency with starting any new skincare product. It takes time to see results, so it is best to stick with a routine for at least three to four months before making any changes.8 Be available to answer any questions or concerns the patient may have during their subsequent treatment via email or text. They will appreciate knowing that you are there to support them.
A great investment
Adding skincare to your clinic can seem daunting, but it can be a great way to improve the overall value of your services and increase patient satisfaction. By carefully considering your options and choosing a skincare brand/brands that is a good fit for your patients, you can create an effective and profitable skincare programme which will benefit patients and your clinic in the long run.