Microneedling devices and radiofrequency technology are both extremely common treatments in an aesthetic clinic setting. Studies suggest that puncturing the skin's surface through microneedling can help to improve a variety of different indications such as scars and wrinkles, as well as rejuvenate skin and improve its overall cosmetic appearance.1 Radiofrequency meanwhile, aims to induce thermal damage to stimulate neocollagenesis in deep layers of the skin and subcutaneous tissue to help with concerns like wrinkles and skin laxity.2 Put these two treatments together and you get a two-pronged approach to skin rejuvenation. A recent 2020 review paper by two board-certified dermatologists concluded that they believe practitioners should consider adding radiofrequency microneedling (RFM) devices to their treatment offering for a variety of indications such as acne scars, hyperhidrosis, cellulite, rosacea, skin laxity, striae and skin rejuvenation.3
Here, Aesthetics speaks to three practitioners about their experiences using RFM devices in their clinics, specifically for facial skin rejuvenation, and explores their tips for treatment success.
How radiofrequency microneedling works
ENT, head and neck surgical doctor Mr Rishi Mandavia, managing director of the Dr Tatiana Aesthetic Dermatology Clinic, explains that RFM involves the penetration of small needles that enter the skin at different depths – usually between 1-4mm for the face depending on the treatment area and severity. He says, "Once the needles have penetrated the skin, they release radiofrequency energy that heats the dermis in a controlled manner, stimulating the production of collagen and elastin via a wound-healing response." According to Mr Mandavia, RFM devices can be used for various different patient concerns. "RFM can be a beautiful treatment for retexturing the skin and improving its quality, as it remodels the skin's surface as well as improves sagging skin via the generation of collagen and elastin," he explains.
Aesthetic nurse prescriber Eve Bird, owner of Botastic Medispa, adds, "I have found that the combination of radiofrequency with microneedling means you achieve a much quicker result compared to just one of the treatments on its own. For example, if you use regular microneedling for severe acne you will probably need about six treatments over the course of a year; whereas, with RFM you can half that treatment to about three or four procedures and over a shorter period of time, depending on the device used."
According to consultant obstetrician and gynaecologist Dr Hina Sra, who works as an aesthetic practitioner at Cosmebeauté clinic, patients are particularly drawn to the 'natural' element of this treatment. "RFM doesn't give quick results like an injectable," she says, explaining, "As the treatment stimulates the body's own collagen and elastin production, the results get better over time. I think this is appealing to patients because people tend to look a lot more natural and it doesn't involve adding anything artificial." From a practitioner's point of view, she notes, RFM can have high patient satisfaction and can really help gain the patient's trust in you as a clinician.
Patient selection
All practitioners highlight the importance of patient selection and conducting a thorough medical history to exclude any contraindications,4,5,6 as well as manage expectations, suggesting that the treatment is not a 'quick fix'. "You can get fantastic results using this technology if you choose the right patients," says Dr Sra, adding, "When you are treating the face, you can address fine lines, wrinkles, crepeyness and give the face a nice uplift and tightening effect. I usually treat women and men in their middle age, right up to those in their 60s or 70s. If they have a large amount of loose skin and clearly need a surgical facelift, ensure you refer because no non-surgical machine will help them."
Dr Sra doesn't treat younger patients with her RFM device; she says, "This is an aggressive treatment, and I find that younger patients can benefit greatly from other treatments such as regular microneedling and active skincare – they don't usually need that lift that the older patients require."
Bird has a similar approach, explaining that she usually treats patients with skin texture issues and fine lines in patients around the ages of 45-65. "I will consider it for those under 45 who have acne scarring – we find our Asian ladies have particularly bad scarring from acne in their youth and have really quite pitted skin as well as hyperpigmentation – the results we are getting for these concerns are excellent (Figure 1)." As Mr Mandavia uses two different RFM devices in his clinic, he is able to treat younger patients in their 30s by using lighter settings to target fine lines and wrinkles while improving skin texture.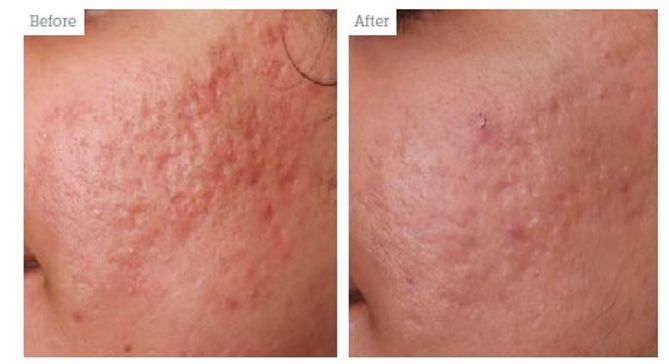 Radiofrequency microneedling devices There are many RFM devices available in the UK, such as Fractora, Infini, Intensif, INTRAcel, Morpheus8, Profound and the newest devices on the market are the Potenza and Secret RF technologies. Bird chooses to use the Endymed Intensif device in her clinic. "I was really impressed with the results shown to me and was converted. It has fractionated pulse mode technology and gold plated non-insulated needles that can penetrate to a controlled depth of up to 5mm. You can adjust the needle length to suit the treatment indication and area." The Intensif involves a course of three to six treatments about three weeks apart, Bird says, depending on how severe the concern is. She adds, "In most people, you start to see an improvement three weeks after the first treatment with the final result visible 12 weeks after the final treatment."
Dr Mandavia has two RFM devices, which he will choose according to the extremity of the patient's concern. "I have the Morpheus8 in my clinic which is excellent for patients with less severe skin sagging, fine lines, pores or acne scarring." The Morpheus8 delivers fractional treatments with programmable energy and features 24 coated needles with a penetration depth of up to 4mm.5 Dr Mandavia adds, "I will treat the whole face and neck if needed, even around the eyes, and although you can see noticeable results after one treatment I almost always do a course of three treatments, four to six weeks apart, for optimum results, which are natural but significant (Figure 2)."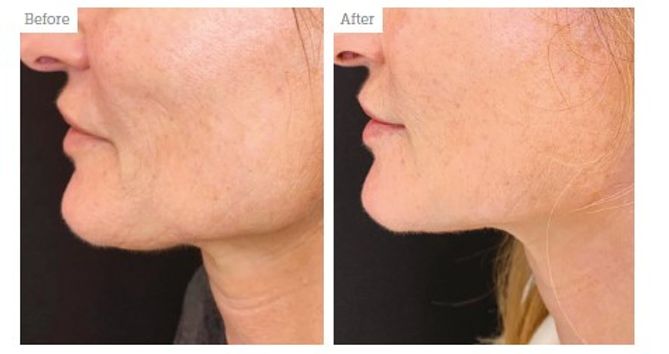 He also has the Profound device, which he will consider for older patients with moderate ageing concerns. "I do sometimes use the Morpheus8 using a higher setting, but for patients who have more significant skin sagging, particularly around the jawline and neck, I usually choose the Profound since it represents a more aggressive treatment, heating the tissue for longer and at a specific temperature of 67 degrees, providing a non-surgical lift," he explains. The Profound includes two separate handpieces for both dermal and subcutaneous penetration. To target the dermis, the Dermal Handpiece features five pairs of bipolar microneedles at a depth range of 1-2mm and the SubQ Handpiece has a set of seven needles at a range of 2.9-5.8mm to treat the subcutaneous layer.7
One consideration Mr Mandavia will make when choosing between the two different devices for those with moderate concerns is the lifestyle of the patient. "The Profound only requires one treatment session, which usually takes about an hour and a half for the face, so is better suited to patients who don't want to come back three times. Of course, the downtime is much greater – from seven days up to two weeks – because there's more facial bruising and oedema, whereas the Morpheus8 is about two to three days." He continues, "I can use the Morpheus8 to treat the whole face since I am able to vary the depth of needle penetration; however, I only use the Profound below the cheekbones due to the depth of needle penetration. I tend to combine the Profound and the Morpheus8 for patients with skin sagging around the jawline and neck, also looking to improve their skin texture and fines lines higher up on the face, including for patients with periorbital laxity."
Dr Sra uses the Profound device as the sole RFM technology in her practice and will use it to treat across the whole face, if the patient requires. "I feel that it gives the best results as it works deep in the tissue. The device has two heads and they go at various depths for the face and body – the dermal head is what I use on the face and it has a depth of 1.5mm that goes into the dermal layer. I love that you only need one treatment and the results continuously get better over time. You start seeing results from a month onward; I see the patient for their review at three months because we know this is how long we need for collagen to form. At six and nine months their results are even better (Figure 3)."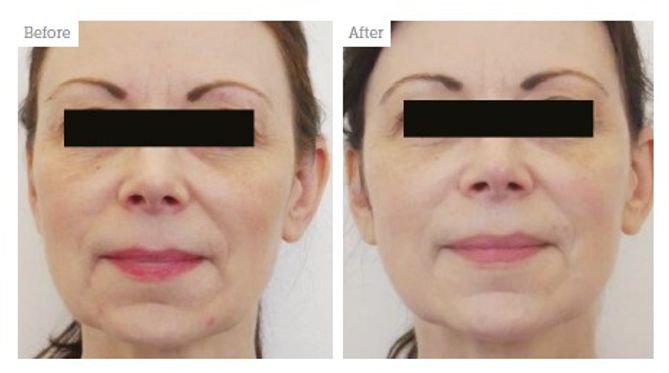 A big consideration to make before purchasing a RFM device is who will be performing the treatments, practitioners note. Some RFM devices such as the Morpheus8 and Endymed Intensif can be used by an aesthetic therapist under medical supervision, while others such as the Profound are doctor-led. "From a practical standpoint, for my business it's important for me that my therapist can be trained to do the treatment after I have consulted the patient and created the treatment plan," adds Bird.
Tips for treatment success
The practitioners all agree that the main challenge with RFM treatments is pain management, so a good protocol must be put in place for comfort.
Bird says for the Intensif device, 30-40 minutes of topical anaesthetic is sufficient, and numbing cream can also be appropriate for the Morpheus8 if it is used in a low setting, Mr Mandavia states. "The Morpheus8 and the Profound are painful treatments so you must be open and honest with your patients and manage their expectations about pain. I tend to use a topical anaesthetic cream then 2% lidocaine with adrenaline in very specific areas because unfortunately the lidocaine injections are themselves quite painful." Mr Mandavia advises to always check the patient's pain levels throughout the procedure. "Constantly look at your patient's face while you're performing the treatment and if you notice any discomfort consider increasing the local anaesthetic dose. I tend to initially apply topical anaesthetic cream, followed by injecting small amounts of local anaesthetic in areas which are more tender."
Dr Sra's approach is to inject anaesthetic across the treatment area on the face before the procedure. "This is because the pain can be significant with the Profound so it's really important the patient can tolerate it. The anaesthetic does increase the swelling and bruising, but after this they don't usually feel anything at all. I will ice the area in the clinic before they leave to help with the after effects of the anaesthetic." All practitioners also highlight the importance of before and after images for this treatment. "If anyone takes anything away from this article it is to get really good before and after pictures with good consistent lighting, angles and positions with the same backdrop," Bird states, reiterating, "This is because comparing pictures is the only way that your patient can truly see how the treatment has helped improve their skin." Dr Sra adds, "Also ensure to show before and after images in the consultation prior to treatment so that they know what the results look like; they are subtle and get better month after month." Practitioners all note that patients of all skin types can benefit from RFM, however Mr Mandavia highlights the need for practitioners to have really good procedures and protocols in place that specifically cater for different skin types. Mr Mandavia says, "You don't want to over-treat areas with RFM as this can denature the collagen, limiting results. Patients with darker skin will have a higher risk of post-inflammatory hyperpigmentation (PIH) so you will need to tailor the energy levels and depth of needle penetration to prevent this. If using a device that requires more than one treatment I recommend starting modestly, monitor the patient's response and adjust the settings as needed for the second and third treatment." You should share your results regularly with your team as well as with other experts, Mr Mandavia advises, so to continue to develop your protocols. "We have developed over 20 versions of our Morpheus8 protocol because we are constantly learning and improving and you certainly get better results if you embrace this approach," he says.
For patients more prone to PIH, practitioners advise to put them on preventative skincare before treatment. "For skin types III-VI I put patients on a vitamin C lotion and 4% hydroquinone – I use Obagi as this is what I trust," says Dr Sra. Dr Mandavia will recommend a hydroquinone as well as retinol for patients with darker skin types to prepare for the procedure. Following Profound treatment, Dr Sra says that good aftercare advice to avoid infection is vital. "In the first three days I advise patients to sleep upright to reduce swelling, and I will advise arnica to help with bruising. There is risk of infection, so I will tell patients not to wear makeup during this time, and also have a clean towel and pillow every night. They shouldn't let pets come near them, avoid touching their face and only with clean hands if necessary. The last thing you want is an infection that will increase their recovery time," she says, adding that patients should always have a number they can call or message if they have any concerns or questions that will get through to you at all hours. Other side effects can include prolonged swelling, PIH and burns, amongst others.3,6,7,8
Practitioners also note that it's important to tell the patient to stop using any active skincare when their skin barrier is compromised to avoid irritation. "We tell patients to stop using their active skincare for about three to six days, depending on how long it takes for their skin to settle and give them an aftercare kit to use instead. This contains products with the barest ingredients, such as a light moisturiser and an SPF, to reduce the risk of reactions," Bird explains.
Consider implementing into your practice
RFM can be a useful tool to add to your portfolio if you are looking for a treatment that can utilise your patient's own response to produce collagen and elastin. As well as its use on the face, it can be used for a variety of other indications on the body. It can also be used in combination with other modalities, such C02 lasers and dermal fillers. Appropriate parameters must be used, including energy level and needle depth, according to individual patients and treatment areas.8 Practitioners are advised to ask their current patients if this kind of treatment would be of interest to them before introducing into practice, and of course implementing abundant training of all staff members who will be involved with the use of the device is paramount.