There is a well-known aphorism that illustrates the future of those who do not notice a changing world. Charles Handy, visiting Professor at the London School of Economics, describes a frog being placed in cold water that is slowly heated. As the water heats, the frog adapts its body temperature until boiling point, which causes it to be boiled alive. The premise is that the frog does not perceive any danger until it is too late and it is cooked to death!1 Similarly, the world of business, and indeed the aesthetics specialty, is changing. Those of us with aesthetic businesses need to understand that we are potentially seeing the end of the employee society – a product of the industrial age with rigid hierarchies and, in some cases, a job for life.2 The skilled workers who generate our income are increasingly able to make work adapt to their needs, rather than the other way around.3 For example, the majority of employees in aesthetic clinics are women with families and other social responsibilities with a need for flexibility around their busy life schedule. An aesthetic practitioner may want to work in the evening after her partner has got home to look after the children, or during the day between school runs. By allowing her to book her own patients she retains control of her schedule and is more likely to be happy.
In the current work environment, retention of talented, salaried staff can be a challenge for clinic owners. Loyalty to your company can fall to the back of the queue when the option of self-employment or other opportunities in clinics elsewhere can bring rewards.
Is there a different way of doing things to avoid this disruption? Yes; several in fact. In this article, I will explain what has worked exceptionally well for my clinic, which has for the first time been shortlisted in the prestigious Aesthetics Awards in the iS Clinical Award for Best Clinic South England category.4 Please note that I am not a financial advisor, but am simply sharing my experiences and approach to enhancing staff retention.
Why staff retention is a challenge
Hierarchies are not for everyone.5 Often, individuals dislike working in organisations where there's always a manager to tell them how to do their job. I think this could partly be why so many clinicians are surging into aesthetics from the NHS. As human beings, increasingly we want to work independently or in a holacracy,6 where authority and decision-making are distributed throughout a holarchy of teams that are self-organised, such as the type espoused by business author Jacob Morgan in The Future of Work. He believes that the five trends shaping the future of work are new behaviours, new technologies, mobility and new beliefs due to millennial attitudes and globalisation.7
I find that in aesthetics, retention is a challenge because an employer can only afford to pay the employee a salary if their clinic's expenses are covered, which is always substantially less than that person practising from their own home or on an hourly room rental. Money is the motivator!
The concept of employee ownership
Employee ownership companies contribute £30 billion to the UK economy every year and the sector is growing at 10% per annum.8 Everyone has heard of The John Lewis model of employee ownership, which is the largest employee-owned company in the UK. According to John Lewis, this partnership model enables 'partners' to share their views about the business and use their voice as 'co-owners' to encourage a co-ownership culture.9
Employee-owned businesses are either completely or significantly owned by their employee. According to the Employee Ownership Association, the economic contribution of employee ownership in the UK is significant, delivering 4% of UK GDP annually, and this is growing.10
There are three different forms of employee ownership:
Direct: employees become registered individual shareholders of a majority of the shares in their company using one or more tax advantaged share plans
Indirect: shares are held collectively on behalf of employees, commonly through an 'employee trust'
Combined direct and indirect: a combination of individual and collective share ownership8

Some of the benefits of shared ownership schemes include impact on staff motivation, having a positive effect on their productivity, innovation, engagement, commitment to company success, as well as feeling more fulfilled and less stressed. Employee-owned businesses are also often good at recruiting and retaining committed staff.8 A company does, however, need to make a profit before it is able to pay any bonus. The brutal fact that many of us know is that new businesses usually run at a loss for the first few years – especially when premises, equipment and all overheads are thrown in. Therefore, the simple truth is that it will take you longer to make a profit if you 'give away' a percentage of your earnings.
On the other hand, in an aesthetic setting, I have found that if you introduce an employee ownership scheme, you don't tend to lose your high earning, skilled, key staff because they have been poached by the competition down the road. This is because you are rewarding employees with a guaranteed share of what they earn. Our experience is that the individuals who work with us are entrepreneurial and highly motivated by the concept of reward for their efforts. On another note, when the company is sold, the rewards of implementing a share scheme can be considerable. For example, a purchaser of the company who continues the scheme is likely to retain all the key staff.
Employee ownership in aesthetic practice
In aesthetics, a huge proportion of our staff tends to be women, who are often mature, well-educated with minds of their own, have families and aspirations. In my experience, our staff want to be enthused, empowered, entrusted, involved and persuaded – they want to be rewarded. Interestingly, when morale is high, and staff feel valued, their notion of profit extends beyond the financial bottom line to include professional, psychological, emotional and social profit.
I find that the saying 'what's good for you is good for me!' is a valuable approach for the successful running of an aesthetic practice. As a business owner, I believe that if I'm going to be successful, then let's give staff the chance of sharing in the spoils.
How the share scheme works in my clinic
Since starting The Doctors Laser Clinic in 2010, we have used a 'direct' employee ownership share scheme – as far as I know, our clinic is the only medical aesthetic clinic in the UK doing this. We decided to have a 20% current account share scheme for all fee-earning staff doing practical procedures (for VATable items this effectively rises to 25%). We have since changed this and implemented a 50% share (after deducting material costs) with some of the high level, skilled work in recognition of the experience and qualifications of the practitioners whose advancement we have sponsored (e.g. filler and toxin treatments, fractional ablative laser treatments etc.). Receptionists are exempt, although they do get commission on products sold at the front desk. We are particularly pleased to be able to offer our wealth-generating employees, who have been with us longer than two years, capital shares in the business. We only offer this to employees who have been with us for more than two years as they have demonstrated commitment to our business. These shares are valued annually. The nominal issue at first valuation is £1 per share, but this increases year on year. At present, 10% of the company is ring-fenced for employee ownership. If the shares are given to the employee, they will be taxed at 30% capital gains on redemption.11 If the employee leaves before a sale, the shares are bought back at original issue price. There are a number of tax and employee share schemes available.12 We chose to implement an employee enterprise management incentive (EMI) scheme. EMI is a tax advantageous HM Revenue and Customs (HMRC) scheme that is designed to reward and encourage employee involvement with a view to more productive and satisfying working relationships. What an individual company does is determined by advice from one's accountants and lawyers. With this scheme, employees must do 75% of their total working time or work 25 hours' per week in the clinic to be eligible. The art of successful business is knowing how and when to write down investment, capital and other costs against tax. The value of a company is calculated according to a formula known as EBITDA (earnings before interest, tax, depreciation and amortisation)13 which is a proxy for a company's operating profitability. The aim is to issue initial shares when the company is technically loss-making.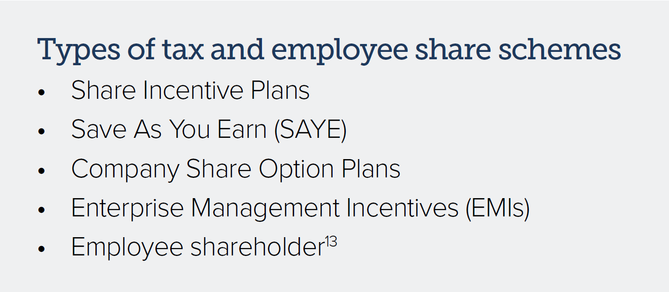 When putting an EMI scheme together, you need apply to HMRC with a submission of your accounts as they need to register the value of the company at the time of initial share issue.14 If done at an opportune moment, such as when you are still making losses, the shares have only nominal value.
This scheme has benefits for your business in terms of corporation tax. If an employee leaves your business, the shares are remitted at issue price. The incentive for employees is to stay long enough to contribute to the growing value of the enterprise and in due course draw dividends. When cashed in at a future date, any capital gain on these shares is only taxed at 10%.12,13
This approach used along with others outlined below, has allowed for our practice to really grow. We started off with one treatment room, five doctors, one nurse, one hair removal laser and toxin treatments in 2010. The practice now includes three doctors, four nurses and three laser technicians at Level 5 BTEC, who practise in seven treatment rooms with about 20 treatment modalities.
How we built success
As well as implementing share schemes, we had a few additional tactics that helped our clinic succeed. Like many other new businesses, our company made significant losses over the first few years as investment was written down against profit. There eventually came a sweet point when we could look over the horizon and see ourselves coming into profit.
In the clinic's early days, our staff had zero hours' contracts. This meant they would only come into the clinic when they had patients to see. They were able to book their own patients remotely using our clinic software management system Pabau;15 other systems are also available. This approach allowed us to save time and money as we were not paying for staff to be there when they were not making money. For the first four years, we subcontracted our telephone service to an external company, which took caller's details and immediately emailed the enquiry onto our personal digital assistants. The service we chose to use was Virtual Office,15 although there are other similar services available. This helped save costs because we didn't need a formal reception set up and we only paid 40p per call handled. The enquiries that were sent were distributed to the staff equally and I personally asked each member in rotation whether they wanted the work or not – they did! We ensured that all our staff were cross-skilled so that they can cover in the event of illness, holiday or absence.
In my experience, the principle is that in this business, if you are good then you get return custom; if you're very good you get recommendation, and so it builds. Our clinic works that for every £100 gross earnings that is earned by the business, £20 goes to the practitioner. This has helped our staff understand the importance of cross-selling and motivates them to achieve sales. Using this strategy was slow at first but over eight years we have built a substantial clientele.
Share schemes can work in aesthetics
I believe that, generally speaking, if you are going to be successful in aesthetics you need to be kind, honest, truthful, charge a reasonable fee, do a good job and put it right at no expense to the patient if it goes wrong. With your staff, I think that you need to show that you care, value them, enthuse them, educate them, empower them and share your profits with them. In the short term, you may be poorer financially, but in the long term you will reap rich rewards. You will enjoy the benefits of being part of a functional, dynamic community that is a million light years away from the dystopian, dysfunctional world of the bureaucratic hierarchies!