Dr Rekha Tailor discusses how to make the most of your clinic's reception team and how its members can help provide overall business success.
At my clinic, we pride ourselves on our customer service and that goes far beyond education, training and the treatment itself. I want to strive to provide an exclusive, clinic experience from the beginning right through to end and this often starts with the first point of contact a patient has; our reception team.
The importance of reception teams can be overlooked and, in some cases, many business owners divide this role between therapists. However, I believe your reception team is as vital as any other role. Your reception team members are usually the first and last faces that are seen by a patient and they can therefore be seen as the face of your brand and leave that all-important last impression.
The face of your brand
Firstly, I think you need to ask yourself what it is you want to get out of your reception team and recognise that a receptionist's responsibility has changed over the years. Typically, they would answer phones and greet patients, but now much more is expected of them. This may be due to the expansion of digital marketing and social media where people have access to so much more information, so when a potential patient calls a business, they are generally well informed and are looking for accurate information immediately.
I always say that members of a reception team have to be all things to all people; by this I mean a comforting voice to concerned patients or an information service for potential patients, in addition to their roles as vital administration staff. My receptionists answer enquiries on emails as well as social media, while manning the phones, and also welcoming patients, making coffees and supporting the entire clinic team.

Part of what makes the team so valuable is them being able to help and guide all patients before their initial consultation. To achieve all of these things, from day one I ensure that any new members of my reception team begin extensive training, explained in more detail below. This is because we want them to be able to answer as many questions fielded to them as possible by patients. One day they might be asked about what Food and Drug Administration approval is, other days they might be asked about what fillers the clinic uses; they need to know about every aspect of the business.
It is the receptionist's responsibility to maintain the high standards that the owner or medical director has set out, and to reflect and represent the brand in the best way possible. Below are some points that I really focus on when it comes to my reception team.
Appearance
In my clinic, I provide receptionists with a black suit and on-brand colour blouse so they fit into their surroundings and look professional when a patient walks in. They all wear name badges in order to create a more personal approach and reassure patients so that they know who they are talking to. From well-kept hair and nails, to polished shoes, we always ask our team to be well presented. I believe it is important to distinguish the reception team from the aestheticians (particularly as many reception staff are not trained in performing treatments) so I personally made the choice to have my reception team wearing suits rather than clinical scrubs. Not only should receptionists take pride in themselves, but they should also take pride in the clinic surroundings too. As well as first impressions, I find that it's often the smaller details that impress patients the most. A tidy and luxurious environment are all things that won't go unnoticed and will set you apart from other clinics. I always ask that my reception team members offer patients a luxury magazine, a hot or cold drink, provides the free Wi-Fi password, and remember to play branded videos on our flat screen televisions.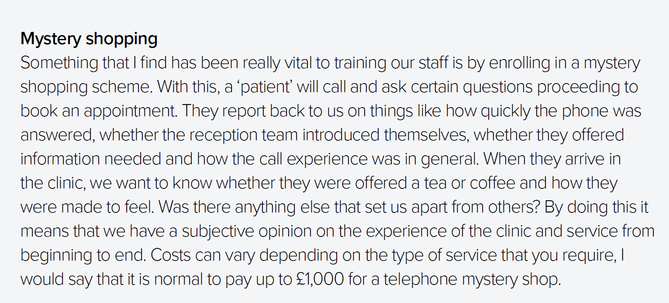 Etiquette
Etiquette and good manners are key for any reception staff, including the language and tone of voice used. For example, I ask that all of my receptionists answer the phone within three rings, take the caller's name and use it during the call. They must also introduce their name so the caller knows who they are talking to. I also ask that they wait until the patient hangs up before they do and that they follow up the call with an email, providing them with all the relevant information that they may need. Upon booking, we also send our patients a map and image of the clinic, with details on where to park and how to find us; this helps to make the process extremely easy for them and provides instant access to any information or education they may want prior to any consultation or booking. I believe that it is the clinic owner's responsibility to ensure the receptionists have whatever they need to do their job well. For example, in my clinic I have pre-written email templates for all treatment types with plenty of information and educational attachments. We also openly show a clear complaints protocol on a sign on the desk in reception, which includes all information on the Care Quality Commission and feedback from CQC inspectors.1
Training
I always train my reception team members on the products that we sell and allow them to experience all of the treatments so that they can describe first-hand what to expect to patients. This can range from asking team members to undertake online courses about complaints and telephone manners, sitting in with our aestheticians who specialise in a particular treatment or taking them to events such as the Aesthetics Conference and Exhibition, where they can attend business talks and meet with suppliers. Of course, if the patients are looking for much more in-depth information, such as how much filler would be suitable for their lips, the receptionists are aware to advise them to come in and meet with the appropriately-trained practitioner.
Our receptionists are always supported and given access to the aestheticians, clinic manager, other medical staff or myself throughout the day if they are ever in need of extra information. The team is also trained on how to use our clinic management software to ensure that the correct procedures and process are followed and are as smooth as possible.

Communication is key
Many clinics are open six days a week and often there will be an overlap in staff. Because of this, I think communication is key to maintaining a successful business. It is essential that employees are aware of all that has happened in their absence on a day-to-day basis. Therefore, I advise that my team utilise a handover sheet. This is for all details to go on so that for the upcoming days, weeks or even months the team has a full list of issues, notes or things to remember so that nothing slips through; these are also stored in one place to ensure nothing is lost. For example, this can include things such as noting we are down to our final batch of folders for the next stationery order, to notes on changes to the customer relationship management (CRM) system. We are also very conscious of data security and password protect our internal server and lock all cabinets and filing systems daily.
In addition to this daily handover, we have a weekly meeting where we can discuss marketing plans, opportunities, news, events and training. It is a useful time for all staff to explain their highs and lows of the week, tell everyone what they have learnt or exchange information from the week's learnings.
Conclusion
A receptionist in a luxury clinic is extremely important to the success of your business. Having genuine concern and empathy for patients is always a requirement within the team. A kind, listening ear is needed as patients can sometimes be nervous about a treatment. Our reception team is the first port of call for these patients for reassurance and information, hence why I believe it is fundamental in investing time and training in your team members to ensure the overall success of your business.