Clinical waste advisor Rebecca Waters explains how to simplify the audit process
Like many obligatory processes in the aesthetic clinic, waste management is not the most exciting of topics. It is, nonetheless, very important for the safety of patients and professionals alike, and meticulous protocols must be followed in order to meet the high standards set out by the relevant governing bodies to meet their Duty of Care.1 It is also important for the appropriate processes to be performed as efficiently as possible, enabling staff to complete waste management tasks effectively while still focusing their attention on their patients.
The Government department, the Environment Agency, has imposed a legal requirement in the Environmental Permitting Regulations 20152 whereby waste generated at a property that provides healthcare services is subject to an audit, prior to its collection via a contractor and disposal at an appropriate incineration or alternative treatment plant.
Why is it necessary?
The pre-acceptance audit is essential for every aesthetic clinic as it allows disposal or recovery centres to treat the waste sent to them in the most appropriate way. Ultimately, this means minimising the harm caused to human health and the environment during waste treatment processes. Therefore, all waste streams must be audited, documented and communicated to the final disposal site and compliance with these requirements will help ensure you meet your Duty of Care obligations.
Failure to perform a sufficient pre-acceptance audit will constitute a breach in your Duty of Care responsibilities and you could be subject to enforcement action by The Environment Agency, which can lead to legal prosecution and an unlimited fine (details of any possible enforcement are contained with the Environmental Act 1990).3
In addition, if the waste disposal, treatment or recycling plant does not have the relevant information on your waste, they will be unable to accept it; a stipulation of their waste disposal permit is that they are required to obtain the correct pre-acceptance audit from waste providers before they can receive the waste.3 Without the documentation, the plant would not accept your waste so the waste contractor would be unable to collect it, resulting in a delayed process and inconvenience for the clinic. The same consequences could be experienced in the event that a pre-acceptance audit is incomplete or incorrect, so care should be taken to ensure everything is as accurate as possible.
When is it required?
The pre-acceptance audit data must be received and assessed by the disposal or treatment site prior to the first delivery of waste to them. A new audit must be conducted at least every five years for every aesthetic clinic.7 The only exceptions to this requirement would be if you operate from a medical practice that produces five tonnes or more of clinical waste in a calendar year – in this case, the pre-acceptance audit must be repeated every 12 months. Audits are required every two years for veterinary practices, dental practices and laboratories that produce less than five tonnes of clinical waste in any calendar year and every five years for other healthcare producers of clinical waste.7
The pre-acceptance audit is no longer valid once the above stated time periods have elapsed, so care should be taken to ensure continued compliance. What's more, if the type or quantity of waste produced by your clinic changes significantly, the audit will need to be repeated before the end of the stated time intervals.7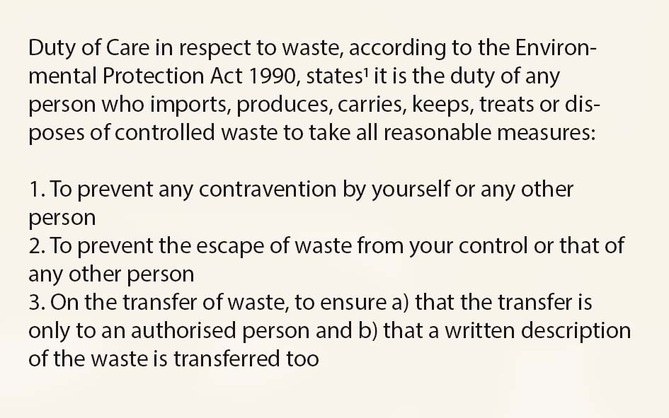 What's involved?
As the producer of waste, your company is ultimately accountable for making sure the pre-acceptance audit is performed correctly and efficiently. There are a number of options as to who can physically conduct the audit:4
You or an allocated member of your clinic's team may perform the audit and collect the data. If proceeding in this way, it is crucial to ensure that the designated person fully understands what is required before commencing the process, and that the information recorded will be sufficient for the waste to be accepted at the appropriate site in accordance with its environmental permit. This can be achieved through training provided either in-house or by an external source such as your waste contractor. The Environment Agency Clinical Waste EPR 5.07 also states that, "These staff must have a clear understanding of the clinical waste, its composition, classification, packaging and transport, the wastes associated with specific healthcare activities, any conditions with the permit that relate to these, and the requirements for the completion of waste consignment and transfer notes."5

You could employ a third party to collect the relevant data on your behalf, such as a specialist waste management consultant. This can be useful if you have little time or are not totally confident with what's involved, although cost will vary depending on the fees involved.

Your waste contractor may offer a pre-acceptance audit as part of their waste collection and disposal service.
If you operate a large clinic with various clinical rooms, a summary is a particularly important aspect of the final audit report
This is the ideal opportunity to review all waste management processes within the clinic. Checking the current policies and procedures that are detailed and implemented in the practice, while also evaluating staff training records and protocols, are all necessary. What's more, it's important to ensure that all waste consignment documentation is being completed correctly – your careful procedures and audits would be in vain if waste is described incorrectly when packaged and stored ready for collection. All this can be recorded as a simple table within your pre-acceptance audit.
If you operate a large clinic with various clinical rooms, a summary is a particularly important aspect of the final audit report, although it should always be included no matter the size. This should provide an overview of your findings, set out the general standards of waste segregation and packaging for each waste stream generated, state areas of good and poor practice and include recommendations for improvement where appropriate.
Any protocols working particularly well can be highlighted here to recognise the team's hard work and commitment – perhaps the clinic's waste segregation is highly efficient due to various explanatory posters around the premises? Regarding areas in need of improvement, an action plan should be drafted to show how you aim to address any areas of concern with deadlines for improvements to be achieved by. For example, this might involve planning more regular staff training opportunities and setting a date for the next meeting, or repositioning waste bins closer to the point of production to help prevent accidents and encourage more effective segregation.
Once complete, your waste contractor must be supplied with a copy of your pre-acceptance audit and the information must be transferred to the final waste disposal facility, by post or electronically.
Pre-acceptance audit – what is it?
There are two key stages that need to be addressed: waste pre-acceptance and waste acceptance. The former is most relevant for aesthetic clinics and it involves the 'pre-acceptance audit' – the primary purpose of which is to identify waste contents and provide sufficient information for the appropriate facilities to treat or incinerate the waste they receive in the correct manner. Waste acceptance is for waste disposal centres to perform, so do not need to be a concern to aesthetic clinics. The pre-acceptance audit needs to confirm the presence of:6
Clinical infectious waste (including contaminated gloves, masks, aprons, paper towels, dressings or swabs)

Anatomical waste, human tissues and blood products

Medicines and medicinally contaminated waste (such as anaesthetic cartridges, blister packs, tablets in containers, unopened medicine vials, waste pharmaceuticals or out-of-date / denatured drugs)

Chemicals and chemically contaminated waste (including any items that have been contaminated with cytotoxic or cytostatic substances)

Microbiological cultures and related laboratory wastes to which additional controls may apply (for example, to ensure microbiological aerosol containment)

Mercury and amalgam

Non-hazardous waste such as municipal waste (including packaging, tissues, disposable cups and food wrappers)

Of the above waste streams, anatomical waste and chemically or medicinally contaminated waste require incineration. Clinical infectious waste may be treated to render it safe prior to disposal and mercury, amalgam, and non-hazardous waste may be recycled or disposed of by recovery.
While this may all seem like a lot of information, getting pre-acceptance audits right is a fairly straightforward process when approached methodically
The pre-acceptance audit itself involves detailing the contents of waste produced by the clinic, as well as information on the business and when the audit itself was completed.3,7 This should include:
Information on the waste producer such as type of provider (aesthetic/medical practice), address and contact details.

Description of the specific processes from which waste is created – such as primary care and laboratory etc.

An indication of what types of waste streams are produced – for ease, these can be separated according to the Department of Health's best practice waste colour coding guidelines outlined in HTM 07-01: Safe Management of Healthcare Waste8 (while not mandatory, effective waste segregation can offer various time and cost benefits for the business). Information should also be provided on the estimated quantity of each waste stream produced, its physical form, composition, properties, classification and a further description as needed.

For pure product chemicals or pharmaceutical waste, the audit may include reference to the product data sheets or provide an extrapolation of the information on the product data sheets.

The type, size and labelling of containers used for each waste stream, information on the segregation practices employed.

The date of commencement and completion of the pre-acceptance audit.

A description of the audit, the procedures followed, the auditors and their affiliation with the waste producer.

Audits simplified
While this may all seem like a lot of information, getting pre-acceptance audits right is a fairly straightforward process when approached methodically. The key is to understand its purpose and know everything that it involves before you begin – then it is simply a case of working through the clinic, recording what type of waste is produced, what containers it is stored in and whether it requires incineration or can be treated or repurposed safely, or, simply finding a third party to do this for you, if you so choose.
Once all of this is clear, the pre-acceptance audit should be a relatively smooth process and can very often be completed by an internal member of staff to ensure your compliance without requiring too much of their time. Constant reminders to the team about the protocols in place will ensure safe and effective waste management procedures are followed between audits and, most importantly, you can be confident that you are doing your part to protect your patients, your colleagues and the environment from potential harm.