Dr Rupert Critchley discusses how to effectively use wrinkle severity scales in patient treatment plans
As aesthetic practitioners, assessment of wrinkles during aesthetic consultation is one of the key techniques we can use to determine and convey the best treatment approach for our patients.
When determining how to address wrinkles there are a number of valid and reliable wrinkle severity scales available, such as the Wrinkle Severity Rating Scale (WSRS) and the Glogau classification, among others, that can be used to assist aesthetic practitioners. These clinical tools provide a means of quantitative assessment of facial skin folds, which can be easily conveyed to our patients.
These scales can provide an 'objective eye', which may prove very useful during consultation. Sometimes, and perhaps more importantly, clinical scales can also be a useful means of expectation management and overall patient satisfaction. For example, patients can be shown how many notches they have moved up the scale post treatment.
Examination of expression
There are many subjective methods of wrinkle assessment available to aesthetic practitioners. First and foremost, we can use a simple method of differentiation to ascertain whether wrinkles are static or dynamic by examination of expression. These lines, that appear when moving the muscles of the face, can be treated with botulinum toxin, whereas deeper lines, that are not affected by movement, may be better corrected with dermal filler and deeper volumisation.2
We can then further subdivide wrinkles to decide on product type. For example, wrinkles that rest at a very superficial depth, may be treated more safely with a less viscous hyaluronic acid with lower G-prime properties hence reducing the risk of the Tyndall effect or the filler being visible or lumpy after injection.3,4
Exploring causative factors such as wrinkle depth, cause and location alongside product choice is key in deciding the optimum treatment course for patients.
Clinical scales
More objective methods of assessing wrinkle severity include a number of safe and reproducible clinical scales, which can be used in conjunction with your more subjective eye.
The Wrinkle Severity Rating Scale
The WSRS was validated in 2004 by Day et al. as a new clinical outcome instrument for quantitative assessment of facial skin folds, in particular the nasolabial folds (NLF).5 During this time, nasolabial fold injections were more common than mid-face volumisation, hence the need for a quantitate scale.
This FDA-approved 5-grade scale also allows an assessment to be made of patient satisfaction with treatment and the important, although highly subjective, outcome.6 Having been used in a large number of validated studies, mostly in application to the nasolabial fold depth, the WSRS scores the nasolabial fold depth from 1 through to 5 with the latter being the most severe (Figure 1).7-9
Using the WSRS could be invaluably useful as a quantitate measure of improvement as well as an easy and reproducible method of documenting results. As a general rule, the further down the scale post treatment, the greater the expected patient satisfaction.5
The WSRS can be used throughout aesthetic consultation when assessing patients, treatment planning and in follow up post procedure, providing both practitioners and patients with a reliable method of expectation and result management. The WSRS is applicable to nasolabial fold depth in this area only and for use alongside dermal fillers. For example, a softer and less severe line, scoring grade of 2 or 3, may be corrected with a smaller volume of dermal filler.
This can be conveyed to your patient prior to treatment and, in follow up, the scale can be used once again to gauge improvement and, subsequently, patient satisfaction. Although it does have its uses, I would personally recommend that the WSRS is still used in conjunction with examination of the patient while they are expressing, as well as the use of suitable before and after imagery to complement documentation.
Including WSRS or equivalent (the Glogau scale or a modified Fitzpatrick scale) into consent form paperwork, alongside patient discussion notes, may also be of benefit to the practitioner.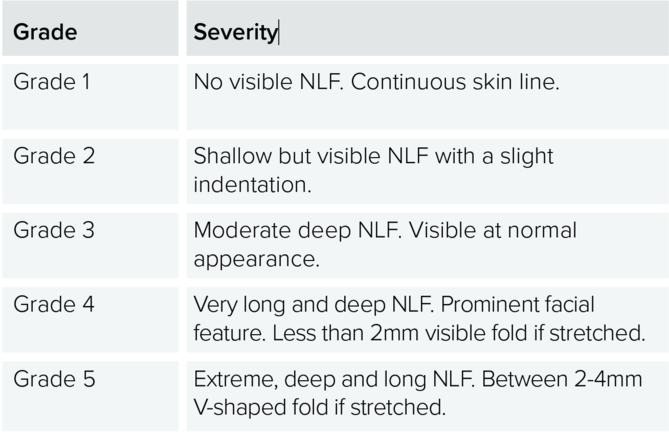 It must be duly noted that the WSRS does not help us pick the most appropriate treatment for our patients (like botulinum toxin vs dermal filler) and is not useful in assessment of wrinkles/lines affecting other areas of the face other than the nasolabial folds. Alternate validated clinical scales such as the Glogau classification or modified Fitzpatrick wrinkle scales (which comprises three classes of nasolabial wrinkling) are more useful in these situations.11,12
With the rapidly progressive development of aesthetic techniques and a holistic, full face approach to treatment becoming more popular, the WSRS may now appear a little restricted in its clinical use. However, the nasolabial folds remain a common area of concern to our patients, therefore the WSRS is potentially still a useful clinical tool.
A statistical review has pointed out an important drawback in which, subjectivity, especially during the use of WSRS in clinical studies, can vary quite dramatically.5 Interestingly, it uncovers that in a certain study, only 70% of the 30 photographed cases would be given the same wrinkle score when evaluating them on two separate occasions.5
Limitations of WSRS
The Glogau classification
The Glogau classification, developed by dermatology professor Dr Richard Glogau in 1996, categorises wrinkle severity.10 Referenced by dermatologists, plastic surgeons and aesthetic practitioners worldwide, it is a reproducible and easy-to-use clinical scale that provides another useful measure of treatment effectivity.10
Those that fall under the category of wrinkles in motion, or dynamic lines, may have better outcomes with toxin injection, whereas deeper lines visible at rest or static wrinkles may be best treated with dermal filler. Skin characteristics here are also useful from a dermatology point of view when classifying and treating signs of photoageing. For further information, see Figure 2.

Limitations of Glogau
Alongside both patient and clinician subjectivity, the Glogau classification scale has limitations to other wrinkle rating scales. The main limitation is that it does not help select the specific procedures for each group or predict the response or anticipated skin reactions to topical treatments.13
Summary
In conclusion, the WSRS provides a clinical tool for the objective assessment of nasolabial fold depth. Limitations include clinician subjectively and its use confined to that of dermal filler treatments addressing the nasolabial fold only.
The Glogau classification helps to assess the face while in motion and is useful to classify and treat signs of photoageing. Although both are useful for facial assessment, using different validated tools together such as WSRS and the Glogau scale, along with before and after imagery in an aesthetics consultation, will provide both practitioner and patient with a reliable method of expectation and results management.