Aesthetic practitioner Dr Uma Jeyanathan explains how she benefits from the digital skincare platform
Why did you join GetHarley?
I was already thinking, how could skincare sales be made easier and more efficient? And that's where team GetHarley come in, they take away the headache of selling skincare products.
I was first attracted to GetHarley because a few industry KOLs were already using the platform and I thought if they were on board and benefitting from GetHarley then it must be good. Enough people were recommending it to me to make me realise I should join.

How has working with GetHarley helped your business?
Skincare sales only became profitable when I joined GetHarley because, before then, I hadn't prioritised them. Skincare was always something that was important to me for my business and my patients, but I was solely focused on my treatment sales and because I was making a nice amount from those, I didn't consider how much extra I could make from skincare sales.

How does it work?
The team help organise your online or in-clinic skin consultations, and then you can create a bespoke medical-grade skincare plan easily on the platform, and it only takes a minute. GetHarley then takes everything else away from you – the sales side of it, the tech side of it, the logistics – deliveries, inventory and replenishments.
This means you can just focus on the consultation and product selection, and leave the rest to GetHarley.

Do patients replenish their skincare?
Yes. If patients have a bespoke, medical-grade skincare plan that is right for their skin, that they have to be consistent with to get excellent results, then they will keep replenishing. You get the profits for every plan they re-buy, so it becomes a key part of your business. It's long-term gain and builds over time.

Which skincare products can you retail through GetHarley and how do you sell well?
It's up to you what products you want to sell. I don't know of any restrictions and I can't imagine why any brand would not want to sell through GetHarley as it is simply helping practitioners sell more products.
My tip would be to make sure you are really well-trained in the brands that you do sell, as your in-depth knowledge will help promote the regime. I never stop learning. I am constantly joining new training sessions to make sure I offer my customers the best advice and the best products. You can add new products to your GetHarley digital shelf at any time, so you have the freedom to explore and curate your offering.

What do you typically ask the patient in an online consultation?
I always start with medical history, as you can get so many clues about their skin from that. Knowing about their lifestyle and diet is hugely important too, as are their sleep patterns. Once you have this information you should have a really good idea of what to advise. The next step is finding out the patient's habits. Are they likely to use lots of products and want lots of steps, or is a capsule range much better for them? What is their budget? There is no need to really push a big sale at the start, you can always start small.
GetHarley will do their job of increasing it for you by including samples and up-selling at a later date, so you can graduate to selling the full regime.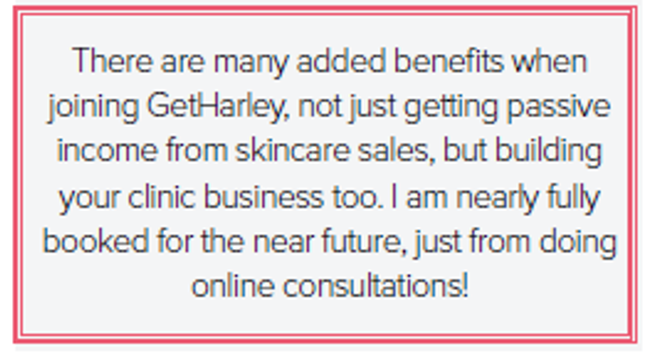 Does GetHarley help with in-clinic treatment bookings?
Absolutely. I find many of my customers organically graduate to booking in for aesthetic treatments following skincare, and GetHarley helps facilitate these bookings. We are all getting older and this usually means we have additional needs as we age. Once we hit our forties, most people want more than just good skincare, they want to have in-clinic tweakments too.