The 'new normal': an opportunity to rethink your patient experience
In the world of medical aesthetics, safety and efficacy have always been top priorities for patients and clinicians alike. That said, clinics are having to adapt to the latest social distancing requirements now in place post lockdown; rethinking everything, from welcoming patients, to the treatments themselves – infection control is of even higher importance and is shaping all of our behaviours, personally and professionally. While these new conditions of care are set to become the "new normal", customers are still looking to their clinicians to deliver effective aesthetic solutions, safely. Treatments and technologies that are particularly 'post-pandemic friendly' are those that are multi-area, quick, non-invasive, non-aerosol generating, and, critically, those that can be relied upon to give great results.

A simple way to 'wow' your patients without compromising safety
In light of the new infection control, treatments that offer efficacy without compromising safety are highly attractive to patients. Thermage® is one of these non-invasive solutions, combining efficacy and limited risks of contamination, offering multiple advantages which are more important than ever in the new world in which we operate: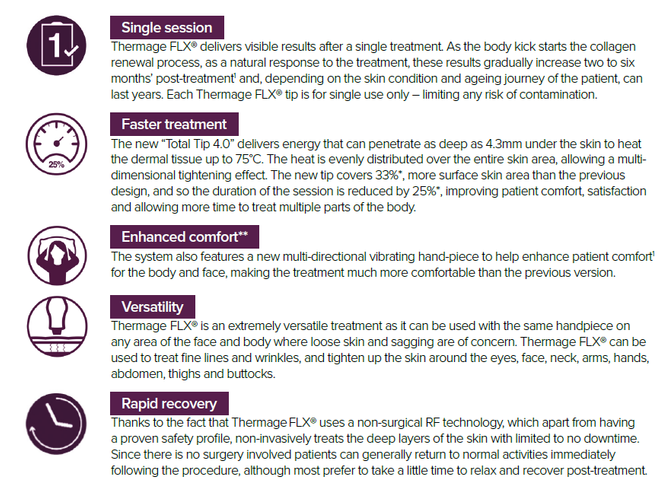 A trusted partner: committed to delivering results for you and your patients
Thermage® set the standard for non-invasive skin tightening and continues to be one of the most popular, trusted treatments among patients and clinicians due to its proven results and versatility. For years, Solta Medical® has invested in the advancement of the Thermage® technology to help aid in patient comfort and improve the experience for the practitioner. Solta Medical® offers effective solutions with a good safety profile for patients while enhancing and expanding the practice of medical aesthetics for physicians. Solta Medical's devices address a range of skin treatments under the industry's premier brands: Thermage®, Fraxel® and Clear + Brilliant®, as well as offering precise body contouring and sculpting with Vaser® Lipo.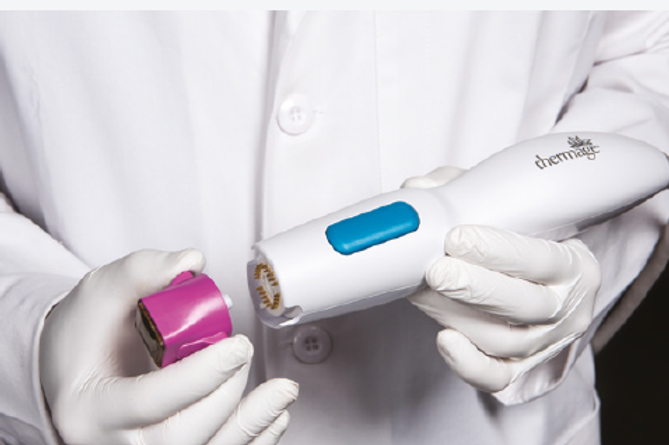 Thermage FLX® – a pioneer in skin tightening

Thermage FLX® from Solta Medical®, is a non-invasive radiofrequency (RF) therapy that smooths, tightens and contours all skin types in a quick, comfortable way to provide an overall natural, younger-looking appearance that lasts. The new fourth-generation system uses patented monopolar RF technology to create a uniform heating effect in the deep collagen-rich dermal layer. The heat stimulates existing collagen to achieve an immediate skin tightening effect.1 It also promotes the growth of new collagen for results with continual improvement. Featuring the innovative AccuREP™ technology, new Thermage FLX® ensures perfect personalisation of each treatment to address and improve the skin condition of each patient. The treatment delivers natural looking results with little to no downtime – on all skin colours – on and off the face, all in a single procedure. Pioneer in skin tightening treatment since 2007 with more than 13 years clinical use, Thermage® has demonstrated a good safety profile with more than 50 published clinical studies.
References
1 R. Fitzpatrick, R. Geronemus, D. Goldberg, M. Kaminer, S. Kilmer, J. Ruiz-Esparza. Multicenter study of noninvasive radiofrequency for periorbital tissue tightening. Lasers Surg Med. 2003;33(4):232-42.
2 Solta Medical, 2009. Report on Gazelle Clinical Study 09-100-GA-T 'Validation of the Thermage 3.0cm2 STC and DC Frame Tips, Comfort Software and Vibration Handpiece on the Face and Thighs' (#09-019ER). Bothell
3 B. D Zelickson, D. Kist, E. Bernstein, D. B Brown, S.Ksenzenko, J. Burns, S. Kilmer, D. Mehregan, K. Pope. Histological and ultrastructural evaluation of the effects of a radiofrequency-based nonablative dermal remodeling device: a pilot study. Arch Dermatol. 2004 Feb;140(2):204-9.