Julie Redmond RGN. NIP shares why she is so excited about using Merz Aesthetics' new product BELOTERO Revive, to revitalise, restore, regain life, and strengthen patients' skin, especially after the year we have just had
No filter, just you
Skin surface and pigmentation strongly impact perceived facial attractiveness, and even small changes of 25% drive differential perception. I really believe this; we do not need significant changes to see people in a different light. We need subtle, smooth changes that occur continuously over time. So when you hear people saying, "She looks great, what has she had done?" That is what I want to hear.
When BELOTERO Revive first hit the UK, I was extremely excited as I needed a product like this in my clinic. How many patients say to you, "I look tired," I am sure it is nearly every second one. That is why BELOTERO Revive will be great for your clinic; who doesn't want 37.5mg/ml of hydration in their skin?
BELOTERO Revive is a revitaliser or skin booster. It has 20mg/ml of HA, and 17.5mg/ ml of glycerol in a 1ml syringe indicated for early-onset photodamage.
Assessment/patient background
A 60-year-old female patient presented with uneven skin texture. She said she felt like she looked very tired. She is the ex-wife of a famous rock star and was a Top of the Pop's dancer and model in the 80s. She has a Fitzpatrick III-IV skin type and is originally from Cyprus. She has great volume still and is a very beautiful lady, however, her concerns were roughness of skin texture, tiredness, loss of skin glow, loss of firmness and pigmentation. She wanted to improve this without gaining too much volume; she is conscious a lot of her girlfriends have gone overboard with aesthetic medical treatments and therefore wanted a subtle look.
BELOTERO Revive is suitable for all patients with signs of photodamaged facial skin. The unique combination of Cohesive Polydensified HA and glycerol would revitalise her skin and give her the outcome she desired.
As we know, photodamage is defined as the change in structure, appearance, and function of the skin after ongoing exposure to harmful light rays with advancing age. Exposure can start in the first decade without visible signs on the skin. As the exposure continues, early signs such as tanning, freckles and sunspots emerge. Other symptoms of photodamage include fine wrinkles (<1mm in depth), coarse wrinkles (>1mm in depth), skin laxity, dryness, sallowness, rough texture, patchy and uneven pigmentation, and dilated blood vessels.
Microscopically these changes are seen by atypical skin cells, skin thinning and atrophy, degeneration of elastic tissue, loss of collagen and increased melanin in the skin. BELOTERO Revive is an ideal choice for anyone showing these signs or for patients who want to improve their skin's appearance without drastic volume changes. BELOTERO Revive is a perfect early intervention that offers a natural-looking, enhanced skin look.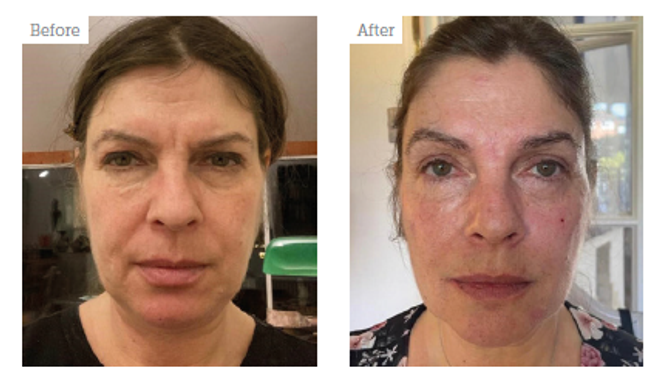 First treatment/technique
With all my patients, I consent them, take photographs and prep their skin for treatment. Before the treatment, I informed her about the device and possible contraindications and side effects. I also applied some LMX cream around the perioral lines. She received 20 superficial-mid micropuncture injections of cohesive polydensified matrix HA filler (CPM-HA20G BELOTERO Revive lidocaine free) in a grid pattern in the mid and lower face and around the periorbital region. I injected slowly using the supplied needles. The quantity of gel to be injected depends on the area being treated and the correction you want to achieve.
Revive can be used with other BELOTERO products in the same session. I gently massaged the treated areas after the injection to distribute the product uniformly. She found the treatment tolerable with no redness or bruising afterwards. Atrophic scars, photodamaged skin and fine lines are treated through one treatment session in the superficial part of the dermis. Improvement of the elasticity and firmness of the skin can be achieved with a treatment plan of three sessions of serial puncture injections in the mid deep dermis four weeks apart.

Benefits of glycerol
The beneficial effects of glycerol on the skin have been recognised for more than 85 years. It is widely used for its moisturising and smoothing effects in different dermatological and cosmetic preparations. However, the availability of this molecule in injectable preparations is relatively recent. Glycerol is a polyol found endogenously in humans and is thought to be important for maintaining hydration of the epidermis. It is mainly responsible for attracting and retaining water molecules, strengthening the hyaluronic acid matrix through hydrogen bonding, enhancing the potency of hyaluronic acid in promoting skin hydration.
Glycerol is also known to have anti-inflammatory and antioxidant properties, although the significance of these effects because of treatment with BELOTERO Revive is not known. Pure glycerol has also been seen to absorb its own weight in water over over just three days, helping to provide patients with results after just one treatment. The combination of the HA and Glycerol equates to 37.5mg of moisturising agents to improve skin hydration from one to nine months.
Summary
BELOTERO Revive can be used in all ages for early intervention or in later years. It is excellent for skin revitalisation and is a well tolerated and effective treatment. In the BELOVE study, BELOTERO Revive was shown to decrease skin roughness for up to seven months; increase skin firmness for up to six months and decrease skin redness for up to nine months. It also showed that 86% of patients rated themselves as having an improved aesthetics outcome at six months and 90% of patients would recommend the treatment to a friend.