A report on the 15th annual Aesthetic and Anti- Aging Medicine World Congress in Monte Carlo on the 6-8 of April 2017
The warm gleaming sunshine of Monte Carlo was the perfect greeting to the aesthetic professionals who made their way to the Aesthetic and Anti-Aging Medicine World Congress (AMWC) to discover the latest developments in this growing specialty.
The congress, which commenced on April 6, was held at the prestigious Grimaldi Forum conference and exhibition centre, where medical professionals from 120 different countries could connect with renowned industry leaders and companies, and partake in expert discussions in the fields of aesthetic dermatology, plastic and aesthetic surgery and multidisciplinary preventative and antiageing medicine.
Scientific directors of the congress, Dr Thierry Besins and Dr Claude Dalle introduced this year's theme as 'Challenges and Opportunities' to mark the congress' 15th anniversary. Dr Besins said, "The theme of AMWC 2017 reflects our long-term commitment to building the advances in research and clinical practice, maximising multidisciplinary approaches to promote, and leaping into the future of aesthetic and antiageing medicine as a whole."
Sessions covering all aspects of aesthetic medicine took place at the congress. 'Difficult Zones: Focus on Lower and Upper Eyelid' was a highlight for delegates, where French surgeon Dr Philippe Kestemont and facial plastic surgeon Miss Cécile Winter discussed the anatomy through videos of cadaver dissections. Dr Kestemont explored the tear trough area, showing a video demonstration on the benefits of stretching the ligament under the eye. He said, "If you only fill the hollow part it's not enough – you can do a soft movement with the cannula to stretch the ligament and then after you can inject. The benefit is that you use less product and have better results."
In a session discussing regenerative aesthetics, UK practitioner Dr Kate Goldie examined the factors of stem cells in ageing. She said, "We as aesthetic doctors from all over the world have a unique opportunity to be pioneers in regenerative soft tissue medicine."
Delegates attending the 'Forehead and Eyebrows: A Key Line of Beautification and Rejuvenation' session saw Spanish practitioner Dr Philippe Deprez provide treatment options for glabellar wrinkles that are resistant to injectable treatments, discussing the use of chemical peels in the area instead. He concluded, "You must have the correct post-procedural care with antioxidant creams and sun protection to avoid post-inflammatory hyperpigmentation."
Following this, Dutch practitioner Dr Daria Voropai discussed the importance of the brow and what patients are looking for, "We have a brow obsession, I make brow contact before I make eye contact, that's a phrase well heard by our patients," she said.
The congress also featured many industry sponsored symposiums, some of which included those from Galderma, Merz Aesthetics, Syneron Candela, Teoxane Laboratories, IBSA Farmaceutici Italia discussing Profhilo and Allergan.
The Profhilo session featured Dr Hema Sundaram discussing the science behind the product and explained its clinical characteristics. She also described the scientific data and evidence available for Profhilo, and said, "With Profhilo, we have the opportunity to restore a more youthful balance of remodelling." Dr Ravi Jain then followed with a live demonstration using the five point BAP technique of the inner arms, neck and hands with a cannula.
The full-day Allergan symposium, which took place on April 7, was well received by delegates, who watched presentations showcasing Belkyra for submental fullness and the company's new hyaluronic acid injectable for skin quality, Juvéderm Volite.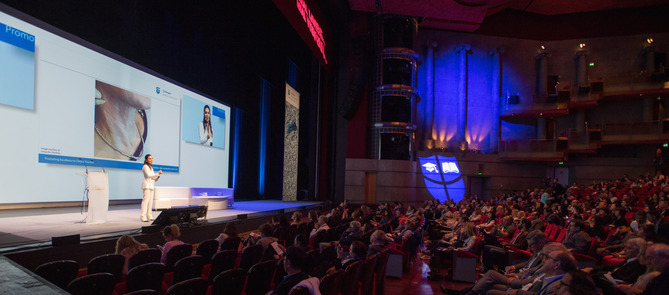 During the symposium, UK cosmetic surgeon Dr Jonquille Chantrey discussed the importance of skin quality and how skin changes as we age. German dermatologist Dr Patricia Ogilvie followed, discussing Juvéderm Volite in detail. She said, "We have successfully shown that Juvéderm Volite is efficiently able to improve the hydration of skin with only one treatment for up to nine months after a single injection and also improves the texture, smoothness and elasticity of skin." When discussing the patients' response to this treatment she added, "Ask your patients 'how do you feel?' rather than 'how you look?' because this product makes your skin feel different." Swiss practitioner Dr Marva Safa then performed a live demonstration on how to effectively conduct the treatment.
The symposium concluded with an extremely popular hour-long live demonstration of a full facial transformation using Allergan's MD Codes by Brazilian aesthetic practitioner Dr Mauricio de Maio. His session was awarded a large applause both from inside the auditorium, and from those watching at the Allergan stand on the Exhibition floor.
Dr Chantrey said of the congress, "It's been a great week – I am really happy with the way the symposium went – I feel that we challenged ourselves and took beauty to the next level. Looking at the congress as a whole I hope that the UK and international practitioners will follow suit as patients deserve a higher standard of outcomes."