Aesthetics reports on the highlights of the 16th Aesthetic & Anti-Aging Medicine World Congress
It was another successful year at Monte-Carlo's 16th AMWC congress on April 5-7. More than 12,000 specialist practitioners from 130 different countries met at the Grimaldi Forum to learn the latest advances in aesthetic dermatology and surgery, preventive and antiageing medicine.
There were 350 international speakers presenting at the event, while 250 exhibiting companies showcased more than 400 aesthetic brands.
The main theme of this year's congress was patient safety, and the agenda reflected this, with many sessions discussing the importance of avoiding complications and adverse events, while promoting safe and successful treatments.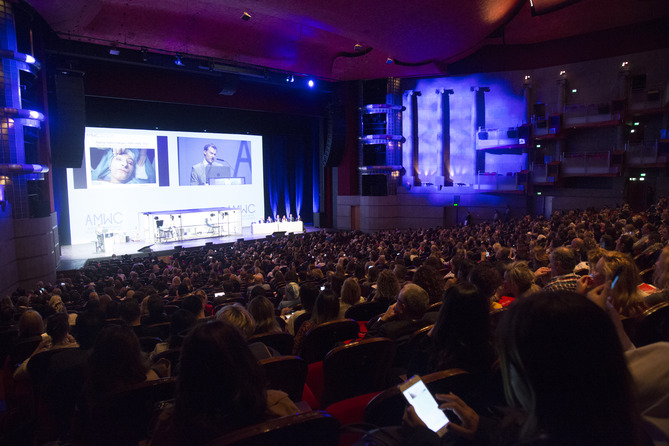 Some notable sessions included Profiloplasty – Non-Surgical Beautification and Harmony, chaired by French plastic surgeon Mr Thierry Besins; The Miracle of Growing Younger – The Revolution Of Regenerative Aesthetics, chaired by aesthetic practitioner Dr Kate Goldie; and A Better Knowledge of Physical and Human Factors – The Key to Optimise Safety in Aesthetic Injections, chaired by plastic surgeon Mr Steven Dayan.
Professor Bob Khanna, Galderma international KOL, was invited as chairman and speaker at AMWC Monaco and said he had a great experience this year.
"This is my ninth year invited as speaker of AWMC and each year this conference gets better in terms of being diverse yet comprehensive and progressive in a constantly evolving environment. It was a pleasure to present my very latest concepts and techniques, to enable international clinicians to take their knowledge and skills to the ultimate level when treating patients. This year, my teaching focus was on creating the ideal profiles from forehead to nose, lips and chin. I also ran a key session on male vs. female aesthetics," Professor Khanna said.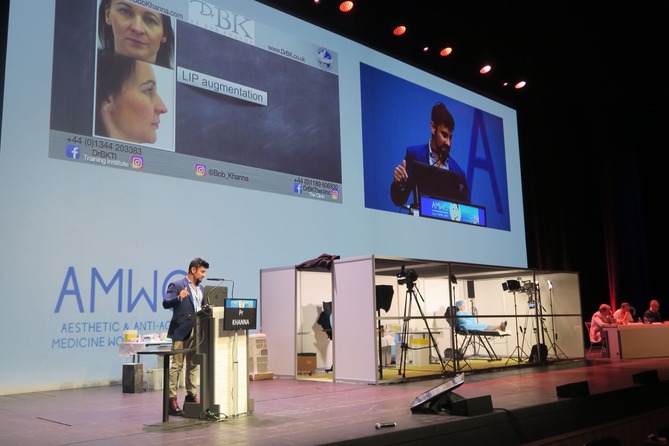 Professor Khanna also enjoyed the conference as a delegate; he added, "I managed to catch a few interesting lectures on the psychology of aesthetics – an area that I am particularly intrigued with. The exhibition is simply huge and spread over many halls – I was impressed by the growing number of companies that exhibit and particularly the attention that many focus on with regards to research and development."
Other UK-based practitioners who were in attendance as presenters included Mr Dalvi Humzah, Dr Raj Acquilla, Dr Uliana Gout, Dr Rita Rakus, Dr Daria Voropai and Dr Sabika Karim, among others.
Dr Raul Cetto, Teoxane country expert, presented at the Teoxane stand on pre- and post-procedure care, as well as lower face and jawline treatments.
He said, "AMWC this year felt bigger; there were lots of people and lots of things going on. I really enjoyed presenting my intimate sessions at the Teoxane stand. We also had two corporate sponsored events where we had 400-500 people that covered talks on tear tough, lips and live demos and more with Dr Wolfgang Redka-Swoboda from Germany and Dr Wayne Carey from Canada, which were well received."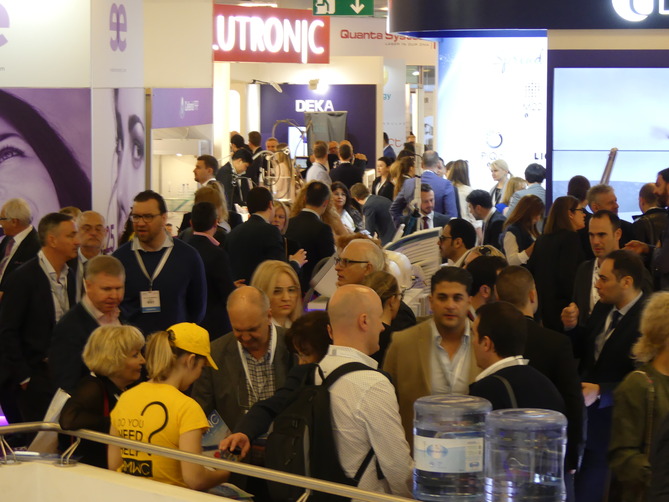 One thing Dr Cetto did notice at the congress was that more people are now demonstrating with cannulas. He said, "Before, most people would use cannulas in their own practice but on stage they would just use needles, probably because cannulas don't look very slick on stage. I don't think it's enough to just mention it, I think doing a live demonstration using a cannula when indicated is better."
Professor Khanna concluded that he believes AMWC is a congress that is very worthwhile for aesthetic practitioners. He said, "If clinicians wish to remain on top of their game, then they need to be constantly updated. In a conference of this magnitude, they can do so by listening to and observing very experienced clinicians from all over the world, who are at the top of their game. Hence this opportunity ought not to be missed!"
AMWC in 2019 will take place at the Grimaldi Forum in Monaco on April 4-6.