Aesthetics reports on the highlights from the British Association of Cosmetic Nurses Autumn Conference
More than 300 aesthetic nurses travelled to Birmingham for the British Association of Cosmetic Nurses (BACN) annual conference on September 16. Taking place once more at the International Convention Centre (ICC), delegates were greeted with more than 50 stands at the exhibition and a range of talks from experienced and renowned speakers.
This year, for the first time, delegates were also invited to take part in pre-conference workshops on September 15, at the ICC. The conference, which had the tagline 'Raising the bar, shaping the future', also had an underlining anatomy theme throughout the morning of the main event.
Consultant plastic surgeon Mr Taimur Shoaib began the Saturday agenda with a talk, taking an in-depth look into the anatomy of the face. This was followed by aesthetic nurse prescriber Melanie Recchia, who spoke on botulinum toxin and its limitations, which also explored the anatomy in relation to injecting toxin.
Recchia stressed it is vital to know your anatomy as 'good patient education starts with good practitioner knowledge'. She provided advice on patient consultation for botulinum toxin treatment, explaining the importance of using the correct language and tone, and understanding and discussing patient expectations.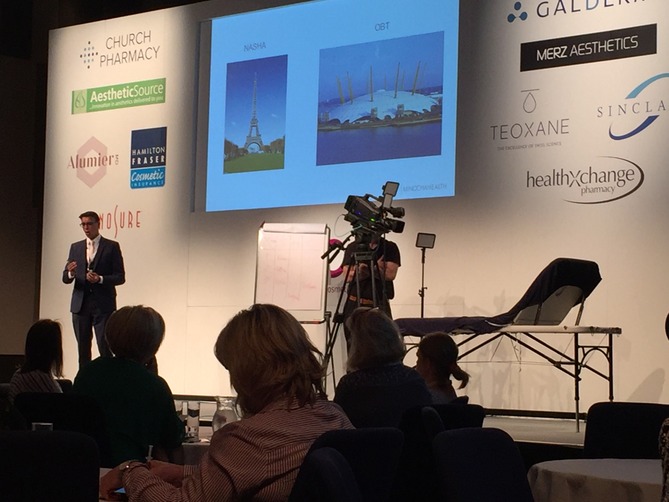 Continuing with the anatomy theme, aesthetic nurse prescriber and BACN board member Lou Sommereux provided a cadaver training review and spoke about her personal experience of attending a cadaver course specifically aimed at nurses. Sommereux encouraged delegates to strongly consider attending a cadaver workshop as she believes it 'reinforces confidence and expertise'.
In the afternoon, Dr Elizabeth Raymond Brown spoke on clinical photography and queried why, although a patient consultation is all about evaluation, not many practitioners spent enough time taking patient photographs. She then spoke about the importance of copyright and data protection and presented statistics taken from a study in Australia, which found that 23% of doctors accidentally showed someone an image of a patient on their smartphone whilst scrolling through their images.
Next, Dr Kuldeep Minocha led a Galderma sponsored session on an individualised approach when treating the full face. He explained the differences between the Restylane range of fillers, the difference in particles size and the G prime, before providing a live demonstration.
The event concluded with a Merz sponsored session on defining and shaping the lips with Dr Gertrude Huss and Dr Emma Ravichandran, and an Allergan sponsored session on facial rejuvenation with dermal fillers by Dr Tapan Patel.
CEO of the BACN, Paul Burgess, said, "This year was a big year for the BACN as we went from a one to a two-day conference; our Friday workshops were a complete sell out and a fantastic success." He continued, "Saturday was a great day with excellent presenters and lots of networking. We will soon be looking at dates for next year."