Registration for the leading medical aesthetic conference and exhibition in the UK is now open! Find out more about the huge variety of free content on offer, as well as the unique Elite Training Experience
The time to register for the unmissable medical aesthetic event of the year has arrived! Once again, aesthetic professionals from across the UK will meet at the Business Design Centre in London on April 27 and 28. Delegates will enjoy two days of education delivered by leading speakers, have the chance to explore the 2,500m2 Exhibition Floor and discover all the latest products and services, as well as the unique opportunity to network with professionals from across the specialty. Whether you are new to aesthetics or have years of experience, if you're a doctor, nurse, surgeon, dentist, clinic owner, manager, aesthetician or any other professional working within aesthetics, there will be something for you to gain at the Aesthetics Conference and Exhibition (ACE) 2018!
Watch live demonstrations at the Expert Clinic

A favourite amongst delegates – the Expert Clinic – will be situated on the Exhibition Floor and will feature 17 sessions, each 30-minutes in length. They will be sponsored by leading aesthetic companies, which will equip prac- titioners with all the latest technique advice, treatment overviews and product knowledge to truly enhance their clinical offering. Live demonstrations will take place and topics will cover injectables, skin rejuvenation, body contouring and much more. So far, sponsors include AesthetiCare, mesoestetic, Cynosure UK Ltd, Needle Concept, HA-Derma, Aesthet- icSource, Unique Skin and Cutera Medical.
Gain key product knowledge at the Masterclasses

The Masterclasses, held in private rooms in the gallery, offer the chance to gain insight into how the UK's key opinion leaders get the best results from the products and treatments they use. These in-depth, interactive 60 to 90-minute sessions will be run by 12 prominent aesthetic companies, which so far include Galderma, SkinCeuticals and Lumenis, with more to be announced in the coming months. Topics covered will include, the mechanism of action of products, administration techniques, patient assessment, side effects and complication management.
Develop vital commercial skills at the Business Track
Whether you're new to the specialty and looking to grow your business or just hoping to brush up on various aspects of running a clinic, the Business Track, sponsored by Enhance Insurance, is the place to be. Across the 18 sessions set to take place, delegates can learn about opening a new clinic, tax and VAT, PR, marketing, regulation, training, insurance, building a brand, and so much more! Martin Swann, divisional director of Enhance Insurance says, "I think the Business Track offers delegates a really good opportunity to plan their knowledge around topical subjects that are going to help them in business. Anyone that's going to come to the Business Track will learn valuable tips to take home to their practice."
Meet aesthetic professionals at the Exhibition
The ACE Exhibition Floor will become home to more than 80 leading aesthetic distributors, suppliers and manufacturers. All the latest products and services will be showcased, with live demonstrations on stands taking place, allowing delegates to discover all the latest innovations. ACE programme organiser Amanda Cameron said, "ACE 2018 will be bigger and better than ever before. As always, we have an abundance of free educational content on offer, more than 40 CPD points to gain, the best speakers in the specialty and a huge number of exhibitors offering essential products and services to suit all your clinic's needs. Everyone working within aesthetics should be a part of this valuable event that is dedicated to supporting the growth of the specialty."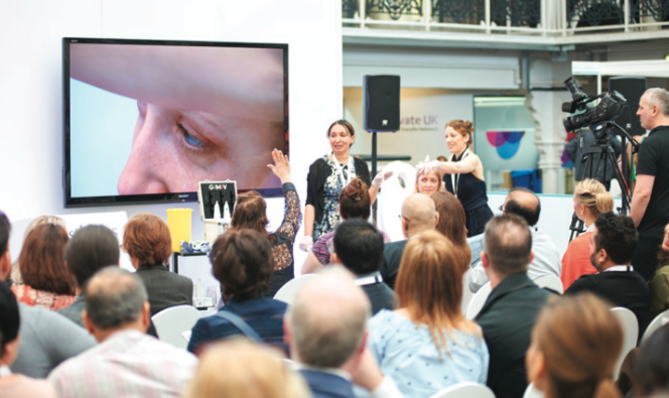 THE ELITE TRAINING EXPERIENCE
Four renowned aesthetic courses, run by expert tutors Mr Dalvi Humzah, Dr Tapan Patel, Dr Kate Goldie and Dr Raj Acquilla, will take place at ACE 2018 for just a fraction of the normal price! The unique three-hour training taster sessions – Dalvi Humzah Aesthetic Training, Academy 102, Medics Direct and RA Academy – will just be £195 +VAT; and, if booked before December 31, just £175.50 +VAT – giving delegates incredible value for money. In addition, attendees who wish to attend the full training course with the providers, will be given an exclusive 10% discount on a future booking.
Friday 10-1pm: Dalvi Humzah Aesthetic Training
Led by consultant plastic and aesthetic surgeon Mr Dalvi Humzah and featuring an expert national and international faculty, this session will deliver practical and interactive expert tips on how to enhance your skills using cannulas, anatomical details of product placement and how to address specific skin and facial concerns.
Friday 2-5pm: Academy 102
Aesthetic practitioner Dr Tapan Patel will lead this in-demand session that will see live demonstrations of filler and toxin procedures, as well as high-definition animated videos to explain key anatomical features and detail skilful injection techniques.
Saturday 10-1pm: Medics Direct Training
Dr Kate Goldie will bring a taster of her popular course on Saturday morning, which will see her conduct live demonstrations and discuss the art of individualised cheek/mid-face treatments, lip sculpting, facial assessment, periorbital rejuvenation and combining treatments.
Saturday 2-5pm: RA Academy
Dr Raj Acquilla, supported by nurse prescriber Jane Wilson, will present and perform live demonstrations on the 'total face approach'. The highly-sought after training will focus on facial aesthetic ideals, facial anatomy for hyaluronic acid and botulinum toxin injection, risk avoidance and complication management.
For free access to the Expert Clinic, Masterclasses, Business Track and Exhibition, register now at www.aestheticsconference.com/register. To secure your spot at one or more of the Elite Training Experience training sessions, register for free and then select which course/s you wish to book.