Reimagine your business model with Celluma Light Therapy
During these recent times of restricted travel and movement, the importance of no-touch services and home health solutions has become more evident. As the picture of what will be the 'new normal' becomes clearer, you have two choices to consider. You can either become overwhelmed by the changes or you can use these unique circumstances to reimagine how you do business. From the set-up of your clinic to treatment options to safety protocols, it's the perfect time to implement new systems to provide your patients or clients the best results, while still keeping them, and you, safe.
While there is no replacement for your expertise, knowledge, and caring touch, we at Celluma have created solutions to bridge the care gap for your patients and reimagine your business model to bring in additional income, even after your doors open again.
Our programmes are designed with you in mind. We're still in this together and that includes working with you to find solutions to address the new requirements involved with reopening your clinics and salons.
Safety and success
Safety is a priority for everyone, especially as parts of the world begin to open up again. Contactless check-in options and no-touch treatments are now a part of how consumers expect you to do business. And you can be confident that our safety protocols are the best in the business. Celluma is simple to disinfect and the only LED light therapy device with Hygiene Barriers fitting most models. You can now also order Celluma Face Shields for an extra layer of protection when seeing patients.

We're reimagining our business along with you as we manufacture new products (Celluma Face Shields and our new battery-powered Celluma iSERIES) and fine tune our Retail and Reseller Programmes to better meet your needs during this uncertain time. In addition to the Celluma no-touch treatment options you can provide at your location, our Reseller and Retail Programmes can help you recoup income lost over the last several months. Additionally, we can help you set up a Rental Programme so you can rent your Celluma device to your patients, keeping them on protocol, and helping them maintain results between appointments.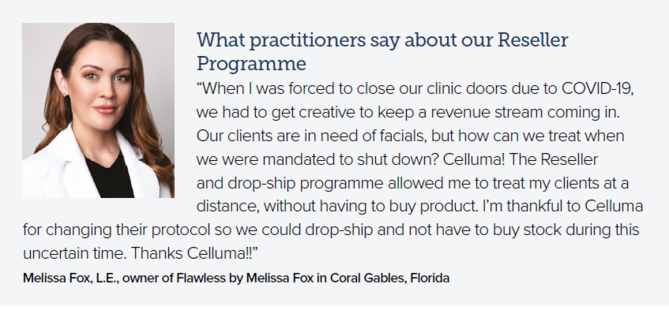 Practical business solutions
With 11 affordable models for home and clinic use starting at just £299, you can introduce your clients or patients to the benefits of light therapy at home and in your clinic. And, if you want the versatility to take your treatments anywhere, you can check out our new iSERIES, the first battery-powered light therapy panels on the market.

This breakthrough technology offers all the benefits of the original Celluma devices with even extra mobility and versatility. Now there are no limits to where you can take your Celluma.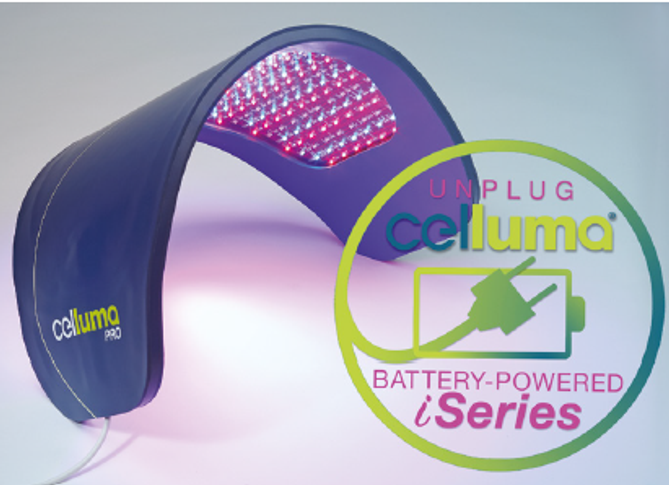 Celluma Light Therapy benefits you:
Celluma Light Therapy benefits to you and your practice:
• Recoup income through our Reseller and Retail Programmes
• Rent your Celluma to keep patients on protocol
• Choose from 11 LED models for clinic and home use
Celluma Light Therapy benefits your patients:
Celluma Light Therapy benefits your patients:
• Maintain results between appointments
• Affordable options start at just £299
• Safe and effective in-home use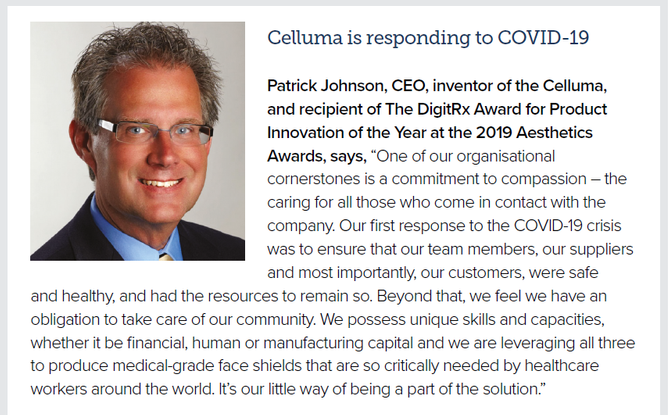 Safety is a priority
To help meet the needs of medical professionals on the front lines, Celluma has pivoted operations to include manufacturing badly needed disposable medical Celluma Face Shields. Celluma engineers have designed a medical face shield the company can produce with material and methods currently used to manufacture its Celluma SERIES of LED light therapy devices.
Celluma is now offering these Face Shields to clinic professionals. As clinics prepare to open, staff and patient safety remains a priority. Celluma is also the only Light Therapy device with Hygiene Barriers available for most models.