Lumenis invited medical aesthetic practitioners to The Royal College of Physicians on December 4 for its 2018 Trends in Aesthetics event.
The agenda began with talks on efficacy and complications in laser hair removal on Asian Skin, by Lumenis trainer and founder of MBA Clinics, Petrina Nugawela, which was followed by a presentation on non-invasive body contouring by Dr Imtiaz Yusuf, who discussed a four dimensional approach for fat cell destruction.

This was followed by a business presentation by Nugawela, who explained how delegates can expand their practice with advanced laser technologies, and a clinical talk by Dr Benji Dhillon on the current and future applications for ablative and non-ablative devices.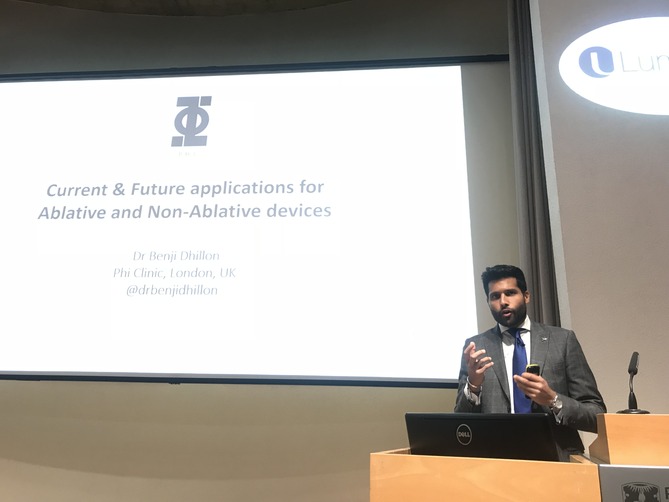 Linda Blahr, the education and science manager from SkinCeuticals, discussed how practitioners can combine skincare with laser treatments, while laser specialist for Lumenis, Kevin Williams, explained how the company can provide support to its clients.
The event was drawn to a close after health and beauty journalist Samantha Freedman discussed consumer trends to do with lasers and devices.
"I thought the event went very well, with excellent feedback from participants and several orders from new and existing clinics. I hope practitioners and clinic owners were able to understand the opportunities that our company, products and support offers them to expand their clinic for 2018," Williams said following the event.
He added, "For me, the outstanding highlights were the lectures by Petrina from MBA clinics and Benji from Phi Clinic. Petrina was not only knowledgeable on treating darker skin types but also shared her very successful clinic expansion programme, all on the back of good equipment from Lumenis. Benji presented the new and exciting photo fractional technique or the 'Hollywood facial', as it's referred to in the USA."
Nugawela added that she enjoyed the day, "As one of Lumenis' international trainers, I think holding these kinds of events is very important. It is an excellent way to stay up to date with the industry and also a great way to support people new to the specialty and help them get off to the best start possible."