Delegates attended a training day led by Dutch aesthetic practitioner, Dr Tom van Eijk, at the Dr Bob Khanna Training Institute in Reading.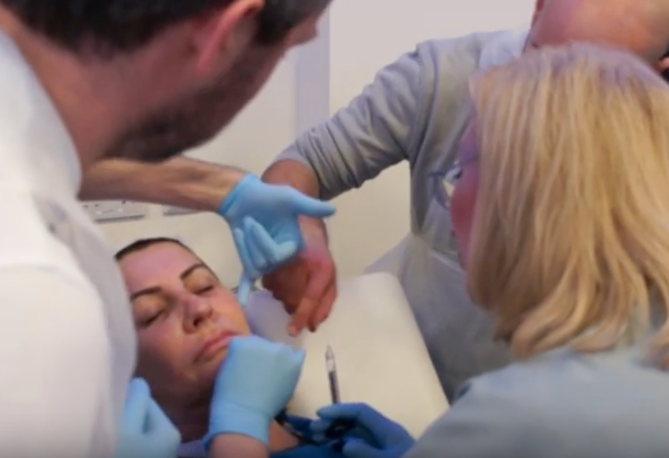 In the workshop, Dr van Eijk explained the different properties of injectable hyaluronic acid in relation to the depth and pattern of injections. He also demonstrated a number of his techniques including the 'Fern Pattern Technique', which is designed to strengthen the skin without over volumising the face, his 'Palma Technique' for eye rejuvenation and his 'Lip Tending Technique'.
"Techniques like these are best taught in a situation where the practitioner can actually try the injections on live models in a hands-on-training," said Dr van Eijk, adding, "At the end of the day the delegates go home with some new skills they can use at their practice right away."
Dental practitioner Dr Ruth Brady from Dental Excellence Harewood was among the delegates that attended the workshop and said, "I've come down to Bob Khana's Institute to hear Dr Tom van Eijk today and show us on patients how he has a new approach to doing some of the dermal filling that is different from the approaches that we have learnt before; producing a lot more structure to the collagen and really addressing a lot of the problems that we haven't been able to do with some of the techniques we have had so far. I think it's absolutely fascinating and I can't wait to put it into practice because it will give me another tool in my tool box," she said.
Dr Milad Shadrooh from Chequers Dental Surgery in Basingstoke also found the training course helpful and said,"The Fern Pattern Technique looks fascinating, different to anything I have done before and I'm really looking forward to doing this in my practice."
After the success of the training day at the Dr Bob Khanna Training Institute, Dr van Eijk will conduct another training course in central London at the Phi Clinic on Harley Street on July 4.