The highlights of the prestigious Aesthetics Awards ceremony 2016
Practitioners, clinics, products, training, distributors and manufacturers were celebrated at the Park Plaza Westminster Bridge Hotel in central London on December 3 for the spectacular and eagerly anticipated Aesthetics Awards ceremony.

The annual event recognises the very best in medical aesthetics and was even bigger and better than before, with more than 620 guests and 24 winners. The Aesthetics Awards, which has secured its place as the premier medical aesthetic awards ceremony in the UK, invited guests to network with colleagues and friends at the pre-dinner drinks reception before moving to the ballroom for a delectable three-course dinner, comedy set presented by stand-up comedian Hal Cruttenden, and the main ceremony that awarded the Commended and Highly Commended finalists, as well as the Winners across all 24 categories.
Amanda Cameron, the editor of Aesthetics, opened the ceremony with a welcome speech that thanked guests for their participation and continued support of the Aesthetics Awards. She said, "Tonight is a special event, it has become the biggest celebratory gathering in the industry to date and, more importantly, we aim to endorse the philosophy and values of Aesthetics, which is all about education, clinical excellence and improving resources available to you all."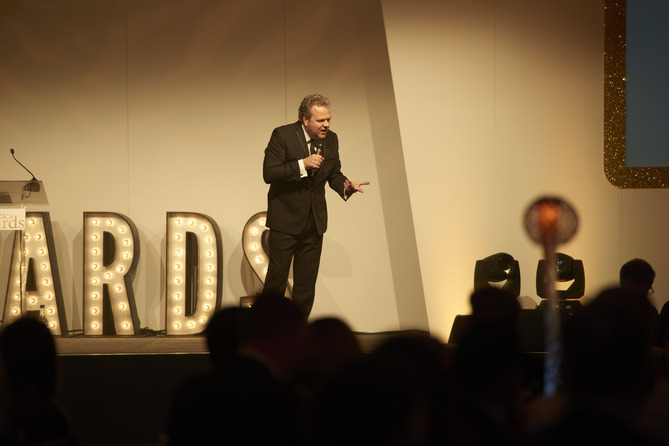 Host, Hal Cruttenden and voiceover Jon Briggs, who is best known as the original voice of Apple's iPhone assistant Siri and the voice of the BBC's Weakest Link quiz show, then began the ceremony. The first winner of the evening was Heliocare from AesthetiCare, which won Best Cosmeceutical/Product Range of the Year. This was followed by awards for injectable, treatment and treatment partner of the year, before Profhilo from HA Derma and IBSA was recognised with The Barry Knapp Award for Product Innovation of the Year, supported by Oxygenetix.

Clinics in Wales, Ireland, Scotland, South England, North England and London were all recognised for their dedication to patient care and commitment to safe practice, as well as ASKINOLOGY based in the City of London, which won the 3D-lipo Award for Best New Clinic UK & Ireland. Medical director of ASKINOLOGY, Dr Askari Townshend said, "I am very happy. It's good to be recognised for the hard work you put in and it really has been a lot of hard work, especially from the team, and so I think this is for all of us. I think to be pitted against your peers and to be judged by somebody in the industry, who is the most experienced, is a really precious accolade."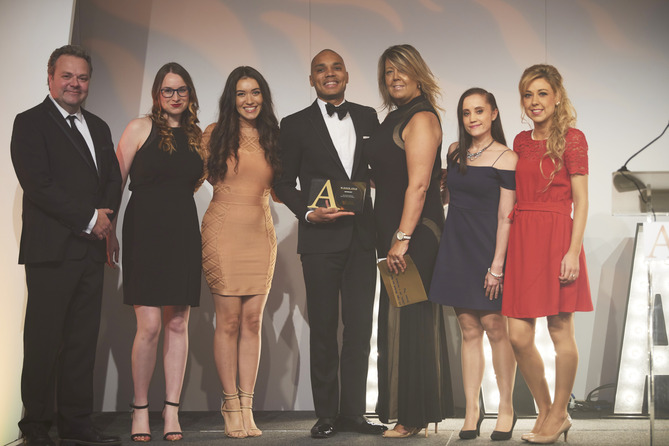 Reception teams, equipment suppliers, distributors, customer service, sales representatives and associations were also all recognised, before The AestheticSource Award for Best Clinic Group UK and Ireland (3 clinics or more) was presented to The Laser and Skin Clinic, and The Swisscode Award for Best Clinic Group UK and Ireland (10 clinics or more) that celebrated sk:n Group's efforts this year.
This year, the Winner of The Dermalux Award for Medical Aesthetic Practitioner of the Year was Mr Dalvi Humzah who said, "I am very, very touched and honoured that the whole of the specialty should think I deserve this. Everyone works really, really hard and there were some fantastic names in the final; colleagues, friends – we all work together and I just hope that this is about all of us."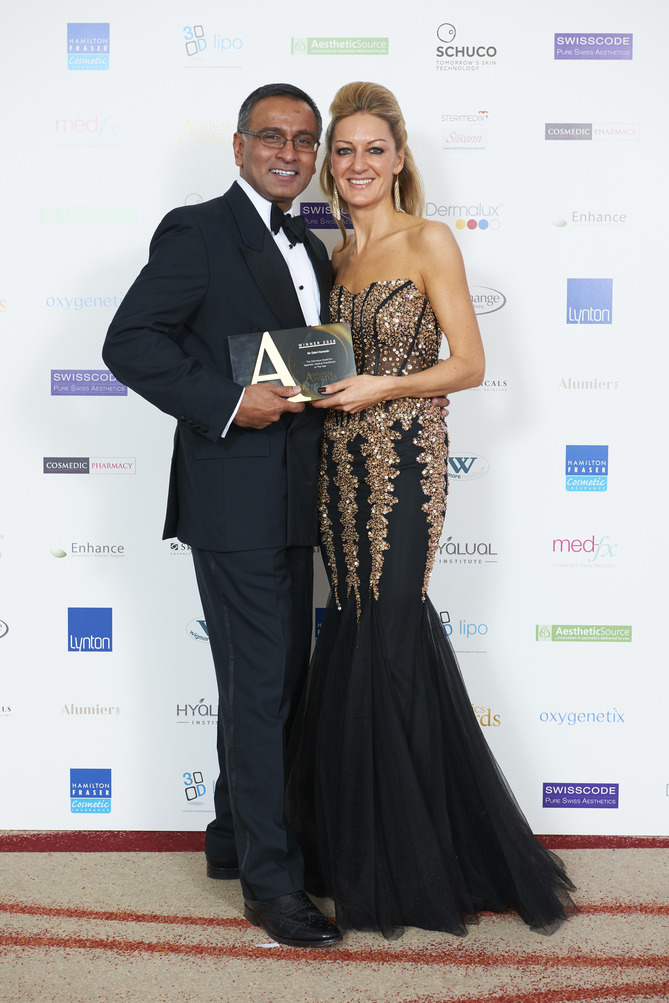 Louise Taylor, co-director of Aesthetic Technology Ltd and sponsor of the Award, said, "This is a very prestigious award to sponsor so it was an honour that we were able to have the opportunity to support Aesthetic Medical Practitioner of the Year. I think that this category is of a very high standard and represents the best of the best who are practising in the industry today. Mr Dalvi Humzah is amazing, so many congratulations to him."
Mr Humzah also won The Enhance Insurance Award for Training Initiative of the Year, to which he said, "We had a lot of very stiff competition; I think everyone who was a finalist could have won this award. I hope they continue to do really well and inspire others to enter the training category and raise the standards within aesthetics."
Also recognised on the night was board member of the British Association of Cosmetic Nurses and clinic owner Frances Turner Traill who won the Institute Hyalual Award for Aesthetic Nurse Practitioner of the year. Judges awarded Traill for her commitment to continued education within the industry. She said, "I'm over the moon. It was totally unexpected. It's the highest accolade so it doesn't get much better than this! I must say, though, that we are a team. Our #FTTdreamteam won this as much as I did. Our patients are behind us 100% and are as delighted as we are!"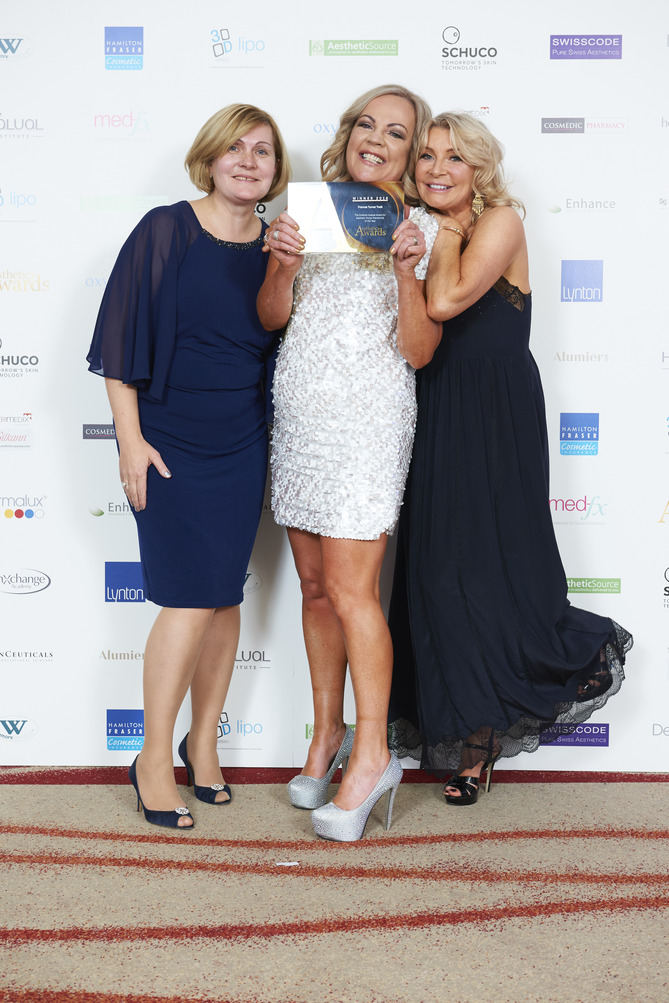 The engaging ceremony concluded with the presentation of The Schuco International Award for Special Achievement. CEO of Schuco International Paul Huttrer , long with brand ambassador and actor, Kieron Richardson, presented the worthy achievement to Dr John Curran.
Dr Curran was celebrated for his tireless work to promote best practice in the industry, always putting patients first and his efforts to push aesthetic standards forward. As a founding member of the British College of Aesthetic Medicine, Dr Curran served time as president, as well as chair of their ethics committee and has often been called upon as an expert witness by the GMC. He is currently the owner and founder of a successful chain of clinics, as well as Healthxchange Pharmacy and Healthxchange Academy.
Huttrer said in his speech about Dr Curran's dedication to aesthetics; "Often the voice of reason, John is a fantastic ambassador for the industry, and a great representation of outstanding achievements that can be reached through hard work and dedication, as shown by his work for over two decades."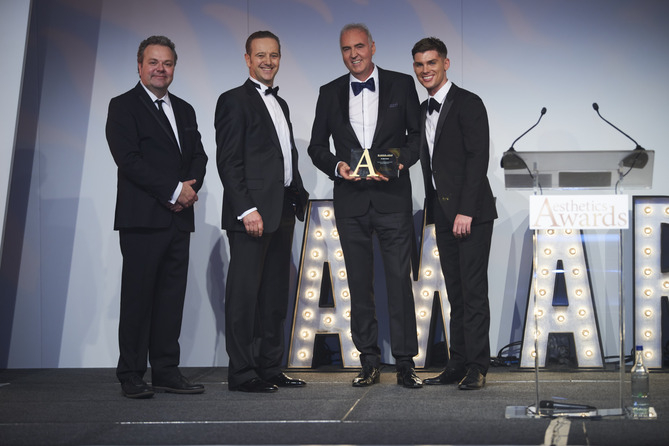 The charity partner for the Aesthetics Awards 2016 was Operation Smile, which is one of the largest volunteer-based medical charities providing free, safe and effective reconstructive surgery for children and young adults born with cleft lip, cleft palate and other facial deformities. Charitable donations made to Operation Smile during the ceremony reached an incredible £4,000.
Cameron concluded, "It has been a fantastic evening, I would like to say a special thank you to our judges for taking time out of their busy schedules to carefully consider each of the entries and choose our winner. A big thank you must go to all of our category sponsors, without whom this evening would not be possible. Finally I would like to thank everyone who entered, voted and attended the Aesthetics Awards 2016 and to all Commended, Highly Commended and Winners of the Awards, congratulations to you all!"