Acne vulgaris is a common skin condition affecting up to 80% of young adults and adolescents, although it can be seen across all age groups.1 According to the NHS, about 3% of adults have acne over the age of 35.2 The presence of acne can come with many side effects and complications, with the most common being scarring. One UK study estimated that 0.7% of people with acne have severe acne scars, but some degree of scarring is estimated to occur in up to 90% of patients with acne.3
Scarring can be treated in a number of ways, for example by using topical skincare, dermabrasion, laser resurfacing, dermal fillers, non-ablative and fractional lasers, chemical peels, or any number of combination treatments.
With the constant development of laser technology in aesthetic medicine, Aesthetics spoke to three practitioners about some of the newest devices on the market, as well as their preferred treatment approach for improving acne scarring.
Types of acne scarring
When assessing different types of acne scarring, generalised atrophic scars are the most common form seen on the face, explains Professor Firas Al-Niaimi, consultant dermatologist and laser surgeon at the Dr Firas Al-Niaimi clinic, London. He notes that there are three main types of atrophic acne scars (Figure 1). These can be categorised as ice pick scars – small and deep holes in the surface of the skin; rolling scars – caused by bands of scar tissue that form under the skin, giving the skin a crepey appearance; and boxcar scars – round or oval craters, explains Dr Al-Niaimi. Another form of acne scarring is hypertrophic, which presents as thick, raised, and red in colour. These are rarer and often found on the body, as opposed to the face, Professor Al-Niaimi explains.

Although understanding the different types of scarring is helpful, Professor Al-Niaimi adds that many patients actually present with a combination of all three types of atrophic scarring, and so your treatment plan will often need to address all three.
He notes that there are a range of factors which can result in scarring, stating that it isn't always predictable. "In terms of severity, acne can be categorised from mild to severe, with the latter being the most likely for causing acne scars," Professor Al-Niaimi says, adding, "However, this isn't always an indicator, and a family history of acne and acne scarring can also play a factor, as well as whether the acne was left untreated or whether the patient squeezed or picked at their spots while the acne was active."
The psychological impact
All three practitioners note that acne scarring can have a significant negative impact on patients, and studies on the psychosocial impact of acne have documented dissatisfaction with appearance, embarrassment, self-consciousness and lack of self-confidence.5,6,7 This has an impact on the consultation and treatment plan, explains Mr Rishi Mandavia, ENT surgical doctor and managing director of the Dr Tatiana Aesthetic Dermatology Clinic. He explains, "Our appearance has a big impact on the way we feel about ourselves, especially nowadays, with the rise in social media. The reason scarring affects our patients psychologically is because it's something that's very difficult to cover up, even with makeup. In my clinic, we carry out quality of life surveys and we really do notice a huge difference in the way that our patients feel before and after treatment. It's something that plays a big factor in self-confidence."
"There are so many devices out there nowadays, so when thinking of onboarding a laser device in your clinic, you need to consider what your patient base is"
Mr Rishi Mandavia
Professor Al-Niaimi advises that this psychological impact is something practitioners should consider when discussing specific treatment plans and methods with their patients. He comments, "Someone might have what a physician would class as a 'mild form' of scarring, however it might have a resounding negative affect on the patient's quality of life. In contrast, there could be someone with severe acne scarring, but they aren't as affected by it, and so would be happy to receive a gentler treatment with less downtime." It is important this is discussed with the patient.
Dr Marwa Ali, resident aesthetic doctor at The Wellness Clinic, adds that other lifestyle factors also need to be considered. She states, "If you have someone that frequently travels to sunny destinations or is outside in the sun a lot, then they're likely to not want a period of downtime after the treatment because the skin is very sensitive following a laser treatment. This is a big factor which comes into play – for example CO2 lasers are ideal for more impact and skin tightening, but they're more aggressive which means a longer downtime. That's why in-depth consultations are so important prior to the treatment, because it helps you to establish the best course of action for that particular individual. With aesthetics, and acne scarring specifically, there isn't a one size fits all approach."
Treatment approach
Professor Al-Niaimi explains that there are two main types of lasers used in aesthetic medicine for acne scars: fractional ablative and non-ablative. "Fractional ablative lasers target various layers of the skin whilst simultaneously creating an epidermal injury," he says, explaining, "However for non-ablative you are targeting various layers of the skin but without causing any injury to the epidermis. I have fractional ablative and non-ablative lasers, fractional radiofrequency, and picosecond laser. The choice will depend on type/severity of the scars and the patient's desires.″
For darker skin types, Professor Al-Niaimi explains that there is a higher risk of pigmentation when using ablative methods, so he typically chooses non-ablative fractional lasers as a first option in this instance.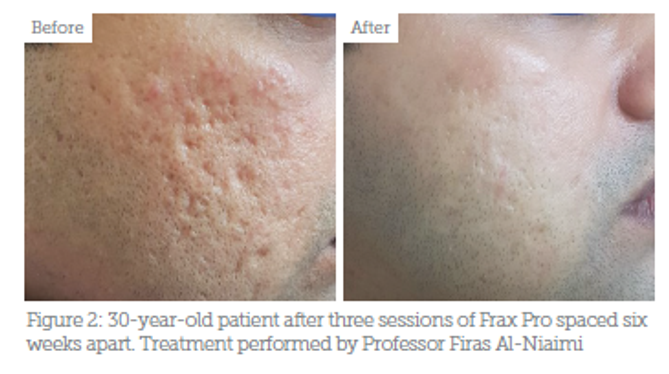 Mr Mandavia previously used a CO2 laser alone for treating acne scarring however, he has found that a combination of fractional CO2 laser and radiofrequency (RF) microneedling provides him with optimal results. He comments, "I've recently started using the Secret Pro device, which incorporates CO2 laser and RF microneedling all in one. I find that this works best on my patients because it offers a multi-layer approach in which the CO2 skin resurfacing application targets the epidermis, whilst the Secret RF microneedling technology allows you to reach different depths of the dermis layer of the skin. Therefore, you have a complete 3D approach for skin remodelling, and it can all be done on the same day, which is preferable for my patients."
Mr Mandavia notes that the procedure lasts for 40 minutes and results can be seen after one session. He comments, "This is not to say that the scarring has completely gone away after the one session, but for me it's all about meeting patient expectations and getting them to a point that they feel more confident in their skin. The main thing is that the predicted outcome has been communicated with the patient beforehand." Mr Mandavia adds that the procedure comes with approximately seven to 10 of downtime, which includes an average of five days of peeling.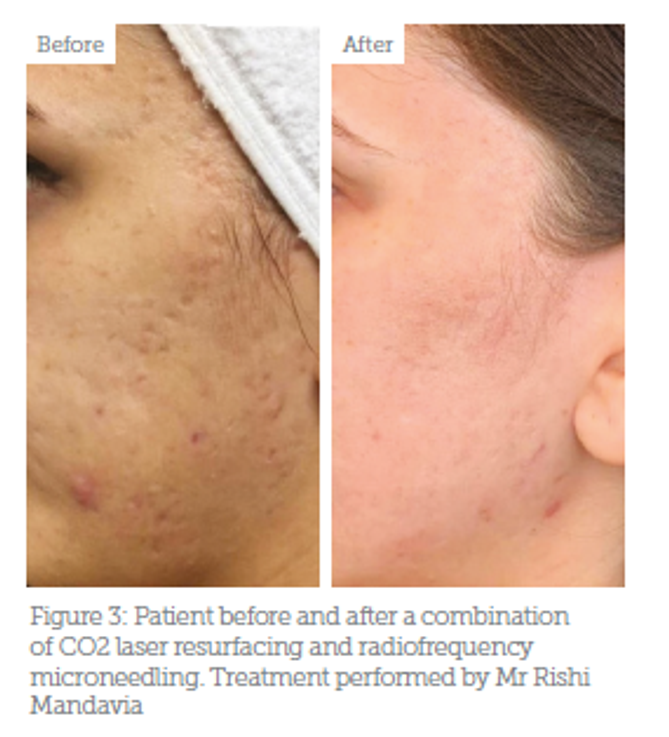 Dr Ali uses the Stellar M22 laser, which she prefers because it has several types of wavelengths which can be used to treat different elements of acne, and these can be combined for different results. She says, "Firstly, you have the StellarIPL which can treat active acne by shrinking the glands used to create sebum, similar to the way that isotretinoin works. Then, there's the ResurFX non-ablative skin resurfacing laser, which is what I use to treat the scarring. Thirdly, there's the Q-switched Nd:YAG module, which can help treat the pigmentation that comes alongside the acne scarring, so it's a great device to help tackle several things at once which gives my patients the best outcome."
A typical treatment session using the M22 ResurFX lasts for 30-45 minutes, Dr Ali explains. In terms of the number of treatment sessions, this varies from patient to patient. She says, "Everyone gets a bespoke treatment plan, and depending on the severity of the scarring, they may need to have three or four sessions, all spaced about six to eight weeks apart. I leave this amount of time between the procedures because it lets me see how their skin is responding to the treatment."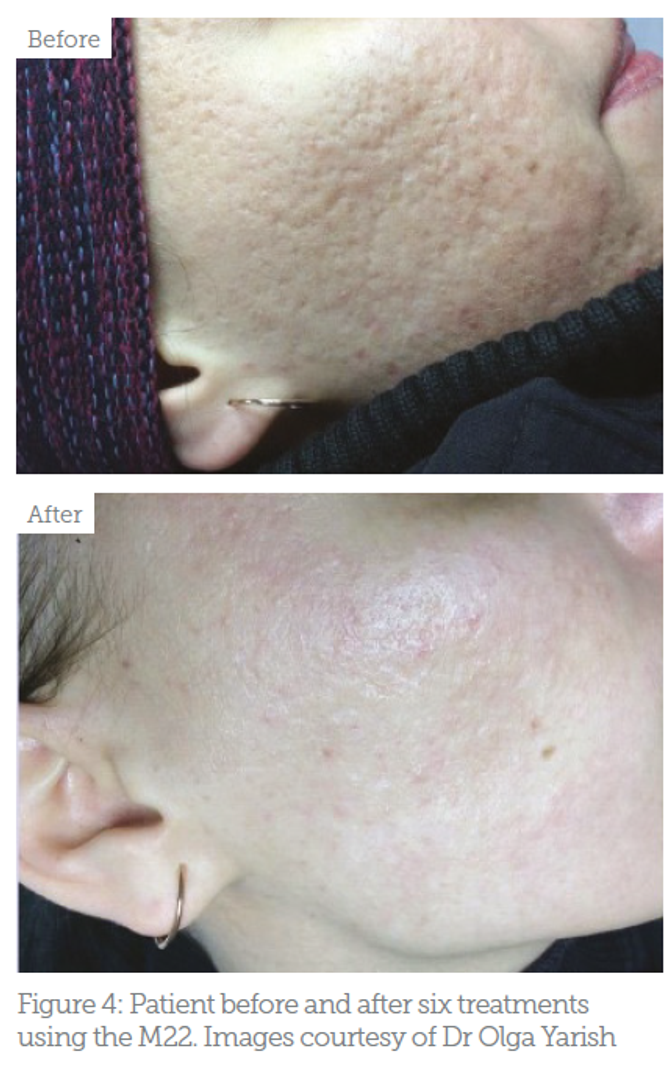 Considerations
Mr Mandavia notes that a patient's ethnic roots will be a deciding factor in skin treatment and outcome. For example, if the patient is Asian or black, he emphasises that it is a lot more difficult to treat acne scarring because of the higher risk of post-inflammatory hyperpigmentation, and so it is up to the practitioner to decide how to proceed. He notes, "You can use the Secret RF on darker skin types as long as you ensure you are performing the treatment at the deeper levels of the skin and not heating the more superficial layers of the skin. So for example, by only heating the dermis at 3mm, I am reassured that I am not heating the superficial layers. I can also reduce the amount of energy I am delivering to maximise safety. This has to be done with caution, so the most important thing for me to do prior to the treatment is a patch test. This will take place at least a month before the treatment, and it gives me the chance to see whether the patient experiences any complications. If you find that the patient responds well to a patch test, then it is usually safe to perform the full treatment."
Mr Mandavia adds that there have been many times where he hasn't been happy with the result of the patch test, in which case he decided against proceeding with the treatment. He notes that this can be the case for any patient, and not just those with darker skin types.
Dr Ali reminds practitioners that lasers need to be used with caution, as, like most other aesthetic procedures, there are always risks to treatment. She explains that these can include burning, further scarring, and infection, among others. Like Mr Mandavia, she always does a patch test on each patient, and waits at least 24 hours to see how the patient responds. She notes, "Practitioners also need to take their time and really observe the reaction of the patient's skin throughout the treatment. If it's used appropriately and properly, there should be no problems. Something I like about the M22 in particular is that it has computerised software where you can input the patient's details, such as skin type and concerns, and it then recommends the wavelength that would be appropriate for use. Of course, if you're a trained medical practitioner you should already be able to predict what you want to use, but it can give that extra confidence, especially to those newer in the specialty."
There are several side effects which can be expected following a laser procedure, which are normal and minimal, but should be communicated to the patient in the consultation, notes Dr Ali. She comments, "Patients will experience redness and peeling following a laser procedure, which typically lasts for about a week. But again, this really depends on the depth of acne scarring the patient has, whether they have dry or oily skin, and the level of pigmentation they have. It's hard to tell patients an exact period of downtime but we always overestimate to manage patient expectations, and to ensure that they can be prepared for the period following treatment or make an informed decision as to whether they want to proceed."
Aftercare
All practitioners interviewed note the importance of ensuring their patient maintains a strict topical skincare regime following the laser treatment. Mr Mandavia comments, "All patients need to be careful of the sun, because the skin will become extra sensitive and at increased risk of post-procedure pigmentation. I ask my patients to wear factor 50 SPF and implement strict sun-avoidance measures such as wearing hats and staying in the shade. For a CO2 laser specifically, I would also prescribe all my patients with antiviral medication and antibiotics to prevent infections. This is for one week prior to the treatment, and one week post-treatment. As always, it's very important that you communicate the aftercare to your patient clearly, so that they can experience a good recovery after treatment and minimise the risk of developing complications."
Dr Ali also recommends that her patients use sun protection and advises them against using vitamin A derivatives prior to their laser treatment. She comments, "I ask my patients to stay away from anything that can disrupt the skin, for example retinol. They need to use gentle products, which also protect the skin barrier."
Utilising laser in your clinic
On adding a laser to your clinic offering, Mr Mandavia advises that practitioners should begin by looking at clinical trials and research. He notes, "There are so many devices out there nowadays, so when thinking of onboarding a laser device in your clinic, you need to consider what your patient base is. What is the most common concern from the patients that you see, and what device can address these the best?" He explains that it's also important to research any device extremely thoroughly and look at the evidence for successful treatment in the literature. He adds, "As with anything in aesthetic medicine, the most important thing when treating patients for any skin indication is that we are being safe and giving them the best results possible."
Professor Al-Niaimi adds that laser is a popular and trusted method for treating acne scarring because of the scientific backing it has received in studies and trials. He comments, "The evidence in literature about the results of laser treatments show a high efficacy, making this technology a trustworthy source for providing optimal results, so I think it's something worth practitioners investing in for the benefit of both the clinic and the patients.
The most important thing is to be comfortable and confident with your device, and to ensure you're keeping yourself up-to date with the latest techniques and developments."