In the rapidly evolving landscape of medical aesthetics, one notable trend has been the increasing number of men seeking aesthetic treatments. As a clinician, I have predominantly worked with female patients throughout my career. However, in more recent times, I am delighted to observe a growing base of male patients seeking aesthetic enhancements at my clinic. This shift highlights the changing attitudes towards self-care and the desire for rejuvenation among men, enhancing their appearance to reflect their vitality and confidence.
As a clinician, I wholeheartedly embrace this trend and ensure that my practice is well-equipped to meet the unique needs of male patients. I feel it's increasingly important that we appreciate the cultural shift this signifies with a growing acceptance and understanding of the importance of self-care, regardless of gender. This diversification offers a fresh perspective on aesthetic treatments and presents an exciting opportunity to help men achieve their desired rejuvenation goals.
Understanding the concerns, expectations, and specific nuances of male aesthetics has become an integral part of my practice, appreciating the variations from the desirable female aesthetic to that of the typical male aesthetic. Recently, I had the opportunity to address the concerns of a male patient who presented in my clinic, seeking a refreshed mid-face appearance. He expressed concerns of appearing perpetually tired and angry, and while not representative of his internal state, this did transition to an impact on his overall confidence and wellbeing.
In my approach to both male and females seeking aesthetic treatments, I prioritise a comprehensive full-facial plan which allows me to address the totality of concerns for each patient. Central to this process is the patient consultation, which serves as a collaborative platform where expectations are addressed, managed and a clear pathway to the desired end goal is established.
With the growing number of male patients in my clinic, I recognise that it can be unnerving to enter spaces perceived to be female-dominated, being forthright about their concerns and desired aesthetic. To achieve the most from the consultation process we must ensure we promote a sense of ease and confidence through thoughtful clinic spaces. By prioritising the specific needs, we can cultivate spaces where patients of all genders feel valued, respected and comfortable to speak openly about their desires.
In response to the unique needs of this male patient, I chose to utilise the BELOTERO® Collection from Merz Aesthetics to deliver a customised treatment plan that would specifically cater to his concerns, particularly appreciating a natural-looking outcome to achieve rejuvenation without feminising. Often significant mid-facial volume loss can present a challenge, with the extent of the sunken appearance in this case, it was the endeavour to revitalise without overly projecting the face and indeed feminising.
Here I chose to work from the most superior and lateral aspect of the face before working down and towards the midline, treating the lateral cheek, mid cheek, tear trough and nasolabial folds. In total, I used 6ml of hyaluronic acid dermal filler which included 5ml of BELOTERO® Volume1 and 1ml of BELOTERO® Balance.2 BELOTERO® Volume was the perfect choice for me and often is for many of our patients at Array Aesthetics.
Unlike other products I've experienced, BELOTERO® Volume combines a low extrusion force coupled with a substantial lifting capacity while the cohesive Polydensified Matrix® (CPM) technology provides optimal tissue integration. In this case BELOTERO® Volume addressed the deeper facial concerns of a sunken mid-face, providing structural support and replenishing lost volume to achieve a sculpted harmonious contour. For precise superficial enhancement I chose to incorporate BELOTERO® Balance into the treatment plan. Known for its versatility, BELOTERO® Balance was ideal for addressing superficial lines and tear trough hollowing.
Detailed treatment plan
In the initial phase of this treatment, I administered a total of 3ml (1.5ml per side) of BELOTERO® Volume to the zygomatic arch and anterior zygoma region. Employing a 25 gauge 50mm cannula, I injected the product in threads ranging from 0.05ml to 0.1ml. The cannula's entry point was positioned on the lateral portion of the arch, then progressing medially along the periosteum. This phase aimed to enhance the patient's lateral facial structure, adding a more traditionally masculine appearance while initiating the revolumisation process. With male patients, I exercise caution by ensuring adequate treatment of the lateral cheek before proceeding to address the mid-face. Experience has shown me, in the male patient, focusing on the lateral cheek in isolation can often yield satisfactory results.
During the follow-up appointment, held two weeks later, both the patient and I agreed that further intervention was necessary to address the mid-face, specifically targeting the deep medial cheek fat compartments. Utilising a 25 gauge 50mm cannula once again, I injected 1ml of BELOTERO® Volume on each side, carefully threading the product in amounts ranging from 0.05ml to 0.1ml within the deep medial cheek fat region. The cannula's entry point was situated over the anterior zygoma, allowing me to transverse medially across the mid-face. My objective was to avoid excessive projection of the mid-face anteriorly, thereby preventing any feminisation of the patient's appearance.
Simultaneously, in the same treatment session, I addressed the tear trough area and softened the lid-cheek junction by injecting 0.35ml of BELOTERO® Balance on each side using a 25 gauge 50mm cannula. This product was directed to the lateral and medial SOOF (Suborbicularis Oculi Fat) region. Similar to the previous injections, the cannula was inserted at the anterior zygoma, with a superomedial trajectory along the periosteum. At this point, both my patient and I were delighted with the outcome achieved.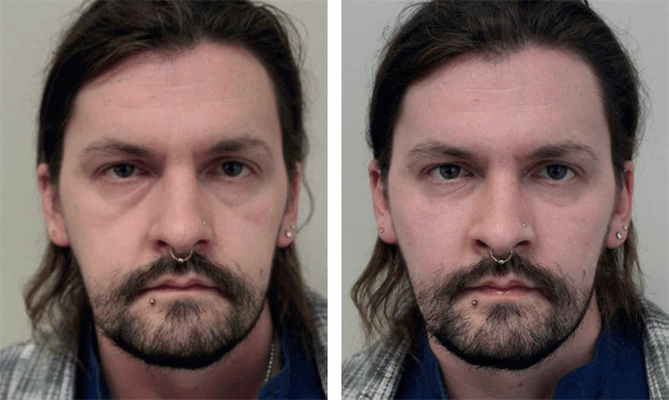 With a combination of an appropriate treatment plan and carefully selected products, we ensured that this patient achieved a harmonious and refreshed mid-face appearance, boosting his confidence, and enhancing his overall masculine aesthetics. You can observe how he looks instantly refreshed, rested, and overall healthier.
Conclusion
As the demand for aesthetic treatments among men continues to grow, it is essential for clinicians to embrace this shifting landscape. With the BELOTERO® Collection from Merz Aesthetics as my chosen tool, I have been able to provide customised solutions to address the mid-face concerns of male patients.
By recognising their unique needs and tailoring treatments accordingly, I strive to deliver natural-looking results that enhance their confidence and wellbeing. The expanding base of male patients brings new perspectives, challenges, and opportunities, allowing us to continually evolve and meet the developing demands of the aesthetic industry.
This advertorial is sponsored by Merz Aesthetics UK & I
M-BEL-UKI-1575, Date of Preparation: July 2023
References:
1. BELOTERO® Volume Lido IFU Jan 2023.
2. BELOTERO® Balance Lido IFU Jan 2023.