Mr Benji Dhillon presents key considerations for using patient images in case studies
A picture is worth a thousand words – so the adage goes – and in a highly visual industry like aesthetics, patient imagery is an extremely valuable tool to showcase clinical expertise, grow your reputation and underpin both educational and clinic marketing initiatives. However, I have found that despite the growing industry knowledge of the importance of good imagery, I am still regularly seeing low quality pictures shared by clinics. In this article, I will outline my best practice tips for creating powerful patient imagery for the purpose of clinic case studies, and how to maximise these within your clinic PR and marketing.
Why imagery for case studies?
The usage of imagery – particularly patient before and afters and case studies – can support a variety of clinic activities including clinical research, marketing materials, educational or training materials and PR/social media assets. However, they can also be used to showcase your results at conferences to your peers or as part of a submission to a medical journal.
Strong before/after imagery is often a key deciding factor for patients considering treatment and by leveraging these on your website and social channels, you can optimise the decision-making process. Including such imagery in your clinic marketing approach helps expand your existing customer base while attracting those all-important new patients.
Top three tips for creating strong case study images
In order to gain the business and reputational benefits from strong patient imagery, it's critical to follow some simple guidelines to ensure the images are of a high standard and achieve what you need.
Make sure case studies reflect your desired patient demographic: Think about how this would be best achieved for your business; with male or female patients? What age range would work best? Are you trying to attract a certain ethnicity or are you accidentally excluding potential patients by not having case studies that represent them? Consider how to tap into not just your current demographic, but your desired target patients too.
Ensure all images allow for a direct like-for-like comparison of treatment effect: Consistency is key (Figure 1). Firstly, utilise an appropriate high quality/DSLR camera or purchase an imaging device and ensure all images are taken with the same device/platform. Watch out for image inconsistencies, such as bad or differing angles, poor lighting, different backgrounds or clothes, allowing makeup in either shot, different hairstyles or not held back from the face, and unnatural or inconsistent facial expressions.
Ensure images reflect the 'average' result or patient response: Although you might want to shout about your fabulous results, selectively using 'above average' case studies can result in unrealistic expectations of your treatments (and subsequent patient complaints). This would obviously damage your trust and credibility among patients. If you still want to share these results, I advise you to make a separate note of the 'best' results achieved so far.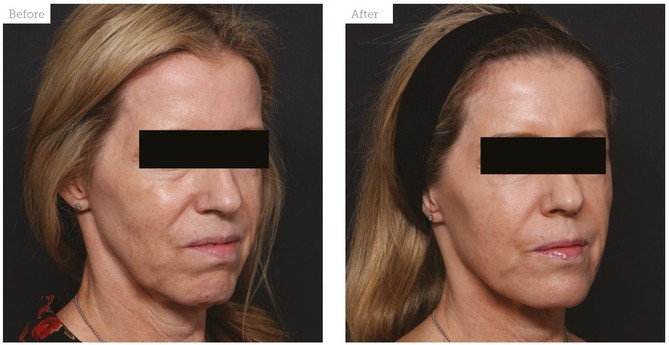 Case study recruitment
It is industry standard to photograph patients before, during and after aesthetic treatment and have a tick box in the consent form informing patients of this. Many will also include a tick box in the initial medical questionnaire about consent to internal or external marketing use of images or use for educational purposes, but, in my view, the progression to proper case study status requires a specific and considerate approach.
I advise working with existing patients at first, as you have already established a rapport and trusting relationship. Raise the topic at the end of their next consultation or appointment and highlight that you would like to use their treatment journey as a more in-depth case study. A useful way to inform and reassure potential case studies is to show them examples of what this could look like.
Outline which aspects of treatment you would like to capture and why they are particularly suitable to be a case study, as well as giving a brief overview of the planned imagery usage.
I would always recommend being upfront from the start about the intended usage for marketing purposes (especially PR and social media) and if they raise a concern about being identified, you can explore options which obscure their identity – either by showing a close-up of the treatment area, or by obscuring the eyes/identifying characteristics. Once they are clear and aligned with what you want them to do, provide a written consent form, detailing everything you have discussed, for them to sign.
Some clinics offer incentives to patients for agreeing to be case studies – such as a reduced treatment cost, or discount of their next chosen treatment. Whilst this can be a useful way to help generate some initial case studies, my guidance is to be cautious and ensure the terms are proportionate and reasonable so that there can be no suggestion of patients being incentivised to treat. In addition, this could be off-putting for some patients, many of whom look for clinics which has a discreet approach.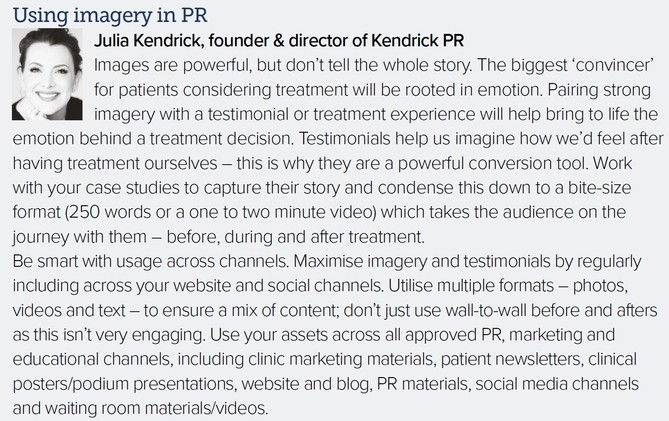 Consent
Consent is the lynchpin on which all this activity depends and can result in potential legal implications if mishandled.1 Once an image has been used online or on social media, it becomes virtually impossible to withdraw or eradicate (even if removed from the initial source page or channel), thanks to re-sharing or screenshotting actions. It is critical that the patient has a full understanding of how their image will be used and that they sign a comprehensive consent form which gives you the right to use the materials as stipulated.1
My consent form includes:
Consent to photograph/record the patient before and after the treatment
Consent to use the patient's name (first, last or both) and age
Permission to use and publish photographs/videos/testimonials both in print and digitally, for any lawful purposes such as clinical training or educational materials, marketing materials, or within other printed, online or broadcast media
The length of time that the photographs will be used for (in perpetuity, for up to one year, etc.)
That the patient waives their rights to any royalties or compensation for the use of the photo (if appropriate)
Clinic and patient signature and date boxes
Another important step to avoiding legal issues is data protection – firstly, by controlling which devices patient photos are taken on. It's important to note that clinical photographs form part of the patient's medical records and so they are regarded as 'data'.2 Any photos should be taken using clinic-owned devices as this prevents any problems that could arise from staff members having work images on their personal devices. Secondly, the data storage must be compliant with General Data Protection Regulations (GDPR)3 and should be stored securely,2 and this should be made clear to the patient within the consent form. The device must be password protected and without risk of it being stored on online 'cloud' storage accounts.2,3 Have in writing that under no circumstances will you share this information with a third party without expressed consent and that the patient has the right to access, amend or withdraw the information at any time and for any reason.
Conclusion
Patient imagery and testimonials are valuable assets for your aesthetic business. In this article, I have outlined why you should invest time and effort into creating your own powerful patient imagery and how to create the best possible tools to support patient education and clinic marketing activities. By taking a considered approach to case study recruitment, you can create tools which target, educate and convert both new and existing patients across a whole host of online and offline channels. Finally, by ensuring a comprehensive consent process, you will be able to advance your marketing plans with confidence, knowing that your reputation and business are protected moving forward.