Aesthetic practitioner Vanita Rattan details how she treated post-inflammatory hyperpigmentation following a mite infestation in a patient with skin of colour
Commonly, aesthetic practitioners may see post-inflammatory hyperpigmentation (PIH) present as a complication following aesthetic treatments like laser or chemical peels, or maybe from skin conditions like acne. However, it can occur from a variety of other circumstances.
Asian and African skin pigments very quickly and extra care must be taken with these skin types to prevent making the pigmentation worse.1 This article describes the management of a scabies infestation of an African British lady, who was successfully treated at The Hyperpigmentation Clinic.
At our clinic, as far as I am aware, we formulate and manufacture the only professional-grade hyperpigmentation treatment specifically created for skin of colour. It is a stable mask with 40% (extremely high) active ingredients intended for repeated treatment. Over the last five years, I have treated more than 25,000 cases of hyperpigmentation with a 95% success rate, seeing a 60-100% reduction, and 5% failure rate noting no reduction in hyperpigmentation.
History
A 54-year-old African British lady presented to clinic with PIH of the upper and lower left arm. She has also suffered with elbow hyperpigmentation since her 20s.
The patient had received the PIH from an infestation of mites (scabies). She caught the mites one day when she was returning to the UK from France when a refugee grabbed hold of her arm. She didn't notice anything at the time, but after about three to four weeks she started experiencing severe itching on her upper left arm. This excruciating itching spread down her arm. She visited her GP who prescribed Permethrin 5% cream to kill the mites and the eggs, along with antihistamine pills and hydrocortisone cream for the itching.
The patient visited me when the scabies had cleared a few weeks after finishing her treatment, as she was very anxious about the pigmentation left behind. She felt that she was unable to wear short sleeve tops, go swimming or feel comfortable with her partner.
At the initial consultation, we took the patient's, explained what had happened to her skin and how we would treat it. We did a patch test, signed the consent form and discussed the potential complications that treatment could have. According to our clinic data, there is a one in 1,000 chance of inflammation, irritation or a rash following our treatment approach. Although we use one method, as part of good medical practice, other treatments are also outlined and discussed with the patient in their consultation. This patient chose to utilise our pigmentation treatment plan.
How did mites cause PIH?
When mites burrow into the skin and lay eggs, it causes severe itching. Histamine release then takes place during the inflammation period of the infestation, where her melanocytes were stimulated.1
These cells then begin to increase the rate of melanin production in the cell, which then passes into the melanosomes and up into the surrounding keratinocytes.2 These keratinocytes will then slowly make their way to the surface and 28 days later hyperpigmentation can be seen. As this lady is of African descent, her melanocytes are larger than in Caucasian skin and are far easier to stimulate.3 This means when a patient has skin of colour we must ensure we do everything we can to prevent inflammation of any treatment.4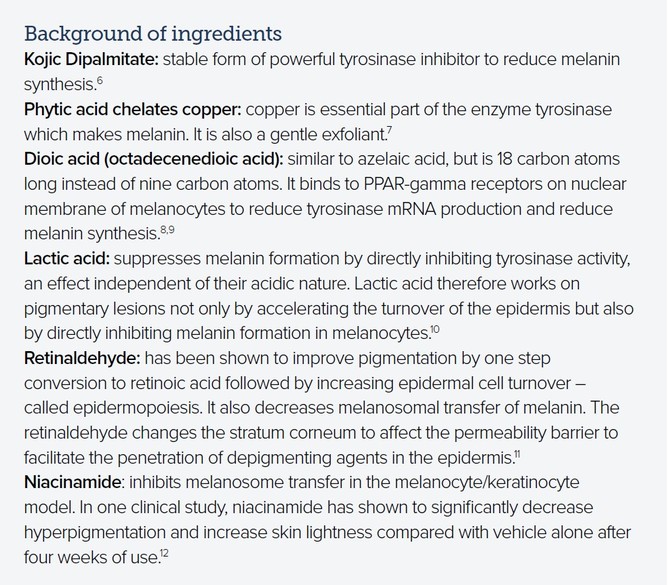 Treatment of PIH
For the creation of the mask, we use 40% tyrosinase inhibitors including alpha arbutin, beta arbutin, niacinamide, magnesium ascorbyl phosphat, octadecenedioic acid, salicylic acid, retinaldehyde, liquorice extract, ferulic acid and phytic acid.5 This is an extremely difficult compound mask to create as there is a very high concentration of acids in a fat base. With Asian and African skin, the melanocytes are large and easily triggered, while the hyperpigmentation is also often very dark and resistant. This means your treatment must be very effective, using appropriate percentage of ingredients, but also must not burn the skin due to the use of high percentages, which is a tough balance to achieve. I therefore believe that treatment should only be attempted by experienced practitioners.
Once the mask was applied to the patient's arm in clinic, it was left on for five hours. The arm was wrapped with water resistance clear wrap to provide occlusion and warmth, which is the best environment for the treatment. The patient went home with the mask on as it does not need to be neutralised and she washed it off in the shower five hours later. We provided the patient with aftercare creams that aim to prevent inflammation, continue to calm the melanocytes and increase cell turnover to heighten the rate of the results. These aftercare creams have the same ingredients as the initial mask, but with differing percentages which are lower than the in-clinic mask.
When mites burrow into the skin and lay eggs, it causes severe itching. Histamine release then takes place during the inflammation period of the infestation, when her melanocytes were stimulated
Results
The patient started to see results 12 weeks after the second session, which, in my experience, is to be expected. At this point, she saw approximately 40% reduction as measured by our colorimeter and her visual assessment. At 12 weeks following the third session, she saw a 70% reduction (Figure 1) and after the fourth session saw an 85% total reduction. At this point, there are diminishing returns with this treatment so we did not recommend further sessions. In the future, the patient will need to vigilantly apply SPF 50 as, in my experience, once melanocytes have been triggered in one area, they are more sensitive to UV and being triggered again.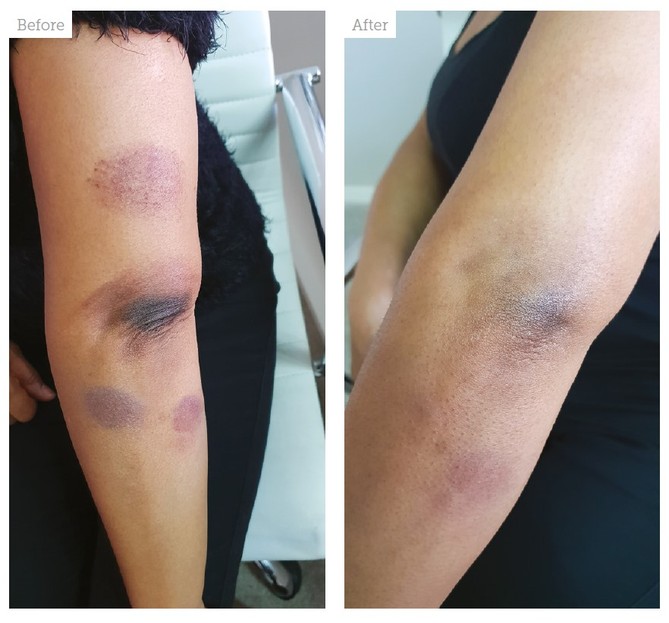 Conclusion
Asian and African skin can hyperpigment extremely quickly. When treating these skin types, care must be taken to avoid any inflammation of the area as you can cause more hyperpigmentation than you started off with.2 Should hyperpigmentation occur, it's important that patients are managed appropriately, that there are no inflammatory mediators triggering melanocytes and that results are maintained through regular use of SPF.