Over the two days, 120+ speakers, 140+ exhibitors and 3,400+ attendees gathered to learn, share innovations and discuss advancements in the surgical and non-surgical world of medical aesthetics. With live demonstrations, masterclasses, symposiums, product launches and a plethora of chances to learn and network, this year's CCR was one of our most educational and engaging events to date.

Courtney LeBorgne, event director at Aesthetics and CCR, commented, "CCR 2022 was a huge hit! It was an honour to bring the industry together in the post-COVID boom that we are lucky to witness in our community. Exhibitors showcased new products, innovations and portfolios at the show and reached almost 3,500 healthcare professionals. We were supported by the most expert speakers, sponsors and associations who delivered unrivalled CPD-certified content. Thank you to everyone who came along and supported CCR, and we hope you loved the show as much as we did. We can't wait to share more quality content and opportunities at ACE in March, 2023!"
Highlights from CCR
For the second year in a row, pharmaceutical company Galderma was CCR's Headline Sponsor. The company ran the wonderful Networking Lounge across the two days, providing delegates with refreshments in between talks. Galderma also staged two symposiums about the company's new Holistic Individualised Treatments (HITs) protocol, featuring head of medical education and training at Galderma Michele Di Giacomo, plastic surgeon Miss Priya Chadha, aesthetic practitioner Dr Rikin Parekh and aesthetic nurse prescriber Jackie Partridge.
Joanna Neal, brand manager at Galderma, said, "It has been a real privilege for Galderma to be Headline Sponsor at CCR for the second year in a row. We had a really great meeting showcasing our new HITs protocol, and our training team were on the stand with our new mannequins so people could come and play with our products which I think works super well. We're already looking forward to being back next year!"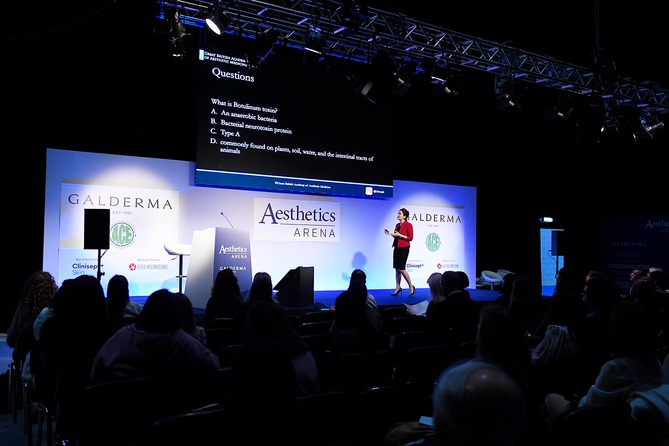 Skincare company SkinCeuticals was the sponsor of our networking drinks at the Galderma Networking Lounge on the first evening, giving delegates a chance to network further, complete with a saxophonist to start the party. Throughout the conference, CCR VIPs were treated to cocktails, canapés and complementary treatments in the HydraFacial VIP Lounge.
A new feature for this year was the Innovation Trail, which showcased 10 companies that have introduced innovations to the industry in the past year: Aesthetic Technology Ltd, Allergan, Cutera, Dr Mayoni Human Health, Evenswiss UK, EvoCyte, Galderma, Nuchido, Prollenium and Sofwave.
Latest developments at the Innovation Stage
Across the two days, some of the industry's top brands hosted talks on the latest developments in aesthetic medicine. Some of these fascinating sessions included aesthetic practitioner Miss Sherina Balaratnam discussing her utilisation of BTL's EMSCULPT NEO devices and the new EDGE applicators; aesthetic practitioner Dr Marcus Mehta and aesthetic nurse prescriber Sharon Bennett speaking on using the Prollenium portfolio to create anatomical architecture; aesthetic practitioner Dr Magdalena Bejma sharing how she uses VIVACY's STYLAGE dermal fillers for medical profiloplasty; and aesthetic practitioners Dr Ian Strawford and Dr Selena Langford introducing Sinclair's MaiLi fillers.
On both days, oral and maxillofacial surgery registrar Mr James Olding and aesthetic practitioner Dr Tapan Patel hosted pharmaceutical company Allergan's lunchtime takeovers, during which they discussed oral architecture while treating the lower face, before introducing HArmonyCa hybrid injectables in a live demonstration.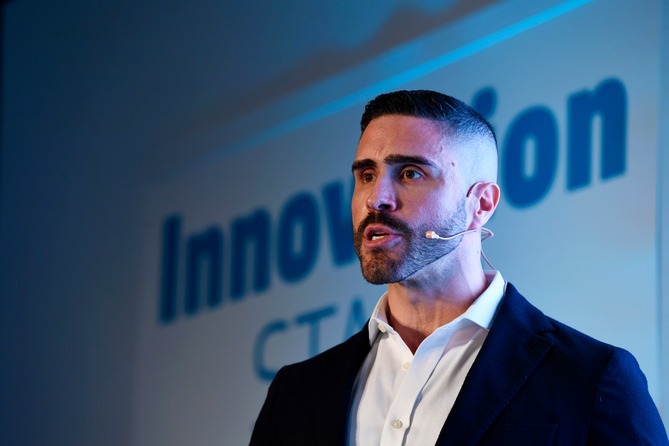 Live injectables at the Aesthetics Arena
The Aesthetics Arena was the place to be for independent educational content across the two days and brought the Aesthetics journal to life. Talks on the first day included aesthetic practitioner Dr Souphiyeh Samizadeh speaking on innovations in botulinum toxin; a live demonstration on jaw sculpting from aesthetic practitioner Dr Joshua Van Der Aa; an explanation of lip anatomy from aesthetic practitioner Dr Steven Harris; and a tear trough transformation live demonstration from consultant oculoplastic surgeons Miss Rachna Murthy and Professor Jonathan Roos.
The second day welcomed aesthetic practitioner Dr Manav Bawa demonstrating lower face augmentation; guidance on treating younger patients from Professor Bob Khanna; a live demonstration of mid-face rejuvenation with aesthetic practitioners Dr Raul Cetto and Dr Jeremy Isaac; Dr Vincent Wong treating a transgender patient in another live demo; and a panel discussion on the future of ultrasound innovations with consultant surgeon Mr Ansar Mahmood, consultant plastic surgeon Mr Dalvi Humzah and consultant ophthalmologist and oculoplastic surgeon Mrs Sabrina Shah-Desai. Many other brilliant practitioners took to the stage across the two days, informing delegates with their years of expertise.
Top business tips at the In Practice theatre
Throughout the conference, delegates were provided with practical advice on progressing in the industry and maintaining their own clinics at the In Practice Theatre, sponsored by SkinCeuticals. A brand-new agenda this year was A Dentist's Guide to Aesthetics, curated by aesthetic practitioner and dentist Professor Bob Khanna. Talks from Professor Khanna, Dr Nina Bal, Dr Ian Hallam and Dr Anjuli Patel offered dentists an insight into how to get started and excel in the aesthetics industry. Professor Khanna reflected on the agenda, saying, "It was a pleasure to share almost three decades of my knowledge with dentists and other emerging aesthetic practitioners at this year's CCR. I'm seeing more and more interest from dentists wanting to enter the aesthetics specialty, and it is wonderful to see an event as big as CCR supporting their journey."
The second day was geared towards providing business advice, covering topics such as social media from communications manager Cait McLaughlin; aesthetic trends from founder of marketing and insights consultants Rare: Group Ben Pask; effective consultations from aesthetic nurse Mel Recchia; and red flag patients from British College of Aesthetic Medicine president Dr Catherine Fairris. The day was rounded off with a panel discussion on the developments of the aesthetics specialty to celebrate the Aesthetics journal going into its tenth year, featuring Aesthetics Clinical Advisory Board members Dr Souphiyeh Samizadeh, Mr Adrian Richards and Sharon Bennett, chaired by editor and content manager Shannon Kilgariff.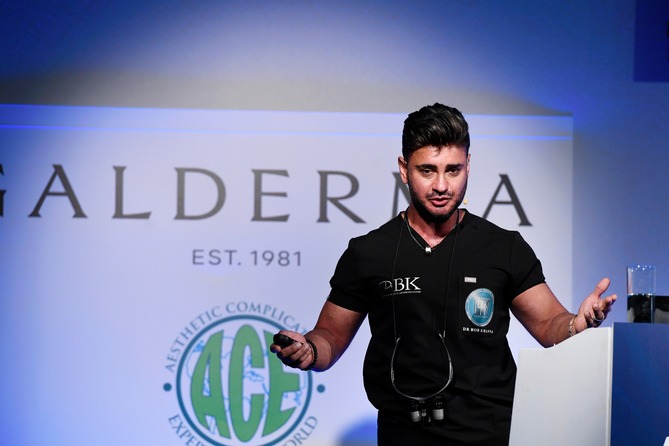 New concepts at the Skin and Wellness Agendas
Two new agendas were introduced at this year's CCR, in the form of Skin and Wellness. The Skin agenda featured aesthetic nurse prescriber Anna Baker sharing knowledge on managing photodamage; aesthetic nurse prescriber Julie Scott advising on skincare for pregnant patients; and aesthetic practitioners Dr Amiee Vyas, Dr Ayah Siddiqi and Dr Sharon Belmo collaborating to discuss treating skin of colour.
Wellness is a hot topic in the industry right now, as shown in the Wellness Agenda, led by aesthetic practitioner Dr Mayoni Gooneratne. Topics covered included the connection between inflammation and disease from Dr Gooneratne; the science of ageing from molecular biologist Dr Nichola Conlon; prioritising mental health in clinics with psychologist Kimberley Cairns; and responsible weight loss services from aesthetic nurse prescriber Tracey Jones.
Dr Gooneratne reflected, "The event was a fantastic opportunity for us to get the concept of aesthetic wellness out to the profession. We know that when our patients feel good on the inside they can really shine on the outside, and we believe that the aesthetics clinic environment is the perfect place for a more in-depth consult. This was also our reason for launching the Human Health Affiliates programme to deliver training in this approach to consulting."
Complications advice at the ACE Group World Conference
CCR played host to the annual Aesthetic Complications Expert (ACE) Group World Conference for a second time, sharing the most recent developments in managing and preventing aesthetic complications. Professor David Sines, chair of the Joint Council for Cosmetic Practitioners (JCCP), spoke on the government's proposed new aesthetic licensing scheme; aesthetic nurse prescriber Lou Sommereux provided expert advice on the prevalence and identification of mental health issues and body dysmorphia in aesthetic patients; independent nurse prescriber Sharon King presented on complications relating to fat dissolving injections; and consultant resuscitation practitioner Paul McVittie shared knowledge on resuscitating patients. Finally, chair of the ACE Group World, Dr Martyn King presented evidence and guidance on managing delayed onset nodules and reactions which have increased significantly since the pandemic.
Dr King said, "The ACE Group World Conference, held at CCR, was again a huge success with leading practitioners providing evidence-based lectures on a range of complications and important updates and industry news. Feedback we have received following the conference has been extremely positive and the need for a whole agenda on the management of complications was recognised!"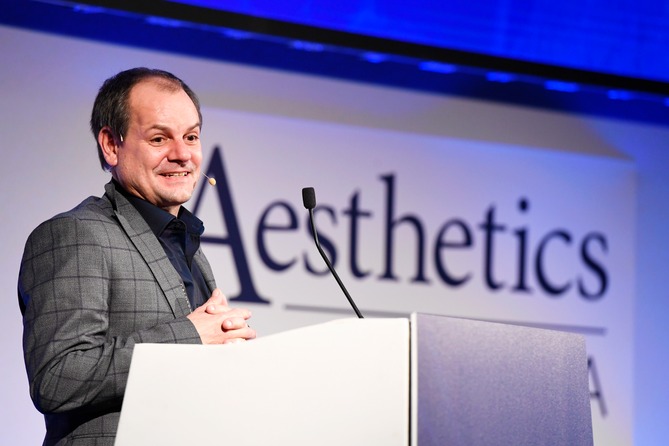 Surgical insights at the ISAPS Symposium UK
CCR was the host of the fifth International Society of Plastic Surgery (ISAPS) Symposium UK, inviting top UK plastic surgeons to discuss the latest advancements and best practice in the specialty. Topics addressed included facelifts from Mr Dan Saleh; patient satisfaction with Mr Francisco Bravo; non-surgical scar management with Mr Ernest Azzopardi; and building a hospital with UK national secretary of ISAPS Mr Naveen Cavale.
After the symposium, Mr Cavale said, "Once again, it was really good to be working alongside CCR for the fifth time. The interface between the surgical and non-surgical specialties was so good to see, with experts from all over the world contributing to the ISAPS Symposium UK this year. The speakers were inspirational to our delegates, and it was great to hear about innovations in the industry."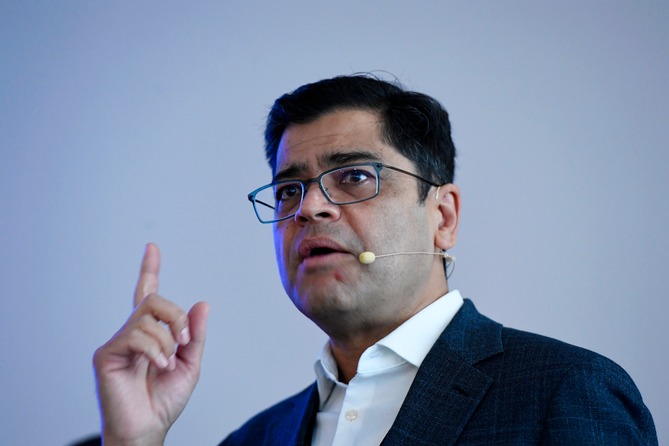 Expert injection techniques at Dr Tapan Patel's Masterclass
Aesthetic practitioner Dr Tapan Patel provided a packed roster of facial injectable live demonstrations in his highly-anticipated masterclass. Within the session, Dr Patel demonstrated treatment techniques for the temple, cheeks, nose, lips, chin and jaw, as well as offering advice on danger zones and safety tips. He was joined by a team of practitioners including Dr Manav Bawa and Dr Amanda Penny.
Following six hours of live demos, Dr Patel said, "It's always a pleasure to perform live demos at conferences, especially CCR because it attracts such an array of aesthetic practitioners, both established and new to the specialty. I enjoyed sharing my expertise with so many delegates, and already look forward to more learning next year."
Newest trends at the CCR Press Conference
In the Harley Academy Press Lounge, the CCR Trends Report was presented to both trade and consumer press. Compiled by former Aesthetics editor Chloé Gronow and co-edited by the editor of Tatler's annual Beauty & Cosmetic Surgery Guide Francesca Ogiermann-White and Aesthetics journal editor and content manager Shannon Kilgariff, the Trends Report highlights the year's most innovative advancements and launches.
Exclusive data obtained by Rare: Group revealed that 32% of 25-32-year-olds and 29% of 33-40-year-olds in the UK have had treatment or are considering doing so in the next 12 months. Shockingly, 13% of 16-17-year-olds in the UK have had or are considering treatment in the next year.
The report also announced the launch of several new products and technologies at CCR, including Evolus' first UK aesthetics conference, showcasing its newly-approved toxin Nuceiva (prabotulinumtoxin A) for use between the eyebrows. New polynucleotide company Plenhyage XL also made its debut, providing injectable treatments to stimulate fibroblasts, encourage cell turnover, improve elasticity, boost collagen production and hydrate skin.
Prollenium's brand new topical hyaluronidase Topilase, Cutera's innovative acne treatment device AviClear, AestheticSource's pigment correcting Cyspera Intensive System, skincare company Evenswiss' new patented Dermatopoietin technology and Eden Aesthetics' updated DermaFrac device were all also on show at CCR 2022, among many others.
After presenting the report to members of the press from publications including The Sunday Times, Forbes and HELLO, Kilgariff said, "We created the annual CCR Trends Report to educate both the consumer press and wider aesthetics community about the latest statistics, exciting product launches and developments we are seeing in our specialty. CCR is the perfect stage to showcase this, and we are proud to be a part of the movement to make the aesthetic specialty more accessible to everyone."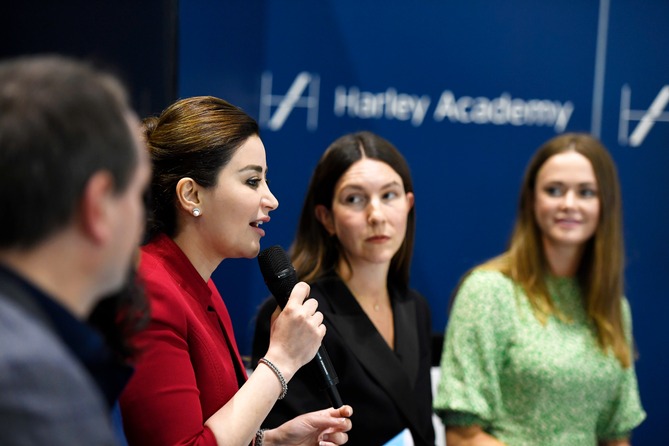 Networking at the PHI Lanthropy Diwali Party
CCR threw its first ever after party this year, recruiting Dr Tapan Patel to be the face of the PHI Lanthropy Diwali Party! The party at Trinity Buoy Wharf next to the Thames raised funds for charitable causes: The Childhood Trust, the Children's Burns Trust, the Society of Friends of the Sassoon Hospital and Mahatma Gandhi School.
Party guests were greeted with champagne and delicious Indian food, before dancing the night away to DJ tunes and Indian drummers in the festively decorated venue, with a photobooth and photo wall for guests to mark the occasion with colleagues and friends.
We would like to thank our wonderful sponsors Church Pharmacy, Cutera, Hamilton Fraser, HYAcorp, Pabau, Prollenium and SpringPharm for making this amazing evening possible!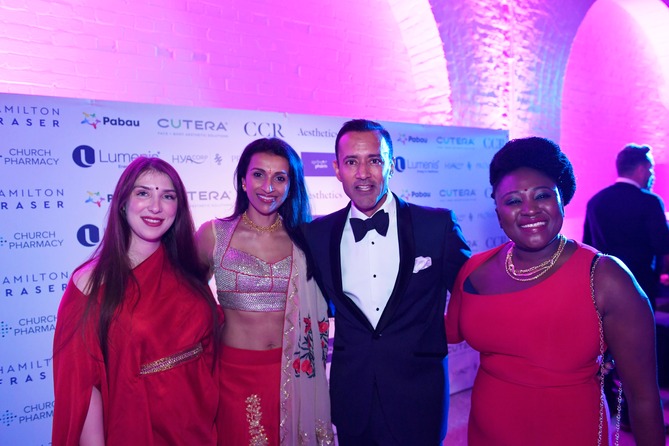 See you next year!
And with that, CCR 2022 has come to a close! To attend next year's event, reserve October 19-20 in your diary and keep an eye out for registration to open for CCR 2023.
Our next event will be ACE on March 10-11, 2023 at the Business Design Centre, London for two more days of exceptional education. This will be followed by the prestigious Aesthetics Awards on the evening of March 11, marking all the year's most impressive achievements in the world of aesthetics.