Harley Street. The area that needs no explanation. It's recognised globally as a hub for medicine and has housed some of the most influential doctors, nurses, dentists and surgeons since its humble beginnings. Even if you are not practising aesthetics in London, as a medical professional you will be very familiar with this street as a centre for cosmetic interventions. With the approach of a new decade, Aesthetics explores the evolution of the specialty and asks practitioners whether the prestige associated with the Marylebone postcode will ever change.

The history
The grid of streets around what is now Harley Street was known as The Estate. This was owned by the Duke of Newcastle, John Holles, who passed it onto his daughter Henrietta Cavendish Holles, who married Edward Harley. In 1713, they decided to develop the streets for residential purposes and titled it Harley Street.1 However, by 1860, around 20 doctors had taken to Harley Street for private practice thanks to the central location, quality housing and accessibility to most of the biggest train stations and hospitals in the city.
By 1914 this had risen to 200, and when the National Health Service was formed in 1948 there were 1,500 doctors.1 The street began to be known as a centre of medical excellence, which was solidified when the Medical Society of London opened nearby in 1873 and the Royal Society of Medicine in 1912.2 Amongst the most famous names of all time were British surgeon and polymath Sir Henry Thompson, who specialised in urology, Dr Edward Bach who specialised in vaccines and bacteriology, as well as developing the Bach Flower Remedies, and the founder of modern nursing, Florence Nightingale. To date, it is reported that there are now more than 3,000 medical professionals working on the street.1 Today, most of Harley Street is owned by The Howard de Walden Estate. They are the freehold owner of most of the buildings in the 92 acres of Marylebone, which extends from Marylebone High Street to Portland Place and from Wigmore Street to Marylebone Road.3
A cosmetic introduction
Plastic surgery has had a presence on Harley Street since very early on, particularly in relation to trying to restore the appearances of the young men that fought in the two World Wars.4 However, non-surgical aesthetics really came into play towards the end of the 19th century through the introduction of bovine collagen fillers in 1981, then botulinum toxin for cosmetic use in 2002.5,6
Consultant plastic surgeon Mr Basim Matti has been practising on Harley Street since 1985. He reminisces, "I've seen The Estate change so much over the years. I remember when surgeons wouldn't admit that they were doing cosmetic surgery as it was seen by colleagues as 'dirty work'. Fast forward a number of years and many realised that there was a lot of lucrative work to be done and, in fact, it was the future of medicine. With the introduction of collagen injections, many realised that both non-surgical and surgical procedures worked very well together. I've also seen lots of practitioners go from working in both the NHS and private practices to simply working privately, which has been particularly interesting."
Aesthetic practitioner Dr Rikin Parekh, who has a clinic and training centre on Harley Street, adds, "Even over the last eight years that I have been working in the area it has definitely evolved. The market is now saturated, and anyone can say they work on Harley Street or are 'Harley Street trained', which I think is a bit of a shame because I fear it could lose its prestige. However, I still believe there really is no place like it in the world."
All practitioners agree that the main challenge with working in this well-respected location is the costs associated with it
How important is it for aesthetic practitioners to be in the area?
For Dr Parekh, being on Harley Street was a strategic business decision and there is nowhere else he would rather practise. He shares, "I initially started working in a clinic on Upper Wimpole Street, the road parallel, and knew that when I launched my own clinic I had to be in that area to sustain a successful business for my patients and training delegates. I believe this is due to the great location and reputation associated with the street. I also knew that my target patient base was primarily Russian at the time and I recognised that Harley Street was an area which was suitable to them. I said to myself, 'If we are going to be anywhere, it has to be Harley'."
Aesthetic practitioner Dr Tapan Patel, who opened his clinic's doors on Harley Street in 2014, after spending 10 years practising in Golders Green, North West London, comments, "There's no denying that it's a great area in terms of footfall, location and reputation. But what I find particularly good is that there is lots of support from some of the biggest pharmacies, colleagues and both NHS and private hospitals – something which I think lots of other areas could learn from." Mr Matti agrees this is one of the main advantages of the location.
Consultant plastic surgeon Mr Ali Juma, who practises primarily in Liverpool, opines that the prestige is all about branding which is recognised across the whole country. He says, "When there are some of the best medically trained doctors in the world in one street, you're going to create kudos, respect, reputation and branding; effectively making Harley Street a brand."
This is echoed by aesthetic practitioner Dr Sophie Shotter, who has a clinic in Kent but practises in a Harley Street clinic twice a week. She says the decision to do so was more about the digitalisation of industry and ensuring that her name is associated with the area. "In my opinion, Harley Street doesn't mean anything to practitioners anymore, it's much more for the consumer. Patients put this search term into Google as they think they will find the best of the best at this location, so having that association is useful for my Kent business. One of my first ever reviews stated 'a little piece of Harley Street in Kent' and having that term linked with my practice has been very beneficial," she explains, adding, "Additionally, in terms of starting to deal with press and boosting your profile, I find many aren't interested unless you are practising there."
Mr Matti loves the patient base that the reputation of the street brings. He shares, "I see such a wide variety of international patients due to its reputation, many of whom want privacy and out-of-hours appointments. This is completely achievable on Harley Street and the service is very discreet."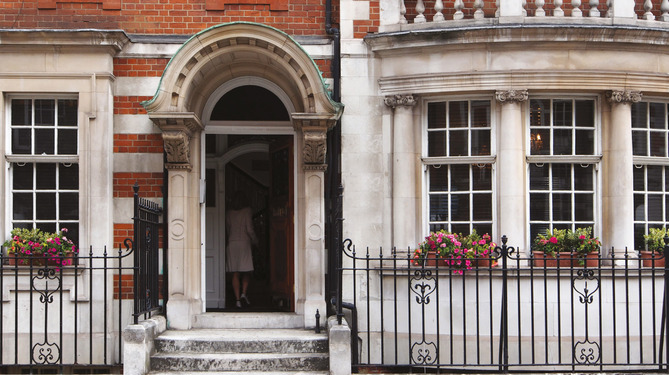 For Dr Shotter, having a presence on Harley Street allows her to broaden her skills as a practitioner as she sees a variety of patients looking for different aesthetic ideals. "In my Kent practice, the vast majority of my patients are Caucasian. However, because of the international patient base on Harley Street, I see a far wider variety of skin conditions, ethnicities and treatment requests. This is a challenge which I particularly enjoy, and I love being able to help such a variety of people."
For Mr Juma, while he believes Harley Street is one of the most respected locations for medicine and cosmetic interventions in the world, it isn't the 'be all and end all' for the growing aesthetics industry. He says, "It's important not to forget about the Harley Street equivalents in the rest of the country – like Rodney Street in Liverpool or St John Street in Manchester, for example. Whilst you don't need to practice on such streets to be successful, we must remember that often patients go for what they know. Even if you have a great brand but it is in a location no one has ever heard of, they may not go to you. It's all about association. I can see many the opportunity of mini Harley Streets popping up all over the country as the demand for aesthetics is at an all-time high."
With that being said, Dr Patel recognises that whilst the Harley Street name, and others like it, does have perks, there are equally successful clinics all over the country. He says, "I am seeing so many practitioners running beautiful clinics in more remote locations and it's just a completely different setup to what Harley Street can offer. By not being in London, you will get more space, more real estate, you pay less overheads and the parking is easier." He questions, "Who's to say that opening just outside of the North Circular wouldn't be equally advantageous?"
For Dr Shotter, having a presence on Harley Street allows her to broaden her skills as a practitioner as she sees a variety of patients looking for different aesthetic ideals
What are the main challenges of working on Harley Street?
There has been much criticism about the rise of aesthetic clinics opening on Harley Street, something which The Independent labelled in 1994 as 'home to the best and the worst'.7 The publication also reported that some of the doctors from other specialties felt that cosmetic surgery practitioners were 'cashing in on their good name'.8 Mr Matti recognises the slight change in the street's reputation. "The quality of Harley Street as a name has become diluted; patients really can't be sure if you are going to be seeing the best as you once were. It used to be all word of mouth but, today, with the rise of social media, it's just a numbers game of followers and reviews."
With this in mind, Dr Parekh also states that the stricter vetting process may deter unexperienced and inappropriately trained practitioners from Harley Street. He says, "We know that anyone can rent a room, but I think it is harder to rent a room on Harley Street. Don't get me wrong, some do get through and we have seen the horror stories in the press, but practitioners have to go through quality checks in terms of registration criteria which they may not need to for other areas."
He continues, "I also rent rooms to practitioners and carry out my own set of insurance and qualification checks on them. This can be a beneficial process; having reputable people ensuring no laypeople get through the door is a duty and one that we must take seriously to protect the prestige of the street."
All practitioners agree that the main challenge with working in this well-respected location is the costs associated with it.
Dr Patel comments, "Rents are getting very prohibitive. We have recently had a rent review and it is extremely high, so you need to make sure that being on Harley Street is going to be worth your while. I often wonder how many new practitioners would do it. I expect we are at saturation point and I certainly don't see more clinics opening any time soon."
With so many clinics in one area, competition could be a potential challenge, but not for Dr Patel. He shares, "A few years ago, I did some work in Taiwan and there was one road with 400 aesthetic clinics on it. In South Korea, there are thousands in one square mile. Similarly on Harley Street – but not quite on this scale – there is another clinic in my building. There are three or four in the building next to me and 10 more in the next building along. So, in three buildings there are 16 clinics. However, I've never viewed the competition in this area as a bad thing." Mr Juma adds, "From what I have found, if you want to compete, you have to do so at the highest of levels. By doing so you ensure patients' safety and best outcomes, which are both paramount." He advises, "In my experience, if you really want to be more competitive without a higher budget, think about peripheral practices. By this, I'm not necessarily referring to outside of London if this is where you are based, but more suburbia. You can then be more competitive on price yet offer the best for your population of patients in your locality."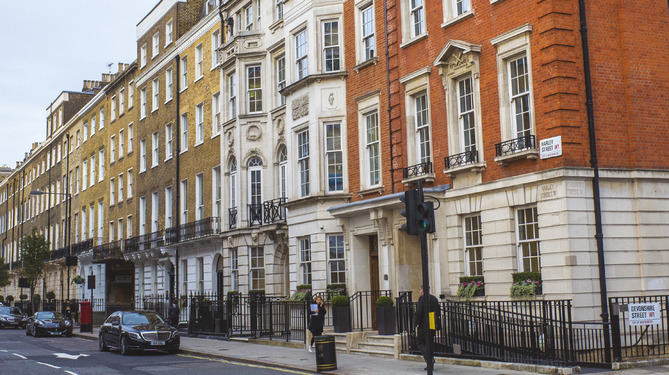 The future of Harley Street
Both Mr Juma and Dr Parekh expect the street to become more elitist in the coming years. Mr Juma explains, "I think that if you are going to continue to practice there, you have to offer the best level of service to the patients, however, this will come at a price. Harley Street is in the majority for those who have the right budget. By the law of averages, the larger establishments are likely to continue getting stronger, however, in the case of the smaller providers they may find it challenging to continue to exist in this area and may choose to move peripherally."
For Mr Matti, he says that Harley Street will always remain as the centre of excellence, primarily due to its iconic history, but he recognises that it's not enough just to have a practice on the street anymore. "Unfortunately, we are in a time where not everyone is excellent that is practising here and that saddens me. In a time where regulation is lacking, you have to support your Harley Street practice with a number of different platforms, like social media, consumer media and linking yourself with key organisations and associations. If you keep yourself very private, as it once used to be, it doesn't work anymore."
Dr Shotter agrees that she cannot see Harley Street losing its prestige, but believes that many more practitioners will be using shared structures to practice in as opposed to owning the whole building, primarily due to cost and ease.
Dr Parekh concludes, "I really like that there are lots of medical disciplines on the street, it's not the hub of aesthetics in the UK, it's the hub of medicine, and we as aesthetic practitioners should respect that. Harley Street will always be Harley Street and I don't think that will ever change."