Strategy formation
"The first thing to know about marketing is that its purpose is to get people interested and keep them engaged in your service – it is not selling," says Alex Bugg, head of content and digital marketing strategist at Web Marketing Clinic.
But how do you get people interested? And how do you reach the right people? Alongside Bugg, we chat to Fiona Comport, UK marketing and international communications manager at Cynosure, and Katie Gray, who manages the marketing strategies for the Aesthetics journal, ACE, CCR and the new consumer magazine Beyond Beauty, to get their advice on running a successful campaign.
SET MEASURABLE OBJECTIVES AND KPIs
The first thing to do is set clear objectives and key performance indicators (KPIs) so you can track how successful your marketing efforts have been.
Comport says you should ask yourself, "What's the desired outcome of your marketing? How am I going to measure its success?" She explains, "Sometimes the goal will be education or awareness, sometimes it's lead generation or it can be customer engagement. Often you'll have multiple objectives so you will need consider methods to achieve each." She adds that for objectives to be effective, they should be SMART, so ensure they are:
• Specific
• Measurable
• Assignable
• Realistic
• Time-related
CREATE AUDIENCE PERSONAS
Comport advises practitioners to next think about the audience you want to reach. As well as considering the basics such as age, sex and location, she recommends asking yourself: what do they read? What websites do they use? Where and how would they be looking if they were in the market for your particular product or service? Would they look at reviews for example, or ask advice from the experts? Bugg agrees that you should learn about your ideal patients to build an image of a person but warns you can't be everyone's cup of tea. "Casting your net too wide can dilute your messaging – aim to be as specific as possible," she advises, recommending that practitioners create three to five personas of each of their ideal patients and write them down to share with the team and refer back to.
CHECK OUT YOUR COMPETITORS
The next step is to conduct a SWOT analysis. This involves considering the strengths, weaknesses, opportunities and threats that may lay ahead for both you and your competitors. "This will help you nail your unique selling points to make you stand out from the crowd when you begin communicating with your target audience," says Gray.
CONFIRM YOUR BUDGET
The final part of your marketing strategy formation should be to set your total budget. For some just starting out, this could be minimal. There's lots you can do for free or with very little spend, but the professionals say it's essential you stay on track to ensure you're not spending money aimlessly. Don't forget there are well-established marketing theories and strategies you can refer to before you get started, which include Marketing Management by Kotler et al.,1 the SOSTAC planning model2 and Porter's Five Forces3 to help you understand competition and maximise profitability.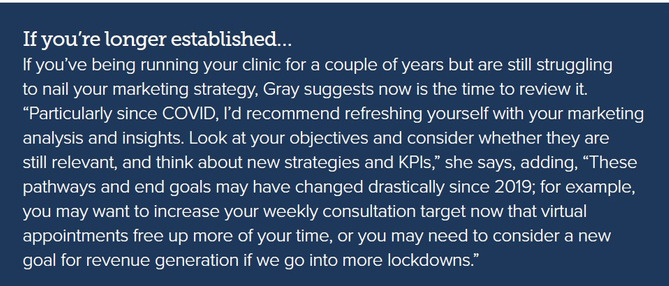 Essential tools
BUILD A WEBSITE
If you don't have one already, the professionals highlight the importance of a clinic website. It might sound obvious, but Comport says, "You would be surprised how many doctor-led start-up clinics or small aesthetic businesses have no digital footprint. In this era, your website is your shop window."
She notes, "There are multiple low-cost and even free website builders that are simple to use and have hundreds of pre-built templates that you can populate with your pictures and information. These can provide you with a professional-looking digital space to send your prospective customers and, depending on the functionality you require, can even manage payments and bookings."
Bugg agrees, "Your number one essential is a website. Some people say they've started their clinic just on Instagram and have loads of patients, but when you dig deeper you realise they spend hours on it. Having a website with all your information on would save a great deal of time and will look more professional." She adds, "Something else to note about only using social media is you don't own Instagram – if it decided to shut down tomorrow, your digital presence is gone."
While you can create a website fairly easily, Bugg says it's essential to make certain it displays well on mobile and that you have basic search engine optimisation (SEO) in place, explaining, "You need to ensure you at least rank well in your local area for your name and standard treatment offerings." Setting up a Google My Business (GMB) page will help with your SEO ranking, advises Bugg, noting that this is free, quick and easy to set up. For more information on how to master local SEO and make the most of GMB, check out Bugg's article on Enhancing Your Digital Reach via the Aesthetics website.4
Setting up a Google My Business page will help with your SEO ranking
CHOOSE YOUR SOCIAL MEDIA PLATFORMS
Statistics released last year indicated that 51% of the world's population is now on social media, and that number grew by 10.5% from 2019 to 2020.5 So where should you be sharing your content?
Gray says you should have a purpose to every action in your marketing. "Always base your marketing efforts on analysis. Look at the personas you've created and consider what social media platforms they use and start there," she advises.
Generally, the professionals agree that Facebook and Instagram can be regarded as the most effective platforms to reach those interested in aesthetic treatment.
She notes that Facebook has the largest number of users and the demographic is usually older – statistics indicate that it is used by 72% of 30-49-year olds. For Instagram, this is only 40%, whereas 64% of those aged 18-29 use it.6
Gray highlights that if you do have Twitter and LinkedIn accounts but they aren't performing well for you, it's ok to stop using them. "Only invest time in what's working for you. You can either close the account completely, or post and pin a final message that redirects users to your other platforms, so if people do stumble across you they don't think your clinic is closed because they have seen your dormant account. You can keep it colloquial and chatty and make sure you include the link to your preferred channel."
INVEST IN DIGITAL ADVERTISING
Social media is free-of-charge to use, however if you do have budget available then you can really scale up your reach. "The targeting you can do on Facebook and Instagram is excellent," says Gray, adding, "You can just about target anyone you want through setting age ranges, geographical radiuses, lookalike audiences, behaviours and general interests."
If you already have a a database of your most loyal of patients, she recommends making use of Facebook's 'lookalike audience' tool, which allows you to target people who are similar to your existing database. Marketing and PR professional James Dempster wrote an informative article on this topic called Understanding Facebook Advert Audiences, which is available on the Aesthetics website for those who'd like to learn more.7
As well as advertising on social media, you can utilise pay-per-click (PPC) marketing. "It may sound terrifying and intimidating, but there are lots of online tutorials that will help you easily get started," says Comport. Multiple PPC approaches are available, allowing you to gain prominent positions on Google search engine results, rank highly for keywords associated with your brand, as well as appearing in Google Play, Images, Shopping and Maps. For a more in-depth guide to PPC marketing, read digital marketer Bradley Hall's article Using Pay-per-click Marketing on the Aesthetics website.8
To help manage your advertising spend, Comport explains that you can set budgets at a daily rate very easily, which can be from as little as £5 a day, so you can test and learn to see what does and doesn't work. "The great things about digital marketing is that it is often the quickest way to get new leads. You can ensure you're putting your messages in front of the right people, which is huge. You won't be wasting money on advertising to people who aren't interested," she says.
EMAIL YOUR DATABASE
As you build your patient database, Bugg emphasises the value of email marketing. "Your website and SEO will be attracting mostly new patients, your social media should be engaging with new and existing patients, but your email lists should really focus on retaining the patients you already have," she says.
She recommends investing in an email builder, which are generally low cost, so you can easily manage your email lists and create engaging content. "If just one person takes action from reading your email, you could be generating hundreds of pounds for very little investment," she says.
CONSIDER PRINT ADVERTISING
Book adverts in local newspapers or magazines or put up posters in places your target audience will frequent to inform them of the services you provide and how you can help them. However, be aware that print advertising can be expensive, and it can be difficult to track results. "Print adverts may be great if you want to make people aware of what you do or to tell them you've launched a new product. But if you're looking for leads to your website, getting them to type in a URL from a print advert is going to be much more difficult," says Comport.
There is the option of adding a QR Code to your advert, allowing viewers to scan the code with their phone and reach a specific URL. Comport adds, "Whatever you do, it's got to make taking action as easy as possible for your audience. In today's day and age, everyone has such short attention spans that you have to choose the right channels and messaging for your marketing to ensure you don't waste time or money."
"FAB stands for feature, advantage, benefits – if you cover each of these you're on the right track"

Katie Gray, marketing manager
Content creation
You should now know who you want to target and the platforms you'll use to reach them, but what should you say? What will drive their interests in your products and services?
MAKE EVERYTHING ACTIONABLE
The professionals emphasise that all content should have a call to action (CTA) – an instruction for your audience to carry out. Gray advises planning your CTAs first, before you start writing copy, to ensure every message you send has a purpose. "Ideally you want one hard CTA per message, but you can include some soft CTAs in the same message that will demand less from your patient, so they're not so 'sales-focused' which can put people off," notes Gray. Hard CTAs are things like 'Buy this vitamin C now,' whereas softer CTAs could be, 'Read more about the benefits of vitamin C here'.
She also highlights that for CTAs to be effective, research has suggested that they should not be generic messages such as 'click here' or 'book now'. Analysis of more than 330,000 CTAs found that personalised CTAs perform 202% better, so get creative!9
FOCUS ON THE BENEFITS
"Always keep your content benefit focused," says Gray, suggesting practitioners bear in mind the FAB method. "FAB stands for feature, advantage, benefits – if you cover each of these in your message you're on the right track," she says.
Comport agrees, adding, "You could say, 'This product contains retinol', which covers what it features, but why is using retinol an advantage over something else and how can it benefit that person?"
ENSURE YOUR MESSAGES ARE CLEAR
Another important point to consider is the terminology you use. Perhaps 'topicals' is not a word your prospective patients are familiar with, suggests Comport, emphasising that practitioners should always use layman's terms. "I think engaging content is written how you speak – make it sound chatty and explain anything an average patient would be unfamiliar with, as you would do in a consultation," adds Bugg. Gray recommends the use of sensory words, describing how patients will feel and look after they've had a treatment with you.
DON'T FORGET WORD OF MOUTH
The professionals are all in agreement that positive reviews from past patients are some of the best forms of marketing available and it's completely free! They advise always asking for permission to use testimonials that you can display in your marketing material, as well as encouraging patients to share their own social media posts about their experience with you. Gray says, "Research has suggested that people are more likely to buy from someone they know than an influencer. Even if the person only has a few hundred followers, they're likely to be people who know and trust them, as well as of a similar demographic to the audience you're trying to reach."
Even if people don't want to share their before and after photographs, Gray recommends asking them to 'check in' to your clinic on social media or simply to post a picture of the waiting room and comment on the service they received. "Anything to show you've got loyal advocates can really help," she says, adding, "Being able to share this user-generated content also means less work for you, so it's a win-win!" Of course, if anyone shares any negative reviews, the professionals advise that these are best dealt with out of the public eye, so give the person a call to discuss and resolve.
IMAGERY AND DESIGN
Ensuring your marketing looks good is essential for engagement, so how do you do this with limited design skills and a small budget?
Bugg suggests that if you have any budget at all, spend it on a professional logo. "In my opinion, big jobs like a logo should be done by a graphic designer so you don't end up looking like everyone else. Once you've got the general colour theme and fonts decided, you can then create imagery pretty well on your own."
The professionals all recommend tools such as Canva and Adobe Creative Suite, Spark and Lightroom to help you build graphics and create branded templates. There are free versions available and you can upgrade to get the best tools. "Canva is amazing and very easy to use," says Gray, adding, "You can also find so much inspiration there – it's good to just have a browse and get ideas!"
You can also use stock imagery, with many paid-for website available and some free. Bugg recommends Unsplash, which is free, explaining imagery is donated by photographers so are a little bit different and seen in less places.
Comport emphasises the need to always ensure that you have the rights to use the images – she says celebrity images for example are a real no-no without permissions and you risk opening yourselves up to legal action if you use them.
Comport also advises, "Don't be afraid to take your own photos and videos; with phones today, the quality can be very good!" She adds that Cynosure provides device and treatment imagery, as well as other marketing assets for its customers, so it's worth speaking to your suppliers to see how they can help.
As well as images, the professionals recommend integrating video into your content. While you can get great results with your phone alone, to further enhance them Gray suggests investing in some basic equipment such as a ring light, tripod and portable camera stabiliser. "Videos can really stand out in a sea of images on Instagram," she says, adding that they can help your audience get a taster for who you are as a practitioner, as well as their expected clinic experience which can really assist them in determining what clinic to choose.
Tracking results
"How do you know how to improve if you don't track results?", asks Comport, emphasising how important it is to measure your success. If your social media is set up as a business page, it will allow you to view insights on the demographics your posts reach, as well as their engagement in comparison to others.
You can also track your website through Google Analytics (GA), which provides you with a wealth of insight. Comport recommends focusing on the Acquisition tab to see where users are coming from, as well as Behaviour which shows what pages they visit and where they leave.
Monitoring these aspects allows you to consider what you may need to tweak if it's not working as well as you'd hope, or to ramp up anything that's doing well to enhance success further.
Gray advises creating a spreadsheet where you can input all tracking results, allowing you to easily review and compare. "I put time in my diary once every two weeks to review and adjust my plan as necessary," she explains. Bugg, on the other hand, reviews social media once a week and GA each month. "You should aim to review regularly, but don't set unrealistic expectations on yourself if you don't have time to look at it weekly – it's better to do it properly when you can really focus," she says.
Always consider your audience
The key to any successful marketing campaign is to really know your audience. "No matter how much you spend or how much marketing activity you do, you'll never get good results if you're not reaching the right people," emphasises Gray.
Once you've nailed your strategy, review and adapt it regularly. "Be agile – swap things around, test and learn," says Comport, concluding, "And always think like your customer – what would they like to know?"