Establishing yourself and standing out from the crowd can be tough, especially in an ever-growing industry like aesthetics. Whilst clinical expertise and knowledge is vital for a thriving career and clinic in aesthetic medicine, business intelligence and skill is essential for overall success. At ACE 2023, we have all the tools to help set your clinic apart and stand out from the competition. Taking place on March 10&11 at the Business Design Centre, London, our new In Practice Zone will provide you with all the latest support and solutions on everything needed to run a successful clinic, from social media, patient relations and marketing, to finance and regulation. There is something for everyone to learn and discover!
Unmissable talks from key industry experts
The In Practice Theatre, sponsored and supported by PLIM, is the hub of the In Practice Zone, showcasing the latest developments in the clinical business world. This year, the agenda is separated into different themes to help you discover what will benefit you and your business most.
Here's a taster of just some of the content you can expect:
Getting started in aesthetics
How to Develop and Maintain a 5 Star Practice with Miss Sherina Balaratnam
Using Social Media to Grow Your Practice with Dr Nisha Menon
Developing the Ideal Patient Journey with Dr Manav Bawa
Clinic management
TAX and VAT with Jonathan Bardolph
Incentivising Your Clinic Team To Grow Your Profits with Vanessa Bird
Marketing and PR
Dealing with Negative Social Media Reviews, Complaints and Trolls with Mr Naveen Cavale
Videos for Marketing with Alex Bugg
Building Creative Content with Chloé Gronow
Women in business
Balancing Work and Family Life with Miss Priya Chadha
Knowing Your Worth with Julie Scott
The rest of our In Practice agenda will be revealed soon, so make sure to keep your eyes peeled and start planning your day!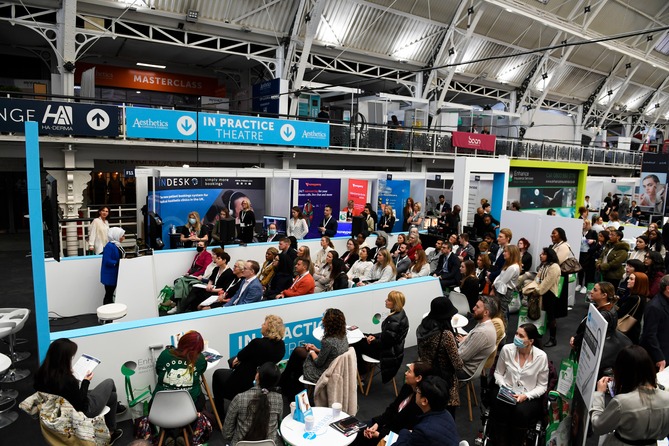 Discover the companies advancing aesthetic businesses
As well as providing you with first-class educational content around all your favourite business topics, you can also discover free advice at the In Practice Zone. Situated right outside the In Practice Theatre, you can find all the companies, products and support services which can help make your life easier in clinic. Ranging from specialists in finance, CQC, clinic software, digital marketing and more, the companies in this Zone are not to be missed and are on hand with solutions to drive the success of your clinic.
At ACE 2023, you can visit:
Aestheticdocs
Aesthetic Nurse Software
e-clinic
Enhance Insurance
InDesk
Inspire to Outstand
MeTime
Plim
Web Marketing Clinic
Network with your industry
This year we will also be hosting the brand new In Practice Networking drinks, ensuring you have the chance to connect with like-minded colleagues and businesses over a glass of bubbly. To attend the free drinks, make sure you head over to the In Practice Zone at 16:30 on March 10!
It doesn't stop there…
As well as the above business content, ACE 2023 will also provide you with clinical agendas that will help refine your treatment skills and expand your clinic offering. We will be hosting masterclasses, symposiums and innovation sessions with top industry speakers and brands, taking you through the latest clinical education as well as showcasing live demonstrations.
TEOXANE will once again return as the Headline Sponsor of ACE, with a stand-out line-up of expert KOLs providing injectable demonstrations for delegates to watch and discover new techniques.
Attend ACE 2023 with your whole team to ensure you all gain the latest education and CPD points towards your professional development.
Register to attend for free today!