Aesthetics reports on the third International Association for Prevention of Complications in Aesthetic Medicine (IAPCAM) Symposium
On September 20, 140 delegates attended the Church House Conference Centre in Westminster for the third IAPCAM Symposium to learn the latest information and advice on complication recognition, management and prevention.
Conference director and aesthetic practitioner Dr Beatriz Molina welcomed guests to the event, along with consultant dermatologist Dr Sandeep Cliff, who chaired the meeting for the rest of the day.
The morning's talks focused on the most common complications in the upper and mid-face, utilising detailed anatomy videos, presentations and live demonstrations which were delivered by maxilloplastic surgeon Mr Jeff Downie, oculoplastic surgeon Mr Phillipe Berros and Dr Molina. To further support this, ophthalmologist Dr Tahera Bhojani-Lynch and aesthetic practitioners Dr Sophie Shotter, Dr Anna Hemming and Dr Shirin Lakhani shared a number of case studies they had been involved in successfully treating including infection, occlusion, shingles, periocular dermatitis, amongst many others.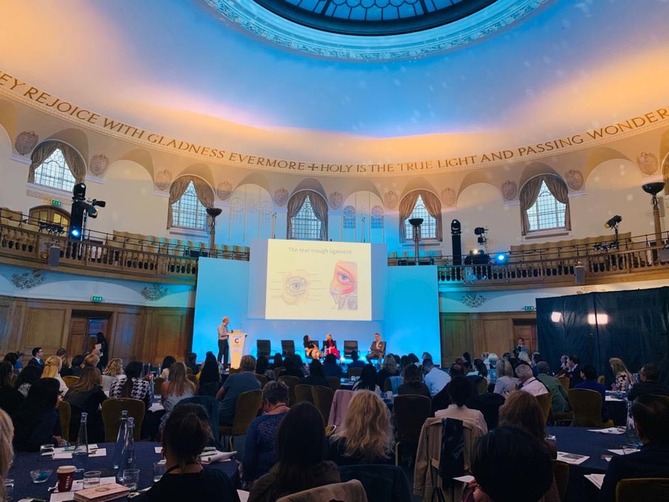 Throughout the event, delegates were encouraged to interact with the presentations and speakers by casting their vote via a mobile app. This worked particularly well during the case studies, in which the audience were asked to identify the complication they thought was present and share what treatment options they would have chosen.
Before lunch, Dr Michalis Kechagiakis also discussed how to prevent and manage complications with plasma energy devices, which was well received by the audience.
Delegates were then treated to a canapé style lunch whilst having the opportunity to network with peers and visit the small exhibition which featured well-known companies including Enhance Insurance, AestheticSource, Galderma, HA-Derma, SkinCeuticals and Medical Aesthetic Group.
Nurse prescriber and member of the Aesthetics Clinical Advisory Board, Sharon Bennett said of the event, "I think the day has been really good; not only are we learning about anatomy and where to place injections safely, but there is such a host of experience in the room and it's fascinating hearing from all of the delegates from varied medical backgrounds."
After this, the attention shifted to common complications in the lower face. Mr Downie, Dr Molina, Dr Hemming and Dr Lakhani discussed the anatomy of the area and explored key areas to be aware of and avoid, while showcasing another live demonstration of lower face treatment. Following this, the panel shared their complication case studies and encouraged the audience participation once again. Case studies including overfilling producing an unaesthetic result, dermatitis neglecta and infection.
Bennett then presented a session on hyaluronidase where she detailed her own experiment which saw her dissolve a number of different fillers with Hyalase and evaluated their reactions. This was recently published in the Aesthetics journal and can be read here. Following this, aesthetic practitioner Dr Mayoni Gooneratne shared her concerns around the lack of clinical evidence for energy-based devices used for vaginal rejuvenation, while referencing informative case studies of the complications that can and have occurred.
Medical device specialist Feza Haque from the Medicines and Healthcare products Regulatory Agency then gave an important update on the new medical device regulations taking place in 2020 and reiterated the importance of Yellow Card Reporting. She discussed the introduction of implant cards which will be designed for patients to be able to identify information that is published elsewhere.
The day finished with a short panel discussion where the audience were able to ask for advice, tips and clarification on what had already taken place that day.
Aesthetic practitioner Dr MJ Rowland-Warmann commented, "I have loved the conference today. There are lots of eminent speakers and really strong advice on the management of complications. The variety of case studies are also remarkable and it's fantastic to see so many practitioners willing to share their experiences and help others to learn and grow from this. I'll definitely be returning next year!"
Dr Molina concluded the day by saying, 'it's been the best one yet', she further explained, "We were delighted at the success of IAPCAM 2019. This year we hosted the highest number of delegates from all specialities who came together to deliver, discuss and debate the management of complications, presented in 20 case studies. There was an exciting opportunity for the audience to participate via an interactive system which meant they became part of the discussions. We welcome everyone to join us at our event next year on the 18th September 2020. We must continue to work together as an industry to support one another in complication avoidance and management, to promote safety and better patient care."