"I love aesthetics because it's happy medicine" Ophthalmologist Dr Tahera Bhojani-Lynch reflects on her career in the aesthetics specialty and shares her passion for treating the upper face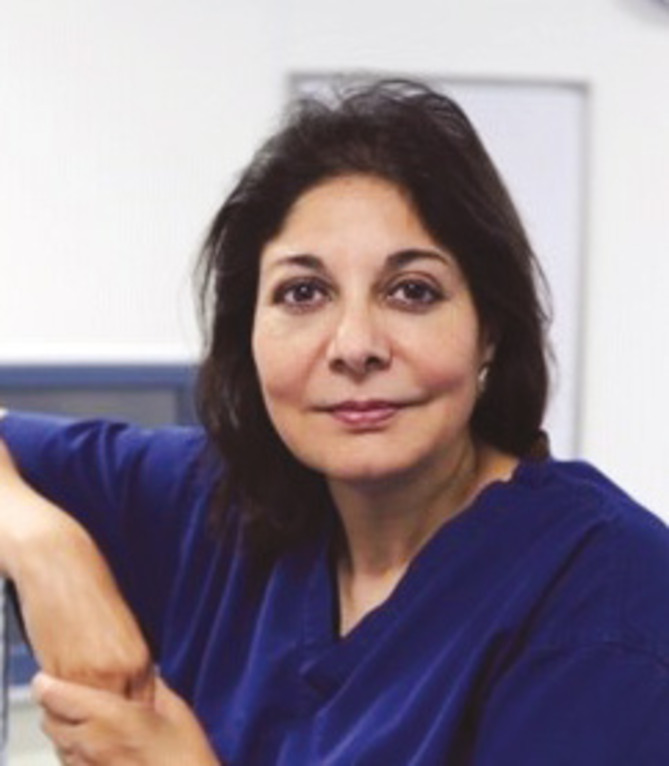 As an established ophthalmologist with more than 20 years' experience in medical aesthetics, it's fair to say that Dr Tahera Bhojani-Lynch is a well-recognised figure within the specialty.
She is a key opinion leader for aesthetic manufacturer Teoxane, sits on the board for the International Association for Prevention of Complications in Aesthetic Medicine and has worked as a consultant for the likes of Galderma, Merz and Teoxane. As well as this, she was the first British woman to perform LASIK eye surgery in the UK in 2001.
So, where did it all begin for Dr Bhojani-Lynch?
"I graduated from Aberdeen Medical School in 1989 and always had a passion for ophthalmology. I was short-sighted as a child and so, being the curious and idealistic child that I was, I had the idea that I was going to find a cure for it. I started my training at Worcester Eye Hospital, before moving to North Riding Infirmary in Middlesbrough, then to Derby Royal Infirmary and to one of the largest eye departments in the UK, the Queen's Medical Centre in Nottingham, undertaking various positions," she shares.
In 1997, her marriage saw her take a move further down south to Amersham where she was first introduced to the world of aesthetics.
"I remember seeing a job opening at Allergan, which was primarily an ophthalmology business at the time, and reading the description thinking 'this was written for me' – it was for a medical advisor in the research and development department. I was actually pregnant with my first son at the time and started working for them when I was almost full-term, but I just couldn't pass up the opportunity which went on to change my life. I was Allergan's first resident ophthalmologist in Europe and this really was my first introduction to Botox as we know it," says Dr Bhojani-Lynch.
Fast forward three years, with two young children, Dr Bhojani-Lynch wanted to have more flexibility in her work and moved to Loughborough to be closer to family where she opened her clinic, The Laser & Light Medical Skin Clinic.
She explains, "I also owned an optometric business at the time and was performing regular laser eye surgery at Optimax Laser Eye Clinics. I was working three jobs at once and it was a lot of work and pressure. So, I set up the laser clinic as something that I could do part-time whilst my children were young and put my other roles on hold. I had always planned to go back into ophthalmology full-time but what I never expected was how much I would love doing aesthetics."
She continues, "You develop a passion for making people happy in aesthetics; it's a happy medicine. There are lots of areas that aren't; for example, in my past experience in ophthalmology I would have to tell someone they have lost their sight, which would be very difficult. I'd also get rid of people's glasses and treat a cataract which was fantastic, but I generally find that in aesthetics, you have the opportunity to empower patients about their appearance like no other specialty."
Speaking specifically about her love for treating the upper face, Dr Bhojani-Lynch states, "The periorbital really is my forte. My signature treatment is performing an outer canthal lift using a needle to lift the corner of the eye and recreate an almond shape. The results are fantastic."
Not only is Dr Bhojani-Lynch academically minded, she also has a keen interest in business and a strong eye for spotting opportunity. In 2005, Dr Bhojani-Lynch found herself frustrated when her orders from her pharmacy weren't being fulfilled.
This, she explains, became the reasoning behind her and her husband founding Church Pharmacy. She reflects, "I remember losing a chemical peel patient because the peel I ordered didn't arrive. This patient had taken a week off work and the impact to her and my business was huge. I said to my husband, a businessman, 'Can you set up a distribution company?'.
My brother is a pharmacist and he was our resident pharmacist from the beginning, and so Church Pharmacy was born." She continues, "I remember the first time we got an order; it took us half a day to pack the box because we were so excited! Church was born from a letdown customer and the one unique-selling point about this business was our communication; if we were unable to fulfil an order we would inform clients and try to give them a solution. In 2011, my husband retired and so we sold the business to my brother and his two sons; I'm very proud of what they are still achieving."
When considering her biggest achievement, Dr Bhojani-Lynch says that it is yet to come. She adds, "There's so much to be learnt so I don't think I've reached my biggest achievement yet. But the thing I'm most proud of is a clinical paper I wrote in 2017 about late onset inflammatory response. It got published in the Journal of Plastic and Reconstructive Surgery and in November last year I found out I had won the prize for the best paper in the whole of Europe. Flying out to Chicago with my two sons to receive my award was a very proud moment for sure."