As you wave goodbye to your happy patient following another successful non-surgical aesthetic procedure, it is a fact that you have no control over what they do next. It might be that they head straight to the gym, even though you have said that exercise might cause irritation after a chemical peel. Or, because it's a Friday, they might consume alcohol after their toxin treatment, which you have told them can worsen bruising. Perhaps they may get straight into their car, or onto local transport, and whip out their concealer or foundation to cover up that tiny red mark left by your dermal filler entry point.
There are numerous studies that highlight the importance of makeup application to a woman's life, which emphasise how hard it can be to get some patients to comply to your recommendations of avoidance. One survey of 3,000 women suggests that a third wouldn't leave the house without wearing makeup,1 while more recent research indicates that of 2,200 women, 60% wear makeup on a weekly basis, a further 26% put it on at least twice a week and 28% use it every day. The reasons behind use were to feel good when dressing up for a special occasion (78%), to boost confidence (63%), hide blemishes (47%) and to accentuate or highlight certain features (32%).2 A separate survey of 1,500 women found that one in four even admit to sleeping with makeup on, despite the fact that doing so has negative effects on skin.3
But why is makeup application following a medical aesthetic procedure a problem? And how can you maintain control of your patients' makeup application even after you have said your goodbyes?
The dangers of makeup following aesthetic procedures
There are limited studies that highlight the potential impact of makeup use following aesthetic procedures. However, some practitioners interviewed for this article have experienced complications which they believe were associated with post-treatment makeup application (Case studies 1 & 2).
Dermatologist Dr Harryono Judodihardjo suggests that there are risks associated with makeup application after any aesthetic procedure that has reduced the barrier function of the skin, such as injectables, chemical peels, dermarollers and ablative lasers, among others.
"When the skin's barrier function is compromised then chemicals, bacteria, fungus and viruses that are normally blocked by the skin will be able to enter. This can lead to allergic reactions or infections. The chances of problems occurring will depend on the treatment and what affect it has on the barrier function of the skin. For example, you're most likely to get infection or allergic reactions if you apply foundation after a CO2 laser resurfacing treatment," Dr Judodihardjo explains.
Although practitioners note that complications following makeup application are rare in their experience, they believe practitioners should be mindful of the risks and how to prevent them.
Infection
Unfortunately, it is very unlikely that the makeup that a patient applies, and the applicator that they use to apply it following an aesthetic procedure, is sterile. This is essential, aesthetic practitioner Dr Zunaid Alli explains, saying, "Unless it's sterile, anything that goes on the skin after a procedure, which damages the barrier, poses a risk of causing infection."
Makeup is particularly problematic, practitioners note, because patients often transport their makeup around, have it lying at the bottom of a handbag or car for example, use it out of date, or even share it. There are several studies that highlight the dangers of pathogens in makeup, as well as their applicators. One small study of 44 participants indicated that women tend to continue to use makeup far beyond the expiry date (70.5%) and that these products have a high level of contamination with pathogenic microorganisms which are associated with infections (S. aureus in 79% and P. aeruginosa in 13% of mascara samples).4
Another study looked at the contamination of 100 samples of beauty salon tools including a blusher brush and face sponge. All the samples were examined microbiologically for the contamination of S. aureus, P. aeruginosa, yeast and fungus. It was observed that S. aureus was present in 100% of sponges and brushes, P. aeruginosa was present in 69.6% of face sponges and 81.8% in brushes, and counts obtained for fungus were 51.5% in sponges and 30.3% in brushes. It was observed that the major cause of contamination of salon tools is repetitive usage on all customers without considering the hygienic conditions.5
Inflammation and sensitivity
Practitioners also suggests that it is not only the sterility of the makeup and applicators, but the components and formulation of the products themselves. Aesthetic practitioner Dr Julia Sevi explains, "Other issues besides infection are the inflammatory processes of the skin; following treatment the skin is more sensitive so anything a patient uses that contains perfume, preservatives, fragrances and parabens, for example, means there is a higher risk of reaction because it is more fragile." Aesthetic practitioner Dr Beatriz Molina adds, "One of the problems with people applying makeup immediately post procedure is that they may have bought their makeup from the high street and many, if not most, will have some form of chemicals or perfumes, which can cause irritation or reactions to the skin post procedure."6 Dr Molina says that although it's not usually formulated specifically for use after medical aesthetic procedures, 100% mineral-based makeup can help to avoid irritation because it does not contain man-made unnatural additives.7 She adds, "Pure mineral makeup also contains vitamins which have natural anti-inflammatory properties and they usually also have SPF, which is good."
Dr Judodihardjo adds, "Makeup that has small chemical molecules are riskier as they're easier to penetrate the broken skin. Minerals are large elements and usually do not enter the skin so it should be safer." However, he notes, "Not every so-called 'mineral makeup' is made from 100% minerals, as most do add chemicals. There's currently no law that stipulates the percentage of minerals needed before a makeup can be called 'mineral makeup'."8,9
When can makeup be applied following treatment?
Aesthetics contacted several injectable companies to learn their manufacturer recommendations of makeup application following treatment – most that responded recommend at least 12 hours (Figure 3). The Aesthetic Complications Expert Group also advises 12 hours.10 However, practitioners acknowledge that realistically, the amount of time one would advise patients to wait would very much depend on the type of procedure, and the technique employed.
Dr Sevi explains, "If you are using a 35 gauge needle, for example, and are doing tiny micro punctures the injection holes will be very small and will likely seal within half an hour, whereas a 22 gauge cannula introduced by a 21 gauge needle will probably take several hours, depending on the age of the patient. So, I suspect the advice to wait at least 12 hours is because that covers every possible eventuality for the skin to heal."
However, knowing how important makeup is to many patients' lives, is it realistic to expect them not to put makeup on following an aesthetic procedure?
Dr Sevi and Dr Molina believes it isn't. "It's really hard for a lot of patients – women who are working or have a busy schedule in particular – not to wear makeup straight after a procedure to hide any treatment marks, such as filler entry points, bruising or redness. As many procedures take time for the skin to settle, it's unrealistic to assume that patients won't just put makeup on straight away, and certainly not for the suggested time following the procedure," Dr Molina says.
So how can practitioners lower the risk of makeup infection and skin irritation post procedure?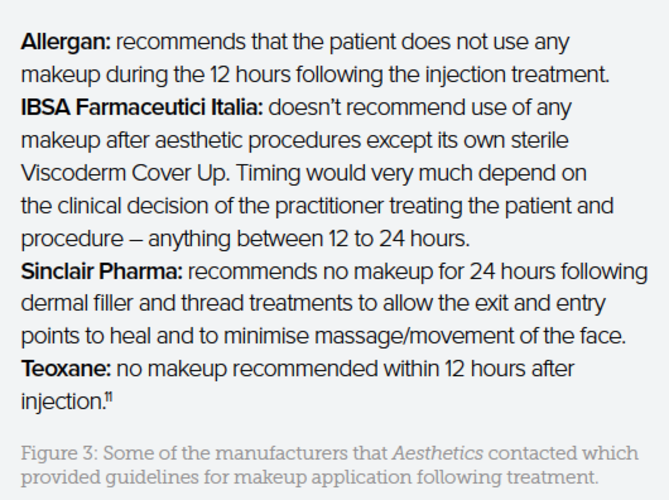 Practitioner advice
Although Dr Alli advises patients use a post-procedure makeup product, he prefers to focus heavily on patient education and instructs patients to wait his recommended timeframe. "Applying a post-procedure antibiotic cream or ointment over the area may work to deter the patient from putting makeup on so soon after procedures. Also consider the time of day your patient is coming in for treatment – if it's towards the end they are more likely to go home rather than back to work," he says.
Dr Molina and Dr Sevi believe that although manufacturers may recommend a certain number of hours, the only way to help guarantee that patients will not apply their own makeup is to do it for them before they leave clinic, employing strict protocols to avoid possible contamination and complications.
Dr Molina will either choose to use a makeup product that is specially formulated for post-procedure coverage that doesn't have any ingredients that may irritate the skin, promotes skin healing and allows it to breath, or 100% mineral powder. She says, "We find that if we don't apply the makeup for them, people will just go into their car and apply makeup themselves, which is unsterile and their makeup is also likely to contain harmful chemicals. We apply makeup post treatment for almost all procedures and we use a brush that's been cleaned and is sterile."
Dr Sevi says that she always applies specially formulated post-procedure makeup to patients and doesn't use powdered mineral makeup because she believes it is difficult to fully sterilise applicators such as brushes, as you must get deep into the bristles. Her protocol is firstly to disinfect the skin following the procedure with hypochlorous or chlorhexidine, then apply a sealant product over the top, such as Opsite or DermaSeal, to ensure product can't get into the skin. "The only time we don't do this is if the patient absolutely swears that they're going home, not seeing anyone and just going to bed. I believe this step is part of our duty of care – they leave looking great and the products we use also promote healing and reduces inflammation," Dr Sevi explains.
She adds, "We also have a policy of how we deal with our makeup application in clinic. Our makeup is in an airless pump which is never opened and we discard if it is. The bottles are sterilised with alcohol wipes every day; inside the lid and on the pump. We also expel the first bit of makeup out of the pump and discard it so it hasn't been in contact with air, and is clean. We will apply the makeup with gloved hands that have been sterilised – at all times we are trying to reduce the possibility of pathogens being in or around the makeup."
Dr Sevi will then provide the patient with a post-procedure care pack, which includes advice on makeup considerations, as well as a small vile of makeup that they can use to reapply later in the day if they need it, using their finger that has ideally been cleaned with disinfectant.
Makeup marketed for post-procedure application
The below are some examples of the products available that can be used as foundation, which are developed and marketed for concealing and covering treatment areas following medical aesthetic procedures.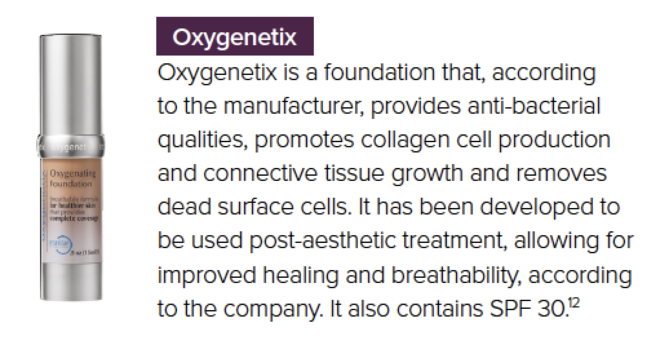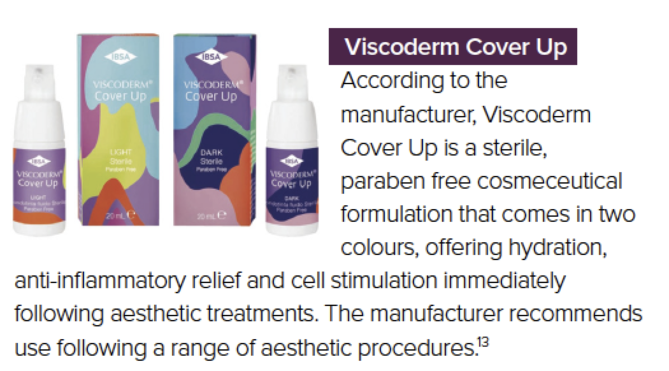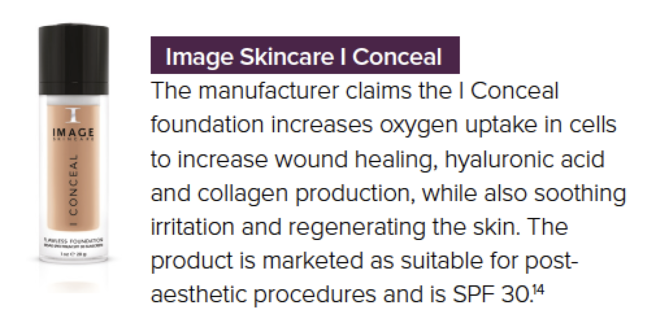 Case study 1: Dr Zunaid Alli's dermal filler complication
Following consultation for filler treatment, I cleaned the area around the patient's nasolabial folds with chlorhexidine 2% and injected a thick filler, indicated for that location, using a needle. There was minimal bleeding, no bruising and the patient was given my usual aftercare instructions verbally, which included not touching the face or applying any makeup for at least four hours after the procedure. The patient was discharged at about 4pm, however the next morning I received a message saying that the area was a bit painful, throbbing slightly, and quite warm to the touch (Figure 1).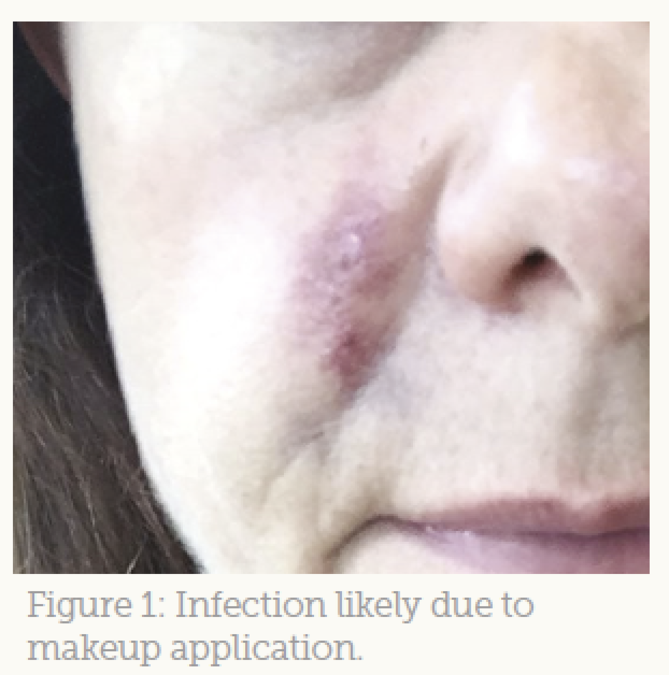 I arranged for an emergency appointment and upon examination, I observed blanching and redness about 6mm above the entry point, which indicated to me that it was the start of a bacterial skin infection. To determine the cause of the infection, I asked the patient exactly what she did following treatment. The patient said that she had touched-up her foundation after the procedure because she was going back to work. I therefore established that using occlusive makeup, or the application of this makeup with a non-sterile brush to recently injected skin, was the likely reason for the problem.
I prescribed clarithromycin 500mg twice a day for seven days, and 24 hours later there was a good clinical response. The infected area had already started to become smaller and there was no pain at the day-two examination. After the completion of the antibiotics the issue was completely resolved and there were no more problems following. My main learning point from this experience was that aftercare instructions must be given both verbally as well as written and handed to the patient.
Case study 2: Dr Beatriz Molina's dermal filler complication
A patient came to me to address some facial acne scarring. Due to the nature of the scars I thought a dermal filler would achieve the best results for the patient. I performed several injections on the face and immediately following the procedure the patient appeared to be fine. However, when she left she applied makeup to cover the redness caused by the entry points. Soon thereafter she developed a superficial infection on the skin, which was limited to the forehead and was not present elsewhere.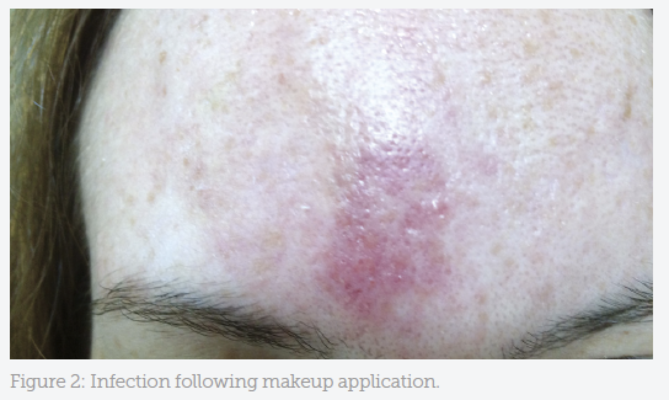 As I employed appropriate injection practice before and after injection, which included cleansing the skin, followed by hypochlorous for disinfectant, I believe that the infection was likely due to the un-sterile brush the makeup was applied with. I prescribed antibiotics and the infection was gone two days later. This complication highlighted to me the importance of making sure the patients are aware of the risks associated with makeup application, and if they are absolutely going to apply, educate them on what is better to use. Following this complication, I now suggest to apply light 100% mineral makeup or specially-formulated aftercare makeup to my patients' skin using a sterile brush in clinic so that they do not do so themselves.
Summary
All practitioners highlight that makeup application is one of several important factors for appropriate aftercare instructions to achieve safe and successful results, and must be communicated clearly and effectively to patients. Dr Molina concludes, "Make sure patients are aware of the dangers, give written aftercare instructions, ask what type of makeup they use, and if you think they might not be compliant to your instructions, I advise to put the makeup on for them in clinic using sterile applicators."