Aesthetics visits the headquarters of Aesthetic Technology Ltd, the manufacturer of Dermalux LED, to learn more about the company's development process
Aesthetic Technology Ltd was founded in 2012 by Huw Anthony and Louise Taylor. The pairing of Huw's background in product development and Louise's personal experience of using LED phototherapy saw the start of what is now a multiple Aesthetics Award-winning company with a portfolio of four devices, serving more than 20 countries worldwide and employing 14 members of staff. The entire design and development process of the Warrington-based LED company's products is undertaken in the UK, which is something that is very important to both Huw and Louise.
Something that is just as essential to the pair is producing quality products and delivering sound education to their customers. So much so that when the company first began, they decided to invest profit back into the research and development (R&D) division, which they believe has influenced their success so far.
Huw says, "Right from the very early days, we decided to invest significantly into the innovation of our proprietary technology with the aim of delivering best in class and the most advanced LED phototherapy systems possible. Louise adds, "One of our main focuses has always been the education behind LED technology and in my experience, I have found that LED phototherapy is quite misunderstood in the industry, so we provide continuous support and training to our customers to ensure the best possible service."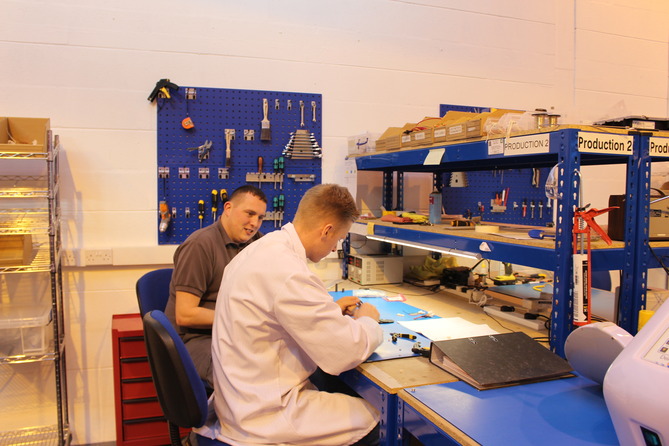 In 2018, the company also introduced a 3D printing system to create prototypes of components before they go into full manufacture, which Dale Needham, managing director, explains 'revolutionised internal R&D activities'. He continues, "What started as a low-level requirement has now turned out to be one of the best tools in the design development cycle. The facility enables us to offer a full turnkey solution to our clients in addition to rapidly improving our own internal processes. We have the ability to replicate all of the plastic and rubber components enabling us to test and trial the product in its end form before committing to tooling."
Aesthetic Technology Ltd has now expanded its product range to include two new medical devices, the Tri-Wave MD and the Flex. This is done through obtaining ISO13485 certification (a quality management system designed for regulatory compliance). Chris Ashworth, quality operations director, explains, "Currently there is no requirement to have the ISO13485 but with new laws from the Medical Device Directive that are due to come into place next year, LED phototherapy devices will be required to be manufactured as a medical device and CE marked as such. To obtain a Medical CE mark the manufacturer must be certified to ISO13485. A big part is traceability, so there are a number of components within our machines that have a unique serial numbers that go through a heightened testing process, which means that we can track all of our machines to ensure they are working optimally."
Needham concludes, "It's very easy to get consumed in the development process, which has taken a number of years, but the most rewarding thing for all of us is to see that we have created huge opportunities for so many businesses worldwide and that is something that I am very proud of."