Dr Kalpna Pindolia explores the concept of reflection in aesthetic medicine to improve clinical practice
Just like any other clinical speciality, lifelong learning is the foundation of excellent patient care in aesthetic medicine. As a central foundation of the process of appraisal for revalidation, reflection has become a formal tool to enhance and strengthen quality outcomes for our patients. This article discusses the concept of reflection within aesthetic medicine and how you can use it to evaluate your knowledge, experience and skills to improve your clinical practice.
Revalidation
Medical revalidation is the process by which a medical practitioner's regulatory body confirms the continuation of a practitioner's licence to practise in the UK.1 It is performed every five years for a doctor2 and three years for a nurse,3 while dentists perform an annual renewal where they need to undertake continuing professional development to maintain their registration.4 Revalidation, as a central part of the clinical governance process, is recognised as a valuable means of driving change in clinical practice to keep patients safe. Reflection is a fundamental tool in stimulating learning and provides essential supporting information at appraisal for a medical practitioner's revalidation.
What is reflection?
It has been said that amateur golfers mostly remember their successes, whereas professional golfers never forget their mistakes. Each golfer, amateur or professional, is reflecting on their experience of successes or mistakes, as fuel for learning to improve their performance and the same can be said for aesthetic practitioners.
Reflective practice in medicine is defined by the Academy of Medical Royal Colleges as 'The process whereby an individual thinks analytically about anything relating to their professional practice with the intention of gaining insight and using the lessons learnt to maintain good practice or make improvements where possible'.5 It engages our metacognitive processes, which are the processes of using our intellectual and personal qualities to explore our experiences and evolve our understanding of the outcomes.6
The advantages of reflection
It has become the consensus opinion of healthcare education and regulators that reflective practice stimulates self-regulation and lifelong experiential learning. On June 18 this year, the GMC, and eight other healthcare regulators, which included the NMC and GDC, published a joint statement on the importance and benefits of being a reflective practitioner.7 It states that being a reflective practitioner is beneficial because:
It supports individual professionals in multidisciplinary teamwork
It fosters improvements in practice and services
It assures the public that health and care professionals are continuously learning and seeking to improve
Reflecting on positive experiences can lead to reinforcement and replication of actions that can help our patients. It can lead to future resilience, awareness of your own core values and encourages self-regulation of behaviour with future clinical and personal encounters. As well as this, considering strengths of practice can be rewarding and motivating. Reflection on negative experiences or outcomes can lead to isolation of the contributing factors. This is where opportunities to improve care can be identified.
For instance, with a complication occurring from an injecting technique, reflection upon the circumstances may reveal the need for more knowledge of the procedure. Reflective practice also aids insightful strategies to close the gaps in our potential areas of weakness, should similar circumstances occur again. For instance, the second time a patient complains may be managed quite differently after applying strategies evolving from reflective learning from a first complaint.
Discussing reflections with colleagues can foster team learning, communication and positive dynamics. It also encourages creative strategical approaches within teams to modify healthcare systems in the interest of patient safety.
The challenges of reflection
Many medical professionals can be anxious about their appraisals due to their paramount significance in licensing. In order to develop the important introspective components of reflection, an understanding of one's emotional 'self' is central to becoming a self-regulated, lifelong learner. Understandably, some practitioners will find this process more comfortable than others. Responses from almost 8,000 British Medical Association (BMA) members showed that 26% felt comfortable with reflective practice, while 74% felt some level of concern that it could be used against them.8
Some practitioners also question whether the benefits of documented reflection balance the potential legal implications. With the recent Dr Bawa-Garba case, involving a junior doctor who was convicted of manslaughter by gross negligence and removed from the medical register,9 many practitioners feel they are no longer able to reflect without fear of recrimination. This is because a reflective document from her e-portfolio, which was thought to be used at her trial, suggested reflective practice in the UK may not be inherently safe.10 However, Dr Bawa-Garba's medical defence organisation confirmed that her appraisal portfolio did not form part of the evidence before the court and jury.9
After this, the GMC went on to confirm that they will never ask for reflective statements as part of an investigation. However, reflective notes can, though rarely, be required by a court in context of litigation.11,12 Although this is the case, we as practitioners should not fear this as documentation for reflection purposes requires little identifiable data. Documentation should focus on reflective analysis, which captures learning outcomes and future plans, rather than detailed circumstances.
Anonymising reflective notes means they will still be valuable to you for reflection purposes, but can avoid difficulties should the notes be disclosed.12 It is worth noting that reflection also demonstrates remediation and current safe practice,9 and can be used as defence in fitness to practise hearings.9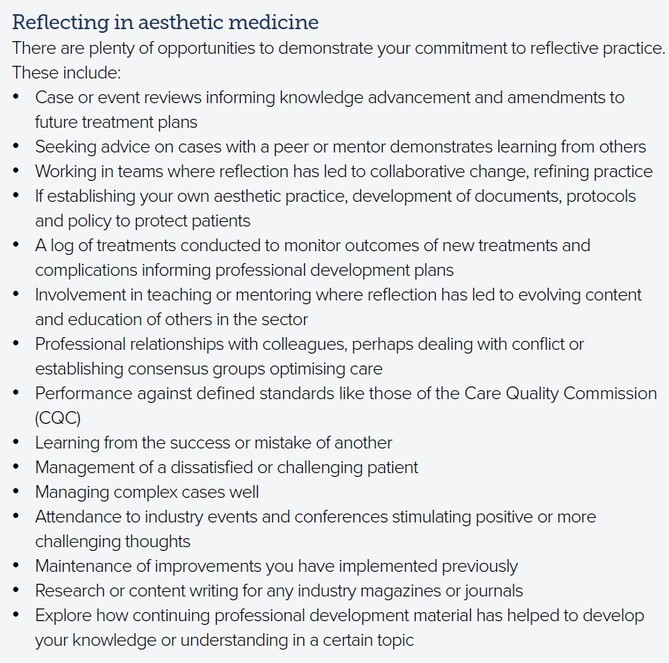 How to demonstrate reflection
The GMC's Reflective Practitioner Guidance for Doctors and Medical Students advises how to demonstrate reflection.12,13 Reflection can be stimulated from many sources, including clinical events, complaints or compliments and feedback, reading resources, meetings and discussing outcomes with teams. Documentation can be of a single event or a summary of the reflective approach developed on several different types of experience. They can be a situation the healthcare practitioner observed, or was directly involved with.
When you are reflecting on unfavourable experiences, like a clinical mistake, it is best to approach this with calm balance. This includes refraining from writing defensively and blaming others. You should also avoid being excessively judgemental of yourself and others in these situations with negative outcomes. This is usually achieved by taking some time to step back, discussing the situation with colleagues and evaluating after the initial emotions of the experience have settled.
There are many reflective models than can help facilitate reflection. Kolb14 and Gibbs15
have been central in creating healthcare reflective models which are supported by Academy of Medical Royal Colleges.6 Simply put, the fundamental approach is:
Explore what happened. This is an anonymised narrative of actions and the experience that you have had.
Ask yourself, so what? This leads to the practitioner to question why this is important, addressing the feelings generated with the significance of reflection.
Determine what to do next. This is an evaluation of what was positive or negative. Consider this from your perspective as well as the perspective of others. Think of the bigger picture and other factors that may have had an impact, as well as your own actions. You can then analyse what could have been done differently and think of strategies to actively address this in future learning or behaviour.
Reflection can be documented as a single event or a summary of their reflective approach based on several different types of experience.6
You do not need to document all of your learning activities, but just provide enough balanced evidence to give assurance that reflection is taking place in all domains of practice. So quality of the appraisal documentation is the focus rather than quantity.
It is also worth bearing in mind that the reflection experience is as a continuum of constant refinement of practice linking past, present and future experiences. By reinforcing changes in the future, you are also demonstrating a commitment to safety for patients.
Conclusion
Through the process of reflection, as healthcare professionals, we can become masters of evaluating our knowledge, experience and skills. Formal logging of the process encourages the habit of reflection and reinforces mental strategies that can be quickly mobilised to effectively address situations in day-to-day clinical practice and life. Reflection is effectively a catalyst to realise your own emerging potential as you evolve as a healthcare practitioner, demonstrating that safety is at the heart of your medical professionalism.