Last month brought with it one of the busiest weekends in the UK aesthetics community – ACE and The Aesthetics Awards! Over two days at the Business Design Centre, London, aesthetic practitioners, clinic owners and aesthetic companies united to champion learning and development at ACE.
Both established, industry-leading figures and those looking to break into the world of medical aesthetics congregated to discuss and share the latest learnings and innovations, all with the goal of enhancing patient safety and satisfaction whilst strengthening the UK aesthetics community even further.
During the two days, registration sponsor Church Pharmacy helped welcome 2,714 delegates, alongside 97 exhibitors and 110 speakers across the two days, with dozens of hours of content across five stages. Members of the press were also invited to hear about the latest developments in the world of aesthetics. This year brought the largest meeting of practitioners ACE has ever seen, and demand to hear more about the latest innovations, advanced techniques and tips for best practice was enormous.
Courtney LeBorgne, event director of Aesthetics, commented, "It was wonderful to return to the Business Design Centre for ACE 2023! This year was really special – the quality of the content and live demonstrations was exceptional, with all five theatres packed on both days. A big thank you to our wonderful speakers for providing 16 CPD points for our delegates across a range of top-quality educational content. We are delighted with this year's event, and extend a massive thank you to the exhibitors, sponsors, visitors, speakers, associations and partners who make ACE a success year on year. Roll on CCR in October!"
Pioneering learning with Teoxane
Teoxane was the Headline Sponsor at ACE 2023, and as well as supporting the entire event, they hosted a jam-packed two-day schedule of top-quality clinical content. Some of the biggest names in the UK medical aesthetic specialty gathered to represent the company and demonstrate how its products can help achieve excellent results.
Day one began with an all-female line up for the first 'Beauty is Personal' session, with Dr Saleena Zimri performing a live injectable demonstration alongside speakers Dr Sabrina Shah-Desai, Dr Tahera Bhojani-Lynch and aesthetic nurse prescriber Rachel Goddard. 'Every Lip is Unique' followed in the afternoon, with top practitioners Dr Lee Walker and Dr Jeremy Isaac joining Dr Shah-Desai and Dr Zimri to focus on exemplary lip treatment techniques.
Following her session, Dr Zimri said, "ACE 2023 has been absolutely fantastic. We kicked off the Teoxane symposium with an all-female panel on day one. It was a pleasure to treat a full-face perimenopausal woman live to a packed-out audience in the morning, and a millennialin the afternoon. The results and feedback were incredible. Thank you to ACE for being incredible hosts!"
Day two offered just as many learning opportunities, with the second 'Beauty is Personal' session hosted by Dr Walker, Dr Kam Lally and Dr Wassim Taktouk, complete with a live injection from Dr Benji Dhillon. Another 'Every Lip is Unique' session rounded off Teoxane's content with Dr Dhillon, Dr Isaac, Dr Lally, Dr Walker and Dr Raul Cetto sharing even more of their clinical expertise.
Jordan Sheals, deputy country manager at Teoxane UK, shared, "It was wonderful to be back at ACE for 2023, an event that is a staple in the Aesthetics calendar. Every year this event seems to get bigger and better, and this year was no different! Teoxane welcomed over 1,000 practitioners to their symposiums across the two days, as well as our business booth talks. As always, the focus for Teoxane at ACE is education and being able to offer practitioners new and exciting way of learning, bringing educational content led by our world-renowned faculty to a community of like-minded injectors who are all as passionate about creating the safest and most impactful experience for patients as we are."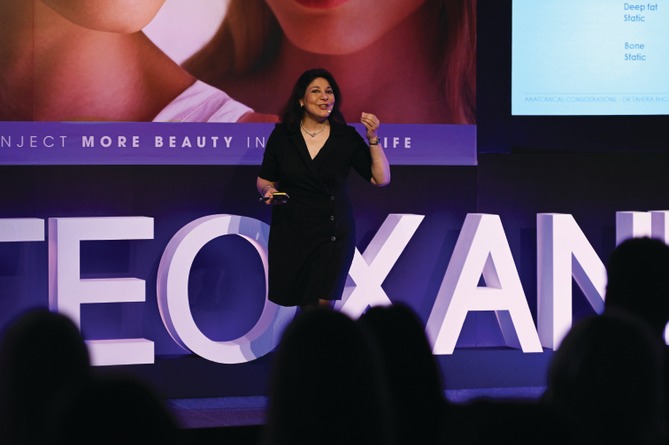 Business insights explored in the new In Practice Zone
For the first time, ACE was home to the brand new In Practice Zone – a hub for visitors' business queries. Delegates could visit AesthetiDocs, Aesthetic Nurse Software, e-clinic, Enhance Insurance, Hamilton Fraser, InDesk, Inspire to Outstand, MeTime, PLIM and Web Marketing Clinic to learn more about all the fabulous support on offer for clinic owners to boost their business. The Zone was hugely popular, with hundreds of practitioners relishing the opportunity to discuss solutions from business providers all in one place. The In Practice networking drinks on the first day offered a further opportunity to share tips and connect with clinic support partners.
The In Practice Theatre, sponsored by PLIM, was the ideal place to collect expertise, with talks discussing social media, navigating VAT in aesthetics, opening a new clinic, building a brand, dealing with negative reviews, balancing work and family life and thriving in a recession. The two days of content were rounded off with an all-star panel of international KOLs discussing their role as global speakers and educators, featuring Dr Cetto, Dr Walker, Dr Tapan Patel and Miss Sherina Balaratnam.
CEO of PLIM Nada Ali Redha reflected, "We proudly sponsored the In Practice Theatre at ACE this year, and the line-up of speakers and industry experts was incredible. We had an inspiring and interactive few days. Thank you to all of you who visited our PLIM stand – it was lovely to meet you all and we are delighted to already have a number of visitors partnered with PLIM."
The In Practice Theatre's eclectic content line-up was coordinated by editor and content manager of Aesthetics Shannon Kilgariff, who said, "Clinical education and demonstrations of best practice are essential for any medical aesthetic conference, but I believe that top-class business advice is too. We know that many of our valued visitors are busy people with lots going on both in and out of clinic, and the business side of things can often be a huge challenge. I am delighted that we provided a whole agenda full of business expertise at ACE this year to help practitioners focus on how to boost their efficiency and profits. Our incredible range of speakers were so generous to share their knowledge, and our wonderful In Practice exhibitors were on hand to provide more invaluable support."
Ground-breaking content at the Innovation Stage
The Innovation Stage was packed with content from a variety of aesthetic companies exploring their latest product launches and technologies, solidifying ACE as the place to be to learn about everything new in the aesthetics field.
Aesthetic companies AesthetiCare, AestheticSource, BTL Aesthetics, Cutera, Eden Aesthetics, EvoCyte, HA-Derma, Lynton Lasers, Solta Medical, TargetCool and VIVACY Laboratories all showcased innovations, from injectables to devices. Delegates enjoyed hearing about advancements in some of the specialty's most in-demand treatments, with enlightening talks on facial muscle stimulation, treating acne with devices, addressing cellular ageing, the use of exosomes in aesthetics and much more.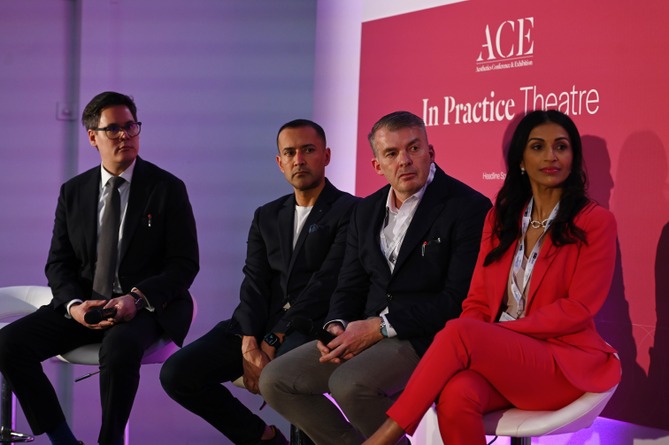 In-depth learning in the Masterclass Agenda
The Masterclass Agenda was the prime location for deep dives into the latest clinical education and treatment skills, providing insight into advanced techniques for patient safety. Hosted by top KOLs, aesthetic companies Church Pharmacy, Dermaroller, Lumenis, SkinCeuticals and Sofwave shared insights into optimising dermal fillers, medical-grade skincare and aesthetic devices for your patients on the first day.
On day two, an Allergan Aesthetics takeover provided delegates with invaluable facial assessment and treatment planning tips using different products for patients in their 30s, 40s and 50s. Speakers Dr Patel, Dr Nestor Demosthenous and Dr Eithne Brenner each highlighted the versatility of dermal filler Juvéderm and hybrid injectable HArmonyCa in live injectable demonstrations.
Dr Demosthenous commented, "Allergan's Medical Institute masterclass was very well received, with delegates lining up to attend and the conference room full to capacity. There was an influx of enquiries for further training and more information on the Juvéderm range of fillers, as well as Allergan's latest innovative product HArmonyCa, at the stand. This has been one of the best years for Allergan at ACE."
Live demonstrations at the Symposium Stage
On the Symposium Stage, the industry's top pharmaceutical brands showcased even more innovative techniques, featuring leading aesthetic practitioners. The sessions on this stage helped delegates enhance their skillset by watching live treatment demonstrations, discovering the latest advancements for injecting.
Companies featured included Croma, Neauvia and Prollenium, all showcasing incredible injectable results with optimal, evidence-based techniques. Galderma also hosted sessions on both days, focusing on combining Restylane HA and Sculptra biostimulator to maximise patient outcomes from Dr Munir Somji, Dr Priya Chadha, Dr Rikin Parekh and aesthetic nurse prescriber Jackie Partridge, and exploring brand-new, ready-to-use liquid neuromodulator Alluzience from Dr Somji, Dr Lara Watson and Dr Kuldeep Minocha.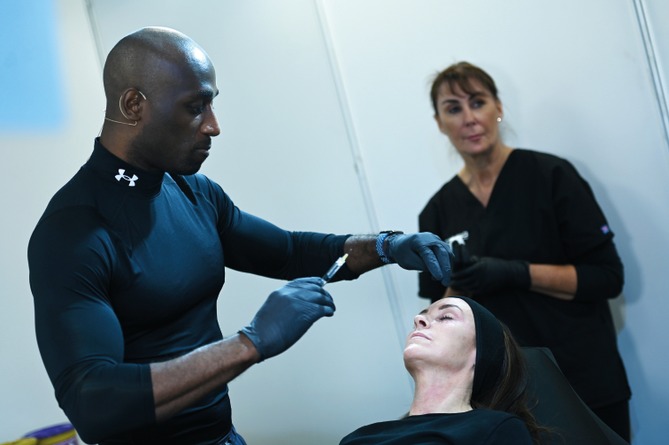 A plethora of industry-leading exhibitors
Alongside the five content streams, all 97 exhibitors made ACE the perfect hub for visitors to learn about the latest in aesthetic business, injectables, skincare, devices and more.
For the first time ever, the achievements of exhibitors were marked with the inaugural ACE Stand Awards, congratulating the industry's top companies for their efforts in making ACE great. A huge well done to the winners:
Award for Best Stand – SkinCeuticals
Award for Best Stand Hospitality – Neauvia
Award for Best Event Marketing Campaign – Teoxane
Award for Most Sustainable Stand – HA-Derma
Director of SkinCeuticals UK, Anton Petrov was delighted, saying, "Our mission is to drive industry education about advanced professional skincare and its integration into clinical treatment programmes for the best patient outcomes. On the stand at ACE this year, we celebrated our iconic antioxidant range with the bottle-shaped entrance, and our representatives were happy to hear about the needs of new and current clients, as well as provide popular facial consultations with our SkinScope. We would like to thank everyone who came along and supported us!"
The Visitor Experience
"I've come to ACE every year for the last three years and I look forward to it every time! This is an amazing experience and there are always lots of things to know and discover. I think it's highly recommended – everyone who's interested in aesthetics has to come here, and they will leave amazed. Brilliant day!"
Marie Bartholomew, aesthetic nurse at Aesthetics by Anna Marie
"Everything has been really good! I've tried to get in as much as possible in my time here and I've done a lot. I enjoyed the conference sessions and was really inspired, and I managed to get around most of the stands. Definitely got what I came for!"
Dr Radhika Varsani, dentist at Dr RV Aesthetics
"It's my first time here so it was really exciting. I've found a lot of new companies, and it's been a really valuable day. The live demonstrations were amazing too! I've been speaking to all of the exhibitors and it's good to find new ones and learn more about the industry."
Dr Nutchanun Poolworaluk, aesthetic practitioner
"The day has been really good and the quality of the talks have been really interesting. We work with a lot of the exhibitors here already, so it was nice to chat with them face to face and touch base with them."
Shadae Brown, aesthetic nurse at AestheticsByShadae
Building connections at ACE
Aesthetic conferences like ACE are an excellent opportunity to not just learn, but also catch up and network with peers and colleagues, as well as establish new partnerships or mentorship relationships. The clinical talks were a perfect chance to meet practitioners with similar interests, as well as pose questions to industry-leading KOLs.
As well as the In Practice Networking drinks, Hydrafacial hosted a fabulous networking drinks reception on its stand to round off the first day of ACE. Both drinks receptions were the place to be to mingle with like-minded professionals and find out even more about some of the specialty's biggest companies and organisations.
Lauren Gibson, Hydrafacial country manager for the UK and Ireland, commented, "Our networking drinks at ACE were so powerful to reconnect with our clients and meet new industry professionals. It is so refreshing to hear how the industry is evolving and growing, and we get to be part of that journey as a brand!"
VIP Experience sponsor HA-Derma kindly hosted esteemed guests in a comfortable and intimate VIP Lounge, where VIPs could mix their networking with refreshments. On day two, HA-Derma hosted The Aesthetics Awards 2023 Finalists for an exclusive pre-drinks reception, complete with hair and makeup appointments for the Finalists to get glam.
Hana Te Reo, HA-Derma operations director, reflected, "We were delighted to sponsor the ACE 2023 VIP Experience for VIP delegates attending the conference. The space enabled visitors to catch up over refreshments during the two days, as well as book in for their hair and makeup appointments to get ready for the glamorous Aesthetics Awards. There was a lovely atmosphere during the Finalists' drinks reception, and we were delighted to see so many of our IBSA portfolio and Profhilo partner practitioners there."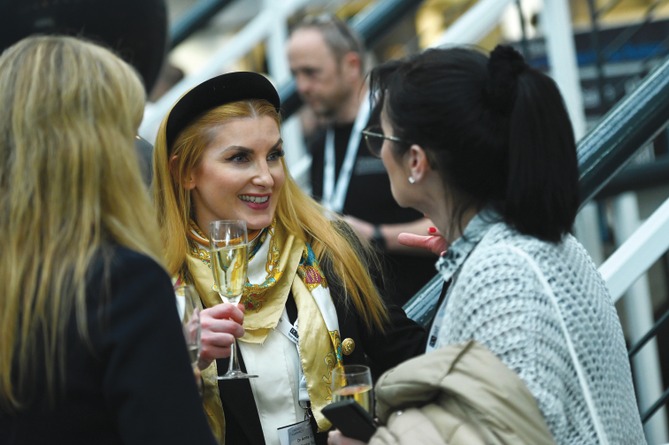 See you next time!
ACE is over for another year! Save the date for March 15-16, 2024, as ACE and The Aesthetics Awards return once again.
CCR – the next event hosted by Aesthetics – will be at ExCel, London on October 19-20. Keep an eye out for more details soon, and we'll see you there!