Dr Stevie Potter discusses how to keep communications across social media instant messaging applications professional
There are currently more than three billion social media users across the world, the majority of whom access their platforms on a mobile device. Usage has increased by 10% since 2018,1 so it is therefore easy to see why businesses turn to social media as their first point of call for advertising and communication. Additionally, the return on investment can be considerable.2 Platforms such as Facebook and Instagram also come with their own direct message functions, to make patient-practitioner communication easy and accessible at any time of day.
Snapchat, Instagram, Facebook and Whatsapp are attractive as a free method of communication, where people can make contact easily and instantly, as well as being able to share files and pictures in one place.3
Not only do social media platforms provide an enticing deal to aesthetic businesses, but patients' perspectives in the 21st century mean that medical practitioners having online visibility also appear more credible, trusted sources than those without a presence on social media.4 These platforms have their place in business and can enhance the provision of healthcare,5 which could therefore extend to aesthetic medicine but, in using such platforms, we must be mindful of the need to maintain our professional standards and communicate appropriately.
In this article, I explore whether direct messaging systems come with implications for the patient-clinician relationship and discuss how we can ensure that we remain available and professional to our patients, without allowing invasion of our private lives, which is something that I think we are all too guilty of.
Current guidelines
The General Medical Council (GMC) identifies benefits in the use of social media (e.g. spreading of helpful preventive care advice) but also reminds doctors that it can be difficult to maintain professionalism in online communications, despite their duty to do so.6 The Nursing and Midwifery Council (NMC) has a similar stance on maintaining boundaries with patients and also recognises that online communication can make this complicated.7
The General Dental Council (GDC) gives some further explanation of the problems that may be faced in using social media and how they are relevant to the council's standards for professionals; the expected behaviour of a dentist is not altered just because the format for communication is not a traditional one.8
The GDC points out that anything published on social media can become instantly public, so may carry a need for stricter adherence to guidelines to avoid breaching patient confidentiality and expected professional standards.8 This means making sure that we do not post negative statements on our social media profiles about patients, even if anonymised, to avoid bringing the profession into disrepute.
The standards set by all professional bodies make particular reference to the sharing of information and anonymising data.6,7 The JCCP has also recently published its own guidelines on the use of social media, which combine the results from the various medical bodies; practitioners should familiarise themselves with this guidance as well as their own individual specialty guidance.9
Conversational tone
In my experience, the use of language across instant messaging applications and social media in general is far more throwaway and informal than that used in the face-to-face consultations, phone conversations and emails that I use on a daily basis. People often use colloquial language, abbreviations and emojis, regardless of their relationship with the recipient.
Patients have no particular standards to abide by and no frameworks for guidance in communication with clinicians, so it is our job to set the example in our conversations on social media.
If we consider the need to remain professional when dealing with instant messaging, we should be steering the conversational tone toward a manner we would find acceptable within our own clinic.
We should also remember that the emphasis and attitude with which words are delivered can be lost in written communications, and so we need to think about how our messages can be interpreted when we are communicating with patients on social media. For example, when dealing with questions about post-operative symptoms, we should ensure we remain sympathetic and not dismissive, with the best course of action always being to reassure and invite patients for a face-to-face appointment if the issue is more severe. While I recognise that it is important to make patients feel at ease and provide an approachable, personal bedside manner, we should treat all forms of written communication as a reflection of our profession and act with the expected demeanour to avoid us blurring the professional/personal boundaries.
Sensitive information
Aesthetics professionals in particular must accept responsibility for any material that they upload onto social media and consider posts as permanent additions to the public sphere, due to the difficulties in erasing media from the internet.9
This means that we should also consider the implications of sending pictures such as before and after photos to patients, even in private messenger formats, as there is potential for breaches in privacy if our business media accounts are accessed from our personal mobile devices.14 Transparency in the profession is important and patients should be allowed access to their records, including photographs, but it is worthwhile taking a brief moment to ensure they are aware of the limitations in security involved with instant messenger functions. Patients can then decide whether they would prefer to receive their data via more secure channels such as email servers or certain time-limited document sharing services e.g. expiry times on Dropbox links.
Patients should be discouraged from discussing their private information (such as in depth treatment details and medical history) in detail online and this should be extended to their use of instant messaging, as the risk of dissemination of this material through intention or accident is high.10
Encouraging patients to avoid discussing such topics online may also help avoid the situation of complaints arising in this sphere. This does not mean placing a gagging order on all our patients, but simply discussing with them at their first consultation how you find it best to communicate and a brief explanation of why it is more appropriate to discuss more detailed issues in person or over the phone or even video call.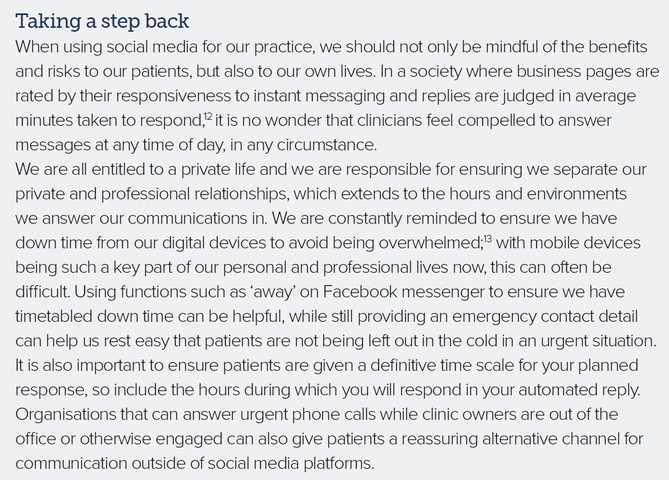 Negative feedback
Medical professionals have clear guidance on how they are expected to react to feedback and complaints in their sector6,11 and this guidance can be carried into the field of aesthetics. Professionals are advised that they must have a clear, written complaints procedure, which is visible to patients.11 When patients are using social media, it is likely they are not accessing this procedure and so they may not be able to process their feedback through the correct channels.
Likewise, when we receive negative feedback outside of our usual professional context, often we are less likely to treat this in the same way we would in a face-to-face or written format. This can lead to complaints not being dealt with in the correct way and escalating unnecessarily.
Similarly, with the availability of social media on mobile devices, patients may find themselves more readily raising concerns about minor issues using these channels, as they are less confrontational and much more flippant. We also run the risk of having complaints and responses disseminated into the public sphere. When we do find ourselves thrown negative feedback on social media platforms, it is therefore sensible to guide our patients down a more formal route, rather than engaging in a conflict which may not be so reasoned in its approach. Inviting patients in for a chat in person about their concerns may be considered more professional and caring than a response on social media.
Summary
While social media presents benefits to growing our aesthetics businesses, offering open preventive advice and information, along with an easy communication channel for current and potential patients, we should be mindful of the pitfalls of informal, instant messaging.
We are responsible for maintaining an appropriately professional relationship to ensure we do not encroach on our own private lives or bring our specialty into disrepute. We also need to be aware of the risks of breaching patient confidentiality on social media and act responsibly with regard to the sharing of patient information and photography. Scheduling away time for applications on our mobile devices and using automated message functions with details of emergency contacts, can help us get the most from our social media platforms without blurring the lines of professional relationships.