The clinician's expertise and skill play a crucial part. Indeed, practitioners have a duty to guide patients on what to expect, and what outcomes can be achieved with different procedures – and there is often a mismatch between the treatment patients initially seek, and those that are recommended. "Of the 100-120 patients I treat per week, more than half request lip fillers and only 20-30% actually need and receive them," comments Dr Acquilla. For those patients who do, he uses low molecular weight hyaluronic acid fillers "owing to their excellent tissue integration and soft, natural results at rest and on animation of the lips," he explains. "In addition, I also complement fillers with fractional CO2 laser resurfacing of the perioral skin to remove pigment and fine textural lines," says Dr Acquilla. Filler containing hyaluronic acid is a popular choice among many practitioners to enhance and plump the lips, alongside peels and botulinum toxins in the perioral region, particularly to address 'smokers' lines'. However, the precise formulation and treatment will depend on the patient and their desired result. Dr Bong says that while a large number of his patients are seeking a plumper lip (to varying degrees of fullness), others are increasingly seeking to reinstate hydration, which is often also a casualty of ageing. "We have a range of products that restore hydration and improve the texture of the lips without increasing the volume," he explains. "We inject a product that has a concoction of ingredients such as vitamins, antioxidants, and hyaluronic acid, which has a very high affinity for water and attracts up to 1,000 times its own molecular weight in hydration."
While there are manifold topical products available over every high street counter, particularly aimed at rehydrating the lips, Dr Bong suggests that these do not provide the long-term results that injectable treatments do. "With all our technology, it still has not advanced far enough to produce a topical substance with a small enough molecule that will penetrate the deep layers of the skin and provide sustained hydration," he says. "Hence, a moisturiser will only work when you apply it and won't result in any cellular changes that will provide sustained improvement." Similarly, Dr Tonks says of topical, volumising lip treatments: "It's like replacing missing teeth with a denture." It is common, however, to use a topical anaesthetic before treating the lip area, such as LMX 4% (lidocaine). "This is effective at taking about 70% of the discomfort away, and makes the procedure manageable for the patient," says Dr Walker.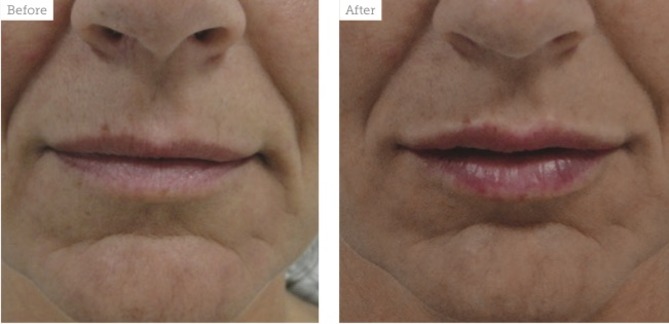 Alternatively, a dental block can be used to completely numb the area. The lips, though a focal point of a person's face, are of course one part of the whole canvas. As such, it's important that patients are made aware that treating the lips in isolation without attending to the facial and labial skin may well have inadequate results. According to Bennett, addressing the skin of the lips before undertaking a procedure is important. "If there is any evidence of ageing, [tackling the skin] can improve the lip itself greatly and reduce the need for significant work," she says. "Also, if you only treat the lip, but the surrounding skin is aged, sagging and wrinkly, lacking support and structure, then the lip will probably look somewhat incongruous and very evident. A young- looking plump, hydrated and shapely lip surrounded by a wrinkling face and mouth can look odd. It will not make the patient look particularly younger if the lip is the only area on an ageing face to be treated."
The lips, though a focal point of a person's face, are of course one part of the whole canvas
A holistic approach should be taken to halting or reversing the effects of ageing – and that, according to Dr Bong, ought to incorporate a number of factors. "Emphasis should be on the canvas of the face, which is the skin, because it's part of looking good that we have radiant, healthy looking skin," he comments. "Ageing is a multi-faceted, multi-factorial process,
and you need to look at ageing in its entirety. To achieve a natural result, we need to look at everything simultaneously, including hair, teeth and skin."
As such, patients who seek and undergo procedures on the lips should also be given guidance on the how the area will look against the backdrop of an untreated face, and how treating other areas around and beyond the lips could enhance the overall result. In addition, patients having lip treatments should be encouraged to support good skin health through protecting against sun damage, topical application of antioxidants, retinoids and peptides, and maintaining a good daily skincare regime.