As a medical aesthetic practitioner, you will be familiar with the use of medicines and equipment that is classed as a medical device. You will be aware of occasions where you may be presented with an issue or adverse event associated with the product that you are using. In these cases, reporting to the UK's regulator, the Medicines and Healthcare products Regulatory Agency (MHRA), is vital as it helps to identify and solve problems to prevent future issues occurring. This article will explore the Yellow Card Scheme, explaining why it's your duty as a medical professional to report, when you should do so, as well as the steps required.

What is the Yellow Card Scheme?
The Yellow Card Scheme is the reporting route used by the MHRA to monitor the safety of all medical devices and medicines in the UK to ensure they are acceptably safe for patients and those that use them.1 It is the route for healthcare professionals and members of the public to report actual or suspected:2
Adverse drug reactions (ADRs), which are commonly referred to as side effects
Medical device adverse incidents – injury or risk of injury from a medical device
Defective medicines (drug or packaging quality problems)
Suspected counterfeit/fake medicines or medical devices
Unclear instructions for use or markings and labelling problems that may affect the safety of a medicine or device
The Yellow Card Scheme can be accessed online. It acts primarily as an early warning system, alongside other sources of information, for the identification of safety issues. It also aims to gain further information about the occurrence of incidents in clinical practice to strengthen the safety profile of medicines and devices to protect public health.
What's the difference between a medicine and a medical device?
A medicinal product is defined as either:3
(a) Any substance or combination of substances presented as having properties for treating or preventing disease in human beings
(b) Any substance or combination of substances which may be used in or administered to human beings either with a view to restoring, correcting or modifying physiological functions by exerting a pharmacological, immunological or metabolic action, or to making a medical diagnosis
In the aesthetic field, medicines that you are likely to be familiar with include botulinum toxin and lidocaine and, in both cases, these would be being used for medical purposes.
Medical devices are products which have an intended medical purpose. The regulatory requirements covering medical devices are set out in the Medical Devices Directive 93/42/EEC, which also includes the definition of a medical device in Article 1.4 Intended purpose means the use for which the device is intended by the manufacturer and specified on the labelling and in the instructions and/or in promotional materials.4 Breast implants and, depending on their intended purpose, dermal fillers, laser devices for hair or tattoo removal and liposuction devices, would be regarded as medical devices under current legislation.
Currently, dermal fillers, laser devices for hair or tattoo removal and liposuction devices would only be regulated as medical devices if they have an intended medical purpose (with or without an accompanying cosmetic purpose). However, under the new Medical Device Regulation 2017/745, which fully comes into force in May 2020, these products will be regulated as medical devices whether or not they have an intended medical purpose.5
Why should you report to the MHRA?
No drug or device is without risk. Reporting incidents to the MHRA provides information that may be directly responsible for preventing similar problems from happening again. Manufacturers must, by law, report problems with their medicine or medical device to the MHRA, but for healthcare professionals it is not mandatory to report, although it is considered best practice.6 It is strongly encouraged by the MHRA to report actual or suspected problems because it helps to spot patterns or emerging problems more quickly. This will lead to safer and more effective products available for you and your patients. Reporting is also considered best clinical practice by a medical practitioners' regulatory body. The General Medical Council, for example, highlights the importance of reporting in its Guidance for Doctors Who Offer Cosmetic Interventions.7
What to report and when?
Problems with any medicine or medical device that a medical aesthetic professional uses should be reported, however minor. Each individual incident may not seem significant, or require specific feedback, but each case is key to giving the MHRA a national perspective. Practitioners are urged to report as soon as possible after the event. If you haven't got all the information to hand, you can send the MHRA the basics, discussed in the sections below, and then follow up with more details later.
Side effects to medicines (ADR)
There are four minimum pieces of information required to submit a suspected adverse drug reaction (ADR) report:
1) Suspected drug(s)
2) Suspected reaction(s)
3) Basic information about the patient
4) Your contact details so the MHRA can get in touch if more information is needed and to acknowledge the receipt of your report
Other useful information such as concomitant medicine(s), patient history and details of the outcome and treatments given are not compulsory to have when completing a Yellow Card but can provide useful additional context to help the MHRA assess your report. Information such as brands and batch numbers are very important, especially for biological products or where it is suspected there may be a batch-related problem to help the MHRA quickly identify potential safety issues. It is particularly important to notify the MHRA if the patient is pregnant, and details about their pregnancy.
You should report all suspected adverse drug reactions that are:
Serious, medically significant or result in harm. Serious events are: fatal, life-threatening, a congenital abnormality, disabling or incapacitating, or result in hospitalisation.
Associated with newer drugs and vaccines (medicines marked with a Black Triangle ▼ which are under additional monitoring).8 The most up-to-date list of black triangle medicines is available online.9
Essentially, if you are ever in doubt whether you should report a suspected adverse drug reaction, it's always best to just complete a Yellow Card. You can access interactive Drug Analysis Profiles (iDAPs) on the Yellow Card website or through the Yellow Card app.10-12 Each iDAP contains complete data for all spontaneous suspected adverse drug reactions which have been reported on that drug substance to the MHRA, via the Yellow Card Scheme.
Adverse incidents involving a medical device
An adverse incident is an event that produces, or has the potential to produce, unwanted effects involving the safety of patients, users or other persons.13 You should report these through the Yellow Card Scheme and your local incident reporting system, if appropriate. The reporting differs if you are a practitioner in Northern Ireland, whereby you should report device problems to the Northern Ireland Adverse Incident Centre (NIAIC).15 In Scotland, report to Health Facilities Scotland,15 unless you are a private facility providing care to private patients, in which case you should report to the MHRA (Yellow Card) and the Care Inspectorate.16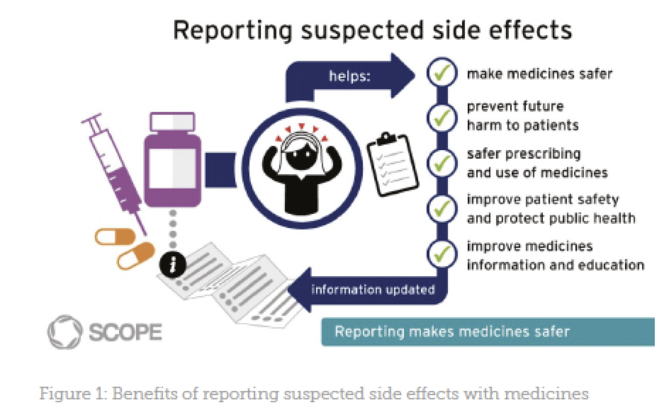 The information required includes:
The reporter's name
Reporting organisation
Address of organisation
Type of device
Manufacturer name
Type of injury
Details of incident/nature of device defect
There is the option to give more details such as:
Device model and serial numbers
Dates of the initial procedure
Location of use on the face or body
Volume of product used
It's encouraged to provide as much information and context as possible; however, all reports are still welcomed, even if there is very little device information available. It all helps the MHRA get a better idea of the national or international picture.
Examples of medical device problems reported to the MHRA include:
Dermal fillers: syringes with dermal filler breaking or leaking, unclear packaging and labelling resulting in wrong product type being injected into the wrong place.
Liposuction: problems with the vacuum container maintaining vacuum, leakage of tubing, packaging issues and problems with sterility.
Lasers and IPLs: over-treatment (using for too long) or insufficient personal protective equipment can result in eye or skin damage to the patient/client or the practitioner.
Fake medicines or medical devices
Counterfeit or fake medicines and medical devices may lead to the patient being exposed to negative health consequences, as well as credit card or identity fraud. There is currently a #FakeMeds campaign run by the MHRA that provides tools to avoid fake medical products when shopping online.17 If you think a website is selling medicines illegally or you suspect a counterfeit, you should tell the MHRA by reporting a Yellow Card. The MHRA also has a register to check if a website is legally allowed to sell medicines. Look out for the Distance Selling Logo (Figure 1) that must be displayed on every web page that offers to sell human medicines.18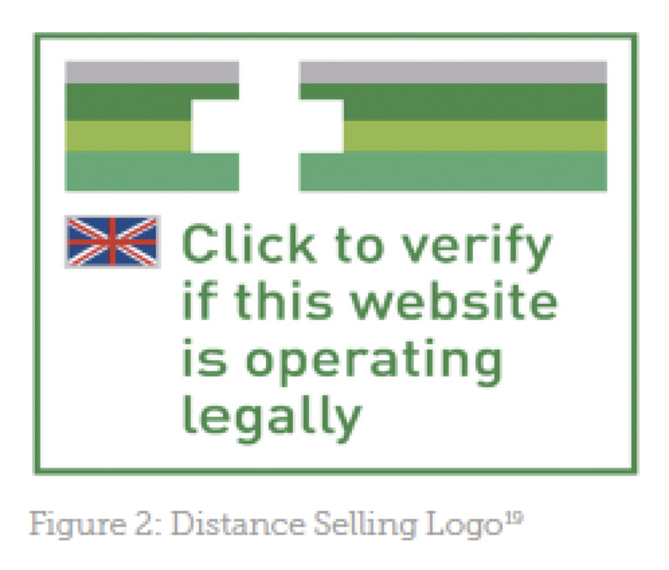 How to report?
The Yellow Card Scheme is an online system with several options, depending on the problem you want to report.19 The databases for reports on suspected adverse drug reactions to medicines is separate from the database for handling adverse incidents for medical devices. For ADRs you can create an account which retains the reporter's account details for subsequent reports. For medical devices, reporters will have to re-enter their details each time they submit a new report. The Yellow Card app is also for reporting incidents involving medicines only, but you can use it to view safety data about both medicines and devices, including access to MHRA's Drug Safety Update, iDAPs, and medicines alerts.2,22
For reporting suspected adverse drug reactions, there are also other ways to report, one example is calling the Yellow Card reporting line on 0808 100 3352,21,22 however the most common reporting method is online.
What happens to your report?
Once you submit the report, you will get an acknowledgement email with a MHRA reference number. You should quote this reference number if you contact the MHRA about your report, or wish to add information at a later date. All reports are evaluated, together with additional sources of information such as clinical trial data, medical literature or data from international regulators, to identify previously unknown safety issues, and to gain a better picture of emerging safety trends.
Medicines
When a report of a suspected adverse drug reaction to a medicine is received by the MHRA, it is assessed and added to its internal pharmacovigilance database to make it available for 'signal detection'. Signal detection is the continual review of all ADR reports to identify previously unrecognised side effects or a change in frequency of an ADR, including potential unidentified drug interactions. When a potential signal is identified, it is evaluated along with all other available evidence, including from medical literature and other international medicines regulators.24
A multi-disciplinary team at the MHRA including scientists, pharmacists and physicians oversee the signal detection process and investigate further to see if regulatory action is required. Additional safety information can also be requested from the pharmaceutical company such as in-depth studies. The MHRA can also seek advice from the Commission on Human Medicine and its advisory groups, which advises ministers on the safety, efficacy and quality of medicinal products.25
Regulatory action is communicated when necessary by the MHRA and may include changes or warnings in the product information, changing or restricting how a medicine should be used (including indications), change of legal status of medicines (such as from over-the-counter to prescription only) and, in rare cases, removal from the market if risks are found to outweigh the benefits. The recent safety issues to which Yellow Cards have contributed to can be viewed online.22
Medical devices
All reports are risk assessed by a team of medical device specialists to determine the level of investigation required, and sent to the manufacturer for them to investigate, who then report findings back the MHRA along with an analysis on why the event occurred and what action they are taking as a result. Reports submitted by members of the public have the option to anonymise their report, so the manufacturer is not able to identify or contact them when the report is sent to them for investigation.
Some of the actions the manufacturer might take to address a problem identified from reports of adverse incidents include: design improvements, technical or software upgrades, recommendations for training users (including patients and healthcare professionals), and changes to the instructions for use. Investigations will be used for wider signal detection activities. If a serious safety issue is identified, the MHRA expects the manufacturer to inform its customers by issuing a notice called a 'Field Safety Notice'.26 In some cases, the MHRA may also publish their own safety communication to users called Medical Device Alerts.27
Conclusion
It is important for everyone to report suspected and actual problems with medicines and medical devices to the MHRA via the Yellow Card Scheme. Under-reporting is a known issue with spontaneous reporting systems worldwide, so report as soon as possible after the event, and then follow up with more details later. Reporting is considered good clinical practice and part of a healthcare professional's duty. Reporting incidents to the MHRA provides information that may be directly responsible for preventing similar problems from happening again, improving information and education about the safety of products and helps make sure the medicines and medical devices available to patients in the UK work and are acceptably safe.
Acknowledgement

The authors are very grateful to their colleagues involved in the safety and surveillance of medical devices, vigilance and risk management of medicines and the Yellow Card Scheme at the MHRA for their contribution to this article.