Photographer Hannah McClune explores the importance of personal brand photography and provides tips on how to get started
Photography is a crucial step in building a strong brand in our digital world. If you want patients to take you seriously, then imagery that makes you appear polished and professional is a must. Imagine your ideal patient landing on your website or social media account. If there are no photos, your credibility is limited at best. This article will discuss how personal brand photography can be used to gain new patients and help strengthen your brand values. I will also be sharing some tips on how to do this well, and some key considerations.

What is personal brand photography?
There is a common misconception that a personal brand photograph is the same as commercial, corporate, headshot or product photography. However, there is one major difference and that is personality. Personal brand photography involves warm, authentic, real and genuine imagery to show the personality of you and your brand.
Often when you imagine photographs at work for your marketing it is easy to feel restricted to the patient before/after type images, or images of your products or still shots of your clinic. These certainly do have their place; however, personal brand photography is a fresh new take on photographing your business with a personal element. In fact, Instagram posts that feature faces receive 38% more likes compared to those that do not.1,2
It provides a 'real' approach that is able to get who you are across to your customers through your images. If they set the right tone and have a professional look, you'll find your patients can respond really well to more personal imagery. It has even been shown that 78% of consumers trust brands that produce custom content, compared to generic content.3
Personal brand images usually include more of a lifestyle approach, which makes your brand relatable; people love to see what you do and how you are an expert in your field. Having photographs that present who you truly are gives an authentic voice to your brand. If your social media and website has poorly taken images it will represent you in an equally poor way. If polished and professional is how you want to be seen, then that is how your pictures must appear to be too.
Aesthetic practitioner Dr Pamela Benito says, "In the field of aesthetic medicine, which has grown tremendously over the recent years and where social media has become such an influential tool, we need to understand how important photography is. In my experience, I have realised how important it is for my patients to see not just before and after pictures, but also photos of myself and my lifestyle which seems to have many more likes!" PR consultant Julia Kendrick also recognises the value, having had several brand shoots herself.
She says, "Professional brand photography is an essential tool which can really support and amplify the PR and marketing efforts of a business. It allows you to instantly communicate your brand and create an impression among target audiences, giving an immediate overview to your style, values, calibre of services and more!"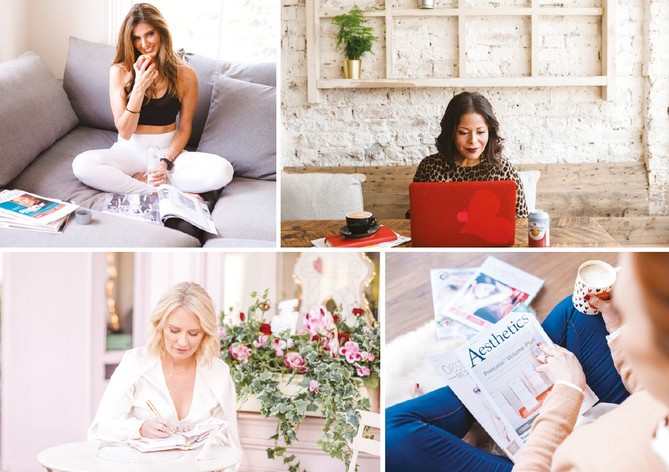 Types of relevant images
There is always a place for headshots in personal brand shoots; they are something that is a regular request as a business need. However, instead of standing in front of a white or plain backdrop, the setting should be one that fits your brand. That may be a natural, green, clean style with out-of-focus lush tropical plants behind you. Or it may be a polished, high-end vibe. For example, Dr Fiona McCarthy at a gorgeous café in Figure 1. Another example is Dr Amiee Vyas, where her shoot plan included yoga and meditation as this fits with the dream patients she identified. Yet, they don't often get to see outside of the clinic.
When I first chat to aesthetic practitioners we discuss ideas for images that would be relevant to them. The goal of the images is to support your marketing messages. Having a shoot split into three story telling sections works well:
Pictures of you working. From consultations to fake procedures
Styled content. This could be of products you love, on-brand colour styling pieces, magazines, journals. These should be pieces to tell a story and add interest to an Instagram feed
Personality building. These images are the ones that add more 'you' to the feed. If you love flowers, shoot at a florist. If you encourage healthy eating, include pictures of you making smoothies. If you like being outside, shoot on a walk. The list goes on!
As well as considering the setting, how you pose in the image and where you look is another important factor. Your photographs have the power to 'break the fourth wall' between you and your audience.5 That boundary can be crossed with engagement by eye contact. Don't be afraid to gaze directly into the camera lens; the result can be a stronger connection with your audience.


Tips on planning your brand shoot
The types of images taken on your personal brand shoot should be carefully planned out with the goal to appeal to the people you want to attract. If you, your staff or someone you know has skills in photography, then you can take advantage of this, however, if you don't, perhaps consider in seeking help from a professional photographer.
No matter how you do it, one of the very first steps before you get photographs taken is completing a detailed brief. There are two questions that are particularly important for you to consider: what are your brand values and who is your dream patient?
What are your brand values?

To grow your business, you need to make it simple for your dream patient to be able to see what you stand for, your brand values. Do you know yours? If not, grab a mug of coffee and curl up on the sofa with this article, a pen and notepad. Let your mind wander to answer what it is that is important to you. What has meaning that you want to reflect in your business?
Think deeply here; it is easy to choose wonderful, but vague words. For example, honest, friendly, reliable… they sound lovely, but they are not going to get you noticed. Instead, drill down further into what specifically makes those top line terms unique to you. Once you have a clear outline of your top brand values you need to be able to show them clearly.
Each image you share must showcase these. For example, if a value is 'informed' a few ways you can demonstrate this is with pictures of:
You and a patient talking at a consultation
Close ups of completing health check forms
Explaining the different products they could use
Looking in mirrors together to point out what is possible
Consider your dream patient
This is all about exploring who you want the images to appeal to. Take some time to really understand and identify your patients. Truly think about the type you'd like to book more of. Picture them in your head and scribble down in as much detail your answers to the following questions:
What is their age bracket?
Where do they live?
What is their job? What do they earn?
How do they spend their free time?
Do they have children? Do they have pets?
Do they like to travel? What type of holidays do they have?
Where do they go out at the weekend?
Where do they shop?
Where do they go out to eat?
Which magazines do they read?
What do they read? Which blogs do they read? Which newspapers do they read?
What podcasts do the listen to?
What social media do they use?
What time do they go online?
Where do they go to get beauty ideas?
Why is it they may want a treatment?
Have they had any aesthetic work before?
Why would they be nervous about a procedure?
Why would they be excited about a treatment?
What advice might they need?
Where are they going to get referrals?
Don't stop here. Keep writing about your patients and add as many more notes as possible on who they are. Having this list of answers is the first step in all marketing you do. You can understand exactly who it is you are trying to reach with your photographs. By identifying your dream patient, you'll be able to understand what kinds of imagery will attract the patients you want and, equally as important, turn off the ones you do not want to be working with. It is great to be able to plan your photo shoot with this 'dream patient' in mind, which can support content based around the issues you've identified patients may have and the advice they may need. Be an expert to their specific needs and someone they can relate to and trust.
Summary
People buy from people they know, like and trust.6 It's the same across all industries and the aesthetics specialty even more so due to the patient wanting to feel reassured before a procedure in what can be a nervous time for them. Building that rapport with patients before they meet you is possible through your photography, so consider the steps detailed in this article to bring out the best in you and your services through imagery.