With the world working from home, healthcare professionals are now seeing more patients than ever with an interest in their neck and jawline
"The dermis, whose main components are mainly collagen fibres, is very thin, making it more prone to ageing than other parts of the body," says cosmetic surgeon Dr Angelica Kavouni.1 And, while cumulative sun exposure over a lifetime has always been the main culprit of premature ageing on the neck, Dr Kavouni has seen a significant increase in patients asking for treatments to tighten the jawline and combat the symptoms of what she terms 'Tech-Neck – cosmetic' after a prolonged period of working from home.
What is the 'Tech Neck' – cosmetic?
"The changes to the neck and jawline definition that we see as a result of looking down at a screen for a prolonged period include creases, folds, fine lines and wrinkles caused by laxity of muscular support and the cumulative effects of photodamage and gravity. These contribute to the loss of definition of the cervicomental angle, submental sagging and redundancy of the skin, along with an increase in platysmal band visibility," explains Dr Kavouni. "As a result, the lower facial third may appear loosened and untoned, which can diminish the 'heart-shaped' facial shape that is so widely associated with a youthful and desired appearance. The delicate skin of our neck may develop deep etched horizontal and vertical lines. Thermage FLX® offers a great treatment option for patients as it aims to tighten the lower face and neck, as well as tone and improve skin elasticity in the long term," she adds.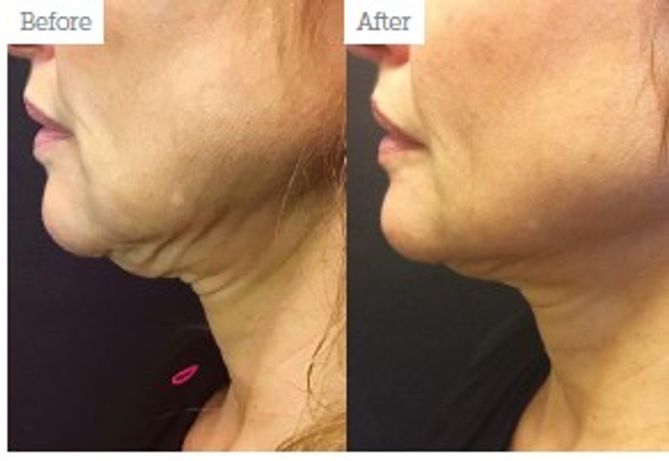 New and improved Thermage FLX® is the brainchild of Solta Medical®, one of the world's most notable names in medical aesthetics and the company that introduced leading non-invasive antiageing treatment Thermage® over 13 years ago. Today, the new generation, Thermage FLX®, promises even faster results.*
Featuring innovative AccuREP™ technology, the new Thermage FLX® provides personalised skin tightening by employing the new treatment algorithm that optimises and tailors the radiofrequency energy output to each skin type, for precise and gentle heating.
As well as this, the Comfort Pulse Technology, which intersperses cooling bursts, works with the multi-directional tip vibration to ensure comfort2 throughout the session.
All aided by the new 'Total Tip 4.0' that offers faster treatment up to 25%* and an even heat distributed over the entire skin area, allowing a multidimensional tightening effect.
"The result is an immediate skin tightening3 and well-defined three dimensional skin contour, all in a single treatment with little to no downtime. The patient's skin continues to improve for the next six months,4 with results lasting up to 12 months,"** says Dr Kavouni.
Proven track record
A pioneer in non-invasive skin tightening, CE mark approved and FDA-cleared, Thermage FLX® is known for its ability to reduce the appearance of fine lines, wrinkles and sagging skin and is recognised for its good safety profile, demonstrated in more than 50 published clinical studies. Thermage® has been the go-to choice for many patients concerned with signs of ageing on their face, neck, arms and even buttocks and knees. Over 2 million Thermage® treatments have been performed worldwide, and it's the only FDA-cleared non-invasive eye skin tightening treatment.

How it works
Targeting the skin's dermis layer where collagen fibres are found, Thermage FLX® uses patented monopolar radiofrequency that delivers a uniform heating effect that penetrates deep into the collagen-rich layers of the skin. In turn, this gentle heating causes existing collagen tissue to tighten, stimulates the production of new collagen, and helps to define contours. Thermage FLX® integrates the Comfort Pulse Technology with the latest AccuREP™ technology that auto-tunes each pulse of energy for an even more precise and consistent treatment. Each treatment takes about 30 minutes for the face and up to 90 minutes for the body depending on the size, location, and condition of the area to be treated.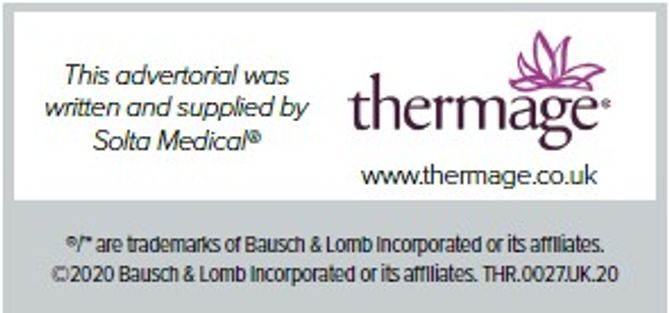 1. www.ionkavounilondon.com
2. Solta Medical, 2009. Report on Gazelle Clinical Study 09-100- GA-T 'Validation of the Thermage 3.0 cm2 STC and DC Frame Tips, Comfort Software and Vibration Handpiece on the Face and Thighs' (#09-019ER). Bothell.
3. B. D Zelickson, et al. Histological and ultrastructural evaluation of the effects of a radiofrequency-based non-ablative dermal remodelling device: a pilot study. Arch Dermatol. 2004 Feb;140(2):204-9.
4. R. Fitzpatrick et al. Multicenter study of noninvasive radiofrequency for periorbital tissue tightening. Lasers Surg Med. 2003;33(4):232-42.