Globally, lip augmentation treatment spend is forecast to reach US $4.4 billion over the next seven years. Hyaluronic acid (HA) fillers will remain the most popular treatment choice, with the UK predicted to have the fourth highest spend globally by 2027.1
These figures suggest that aesthetic practitioners will be busier than ever with lip treatments using dermal fillers. Yet having spoken to many practitioners, there seems to be a unanimous agreement that treatment of thinning, ageing lips in the older age group can be challenging.
This article will discuss lip treatment popularity, how lips age, the 'normal' and 'attractive' lip ratios and how this varies between ethnic groups. Treatment journey plans, managing patient expectations and treating the patient holistically will also be covered, with two female case studies presented.
Lip attractiveness and assessment
Lips play an important role in female attractiveness; full lips impart a sense of youthfulness and health, whilst thinner, flatter lips may imply fragility and senility.2 One cross-cultural study recruited cosmetic surgeons from around the globe (n=1,011), to highlight that desirable lip proportions are commonly dependent on a person's geographic, cultural and ethnic background.3 Another trial (n=150) analysed lip dimension most attractive to Caucasian women, providing evidence that an increase in 53.5% surface area on original lip size represented the most attractive.4
Conversely, a US study analysed and compared the contribution of lip augmentation to facial attractiveness in 197 Chinese, Caucasian and Korean individuals. Both Asian groups naturally possessed very different lip projection and parameters compared to the Caucasian group, whilst lips in all groups were shown to be of less significance in attractiveness than previously considered.5
The golden ratio, (or Phi), has been traditionally used as a way of maintaining upper to lower lip ratio at 1:1.6.6,7 This calculation has also been used in studies to help highlight racial differences in overall facial measurements, an important consideration when augmenting lips.8,9 One review provided evidence that to achieve optimum attractiveness, Caucasian lips should be approximately 40% of the lower face width with greater vermillion border protrusion in females,10 whilst East Asian individuals' mid and lower facial thirds are generally equal in size with a wider nasal base. This emphasises that lip treatment aims and outcomes should differ between cultural groups.11,12 Furthermore, Asiatic lips tend to be fuller on top,13,14 whilst African lips are generally larger in all dimensions including protrusion, due partly to greater soft tissue mass.15
Dividing the lower face into thirds helps to give a clear comparison of lip to chin size during lip augmentation planning, allowing for successful treatment of middle-aged patients of all races.10,16 The rule of Phi is not universal and lower face aesthetics should take a holistic, individualised approach, combining both art and science.9,10,12 In all cultural assessments, restoration of aesthetic quality requires correction of disproportionate relationships in the lower face, achieved by appropriate changes in the measurements.17,12
Perioral ageing
As we age, the face experiences fat displacement leading to a scalloped anterior jawline and straight, angular lips.6,18,19 The chin, nose and lip protrusion can be assessed from the side using the Steiner Line method, where a ruler may be held between the subnasion and pogonion. This can also be used post treatment to revisit nose, lip and chin protrusion ratio,7 which can be helpful to patients in assessing outcomes rather than simply looking at images.
One image-based Chinese study (n=180) provided evidence that chin correction positively impacted aesthetic lip treatment results, suggesting the chin may be a good place to start prior to injecting the lips.18 I personally tend to address surrounding facial areas at the second treatment appointment to allow time for the initial swelling to subside, giving me a clear picture on what treatment area(s) to address next.
Lip size and volume can be accurately assessed using the validated five-point scale called the Medici Lip Fullness Scale (MLFS) which is demonstrated in (Figure 1).20,21
The lips age due to a combination of physiological and anatomical changes. The skin of the lips is thin, made of just three to five layers of squamous epithelium cells, versus 16 layers on other areas of the face, making it fragile.8,13,14,22
Sun damage accelerates lip ageing. Individuals with Fitzpatrick skin types IV and above have high levels of melanin in their skin and although they are more likely to experience perioral hypo- and hyperpigmentation, people with darker skin tones are less prone to lip solar elastosis compared with Fitzpatrick types I to III.14,17

Age-related oral changes can be observed in soft tissues through stratified squamous epithelium depletion which becomes thinner, loses elasticity, and atrophies with age. Hard tissues – observed through bone depletion – are thought to be due, in part, to reduced levels of cyclooxygenase, an important enzyme in bone repair.6,22 As age progresses, fat depletion and atrophy of the alveolar bone leads to loss of facial height and repositioning of the mandible.6,22
There is also evidence to suggest that ageing of skin on the lower face is gender-dependent; one study (n=30) compared perioral skin wrinkling on fresh male and female cadavers. Skin analysis provided evidence that the female specimens displayed a significantly higher number of deeper wrinkles, thought to be due to a lower number of skin appendages including sebaceous and sweat glands in the female bodies, compared to the males.23 This can also cause the lips to thin, with a 'rolled in' effect as plumpness and tubercle definition are lost.6,22
One 2019 study (n=200) highlighted metric changes in perioral soft tissue in male and female subjects, providing evidence that upper lip thickness and volume reduced with age, as did alar nasolabial fold thickness.19 In my own experience, nasolabial fold treatment adds volume and lift to the upper lip and therefore has a strong case for treatment inclusion.
Consultation
Successful treatment outcome must combine in-depth initial consultation to assess the patient's needs and expectations, discussion of realistic projected outcomes and treatment plan over several weeks or months, pricing structure, correct product choice with appropriate injection technique, aftercare education and support. The treatment itself should be tailored to each patient and their age, with the practitioner taking a multi-skilled approach, drawing on knowledge of a range of techniques, whilst using their artistic eye to attain a beautiful result befitting to the patients' entire face.
In my experience, it is important to remember that the needs of a 25-year-old patient differ hugely to those of a 49-year-old.
At initial appointment with older female patients falling into the 'very thin' lip category, we use the mirror to assess goals and what is achievable together. This is important as it gives patients the opportunity for treatment autonomy and input. Some patients have seen a particular social media image they aspire to; many come to me asking me to put 0.5ml of HA filler into the top lip only, which I never advocate because HA filler immediately changes the whole lip appearance and should therefore be distributed to both upper and lower lips. I assess the entire mid and lower face for loss of volume and elasticity before deciding the best technique. Patient education at this stage is important so that they clearly understand the treatment journey, cost and possible risks.
Treatment
Once treatment aims have been established, possible complications discussed, and paperwork signed, I select a soft filler – usually Belotero Balance or Lips Contour due to their low HA concentration of 22.5mg/ml and I find that they are less likely to cause lumpiness. Of course, other brands are available.
If the patient has experienced notable skin laxity and loss of volume to the mid-face, chin and jawline, I suggest an initial dose of 0.5/0.6ml using a retrograde thread technique to give a natural result. My preference is a 30 gauge or 27 gauge needle rather than a cannula to allow specific product placement and avoid an unsculpted 'tyre' look.
I first inject the vermillion border with linear threads, sometimes using a fanning technique and depositing a small bolus into the cupid's bow tip to add lift, then following the same retrograde technique along the vermillion wet-dry border with aspiration. I then address the oral commissures, according to the pre-agreed look (elevated or straight). I may opt for a tenting technique 1-2mm above the vermillion border to give a more rolled out, plump lip, depending on surrounding fat pad and skin elasticity maintenance. It is important when using this technique to maintain deep injection to avoid visible lumps, whilst maintaining shallow enough needle insertion to prevent occlusion.20
I will bring the patient back three to four weeks later to assess and treat with additional HA should they need it. At this point – provided the patient has tolerated the softer filler well – I will often select a more concentrated filler of 24-25.5mg/ml such as Juvéderm Ultra 3 or Belotero Lips Shape/ Belotero Intense. I also assess nasolabial lines and chin together at this stage, and look to treat if necessary.14,18
Case studies
49-year-old patient
A single and dating 49-year-old lady presented wanting to have more of a visible top lip in photos. She had previous lip treatment with another practitioner two years ago. Upon assessment I measured that her closed top lip had a MLFS score of 1. It was 1.5-2mm, with the thinnest area arising below the cupid's bow dip. The lower lip measured 5mm at the widest point and had a MLFS score of 2.
Her tubercles, vermillion border definition and chin fat pad were depleted, the latter highlighted using Steiner Line assessment, but she had good cheek volume. She was experiencing early menopause symptoms including hot flushes, mood swings and poor sleep pattern. To help maintain her bone density I recommended she take calcium and vitamin D supplements.11,24
The treatment objectives were to increase her upper lip depth by 100%, reinstate a clean cupid's bow and tubercles, define the vermillion border, lift commissures, and define the lower lip, increasing depth by 20%.
We agreed to start with 0.6ml of Belotero Balance, returning in two weeks to add another 0.6ml of Belotero Intense, including chin rejuvenation. The top lip initially was a little larger than the bottom, which I addressed during the subsequent appointment, and included 0.15ml injection into the chin anteriorly, plus a 0.02ml thread at the upper and lower commissure points to add lift. After two treatments, the top lip measured 4mm at the cupid's bow, 2mm laterally the bottom lip was 5.5-6mm. The patient's tubercle rejuvenation was evident and her MLFS scores for both lips were now 3 (Figure 2). The patient was very happy with her results and will return in several months for a jowl and further lip treatment.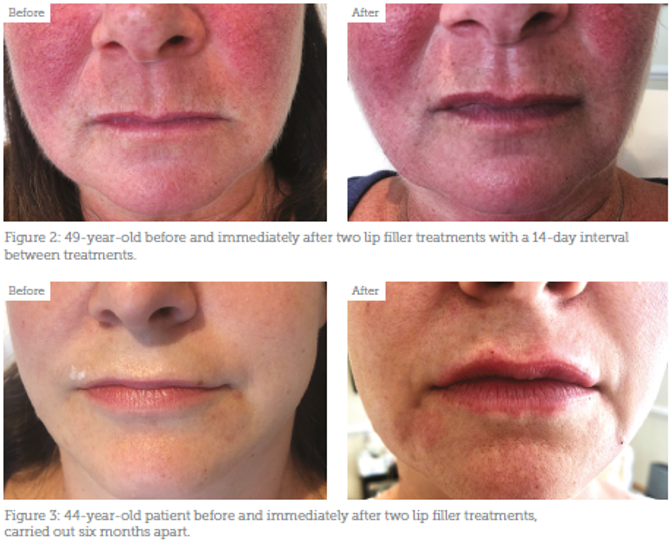 44-year-old patient
A 44-year-old lady with no history of cosmetic procedures presented with a significantly thinner top lip compared to lower, asking for size equality (Figure 3). She had no obvious pre- or peri-menopausal symptoms.
Her closed upper lip MLFS score was 1. This varied between 1mm to 2.5mm in depth. The lower lip MLFS score was 4 and measured 7mm at its widest point.
Minimal upper vermillion border definition was evident, although tubercles were maintained. The patient possessed strong chin and cheek volume, her nasolabial lines were soft, and her skin displayed good elasticity.
The treatment objectives were to increase her upper lip depth by 75-100%, lower lip by 50%, and to enhance her tubercles. To attain this, I suggested that 0.45ml be injected into the upper lip, while 0.15ml was injected into the bottom using 0.6ml Belotero Balance. I opted for a tenting technique to the upper lip, applying filler at vertical retrograde points into the sub-mucosa, aiming to significantly lift and roll out, which I believed would sit well with her skin and facial structure. I injected linear threads into the wet dry border on the lower lip and a little into the vermillion border to balance size and shape.
The patient returned again six months later, at which time, having assessed her for product tolerance, I repeated the treatment using the same techniques with Belotero Intense to provide more noticeable, longer-lasting results. After her two treatments, her top lip measurements varied between 3.5-5mm and her lower lip measured 8mm.
The upper and lower MLFS scores at this stage were 3 and 4 respectively. Initially she wanted to go bigger in size and seemed disappointed with her result, so I explained that the resulting lip protrusions and ratios were suited to her face, which she agreed with. She will return to clinic twice yearly to maintain this result.
Summary
Successful fine lip augmentation of women in the 40 to 50 age group using HA filler requires a sound knowledge of the ageing processes in and around the lips, how this differs between individuals, and an ability to adapt to different patients' needs with a variety of techniques.
Budget and patient expectations must always be managed as, in most cases, treatment must be ongoing to maintain optimal lip depth and protrusion long term.