Business analyst Ed Challinor shares his advice on effectively calculating your return on investment in digital marketing.
Digital marketing is a huge part of any clinic's marketing plan and it is estimated that 70-80% of consumers research companies online before visiting or making a purchase.1 But how do you know if your strategy is working? And how would you calculate your return on investment (ROI) effectively? The key word here is 'investment'. In your personal life you don't make investments lightly, you do research, speak to lawyers and find people who can help you evaluate risks and predict ROI. So, why then are some so blasé when it comes to investing in marketing? I believe that ROI is one of the most misunderstood metrics in business – which is surprising since it's a pretty simple ratio. Within this article, I share the approach that I use in my clinic and explain why I believe this is beneficial to implement into other aesthetic settings too.
What is profit?
Profit means net profit. That's a better measure than gross profit because sometimes in an aesthetic business the overheads can be substantial. Profit does not mean revenue! Revenue is income; the amount you make when you sell something. Gross profit is that number minus the price of the box of filler or the service you're providing. Net profit is the important number because it includes the overheads such as staff wages, electricity, computers and insurance. And what is left is what you (usually) get to take home. While many digital marketing platforms offer analysis on your gross profit as a result of your investment in their technology, I strongly advise that you do not rely on these for an accurate reflection of your financial position. Instead, I recommend the following approach:
Get financial clarity and work out your profits for each product. Financial clarity just means understanding how to read a balance sheet and profit and loss statement in order to understand the margins and profits that you make on each thing you sell.
Verify the figures with your own calculations from your accountant or bookkeeper. I have found that some marketing platforms inflate the figures by giving you gross profit. It's tricky for them to give a net profit figure because they don't know all of your costs. From this, I would advise using the gross profit figures from marketing platforms and then calculate what your net profit is by considering your fixed costs, in order to figure out whether that campaign is delivering ROI.
You need to first know how much revenue is required to turn a profit before you can determine how much it should cost you to acquire an asset or a customer. This is called the contribution margin and represents a 'sweet spot' revenue level where you begin to make serious inroads into your costs' base and start making a decent profit.2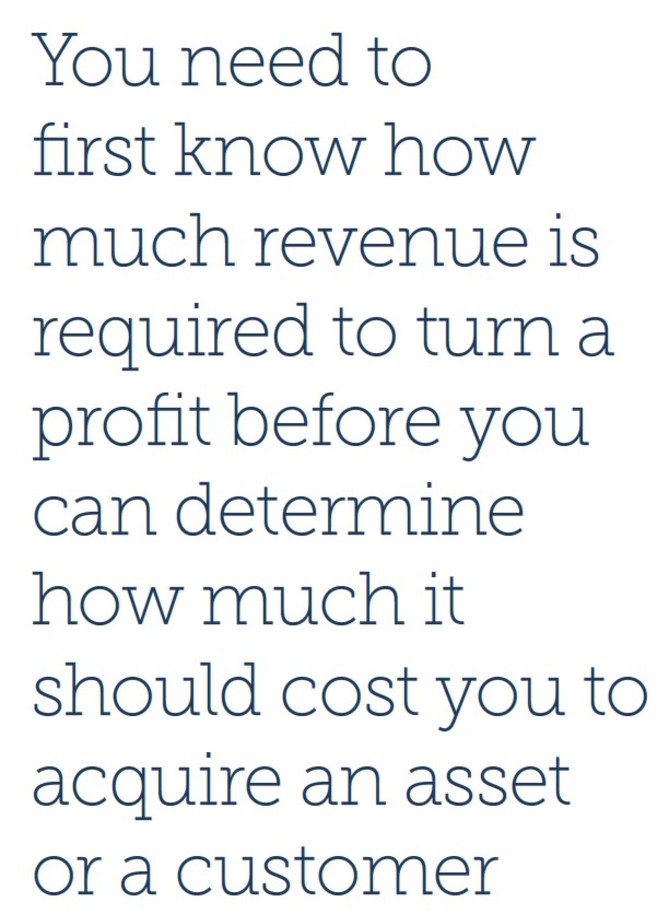 Once you have an understanding of your figures, you can better understand what products and treatments are making you money and, as a result, will offer you a better ROI from your digital marketing. You can then make decisions on whether to discontinue or promote certain treatment offerings.
A guide to calculating
I often get asked whether I use a third-party to calculate my ROI in digital marketing or whether I do this in house. At my clinic, we don't have an accountant prepare our management accounts. I run them off our software, Xero, each month after the bookkeeper has finished reconciling them. The benefit of this is it's cheaper and quicker so you can have management over accounts every month. I don't think that there's any use waiting for your end of year accounts to come in to determine whether campaigns have been profitable; they can sometimes be 12 or 18 months after the event. Speed and agility are key when making marketing decisions.
I also look at marketing metrics daily as I believe this allows me to monitor what is and isn't working well very closely; however, if you are unable to do this daily, or have someone who can, I would say once a week would suffice. I measure the ROI of different treatment offerings such as botulinum toxin, fillers and energy-based treatments, and analyse the data to find where the optimum levels of performance are. Now onto the calculations, first of all it is essential that you always use net profit in the calculation, as previously discussed. Our framework for calculations is customised to our business but can be adapted for any aesthetics business.

So, each product category has the below data points assigned to it:
Net profit margin metric (net profit divided by the investment x 100)
Referrals metric: the number of referrals that are generated from these treatments. For example, we see lots of lip augmentation patients who like to talk to their friends about their results, so the referral numbers are huge.
Customer lifetime value: this is how long the patient keeps coming back to the practice. Do you have loyal customers or one-time patients trying you out and then moving onto the next?
Average cost per acquisition (CPA) from each platform: this means the average cost per acquisition of a patient from each platform. So X amount of people click the ad, X amount visit the website, X amount book an appointment and X amount have the treatment.
I find the more you break things down and the more numbers you look at, the more control you have and things will improve.
I like to take all the verified data points and make them into a simple algorithm in a Microsoft Excel document. So let's say 10,000 people click on an ad. The click-through rate is 1.0% which means that 100 people visit your website. Of those 100 people, 10% call the practice. That's 10 people. Our front-of-house team book about 50% of the people who call the practice so that's five appointments. Our clinicians convert 50% of their appointments into treatments so that's about 2.5 people going ahead and paying. So, it takes 10,000 views to make 2.5 patients. That's 4,000 impressions of an ad to make a patient. You can get the cost per thousand impressions (CPM) number from any marketing platform and create your forecasting algorithm from these numbers in excel by just multiplying or dividing the numbers.3 Note, however, how I needed to know important things like conversion rates at booking and during consultation. Without these numbers, a good or bad CPM means nothing.
I then use this to forecast future results. I overlay my presumptions about what the market's doing to overlay a 'demand' metric and get a relevant number that forms the basis of our monthly targets. The demand metrics are taken from forecasting based on what happened in previous years and any data I can get from a wide variety of sources.
Utilising the tools
I use a range of tools including competitive analysis software like SEM Rush, Alexa (the original Alexa not Amazon's talking box) and Google Analytics. I also track our calls and web-forms and get heat maps with Hotjar to improve the user experience; all things that impact ROI. I use these products because I find that they are the best for a business of our size, however many others are available.
For cold advertising (advertising to people who've never heard of you) and re-targeting (advertising to people who've recently interacted with your brand), I use landing page builders like Leadpages. This is an app that creates mobile-friendly landing pages to convert patients who are closer to their ZMOT (known as the zero moment of truth; the point in the buying cycle when the consumer researches a product often before the seller knows they exist)4 and are more likely to book treatments. You can build the landing page yourself or choose from pre-made and pre-tested landing pages that have been designed and tested to get leads, convert patients or get the phone ringing. Then you can install a plugin to incorporate them into your website or have them hosted locally by the landing page builder. For example, the URL might be https://www.yoursite.com/landing-page-botox with the plugin of https://www.leadpages.yourpage.com/botox-landing-page.
For top-of-funnel users (people who are thinking about products but don't know what or where they want it) I find that its content and information marketing techniques that work best. While these tools are useful, I think it's important to note that people can become over-reliant on software, when traditional critical analysis makes the difference for us. Employing someone who is experienced in this field or even investing in some basic training yourself will make a huge difference to your business.
Understanding the challenges
Channels change so we need to change with them. We have a marketing mix at my clinic that includes organic (appearing on page of Google), local (appearing on maps) and paid search (paying for adverts on Google) at the top of the funnel, social retargeting in the middle and then good old-fashioned phone, emails and real-world offline channels at the bottom-of-the funnel. However, there can, of course, be gaps in the data. For example, issues such as anomalies in the data and inexplicable trends can throw you off track. I think these problems can be fixed with experience-based guesswork and extrapolation. If you're measuring an action from three different angles and one fails, it's not the end of the world. I get a report every night from the front-of-house team detailing how many patients are booked, whether they were 'call-ins' (where the patient calls us) or 'outbounds' (where the front-of-house team chase leads by calling people who've interacted with our ads). My front-of-house team are an invaluable data source.
Conclusion
To summarise, my key tips for anyone looking to improve how they calculate ROI in digital marketing would be to first of all get financial clarity; without understanding the profit and loss statement and balance sheet of your business you cannot calculate ROI. Then you will be able to design your own system divided into categories and channels based on how much money marketing makes for your business and break it down from there.
I believe that digital marketing is going to continue to thrive for small businesses so gaining a clear understanding of exactly what's working and what's not will help you to be your most successful yet.
References
1. Bluecornona.com, Small Business Digital Marketing Statistics <https://www.bluecorona.com/blog/29-small-business-digital-marketing-statistics>
2. Acconting tools, Contribution margin, June 2018 <https://www.accountingtools.com/articles/2017/5/16/contribution-margin>
3. Ashe-Edmunds S, What does CPM stand for in advertising?, Small Business Chron < https://smallbusiness.chron.com/cpm-stand-advertising-20847.html>
4. Pardot.com, The Zero Moment of Truth: What is it & Why should you care? <https://www.pardot.com/blog/moment-truth-care/>